Abstract
Covaxis® (also licensed as Triaxis® or Adacel® in individual countries) is a combined tetanus toxoid, reduced diphtheria toxoid, five component acellular pertussis (namely detoxified pertussis toxin, filamentous hemagglutinin, pertactin, and fimbriae types 2 and 3) vaccine for the prevention of diphtheria, tetanus, and pertussis. It is approved for use in Europe as a single intramuscular booster dose in children (aged ≥4 years), adolescents, and adults, and in the US it is approved for use in individuals aged 11–64 years.
In large, randomized, controlled clinical trials conducted in the UK and North America, a single intramuscular booster dose of Covaxis® induced robust immune responses for all of its component antigens when given to children (aged ≥4 years), adolescents, and adults. In addition, Covaxis® vaccine was safe and generally well tolerated in terms of solicited and unsolicited local injection-site and systemic adverse events, most of which were of mild intensity and resolved without sequelae. Furthermore, the immunogenicity of each individual component and the reactogenicity of Covaxis® vaccine in children, adolescents, and adults was generally similar to that of comparator vaccines.
Despite being a vaccine-preventable disease and having >90% primary vaccination coverage worldwide, pertussis remains uncontrolled, particularly amongst adolescents and adults. Given the changing epidemiology of pertussis and the requirement to reduce infection in adolescents and adults (including healthcare workers) and thereby prevent transmission of the disease from these individuals to very young infants, the new 'cocoon strategy' recommended in current vaccination guidelines has become a key strategy in the management of morbidity and mortality associated with pertussis. This strategy focuses on the immunization of healthcare workers, and the parents and family members of infants who are too young to have undergone primary immunization, so as to prevent the transmission of pertussis to these young at-risk infants. The implementation of the 'cocoon strategy' may finally give countries the ability to control pertussis infections in these at-risk infants and ultimately provide the desired herd immunity against pertussis. In line with this strategy, a booster dose of Covaxis® vaccine provides a valuable option to reduce pertussis morbidity and mortality, and to maintain seroprotection against diphtheria and tetanus in children (aged ≥4 years), adolescents, and adults.
This is a preview of subscription content, log in to check access.
Access options
Buy single article
Instant access to the full article PDF.
US$ 49.95
Price includes VAT for USA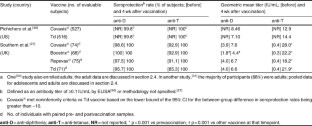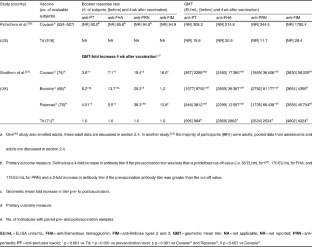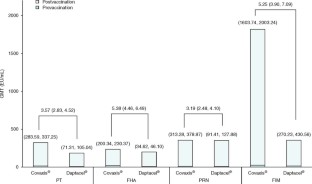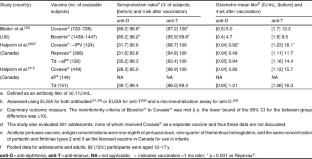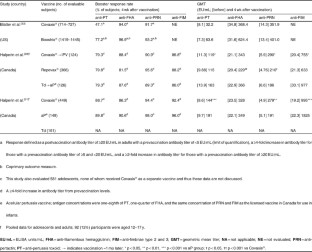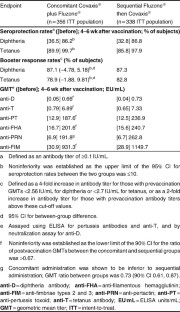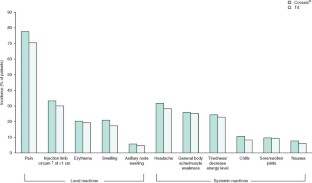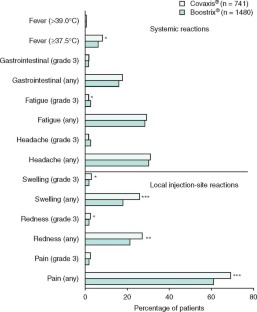 References
1.

Centers for Disease Control and Prevention. Preventing tetanus, diphtheria, and pertussis among adults: use of tetanus toxoid, reduced diphtheria toxoid and acellular pertussis vaccine. Recommendations of the Advisory Committee on Immunization Practices (ACIP) and recommendation of ACIP, supported by the Healthcare Infection Control Practices Advisory Committee (HICPAC), for use of Tdap among health-care personnel. MMWR Recomm Rep 2006; 55(RR-17): 1–37

2.

Centers for Disease Control and Prevention. Preventing tetanus, diphtheria, and pertussis among adolescents: use of tetanus toxoid, reduced diphtheria toxoid and acellular pertussis vaccines. Recommendations of the Advisory Committee on Immunization Practices (ACIP). MMWR Recomm Rep 2006; 55(RR-3): 1–43

3.

Edwards KM. Overview of pertussis: focus on epidemiology, sources of infection, and long term protection after infant vaccination. Pediatr Infect Dis J 2005; 24(6 Suppl.): S104–8

4.

Lee GM, Riffelmann M, Wirsing von König CH. Cost-effectiveness of adult pertussis vaccination in Germany. Vaccine 2008; 26(29-30): 3673–9

5.

Purdy KW, Hay JW, Botteman MF, et al. Evaluation of strategies for use of acellular pertussis vaccine in adolescents and adults: a cost-benefit analysis. Clin Infect Dis 2004; 39(1): 20–8

6.

Tozzi AE, Pandolfi E, Celentano LP, et al. Comparison of pertussis surveillance systems in Europe. Vaccine 2007; 25(2): 291–7

7.

Celentano LP, Massari M, Paramatti D, et al. Resurgence of pertussis in Europe. Pediatr Infect Dis J 2005; 24(9): 761–5

8.

Heininger U. Update on pertussis in children. Expert Rev Anti-Infect Ther 2010; 8(2): 163–73

9.

Heininger U. Pertussis immunisation in adolescents and adults. Adv Exper Med Biol 2008; 609: 72–97

10.

Di Pasquale A, Wolter J, Schuerman L. Management of pertussis in adolescents and adults: the role of a reduced-antigen content combined diphtheria-tetanus-acellular pertussis (dTpa) vaccine. J Prevent Med Hygiene 2005; 46(1): 33–41

11.

World Health Organization. WHO vaccine-preventable diseases: monitoring system. 2009 global summary [online]. Available from URL: http://www.doc.who.int/hq/2009/WHO_IVB_2009_eng.pdf [Accessed 2010 Sep 5]

12.

Wirsing von König CH, Campins-Marti M, Finn A, et al. Pertussis immunization in the global pertussis initiative European region: recommended strategies and implementation considerations. Pediatr Infect Dis J 2005; 24(5 Suppl.): S87–92

13.

Tan T, Trindade E, Skowronski D. Epidemiology of pertussis. Pediatr Infect Dis J 2005; 24(5 Suppl.): S10–8

14.

EUVAC-NET Group. Pertussis surveillance report 2003–2007: a surveillance community network for vaccine preventable infectious diseases [online]. Available from URL: http://www.euvac.net/graphics/pdf/pertussis2/pdf [Accessed 2010 Jul 29]

15.

Yeh SH, Mink CM. Shift in the epidemiology of pertussis infection: an indication for pertussis vaccine boosters for adults? Drugs 2006; 66(6): 731–41

16.

Wendelboe AM, Njamkepo E, Bourillon A, et al. Transmission of Bordetella pertussis to young infants. Pediatr Infect Dis J 2007; 26(4): 293–9

17.

Casey JR, Pichichero ME. Acellular pertussis vaccine safety and efficacy in children, adolescents and adults. Drugs 2005; 65(10): 1367–89

18.

Centers for Disease Control and Prevention. Prevention of pertussis, tetanus, and diphtheria among pregnant and postpartum women and their infants: recommendations of the Advisory Committee on Immunization Practices (ACIP). MMWR Recomm Rep 2008; 57(RR-4): 1–51

19.

Michel J-P. Updated vaccine guidelines for aging and aged citizens of Europe. Expert Rev Vaccines 2010; 9(3 Suppl.): 7–10

20.

Sanofi Pasteur MSD SNC. Summary of product characteristics (Covaxis®): European mutual recognition procedure. Lyon: Sanofi Pasteur MSD SNC, 2009 Dec

21.

Sanofi Pasteur Limited. Tetanus toxoid, reduced diphtheria toxoid and acellular pertussis vaccine, adsorbed (Adacel®): US prescribing information. Swiftwater (PA): Sanofi Pasteur Limited, 2009

22.

Gustafsson L, Hallander HO, Olin P, et al. A controlled trial of a two-component acellular, a five-component acellular, and a whole-cell pertussis vaccine. N Engl J Med 1996; 334(6): 349–55

23.

Sanofi Pasteur Inc. Diphtheria and tetanus toxoids and acellular pertussis vaccine absorbed: Daptacel® [online]. Available from URL: http://www.vacccineshoppe.co/image.cfm?doc_id=10852image_type=product_pdf [Accessed 2010 Sep 6]

24.

GlaxoSmithKline. Full prescribing information: Boostrix® [online]. Available from URL: https://www.gsksource.com/gskprm/htdocs/documents/BOOS-TRIX.PDF [Accessed 2010 Sep 6]

25.

Langley JM, Predy G, Guasparini R, et al. An adolescent-adult formulation tetanus and diphtheria toxoids adsorbed combined with acellular pertussis vaccine has comparable immunogenicity but less reactogenicity in children 4–6 years of age than a pediatric formulation acellular pertussis vaccine and diphtheria and tetanus toxoids adsorbed combined with inactivated poliomyelitis vaccine. Vaccine 2007; 25(6): 1121–5

26.

Sanofi Pasteur Limited. Product monograph: Quadracel® [online]. Available from URL: https://www.vaccineshoppecanada.com/secure/pdfs/ca/Quarda cel_E.pdf [Accessed 2010 Sep 6]

27.

Southern J, Andrews N, Burrage M, et al. Immunogenicity and reactogenicity of combined acellular pertussis/tetanus/low dose diphtheria vaccines given as a booster to UK teenagers. Vaccine 2005; 23(29): 3829–35

28.

Halperin SA, Smith B, Russell M, et al. Adult formulation of a five component acellular pertussis vaccine combined with diphtheria and tetanus toxoids and inactivated poliovirus vaccine is safe and immunogenic in adolescents and adults. Pediatr Infect Dis J 2000; 19(4): 276–83

29.

Sanofi Pasteur MSD. Summary of product characteristics: Tetravac™ [online]. Available from URL: http://www.lakemedelsverket.se/SPC_PIL/Pdf/enhumspc/Tetravac%20suspension%20for%20injection%20ENG.pdf [Accessed 2010 Jul 2]

30.

Pichichero ME, Rennels MB, Edwards KM, et al. Combined tetanus, diphtheria, and 5-component pertussis vaccine for use in adolescents and adults. JAMA 2005; 293(24): 3003–11

31.

Halperin SA, Smith B, Russell M, et al. An adult formulation of a five-component acellular pertussis vaccine combined with diphtheria and tetanus toxoids is safe and immunogenic in adolescents and adults. Vaccine 2000; 18(14): 1312–9

32.

Collins CL, Salt P, McCarthy N, et al. Immunogenicity and safety of a low-dose diphtheria, tetanus and acellular pertussis combination vaccine with either inactivated or oral polio vaccine as a pre-school booster in UK children. Vaccine 2004; 22(31-32): 4262–9

33.

Blatter M, Friedland LR, Weston WM, et al. Immunogenicity and safety of a tetanus toxoid, reduced diphtheria toxoid and three-component acellular pertussis vaccine in adults 19-64 years of age. Vaccine 2009; 27(5): 765–72

34.

Dylag AM, Shah SI. Administration of tetanus, diphtheria, and acellular pertussis vaccine to parents of high-risk infants in the neonatal intensive care unit. Pediatrics 2008; 122(3): e550–5

35.

Kirkland KB, Talbot EA, Decker MD, et al. Kinetics of pertussis immune responses to tetanus-diphtheria-acellular pertussis vaccine in health care personnel: implications for outbreak control. Clin Infect Dis 2009; 49(4): 584–7

36.

Rieber N, Graf A, Belohradsky BH, et al. Differences of humoral and cellular immune response to an acellular pertussis booster in adolescents with a whole cell or acellular primary vaccination. Vaccine 2008; 26(52): 6929–35

37.

Pichichero ME, Casey JR, Francis AB, et al. Acellular pertussis vaccine boosters combined with diphtheria and tetanus toxoid boosters for adolescents: safety and immunogenicity assessment when preceded by different 5-dose DTaP/DTwP schedules. Clin Pediatr 2006; 45(7): 613–20

38.

Bailleux F, Coudeville L, Kolenc-Saban A, et al. Predicted long-term persistence of pertussis antibodies in adolescents after an adolescent and adult formulation combined tetanus, diphtheria, and 5-component acellular pertussis vaccine, based on mathematical modeling and 5-year observed data. Vaccine 2008; 26(31): 3903–8

39.

Barreto L, Guasparini R, Meekison W, et al. Humoral immunity 5 years after booster immunization with an adolescent and adult formulation combined tetanus, diphtheria, and 5-component acellular pertussis vaccine. Vaccine 2007; 25(48): 8172–9

40.

John T, Klinger C, Yu L, et al. Persistence of immunity 5 years after immunisation with Td5ap-IPV, Td5ap + OPV or DT2aP-IPV as preschool booster vaccine [abstract plus poster]. 27th Annual Meeting of the European Society for Paediatric Infectious Diseases; 2009 Jun 9–13; Brussels

41.

Vesikari T. Concomitant vaccination of quadrivalent HPV 6/11/16/18 vaccine (Gardasil®) with either Repevax® or Menactra®/Adacel® in healthy adolescents 10–17 years of age [abstract plus poster]. 27th Annual Meeting of the European Society for Paediatric Infectious Diseases; 2009 Jun 9–13; Brussels

42.

McNeil SA, Noya F, Dionne M, et al. Comparison of the safety and immunogenicity of concomitant and sequential administration of an adult formulation tetanus and diphtheria toxoids adsorbed combined with acellular pertussis (Tdap) vaccine and trivalent inactivated influenza vaccine in adults. Vaccine 2007; 25(17): 3464–74

43.

Reisinger KS, Block SL, Collins-Ogle M, et al. Safety, tolerability, and immunogenicity of Gardasil given concomitantly with Menactra and Adacel. Pediatrics 2010; 125: 1142–51

44.

Small TN, Zelenetz AD, Noy A, et al. Pertussis immunity and response to tetanus-reduced diphtheria-reduced pertussis vaccine (Tdap) after autologous peripheral blood stem cell transplantation. Biol Blood Marrow Transplant 2009; 15(12): 1538–42

45.

Khromava A, Mahmood A, Johnson DR, et al. Immunization of pregnant women with tetanus diphtheria-acellular pertussis vaccine: 29 months of data from the ADACEL Vaccine Pregnancy Registry [abstract no. 443]. Phar-macoepidemiol Drug Saf 2008; 17: s194–5

46.

Liese JG, Rieber N, Malzer T, et al. Reactogenicity of tetanus, diphtheria, 5-component acellular pertussis vaccine administered as a sixth consecutive acellular pertussis vaccine dose to adolescents. Pediatr Infect Dis J. Epub 2010; 29 (12)

47.

Lee GM, Lett S, Schauer S, et al. Societal costs and morbidity of pertussis in adolescents and adults. Clin Infect Dis 2004; 39(11): 1572–80

48.

Hay JW, Ward JI. Economic considerations for pertussis booster vaccination in adolescents. Pediatr Infect Dis J 2005; 24(6 Suppl.): S127–33
About this article
Cite this article
Scott, L.J. Tdap5 Vaccine (Covaxis®). BioDrugs 24, 387–406 (2010). https://doi.org/10.2165/11206000-000000000-00000
Keywords
Pertussis

Tetanus

Diphtheria

Tetanus Toxoid

Pertussis Vaccine