Abstract
Objective: To assess the relationship between fatigue and health-related quality of life (HR-QOL) among people with osteoarthritis (OA) and rheumatoid arthritis (RA).
Methods: Community-dwelling people with OA, and OA patients on the waiting list for joint replacement surgery, were recruited. RA patients were recruited from rheumatologists' public and private outpatient clinics. Respondents completed a questionnaire containing demographic detail, the Fatigue Severity Scale (FSS), the Multidimensional Assessment of Fatigue (MAF), the SF-36, Western Ontario and McMaster Universities Osteoarthritis Index, and the Health Assessment Questionnaire (HAQ).
Results: There were 137 OA and 52 RA respondents. Neither age nor sex was significantly associated with fatigue for OA or RA. The mean FSS score was 3.36 for RA and 3.63 for OA. Fifty percent of respondents with RA and 58% of those with OA met the FSS >3 cut-point for fatigue. Mean MAF Global Fatigue Index was 20.8 for OA and 20.1 for RA. Correlations between health status and fatigue indicated that for both OA and RA those with greater fatigue reported worse health status.
Conclusions: Few studies have measured the impact of fatigue among respondents with OA, despite it affecting a large proportion of the population. Fatigue was significantly correlated with poorer HR-QOL among OA respondents, suggesting that fatigue is a significant issue in OA as well as RA.
This is a preview of subscription content, log in to check access.
Access options
Buy single article
Instant access to the full article PDF.
US$ 49.95
Price includes VAT for USA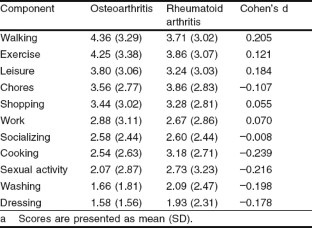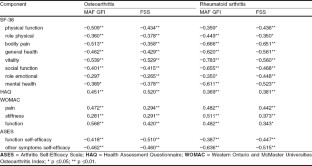 References
1.

Dittner AJ, Wessely SC, Brown RG. The assessment of fatigue: a practical guide for clinicians and researchers. J Psychosom Res 2004; 56: 157–70

2.

Hewlett S, Hehir M, Kirwan JR. Measuring fatigue in rheumatoid arthritis: a systematic review of scales in use. Arthritis Care Res 2007; 57(3): 429–39

3.

Omdal R, Mellgren SI, Koldingsnes W, et al. Fatigue in patients with systemic lupus erythematosus: lack of associations to serum cytokines, antiphospholipid antibodies, or other disease characteristics. J Rheumatol 2002; 29(3): 482–6

4.

Huyser BA, Parker JC, Thoreson R, et al. Predictors of subjective fatigue among individuals with rheumatoid arthritis. Arthritis Rheum 1998; 41: 2230–7

5.

Aarons H, Forester A, Hall G, et al. Fatigue after major joint arthroplasty: relationship to preoperative fatigue and postoperative emotional state. J Psychosom Res 1996; 41(3): 225–33

6.

Salmon P, Hall G. Postoperative fatigue is a component of the emotional response to surgery: results of multivariate analysis. J Psychosom Res 2001; 50: 325–35

7.

Wolfe F, Hawley DJ, Wilson K. The prevalence and meaning of fatigue in rheumatic disease. J Rheumatol 1996; 23(8): 1407–17

8.

Creamer P, Lethbridge-Cejku M, Hochberg MC. Factors associated with functional impairment in symptomatic knee osteoarthritis. Rheumatology 2000; 39(5): 490–6

9.

Gignac MA, Davis AM, Hawker G, et al. "What do you expect? You're just getting older": a comparison of perceived osteoarthritis-related and aging-related health experiences in middle-and older-age adults. Arthritis Rheum 2006; 55: 905–12

10.

Carr A, Hewlett S, Hughes R, et al. Rheumatology outcomes: the patient's perspective. J Rheumatol 2003; 30: 880–3

11.

Hewlett S, Cockshott Z, Byron M, et al. Patients' perceptions of fatigue in rheumatoid arthritis: overwhelming, uncontrollable, ignored. Arthritis Care Res 2005; 53(5): 697–702

12.

Kirwan JR, Minnock P, Adebajo A, et al. Patient perspective: fatigue as a recommended patient centred outcome measure in rheumatoid arthritis. J Rheumatol 2007; 34(5): 1174–7

13.

Pawlikowska T, Chalder T, Hirsch SR, et al. Population based study of fatigue and psychological distress. BMJ 1994; 308: 763–6

14.

Rupp I, Boshuizen HC, Jacobi CE, et al. Impact of fatigue on health-related quality of life in rheumatoid arthritis. Arthritis Care Res 2004; 51(4): 578–85

15.

March LM, Brnabic AJM, Skinner JC, et al. Musculoskeletal disability among elderly people in the community. Med J Aust 1998; 168: 439–42

16.

Krupp LB, LaRocca NG, Muir-Nash J, et al. The fatigue severity scale: application to patients with multiple sclerosis and systemic lupus erythematosus. Arch Neurol 1989; 46: 1121–3

17.

Mancuso CA, Rincon M, Sayles W, et al. Psychosocial variables and fatigue: a longitudinal study comparing individuals with rheumatoid arthritis and healthy controls. J Rheumatol 2006; 33(8): 1496–502

18.

Belza BL, Henke CJ, Yelin EH, et al. Correlates of fatigue in older adults with rheumatoid arthritis. Nurs Res 1993; 42(2): 93–9

19.

Belza BL. Comparison of self-reported fatigue in rheumatoid arthritis and controls. J Rheumatol 1995; 22(4): 639–43

20.

Neuberger GB, Press AN, Lindsley HB, et al. Effects of exercise on fatigue, aerobic fitness and disease activity in persons with rheumatoid arthritis. Res Nurs Health 1997; 20: 195–204

21.

MAF user's guide [online]. Available from URL: http://www.so.washington.edu/research/maf/ [Accessed 2008 Apr 11]

22.

Lorig K, Chastain RL, Ung E, et al. Development and evaluation of a scale to measure perceived self-efficacy in people with arthritis. Arthritis Rheum 1989; 32(1): 37–44

23.

Brady TJ. Measures of self-efficacy, helplessness, mastery, and control. Arthritis Care & Research 2003; 49(5S): S147–64

24.

Ware JE, Sherboume CD. The MOS 36-item Short Form Health Survey (SF-36): I. Conceptual framework and item selection. Med Care 1992; 30(6): 473–83

25.

Bellamy N. WOMAC users guide. London (ON): University of Western Ontario, 1995

26.

Fries JF, Spitz PW, Young DY. The dimensions of health outcomes: the Health Assessment Questionnaire, disability and pain scales. J Rheumatol 1982; 9(5): 789–93

27.

Wolfe F, Michaud K. Fatigue, rheumatoid arthritis, and antitumor necrosis factor therapy: an investigation in 24 831 patients. J Rheumatol 2004; 31(11): 2115–20

28.

Wolfe F. Determinants of WOMAC function, pain and stiffness scores: evidence for the role of low back pain, symptom counts, fatigue and depression in osteoarthritis, rheumatoid arthritis and fibromyalgia. Rheumatology 1999; 38: 355–61

29.

Dieppe P, Basier H-D, Chard J, et al. Knee replacement surgery for osteoarthritis: effectiveness, practice variations, indications and possible determinants of utilization. Rheumatology 1999; 38: 73–83
Acknowledgments
Funding for this study was obtained from the Australian National Health and Medical Research Council and The Lincoln Centre. The authors have no conflicts of interest directly relevant to the content of this study.
About this article
Cite this article
Cross, M., Lapsley, H., Barcenilla, A. et al. Association Between Measures of Fatigue and Health-Related Quality of Life in Rheumatoid Arthritis and Osteoarthritis. Patient-Patient-Centered-Outcome-Res 1, 97–104 (2008). https://doi.org/10.2165/01312067-200801020-00005
Keywords
Rheumatoid Arthritis

Rheumatoid Arthritis Patient

Health Assessment Questionnaire

Fatigue Severity Scale

Rheumatoid Arthritis Group