Abstract
Background: Capillary malformations (also known as port-wine stains) are low-flow vascular malformations of the skin that occur in 0.3% of neonates. Angiolipomas are subcutaneous, benign, usually multiple, lesions, composed of adipose tissue and blood vessels, which occur in young adults.
Objective: The aims of this study were to determine whether there is an association between capillary malformations and angiolipoma, and to describe the characteristics of patients with this association.
Methods: Prompted by our finding of an accompanying subcutaneous mass in a patient with capillary malformation, we reviewed the entire pool of 127 patients (71 women, 56 men; average age 22.2 years) attending the Rabin Medical Center (Petach Tikva, Israel) for treatment of nonfacial capillary malformations. All patients underwent a detailed history and comprehensive physical examination. Biopsy samples were taken from suspect lesions.
Results: In addition to the index patient, four patients were found to have a subcutaneous mass beneath the capillary formation. Imaging and histologic studies identified the mass as an angiolipoma. All of the lesions were relatively refractory to pulsed dye laser or intense pulsed light treatment.
Conclusion: This unique report of an association between capillary malformation and angiolipoma is intended to raise the index of suspicion for underlying angiolipoma in clinicians treating patients with refractory nonfacial capillary malformations.
This is a preview of subscription content, log in to check access.
Access options
Buy single article
Instant access to the full article PDF.
US$ 49.95
Price includes VAT for USA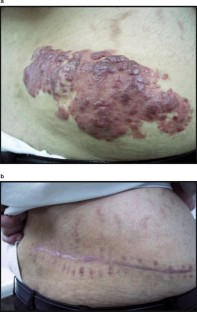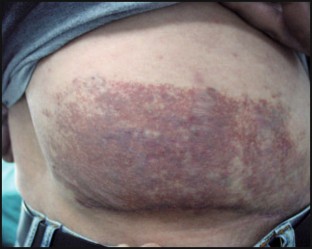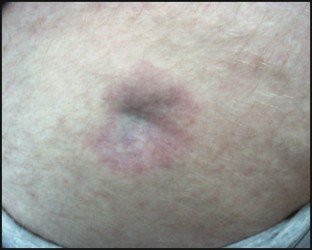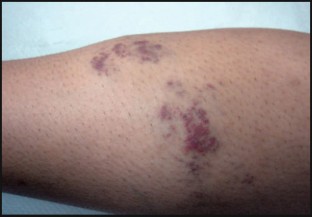 References
1.

Jacobs AH, Walton RG. The incidence of birthmarks in the neonate. Pediatrics 1976; 58: 218–22

2.

Kelly KM, Nelson JS. An update on the clinical management of port wine stains. Lasers Med Sci 2000; 15: 220–6

3.

Weedon D, Strutton G. Tumors of fat. In: Weedon D, Strutton G, editors. Skin pathology. 2nd ed. Sydney (NSW): Churchill Livingstone, 2002: 958–9

4.

Lin JJ, Lin F. Two entities in angiolipoma: a study of 459 cases of lipoma with review of literature on infiltrating angiolipoma. Cancer 1974; 34: 720–7

5.

Kyriakos M. Tumors and tumorlike conditions of the soft tissue. In: Kissane JM, editor. Anderson's pathology. 9th ed. St Louis (MO): CV Mosby Co., 1990: 1883–4

6.

Kim JY, Park JM, Lim GY, et al. Atypical benign lipomatous tumors in the soft tissue: radiographic and pathologic correlation. J Comput Assist Tomogr 2002; 26: 1063–8

7.

Kumar R, Pereira BJ, Sakhuja V, et al. Autosomal dominant inheritance in familial angiolipomatosis. Clin Genet 1989; 35: 202–4

8.

Fletcher CD. Soft tissue tumors. In: Fletcher CD, editor. Diagnostic histopathology of tumors. Vol. 2. New York: Churchill Livingstone, 1995: 1045–6

9.

Tyler RJ. Lipoma. In: Demis DJ, editor. Clinical dermatology. Vol. 4. 21st ed. Philadelphia (PA): JB Lippincott, 1994: 1–3

10.

Sciot R, Akerman M, Dal Cin PD, et al. Cytogenetic analysis of subcutaneous angiolipoma: further evidence supporting its difference from ordinary pure lipomas. Am J Surg Pathol 1997; 21: 441–4

11.

Weldon-Linne CM, Rhone DP, Blatt D, et al. Angiolipoma in homosexual men [letter]. N Engl J Med 1984; 310: 1193–4
Acknowledgments
No sources of funding were used to assist in the preparation of this study. The authors have no conflicts of interest that are directly relevant to the content of this study.
About this article
Cite this article
Lapidoth, M., Amitai, D.B., Feinmesser, M. et al. Capillary Malformation Associated with Angiolipoma. Am J Clin Dermatol 9, 389–392 (2008). https://doi.org/10.2165/0128071-200809060-00005
Keywords
Lipoma

Vascular Component

Subcutaneous Mass

Angiolipoma

Capillary Malformation