Abstract
Aim: The aim of this study was to provide a pharmacoeconomic profile of Preterax® (perindopril/indapamide) [Servier, France] based on the application of validated analytical methodologies to recently published clinical trial results.
Method: Pharmacoeconomic models were applied to studies comparing perindopril/indapamide with losartan and irbesartan in essential hypertension, and with enalapril in hypertensive diabetic patients with albuminuria. The daily cost savings per 1mm Hg reduction in blood pressure (BP) associated with reduced need for dialysis were calculated. The analyses were adapted for Germany, France and Italy, based on drug acquisition costs in euro at December 2002. The costs of end-stage renal disease were calculated at October 2002 prices in euro, based on January 1991 prices in deutschmark adjusted for inflation and exchange rate.
Results: The cost of BP normalisation with perindopril/indapamide was compared with losartan and irbesartan in two studies. The cost of BP normalisation with perindopril/indapamide was 27.83% less than that with losartan in Germany, 14.97% less in France and 30.36% less in Italy. The cost of BP normalisation with perindopril/indapamide was 41.40% less than that with irbesartan in Germany, 53.73% less in France and 30.36% less in Italy.
Discussion: Perindopril/indapamide costs less per patient per year than losartan and irbesartan to normalise BP, increase life expectancy, and prevent cardiovascular and cerebrovascular disease. In comparison with enalapril, perindopril/indapamide ensured greater overall treatment savings despite a drug acquisition cost in favour of enalapril.
Conclusion: Perindopril/indapamide should be considered for first-line treatment of essential hypertension and of albuminuria in patients with type 2 diabetes mellitus.
This is a preview of subscription content, log in to check access.
Access options
Buy single article
Instant access to the full article PDF.
US$ 39.95
Price includes VAT for USA
Subscribe to journal
Immediate online access to all issues from 2019. Subscription will auto renew annually.
US$ 171
This is the net price. Taxes to be calculated in checkout.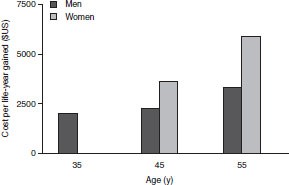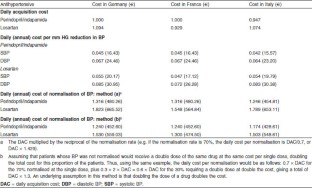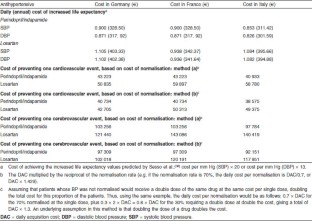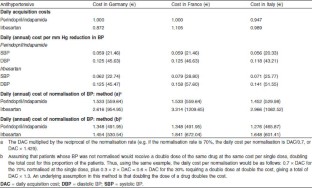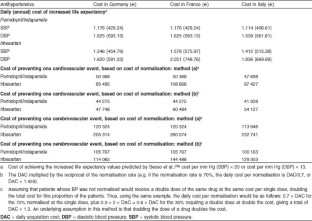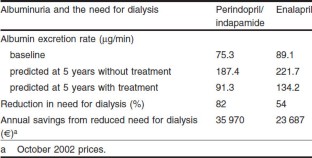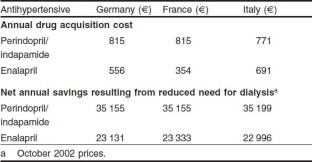 References
1.

Ogden LG, He J, Lydick E, et al. Long-term absolute benefit of lowering blood pressure in hypertensive patients according to the JNC VI risk stratification. Hypertension 2000; 35: 539–43

2.

Ambrosioni E. Pharmacoeconomics of hypertension management: the place of combination therapy. Pharmacoeconomics 2001; 19: 337–47

3.

Hilleman DE, Mohiuddin SM, Lucas BD, et al. Cost-minimization analysis of initial antihypertensive therapy in patients with mild-to-moderate essential diastolic hypertension. Clin Ther 1994; 16: 88–102; 87

4.

Ambrosioni E, Costa FV. Cost-effectiveness calculations from trials. J Hypertens 1996; 14Suppl. 2: 47–54

5.

Pardell H, Armario P, Hernández R, et al. Hypertension: epidemiology and cost of illness. Dis Manag Health Outcomes 1997; 1: 135–40

6.

MacMahon S, Peto R, Cutler J, et al. Blood pressure, stroke, and coronary heart disease: part 1, prolonged differences in blood pressure: prospective observational studies corrected for the regression dilution bias. Lancet 1990; 335: 765–74

7.

Kannel WB, Belanger AJ. Epidemiology of heart failure. Am Heart J 1991; 121: 951–7

8.

Klag MJ, Whelton PK, Randall BL, et al. Blood pressure and end-stage renal disease in men. N Engl J Med 1996; 334: 13–8

9.

He J, Whelton PK. Elevated systolic blood pressure and risk of cardiovascular and renal disease: an overview of evidence from observational epidemiologic studies and randomized controlled trials. Am Heart J 1999; 138: S211–9

10.

Kannel WB. Blood pressure as a cardiovascular risk factor: prevention and treatment. JAMA 1996; 275: 1571–6

11.

The sixth report of the Joint National Committee on prevention, evaluation and treatment of high blood pressure. Arch Intern Med 1997; 157: 2413–46

12.

Collins R, Peto R, MacMahon SW, et al. Blood pressure, stroke, and coronary heart disease: part 2, effects of short-term reductions in blood pressure: overview of randomised drug trials in their epidemiological context. Lancet 1990; 335: 827–38

13.

MacMahon S, Cutler JA, Stamler J. Antihypertensive drug treatment: potential, expected, and observed effects on stroke and on coronary heart disease. Hypertension 1989; 13(5 Suppl.): I45–50

14.

Pardell H, Tresserras R, Armario P, et al. Pharmacoeconomic considerations in the management of hypertension. Drugs 2000; 59Suppl. 2: 13–20

15.

Maynard A. The economics of hypertension control: some basic issues. J Hum Hypertens 1992; 6: 417–20

16.

Zanchen A. Cost-effectiveness of antihypertensive therapy: what message to patients and health services? J Hypertens 1998; 16Suppl. 9: 21–3

17.

Moser M. The cost of treating hypertension: can we keep it under control without compromising the level of care? Am J Hypertens 1998; 11(8 Pt 2): 20S–7S

18.

Johannesson M, Jönnson B. Cost-effectiveness analysis of hypertension treatment: a review of methodological issues. Health Policy 1991; 19: 55–78

19.

Stason WB, Weinstein MC. Allocation of resources to manage hypertension. N Engl J Med 1977; 296: 732–9

20.

Tsevat J, Weinstein MC, Williams LW, et al. Expected gains in life expectancy from various coronary heart disease risk factor modifications. Circulation 1991; 83: 1194–201

21.

Guidelines Committee. 2003 European Society of Hypertension-European Society of Cardiology guidelines for the management of arterial hypertension. J Hypertens 2003; 21: 1011-53

22.

Hughes D, McGuire A. The direct cost to the NHS of discontinuing and switching prescriptions for hypertension. J Hum Hypertens 1998; 12: 533–7

23.

Neutel JM. Low-dose antihypertensive combination therapy: its rationale and role in cardiovascular risk management. Am J Hypertens 1999; 12(8 Pt 2): 73S–9S

24.

Carretero OA, Oparil S. Essential hypertension II: treatment. Circulation 2000; 101: 446–53

25.

Chalmers J, Castaigne A, Morgan T, et al. Long-term efficacy of a new, fixed, very-low-dose angiotensin-converting enzyme-inhibitor/diuretic combination as first-line therapy in elderly hypertensive patients. J Hypertens 2000; 18: 327–37

26.

Castaigne A, Chalmers J, Morgan T, et al. Efficacy and safety of an oral fixed low-dose perindopril 2 mg/indapamide 0.625mg combination: a randomized, double-blind, placebo-controlled study in elderly patients with mild to moderate hypertension. Clin Exp Hypertens 1999; 21: 1097–110

27.

Mallion JM, Chastang C, Unger P. Efficacy and safety of a fixed low-dose perindopril/indapamide combination in essential hypertension: a randomised controlled study. Clin Exp Hypertens 2000; 22: 23–32

28.

Asmar RG, London GM, O'Rourke ME, et al. Improvement in blood pressure, arterial stiffness and wave reflections with a very-low-dose perindopril/indapamide combination in hypertensive patients: a comparison with atenolol. Hypertension 2001; 38: 922–6

29.

Black HR. The paradigm has shifted to systolic blood pressure. Hypertension 1999; 34: 386–7

30.

Safar ME. Therapeutic trials and large arteries in hypertension. Am Heart J 1988; 115: 702–10

31.

Sagie A, Larson MG, Levy D. The natural history of borderline isolated systolic hypertension. N Engl J Med 1993; 329: 1912–7

32.

World Health Organization-International Society of Hypertension Guidelines for the Management of Hypertension. J Hypertens 1999; 17: 151–183

33.

JNC 7. Seventh Report of the Joint National Committee on Prevention, Evaluation, and Treatment of High Blood Pressure: the JNC 7 Report. JAMA. 2003; 289: 2560–72

34.

Chanudet X, De Champvallins M. Antihypertensive efficacy and tolerability of low-dose perindopril/indapamide combination compared with losartan in the treatment of essential hypertension. Int J Clin Pract 2001; 55: 233–9

35.

Morgan T, Anderson A. Low-dose combination therapy with perindopril and indapamide compared with irbesartan. Clin Drug Invest 2002; 22: 553–60

36.

Mogensen CE, Viberti G, Halimi S, et al. Effect of a very low dose combination of perindopril and indapamide on albuminuria in type 2 diabetes: the PREMIER study (PREterax in albuMInuria rEgRession). Hypertension 2003; 41: 1063–71

37.

Chen RS, Lapuerta P. Cost per millimeter of mercury lowering is a measure of economic value for antihypertensive agents. Curr Hypertens Rep 2000; 2: 525–9

38.

Sesso HD, Chen RS, L'Italien GJ, et al. Blood pressure reduction and gains in life expectancy based upon a Markov model of primary and secondary cardiovascular events. 75th Congress of the American Heart Association; 2002 Nov 17-20; Chicago (IL)

39.

Mulrow CD, Cornell JA, Herrera CR, et al. Hypertension in the elderly: implications and generalizability of randomized trials. JAMA 1994; 272: 1932–8

40.

Zanchetti A, Mancia G. Benefits and cost-effectiveness of antihypertensive therapy: the actuarial versus the intervention trial approach. J Hypertens 1996; 14: 809–11

41.

Parving HH, Chaturvedi N, Viberti G, et al. Does microalbuminuria predict diabetic nephropathy? Diabetes Care 2002; 25: 406–7

42.

Nelson RG, Meyer TW, Myers BD, et al. Course of renal disease in Pima Indians with non-insulin-dependent diabetes mellitus. Kidney Int 1997; 63 Suppl.: 45–8

43.

Messent JW, Elliott TG, Hill RD, et al. Prognostic significance of microalbuminuria in insulin-dependent diabetes mellitus: a twenty-three year follow-up study. Kidney Int 1992; 41: 836–9

44.

Mattock MB, Barnes DJ, Viberti G, et al. Microalbuminuria and coronary heart disease in NIDDM: an incidence study. Diabetes 1998; 47: 1786–92

45.

Macleod JM, Lutale J, Marshall SM. Albumin excretion and vascular deaths in NIDDM. Diabetologia 1995; 38: 610–6

46.

Rossing P, Hommel E, Smidt UM, et al. Reduction in albuminuria predicts diminished progression in diabetic nephropathy. Kidney Int 1994; 45 Suppl.: 145–9

47.

Estacio RO, Schrier RW. Antihypertensive therapy in type 2 diabetes: implications of the appropriate blood pressure control in diabetes (ABCD) trial. Am J Cardiol 1998; 82(9B): 9R–14R

48.

Parving HH, Lehnert H, Brochner-Mortensen J, et al. The effect of irbesartan on the development of diabetic nephropathy in patients with type 2 diabetes. N Engl J Med 2001; 345: 870–8

49.

Heart Outcomes Prevention Evaluation Study Investigators. Effects of ramipril on cardiovascular and microvascular outcomes in people with diabetes mellitus: results of the HOPE study and MICRO-HOPE substudy. Lancet 2000; 355: 253–9

50.

UK Prospective Diabetes Study Group. Tight blood pressure control and risk of macrovascular and microvascular complications in type 2 diabetes: UKPDS 38. UK Prospective Diabetes Study Group. BMJ 1998; 317: 703–13

51.

Borch-Johnsen K, Wenzel H, Viberti GC, et al. Is screening and intervention for microalbuminuria worthwhile in patients with insulin dependent diabetes? BMJ 1993; 306: 1722–5

52.

Feldt-Rasmussen B, Mathiesen ER, Jensen T, et al. Effect of improved metabolic control on loss of kidney function in type 1 (insulin-dependent) diabetic patients: an update of the Steno studies. Diabetologia 1991; 34: 164–70

53.

Odedina FT, Sullivan J, Nash R, et al. Use of pharmacoeconomic data in making hospital formulary decisions. Am J Health Syst Pharm 2002; 59: 1441–4

54.

Greenberg PE, Arcelus A, Birnbaum HG, et al. Pharmacoeconomics and health policy: current applications and prospects for the future. Pharmacoeconomics 1999; 16: 425–32
Acknowledgements
The preparation of this paper was supported by an unrestricted educational grant from Servier International.
The author has no other conflicts of interest that are directly relevant to the contents of this article.
About this article
Cite this article
Ambrosioni, E. Pharmacoeconomic Study of First-Line Perindopril/Indapamide Combination in Lowering Blood Pressure and Reducing Albuminuria. High Blood Press Cardiovasc Prev 12, 203–213 (2005). https://doi.org/10.2165/00151642-200512040-00002
Keywords
Enalapril

Losartan

Blood Pressure Reduction

Irbesartan

Urinary Albumin Excretion