Abstract
Aim: The aim of this study was to assess the long-term tolerability and efficacy of a fixed combination of manidipine 10mg and delapril 30mg (M+D) as an antihypertensive treatment in patients with mild to moderate hypertension.
Study design: This was a multicentre open study, with a two-week placebo run-in period, followed by a 50-week active treatment period. Three hundred and nine patients with a mean age of 56.4 years and a sitting (Si) diastolic blood pressure (DBP) of ≥95mm Hg and ≤110mm Hg were enrolled. During the treatment period systolic blood pressure (SBP) and DBP were assessed by conventional sphygmomanometry.
Results: The decreases in SiSBP and SiDBP were clinically relevant after 4 weeks of treatment, with a mean reduction of 16.6mm Hg (95% confidence interval [CI] −18.2; −15) and 9.3mm Hg (95% CI −10.2; −8.4), respectively. At the end of treatment, SiSBP and SiDBP were significantly decreased by 21.8mm Hg [95% CI −23.4; −20.2) and 14.3mm Hg (95% CI −15.3; −13.4), respectively. Pulse pressure (PP) was 61.4 ± 9.8mm Hg at baseline and was reduced to 54.2 ± 10.8mm Hg after the first month of treatment (−7.3mm Hg, 95% CI −8.5; −6); at 50 weeks of treatment the PP was 54 ± 11mm Hg (−7.5mm Hg, 95% CI −8.8; −6.1). The success rate (reduction of SiDBP ≥10mm Hg from baseline or SiDBP ≤90mm Hg) was 86.4%, the normalisation rate (SiDBP ≤90mm Hg) was 80.6%. Forty-four patients (14.2%) reported adverse drug-related events. No clinically significant changes in heart rate, ECG or laboratory tests were found.
Conclusion: The fixed combination M+D is effective in reducing blood pressure levels in patients with hypertension and in maintaining the reduction throughout the study period, with a good tolerability profile.
This is a preview of subscription content, log in to check access.
Access options
Buy single article
Instant access to the full article PDF.
US$ 39.95
Price includes VAT for USA
Subscribe to journal
Immediate online access to all issues from 2019. Subscription will auto renew annually.
US$ 171
This is the net price. Taxes to be calculated in checkout.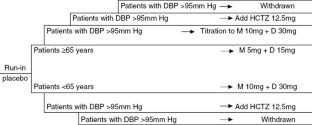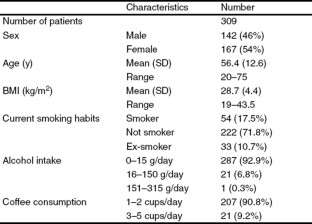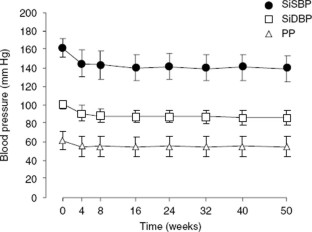 References
1.

Kleien WH. Treatment of hypertension with calcium channel blockers European data. Am J Med 1984; 77(4A): 143–6

2.

Materson BJ. Monotherapy of hypertension with angiotensin-converting enzyme inhibitors. Am J Med 1984; 77(4A): 128–34

3.

Frishman WH, Zawada Jr ET, Smith LK, et al. Comparison of hydrochlorothiazide and substained-release diltiazem for mild-to-moderate hypertension. Am J Cardiol 1987; 59: 615–23

4.

Aellig WH. Adverse reactions to antihypertensive therapy. Cardiovasc Drug Ther 1998; 12: 189–96

5.

Townsend RR, Holland OB. Combination of converting enzyme inhibitor with diuretic for the treatment of hypertension. Arch Intern Med 1990; 150: 1175–83

6.

Frishman WH, Landau A, Cretkovic A. Combination drug therapy with calcium-channel blockers in the treatment of systemic hypertension. J Clin Pharmacol 1993; 33: 752–5

7.

Chalmers J, Castaigne A, Morgan T, et al. Long term efficacy of a new, fixed, very low-dose angiotensin-converting-enzyme-inhibitor/diuretic combination as first-line therapy in elderly hypertensive patients. J Hypertens 2000; 18: 327–37

8.

Multiple Risk Factor Intervention Trial Research Group. Multiple risk factor intervention trial. JAMA 1982; 248: 1465–77

9.

Helgeland A. Treatment of mild hypertension: a 5-year controlled drug trial. Am J Med 1980; 69: 725–32

10.

Leren P, Eide I, Foss OP, et al. Antihypertensive drugs and blood lipids: the Oslo Study. J Cardiovasc Pharmacol 1982; 4Suppl. 2: S222–4

11.

White WB, Viadero JJ, Lane TJ, et al. Effects of combination therapy with captopril and nifedipine in severe or resistant hypertension. Clin Pharmacol Ther 1986; 39: 43–8

12.

Kloke HJ, Huysmans FT, Wetzels JF, et al. Antihypertensive effects of nitrendipine and cilazapril alone, and in combination in hypertensive subjects with chronic renal failure. Br J Clin Pharmacol 1989; 27: S289–96

13.

Frishman WH, Bryzinski BS, Coulson LR, et al. A multifactorial trial design to assess combination therapy in hypertension: treatment with bisoprolol and hydrochlorothiazide. Arch Intern Med 1994; 154: 1461–8

14.

Zanchetti A. Nitrendipine and ACE inhibitors. J Cardiovasc Pharmacol 1988; 12Suppl. 4: S80–5

15.

Valentino VA, Wilson MD, Weart W, et al. A perspective of converting enzyme inhibitors and calcium channel antagonists in diabetic renal disease. Arch Intern Med 1991; 151: 2367–72

16.

Fouad FM, Tarazi RC. Cardiac factors in response to antihypertensive treatment. Hypertension 1983; 5Suppl. III: 43–8

17.

Gradman AH, Cutler NR, Davis PJ, et al. Combined enalapril and felodipine extended release (ER) for systemic hypertension. Am J Cardiol 1997; 79: 431–5

18.

Applegate WB, Cohen JD, Wolfson P, et al. Evaluation of blood pressure response to the combination of enalapril (single dose) and diltiazem ER (four different doses) in systemic hypertension. Am J Cardiol 1996; 78: 51–5

19.

Frishman WH, Ram CV, McMahon FG, et al. Comparison of amlodipine and benazepril monotherapy to amlodipine plus benazepril in patients with systemic hypertension: a randomised, double blind, placebo-controlled, parallel-group study. J Clin Pharmacol 1995; 35: 1060–6
Acknowledgements
The study was supported by a grant from Chiesi Farmaceutici — Parma, Italy.
The list of the study sites and members of this study is as follows: Prof. Karpati and Dr Imre Lukás, Istvan Kórház, 1096 — Budapest, Nagyvárad tér 1; Prof. Dr Gyorgy Jermendy, Bajcsy-Zsilinszky Kórház, 1106 — Budapest, Maglódi u. 89–91; Dr Lászlo Szilágyi, Erzsébet Kórház, 1074 — Budapest, Alsóerdosor u. 7; Dr Károly Tóth, Jahn Ferenc Dél-pesti Kórház, 1204 — Budapest, Koves u. 2–4; Dr Sándor Tímár, Bács-Kiskun Megyei Onkormányzat Kórháza, 6000 — Kecskemé, Nyíri u. 38; Dr Gyorgy Sallai, Dél-pesti Kórháza, 1204 — Budapest, Podmaniczky 111; Dr Péter Dános, Máv Kórház, 1062 — Budapest, Podmaniczky 111; Dr Béla Oze, Toldy Ferenc Kórház, 2701 — Cegléd, Torteli u. 1–3; Dr János Tóth, Jávorsky Odon Kórház, 2600 — Vác, Jókay u. 10; Dr Gábor Veress, Állami Kórház, 8230 — Balatonfured, Gyógy tér 2; Dr Péter Voros, István Kórház, 1096 — Budapest, Nagyvárad tér 1; Dr Lászlo Regos, Károlyi Sándor Kórház, 1045 — Budapest, Nyár u. 103; Dr Mátyás Sereg, Szent Gyorgy Kórház, 8000 — Székesfehérvár, Seregélyesi u.; Dr Béla Pálossy, Fovarosí Onkormányzat Uzsoki utcai Kórháza, 1145 — Budapest, Uzsoki u. 29; Dr Gábor Déak, Fundamed Háziorvosi Szovetkeze t Érd, 2030 Bajcsy — Zsilinszky út 47.
About this article
Cite this article
Karpati, P., Alberici, M., Tocci, G. et al. Long-Term Tolerability and Efficacy of the Fixed Combination of Manidipine and Delapril in Patients with Essential Hypertension. High Blood Press Cardiovasc Prev 10, 81–86 (2003). https://doi.org/10.2165/00151642-200310020-00004
Keywords
Pulse Pressure

Fixed Combination

Moderate Essential Hypertension

Manidipine

Hypertensive Retinopathy