Conclusions
In summary, there exists empirical evidence suggesting that the remembered utility of an event is driven by peak-end evaluation rather than by the total utility actually experienced. It is plausible that this observation will translate to (individual and/or social) decisions on the distribution of QALYs over the life course, although empirical evidence needs to be gathered to confirm whether or not this conjecture holds. If it does hold, should it matter? This question is open to debate. There is an enormously topical but far from resolved issue with respect to UK health policy.[28,29] Are patients and/or the general public to be given greater choice in healthcare? One thing is clear. If they are, then we have to accept that their considered choices may justifiably conflict with some of the entrenched (but insufficiently tested) decision rules in the social and clinical sciences.
This is a preview of subscription content, log in to check access.
Access options
Buy single article
Instant access to the full article PDF.
US$ 49.95
Price includes VAT for USA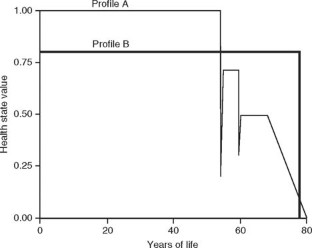 Notes
1.

1Willingness to pay, most notably contingent valuation, has also been criticised for its perhaps more fundamental methodological flaws (e.g. Cookson[10]). These include, for example, 'scope effects', where the values that people offer may be insufficiently sensitive to differential 'risks', and 'embedding effects', where the value that people offer for a particular 'good' is not sufficiently 'picked up' when they are asked to value a bundle that includes that good. However, it ought to be acknowledged that the flaws in the QALY methodology are equally onerous, not least with respect to the conceptual and empirical problems that have been observed in the health state value elicitation techniques,[11] and the assumption that the values given to health states are independent of the length of time spent in those states.[12]

2.

2Strictly speaking, only QALYs elicited with the use of the standard gamble can be thought of as health state 'utilities', because, alone among the commonly used health state value elicitation instruments, the standard gamble is implied by the axioms of von Neumann and Morgenstern[13] expected utility theory (EU). Thus, the standard gamble is the only instrument that is grounded in cardinal utility theory. However, neither the distinctions between the different instruments, nor indeed the frequently observed violations of the EU axioms (e.g. Camerer[14]), are of central importance to this article. single individual) over the timeframe of the study.3 The question addressed in this article is whether this maximisation principle really reflects people's preferences for how they would wish their own health — and/or the health of others — to be ordered?

3.

3The values that underlie QALYs are often elicited from random samples of the population and are therefore 'hypothetical' in the sense that they are elicited from people who are not actually experiencing the health states under study. However, as is the case in much of the applied QALY literature, we will assume that hypothetical values are an accurate measure of experienced values. Nonetheless, the strength of this assumption lends support to those who might argue that experienced health state utility maximisation really requires a more direct measure of experienced health state utility than the QALY. We will briefly return to this point towards the end of this article, in the section titled Implications for QALY Maximisation.

4.

4The arguments and empirical studies that are outlined in this, and the next, section are discussed extensively in Kahneman et al.,[15] where they are related to 'broad' concepts of utility. However, the arguments are also applicable to the narrower concept of health state utility.

5.

5It is not easy to defend violations of temporal monotonicity, but, if remembered utility drives decisions over future events, there may be some circumstances where knowledge of the phenomenon can be used to beneficial effect. For example, if a patient's willingness to undertake a repeat procedure can be influenced by 'extending' — and reducing the disutility of — the end of an initial procedure (and we know that undertaking the repeat procedure would be genuinely beneficial to the patient), then it is possible that knowledge of the 'end' effect could be usefully employed in clinical medicine.[15] Moreover, it is perhaps worth noting that there is also evidence that adding a poor moment to the beginning of a period can improve the overall value of an experience, as experiences that improve over time can attract a higher remembered utility.[21]

6.

6Assume that the values of all health states referred to in this example have been elicited with one of the standard instruments for health state value elicitation.

7.

7The studies outlined in the previous sections of this article adopted an individual perspective: i.e. respondents were asked questions relating to their own utility. It could be interesting to test whether similar results arise when respondents answer with respect to other people's utility. Social decision making vis-à-vis QALY maximisation is well suited to this task.

8.

8If such an experiment were carried out, measures would need to be taken to ensure that a preference for B over A is not simply due to error. For example, qualitative evidence for the respondents' choices could be gathered in order to analyse the underlying reasons for their answers. Moreover, after making their choices, all respondents could be informed that B involves fewer lifetime QALYs than A, and then asked if they would like to alter their choices.

9.

9Respondents' attitudes towards discounting future years of life are also likely to have some impact on their assessments of profiles. However, empirical and normative considerations of discounting are a separate issue and do not negate the possible influence of peak-end evaluation.
References
1

Ministry of Health. Ontario guidelines for economic analysis of pharmaceutical products. Toronto: Ministry of Health, 1994

2

Commonwealth of Australia. Guidelines for the pharmaceutical industry on prepa ration of submissions to the pharmaceutical benefits advisory committee: including submissions involving economic analyses. Canberra: Australian Gov ernment Printing Office, 1995

3

Norwegian Medicines Control Authority. Norwegian guidelines for pharmaco-economic analysis in connection with application for reimbursement. Oslo: Norwegian Medicines Control Authority (SLK), 1999

4

Sickness Funds Council. Dutch guidelines for pharmacoeconomic research. Am-stelveen: Ziekenfondsraad, 1999

5

Carlsson P. Health technology assessment and priority setting for health policy in Sweden. Int J Technol Assess Health Care 2004; 20: 44–54

6

Stevens A, Milne R. Health technology assessment in England and Wales. Int J Technol Assess Health Care 2004; 20: 11–24

7

Williams A. Economics of coronary artery bypass grafting. BMJ 1985; 291: 326–9

8

National Institute for Clinical Excellence [NICE]. Technical guidance for manu facturers and sponsors on making a submission to a technology appraisal. London: NICE, 2001

9

Donaldson C, Shackley P. Willingness to pay for health care. In: Scott A, Maynard A, Elliot R, editors. Advances in health economics. Chichester: John Wiley and Sons, 2002

10

Cookson R. Willingness to pay methods in health care: a sceptical view. Health Econ 2003; 12: 891–4

11

Oliver A. Putting the quality into quality-adjusted life years. J Public Health Med 2003 Mar; 25: 8–12

12

Loomes G, McKenzie L. The use of QALYs in health care decision-making. Soc Sci Med 1989; 28: 299–308

13

von Neumann J, Morgenstern O. Theory of games and economic behavior. Princeton: Princeton University Press, 1944

14

Camerer C. Individual decision making. In: Kagel JH, Roth AE, editors. The handbook of experimental economics. Princeton: Princeton University Press, 1995

15

Kahneman D, Wakker PP, Sarin R. Back to Bentham? Explorations of expected utility. Q J Econ 1997; 112: 375–405

16

Bentham J. An introduction to the principles of morals and legislations. Oxford: Blackwell, 1948 [originally published in 1789]

17

Mill JS. Utilitarianism. Glasgow: William Collins, 1962 [originally published in 1861]

18

Fredrickson BL, Kahneman D. Duration neglect in retrospective evaluations of affective episodes. J Pers Soc Psychol 1993; 65: 45–55

19

Redelmeier D, Kahneman D. Patients' memories of painful medical treatments: real-time and retrospective evaluations of two minimally invasive procedures. Pain 1996; 66: 3–8

20

Redelmeier D, Katz J, Kahneman D. Memories of colonoscopy: a randomised trial. Pain 2003; 104: 187–94

21

Ariely D, Carmon Z. Gestalt characteristics of experiences: the defining features of summarized events. J Behav Decis Making 2000; 13: 191–201

22

Kahneman D, Fredrickson BL, Schreiber CA, et al. When more pain is preferred to less: adding a better end. Psychol Sci 1993; 4: 401–5

23

Schreiber CA, Kahneman D. Determinants of the remembered utility of aversive sounds. J Exp Psychol Gen 2000; 129: 27–42

24

Ariely D, Loewenstein G. When does duration matter in judgment and decision making? J Exp Psychol Gen 2000; 129: 508–29

25

Diener E, Wirtz D, Oishi S. End effects of rated life quality: the James Dean effect. Psychol Sci 2001; 12: 124–8

26

Macran S, Kind P. 'Death' and the valuation of health-related quality of life. Med Decis Making 2001; 39: 217–27

27

Mowrer OH, Solomon LN. Contiguity vs drive-reduction in conditioned fear: the proximity and abruptness of drive-reduction. Am J Psychol 1954; 67: 15–25

28

Le Grand J. Motivation, agency, and public policy: of knights and knaves, pawns and queens. Oxford: Oxford University Press, 2003

29

Oliver A, editor. Equity in health and healthcare: views from ethics, economics and political science. London: The Nuffield Trust, 2003
Acknowledgements
The author is grateful to the Editors for comments on a previous draft. No sources of funding were used to assist in the preparation of this manuscript, and the author has no conflicts of interest.
About this article
Cite this article
Oliver, A. Should we maximise QALYs?. Appl Health Econ Health Policy 3, 61–66 (2004). https://doi.org/10.2165/00148365-200403020-00001
Keywords
Future Event

Standard Gamble

Health State Utility

Economic Appraisal

Experienced Utility