Abstract
Introduction
In primary-care practice, trimetazidine is frequently used in combination with other antianginal drugs to enhance antianginal efficacy because of its metabolic mode of action. This study investigates whether a new twice-daily trimetazidine modified release formulation with improved pharmacokinetic properties is more effective and acceptable than the older thrice-daily immediate-release formulation.
Methods
In a multicenter prospective study, patients with uncontrolled stable angina pectoris receiving combination antianginal treatment that included the thrice-daily trimetazidine were identified. The immediate-release trimetazidine formulation was substituted with twice-daily trimetazidine modified release (Flavedon® MR), with no other changes in the treatment regimen. Follow-up was for 3 months. The primary outcomes were entirely clinical: frequency of anginal attacks and nitroglycerin (glyceryl trinitrate) consumption.
Results
In 279 patients, substitution of thrice-daily trimetazidine with twice-daily trimetazidine modified release reduced mean frequency of angina by four attacks per week (95% CI 3.1,4.9; p < 0.01) and nitroglycerin consumption by 3.6 tablets per week (95% CI 2.9, 4.3; p < 0.01). The magnitude of these benefits was directly proportional to the number of antianginal drugs used in combination with trimetazidine. There were no withdrawals due to adverse effects, and daily compliance was 98%.
Conclusion
The twice-daily trimetazidine modified release is more effective and acceptable than the thrice-daily formulation for the combination treatment of stable angina in primary-care practice.
This is a preview of subscription content, log in to check access.
Access options
Buy single article
Instant access to the full article PDF.
US$ 49.95
Price includes VAT for USA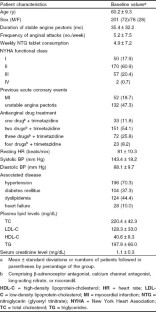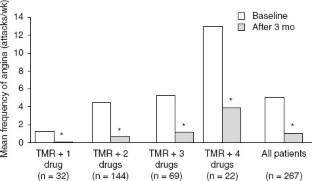 Notes
1.

The use of tradenames is for product identification purposes only and does not imply endorsement.
References
1.

Akhras F, Jackson G. Efficacy of nifedipine and isosorbide mononitrate in combination with atenolol in stable angina. Lancet 1991; 338(8774): 1036–9.

2.

Pepine CJ, Abrams J, Marks RG, et al. Characteristics of a contemporary population with angina pectoris: the TIDES investigators. Am J Cardiol 1994; 74(3): 226–31.

3.

Lopaschuk GD. Fatty acid and glucose metabolism: a target for intervention. In: Hearse DJ, Apstein CS, Cobbe SM, et al., editors. Metabolic approaches to ischemic heart disease and its management. London: Science Press, 1998: 44–57.

4.

Szwed H, Pachocki R, Domzal-Bochenska M, et al. Efficacy and tolerance of trimetazidine in combination with conventional antianginal drugs in patients with stable effort angina. Diagn Treat Cardiol 1997; 4: 237–47.

5.

Paes AH, Bakker A, Sue-Agnie CJ. Impact of dosage frequency on patient compliance. Diabetes Care 1997; 20(10): 1512–7.

6.

Genissel P, Chodjania Y, Demolis JL, et al. Assessment of sustained release properties of a new oral formulation of trimetazidine in pigs and dogs and confirmation in healthy human volunteers. Eur J Drug Metab Pharmacokinet 2004; 20(1): 61–8.

7.

Sellier P, Broustet J. Assessment of anti-ischemic and antianginal effect at trough plasma concentration and safety of trimetazidine MR 35mg in patients with stable angina pectoris. Am J Cardiovasc Drugs 2003; 3(5): 361–9.

8.

Michaelides AP, Spiropoulos K, Dimopoulos K, et al. Antianginal efficacy of the combination of trimetazidine-propranolol compared with isosorbide dinitrate-propranolol in patients with stable angina. Clin Drug Invest 1997; 13(1): 8–14.

9.

Manchanda SC, Krishnaswami S. Combination treatment with trimetazidine and diltiazem in stable angina pectoris. Heart 1997; 78(4): 353–7.

10.

Szwed H, Sadowski Z, Elikowski W, et al. Combination treatment in stable effort angina using trimetazidine and metoprolol: results of a randomized, double-blind, multicentre study (TRIMIPOL II). Eur Heart J 2001; 22: 2267–74.
Acknowledgments
We are indebted to Dr David Park, consultant epidemiologist; Dr Preeti Modi and Dr Aparna Kalsekar for assistance in organizing the study, and the following doctors who participated in the trial: Dr C.R. Rawat (Agra); Dr K. Vaidya (Ahmedabad); Dr V.K. Gupta (Amritsar); Dr A. Limaye (Baroda); Dr K. Gurunath, Dr D. Ratnani (Bhillai); Dr R. Bhagchandani, Dr R.S. Vijayvargiya (Bhopal); Dr (Capt.) P.S. Mohanamurugan, Dr S. Ramesh, Dr M. Somasundaram (Chennai); Dr R. Agarwal, Dr S. Dhawan, Dr H.O. Gupta, Dr V. Gupta, Dr V. Mittal, Dr R. Sharma, Dr M.P. Singh (Delhi); Dr U. Chandra (Hyderabad); Dr A. Bharani (Indore); Dr A. Jain (Jaipur); Dr M. Lal (Jammu); Dr S. Sanghvi (Jodhpur); Dr K. Bhowmick, Dr A. Mishra, Dr D. Mitra, Dr D. Sinha Roy (Kolkata); Dr D.P. Bhatnagar (Lucknow); Dr R. Dargard, Dr B.C. Malpani, Dr A. Patil, Dr S. Shah (Mumbai); Dr M. Singh (Patiala); Dr A.K. Jha, Dr H. Kumar (Patna); Dr S. Agarwal, Dr M. Kawedia (Pune); Dr K. Parikh (Rajkot); Dr D. Gupta (Ranchi); Dr A. Joshi (Roha); Dr S.P. Mehta (Surat); Dr R.M. Mundada (Ulhasnagar); Dr B.V. Agarwal, Dr R. Khanna (Varanasi); Dr A.S. Rao (Vijayawada), and Miss Kinnari Gandhi for secretarial assistance.
The authors are also grateful to Serdia Pharmaceuticals (India) Pvt. Ltd for making this study possible by funding the organizational expenses through a financial grant. No other financial support was involved, and the authors have no potential conflicts of interest to declare.
About this article
Cite this article
Gupta, R., Sawhney, J.P.S. & Narain, V.S. Treatment of Stable Angina Pectoris with Trimetazidine Modified Release in Indian Primary-Care Practice. Am J Cardiovasc Drugs 5, 325–329 (2005). https://doi.org/10.2165/00129784-200505050-00005
Keywords
Calcium Channel Antagonist

Trimetazidine

Anginal Attack

Plasma Lipid Profile

Weekly Frequency