Abstract
Coal tar shampoos, containing 2 to 10% coal tar solution, are effective in scalp psoriasis. However, no double-blind studies are available to support such an assumption. Salicylic acid 5 to 10% has a pronounced keratolytic effect. Salicylic acid should be formulated in an ointment, which can be washed off easily. Crude coal tar is the most effective tar available for the treatment of psoriasis. An important feature of coal tar is its potent efficacy against pruritus. At the scalp, the application of crude coal tar is difficult. Therefore coal tar solution is the most frequently applied tar preparation in scalp psoriasis.
Dithranol 0.1 to 3% is manufactured in various formulations. Treatment is initiated at a low concentration and the concentration is increased stepwise until a slight irritation, the feeling of warmth, is reached. In the treatment of scalp psoriasis, cream formulations are used. Imidazole antifungals have been used with success in scalp psoriasis. Overgrowth of the scalp with pityrosporon is a well-known feature of scalp psoriasis and seborrheic dermatitis. In case of resistance to other topical treatments use of a topical or systemic imidazole derivative might be helpful.
So far, topical corticosteroids are the most frequently used treatments for psoriasis of the scalp. Corticosteroids inhibit epidermal proliferation, inhibit inflammation and modulate immune functions. Topical corticosteroids are fast acting: within 3 to 4 weeks maximal efficacy is reached. No data are available to support the efficacy and safety of topical corticosteroids during long term use. However, from epidemiologic surveys we know that these treatments are used by the majority of patients for more than 8 weeks. Since 1992 vitamin D3 formulations have been developed for the treatment of psoriasis. Calcipotriol is available in most countries. Tacalcitol is available in Japan and several other countries. Vitamin D3 analogues inhibit epidermal proliferation, enhance cornification and inhibit inflammation. Therefore, vitamin D3 analogues have a substantial antipsoriatic effect. Systemic treatments such as methotrexate, cyclosporine and acitretin are indicated in patients with recalcitrant disease.
Management of scalp psoriasis requires long term strategies in order to reach an optimal improvement of the condition, while avoiding the adverse effects associated with the long term use of treatments.
This is a preview of subscription content, log in to check access.
Access options
Buy single article
Instant access to the full article PDF.
US$ 49.95
Price includes VAT for USA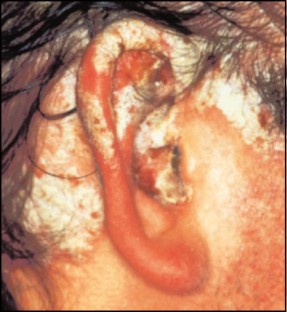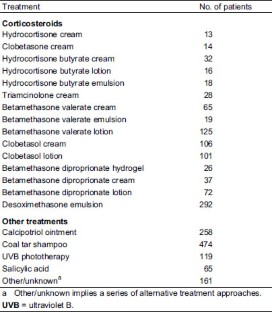 References
1.

Kerkhof P.C.M. van de. Textbook of psoriasis. Oxford: Blackwell Science, 1999

2.

Roenigk H.H., Maibach H.I. Psoriasis. 3rd edition. New York: Marcel Dekker Inc., 1998

3.

Lever W.F., Schaumburg-Lever G. Psoriasis. In: J.B. Lippincot, editor. Histopathology of the skin. 6th edition. Philadelphia: J.B. Lippincott Company, 1983: 139–146

4.

Kerkhof P.C.M. van de, Hoop D. de, Korte J. de, et al. Scalp psoriasis; clinical presentations and therapeutic management. Dermatology 1998; 197: 326–334

5.

Kerkhof P.C.M. van de, Steegers-Theunissen R.P.M., Kuipers M.V. Evaluation of topical drug treatment in psoriasis. Dermatology 1998; 197: 31–36

6.

Poyner T.F., Fell P.J. Frequency of patients with plaque psoriasis who had not consulted their doctor in the past year. Br J Clin Res 1995; 6: 201–207

7.

Christophers E., Krueger G.G. Psoriasis. In: Fitzpatrick I.H.B., Eisen A.Z., Wolff K., et al., editors. Dermatology in general medicine. New York: McGrawhill Book Co, 1987: 461–491

8.

Schoorl W.J., Baar H.J., Kerkhof P.C.M. van de. The hair root pattern in psoriasis of the scalp. Acta Derm Venereol 1992; 72: 141–142

9.

Kerkhof P.C.M. van de, Chang A. Scarring alopecia and psoriasis. Br J Dermatol 1992; 126: 524–525

10.

Schuster S. Psoriatic alopecia. Br J Dermatol 1992; 87: 73–77

11.

Olansky S. Whole coal tar shampoo: a therapeutic hair repair system. Cutis 1980; 25: 99–104

12.

Lowe N.J., Breeding J.H., Wortzmann M.S. New coal tar extract and coal tar shampoos. Arch Dermatol 1982; 118: 487–489

13.

Jongeneelen F.J., Bos R.P., Azion R.B.M. Biological monitoring of polycyclic aromatic hydrocarbons. Metabolites in urine. Scand J Work Environ Health 1986; 12: 137–143

14.

Snijder F.H., Buehler E.V., Winek C.L. Safety evaluation of zinc-2-pyridine-thiol 1-ozide in a shampoo formulation. Toxicol Appl Pharmacol 1965; 7: 425–437

15.

Orentreich N. a clinical evaluation of two shampoos in the treatment of seborrhoic dermatitis. J Soc Cosmet Chem 1972; 23: 189–194

16.

Arnold W.P. Tar. In: Kerkhof P.C.M. van de, editor. The management of psoriasis: Clin Dermatol 1997; 15: 739–744

17.

Wheeler L.A., Soperstein M.D., Lowe N.J., et al. Mutagenicity of urine from psoralen patients undergoing treatment with coal tar and ultrviolet light. J Invest Dermatol 1981; 77: 180–185

18.

Galewsky E. Ueber Cignolin, ein Ersatzpräparat des Chrysarobins. Dermatol Wschr 1916; 62: 113–115

19.

Ashton E., Andre P., Lowe N.J. Anthralin: historical and current perspectives. J Am Acad Dermatol 1983; 9: 173–192

20.

Fuchs J., Packer L. Investigations of anthralin free radicals in model systems and in skin of hairless mice. J Invest Dermatol 1989; 92: 677–682

21.

Mahrle G., Bonnekoh B., Wevers A. Anthralin: how does it act and are there more favourable derivatives? Acta Derm Venereol Suppl (Stockh) 1994; 186: 83–84

22.

Farr P.M., Krause L.B., Marks J.M., et al. Response of scalp psoriasis to oral ketoconazole. Lancet 1985; 8461 (II): 921–922

23.

Faergemann J. treatment of sebopsoriasis with itraconazole. Mykosen 1985; 28: 612–618

24.

Rosenberg E.W., Belew P.W., Skinner R.B. Treatment of psoriasis with antimicrobial agents. Semin Dermatol 1985; 4: 307–311

25.

Jury C.S., Hugh McL., Shankland G.S., et al. A randomized, placebo-controlled trial of oral itraconazole in scalp psoriasis. J Dermat Treat 2000; 11: 85–89

26.

Shemer A., Nathansohn N., Kaplan B., et al. Treatment of scalp seborrhoic dermatitis and psoriasis with an ointment of 40% urea and 1% bifonazole. Int J Dermatol 2000; 39: 521–538

27.

Maibach H., Stoughton R. Topical corticosteroids. Med Clin North Am 1973; 57: 1253–1264

28.

Engel D.J.C., Marx A.F., Rekker R.F., et al. Topically active corticosteroids. Arch Dermatol 1974; 109: 863–865

29.

Robertson D., Maibach H. Topical corticosteroids. Semin Dermatol 1983; 2: 238–249

30.

Feldman R.J., Maibach H.I. Penetration of 14C hydrocortisone through normal skin, the effect of stripping and occlusion. Arch Dermatol 1965; 91: 661–666

31.

Feldman S.R., Sangha N., Setaluri V. Topical corticosteroid in foam vehicle offers comparable coverage compared with traditional vehicles. J Am Acad Dermatol 2000; 42: 1017–1020

32.

Franz Th. J., Parsell D.A., Myers J.A., et al. Clobetasol propionate foam 0,05%: a novel vehicle with enhanced delivery. Int J Dermatol 2000; 39: 521–538

33.

Kragballe K., Wildfang I.L. Calcipotriol (MC 903) a novel vitamine D3 analogue stimulates terminal differentiation and inhibits proliferation of cultured human keratinocytes. Arch Derm Res 1990; 282: 164–167

34.

Binderup L., Kragballe K. Origin and use of calcipotriol in psoriasis treatment. Rev Contemp Pharmacotherap 1992; 23: 401–409

35.

Ramsay C.A., Berth Jones J., Brundin G. Long-term use of topical calcipotriol in chronic plaque-type psoriasis. Dermatology 1994; 189: 260–264

36.

Thomas S., Geyer R.M.M. Actualiseringsronde NHG-Standaarden 1995–1996. Huisarts Wet 1996; 39: 564

37.

Dubertret L., Wallach D., Souteyrand P. Efficacy and safety of calcipotriol (MC 903) ointment in psoriasis vulgaris. J Am Acad Dermatol 1992; 27: 983–988

38.

Fogh K., Kragballe K. Vitamin D3 analogues. In: Kerkhof P.C.M. van de, editor. The management of psoriasis. Clin Dermatol 1997; 15: 705–713

39.

Klaber M.R., Hutchinson P.E., Pedvisleftick A., et al. Comparitive effects of calcipotriol solution (50 Tg/ml) in the treatment of scalp psoriasis. Br J Dermatol 1994; 131: 678–683

40.

Said S., Jeffes E.W.B., Weinstein G.D. Methotrexate. In: Management of psoriasis. Kerkhof P.C.M. van de, editor. The management of psoriasis. Clin Dermatol 1997; 15: 781–798

41.

Roenigk H.H., Auerbach H., Weinstein G., et al. Methotrexate in psoriasis. Consensus Conference 1998; 38: 478–485

42.

De Rie M.A., Bos J.D. Cyclosporin and immunotherapy. In: Textbook of psoriasis. Kerkhof P.C.M. van de, editor. Oxford: Blackwell Science Ltd, 1999; 257–274

43.

Gollnick H.P.M., Bonnekoh B. Topical and systemic retinoids. In: Textbook of psoriasis. In: Kerkhof P.C.M. van de, editor. Oxford: Blackwell Science Ltd, 1999: 233–256
About this article
Cite this article
van de Kerkhof, P.C.M., Franssen, M.E.J. Psoriasis of the Scalp. Am J Clin Dermatol 2, 159–165 (2001). https://doi.org/10.2165/00128071-200102030-00005
Keywords
Salicylic Acid

Psoriasis

Topical Corticosteroid

Calcipotriol

Acitretin