Abstract
Background
Topical clindamycin and benzoyl peroxide have each demonstrated clinical efficacy in the treatment of acne vulgaris. When used in combination, they promise greater efficacy than either individual agent used alone and the combined use of benzoyl peroxide with topical antibacterials has been shown to decrease the emergence of antibacterial resistant species.
Objective
The objective was to determine the efficacy and safety of a combination benzoyl peroxide plus clindamycin in a gel formulation compared with each of its 2 active constituents in gel vehicle, and gel vehicle given alone in the treatment of acne vulgaris.
Methods
In this 10-week, multicenter, double-blind trial, 480 patients with moderate to moderately severe acne were randomized to receive twice-daily treatment with 5% benzoyl peroxide plus 1% clindamycin, 5% benzoyl peroxide, 1% clindamycin, or vehicle.
Results
Significantly greater reductions in the number of inflammatory and total lesions were demonstrated in patients using combination therapy compared with those using any of its 3 individual components. Likewise, both physicians' and patients' global evaluations showed significantly greater improvements with the combination therapy than with its individual components. The most frequent adverse effect, dry skin, occurred to a similar extent in the combination and benzoyl peroxide treatment groups.
Conclusion
The improved efficacy obtained with the combination therapy was accompanied by a tolerability profile similar to that of benzoyl peroxide alone, making this new combination product an alternative antimicrobial therapy for acne vulgaris.
This is a preview of subscription content, log in to check access.
Access options
Buy single article
Instant access to the full article PDF.
US$ 49.95
Price includes VAT for USA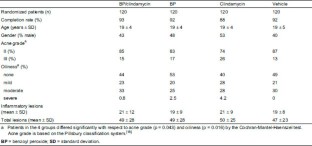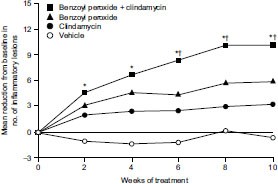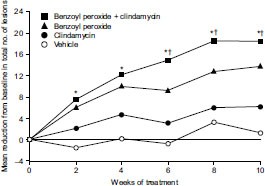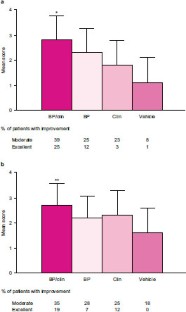 References
1.

Chu A., Huber F.J., Plott R.T. The comparative efficacy of benzoyl peroxide 5%/erythromycin 3% gel and erythromycin 4%/zinc 1.2 % solution in the treatment of acne vulgaris. Br J Dermatol 1997; 136: 235–238

2.

Richter J.R., Forstrom L.R., Kiistala U.O., et al. Efficacy of the fixed 1.2 % clindamycin phosphate, 0.025% tretinoin gel formulation (Velac) and a proprietary 0.0 25% tretinoin gel formulation (Aberela) in the topical control of facial acne. J Eur Acad Dermatol Venereol 1998; 11: 227–233

3.

Korting H., Braun-Falco O. Efficacy and tolerability of combined topical treatment of acne vulgaris with tretinoin and erythromycin in general practice. Drugs Exp Clin Res 1989; 15: 447–451

4.

Akamatsu H., Kurokawa I., Nishijima S., et al. Inhibition of neutrophil chemotactic factor production in comedonal bacteria by subminimal inhibitory concentrations of erythromycin. Dermatology 1992; 185: 41–43

5.

Webster G.F., Leyden J.J. Characterization of serum-independent polymorphonuclear leukocyte chemotactic factors produced by Propionibacterium acnes. Inflammation 1980; 4: 261–384

6.

Weiss J.S. Current options for the topical treatment of acne vulgaris. Pediatr Dermatol 1997; 14: 480–488

7.

Esterly N.B., Furey N.L., Flanagan L.E. The effect of antimicrobial agents on leukocyte chemotaxis. J Invest Dermatol 1978; 70: 51–55

8.

Mills O.H., Kligman AM, Pochi P., et al. Comparing 2.5 %, 5%, and 10% benzoyl peroxide on inflammatory acne vulgaris. Int J Dermatol 1986; 25: 664–667

9.

Tucker S., Tausend R., Cochran R. Comparison of topical clindamycin phosphate, benzoyl peroxide, and a combination of the two for the treatment of acne vulgaris. Br J Dermatol 1984; 110: 487–492

10.

Lookingbill D.P., Chalker D.K., Lindholm J.S., et al. Treatment of acne with a combination clindamycin/benzoyl peroxide gel compared with clindamycin gel, benzoyl peroxide gel and vehicle gel: combined results of two double-blind investigations. J Am Acad Dermatol 1997; 37: 590–595

11.

Chalker D.K., Shalita A., Smith J.G.I., et al. A double-blind study of the effectiveness of a 3% erythromycin and 5% benzoyl peroxide combination in the treatment of acne vulgaris. J Am Acad Dermatol 1983; 9: 933–936

12.

Eady E.A., Bojar R.A., Jones C.E., et al. The effects of acne treatment with a combination of benzoyl peroxide and erythromycin on skin carriage of erythromycin resistant propionibacteria. Br J Dermatol 1996; 134: 107–113

13.

Borglund E., Hägermark Ö., Nord C.E. Impact of topical clindamycin and systemic tetracycline on the skin and colon microflora in patients with acne vulgaris. Scand J Infect Dis 1984; 43 Suppl.: 76–81

14.

Eady E.A., Cove J.H., Holland K.T., et al. Erythromycin resistant Propionibacteria in antibiotic treated acne patients: Association with therapeutic failure. Br J Dermatol 1989; 121: 51–57

15.

Leyden J.J., McGinley K.J., Cavalieri S., et al. Propionibacteria acnes resistance to antibiotics in acne patients. J Am Acad Derm 1983; 8: 41–45

16.

Eady E.A., Farmery M.R., Ross J.I., et al. Effects of benzoyl peroxide and erythromycin alone and in combination against antibiotic-sensitive and resistant skin bacteria from acne patients. Br J Dermatol 1994; 131: 331–336

17.

Harkaway K., McGinley K.J., Foglia A.N., et al. Antibiotic resistance patterns in coagulase-negative staphylococci after treatment with topical erythromycin, benzoyl peroxide, and combination therapy. Br J Dermatol 1992; 126: 586–590

18.

Pillsbury D.M. A manual of dermatology. Philadelphia, PA: W.B. Saunders, 1971

19.

Nacht S., Yeung D., Jr Beasley J.N., et al. Benzoyl peroxide: Percutaneous penetration and metabolic disposition. J Am Acad Dermatol 1981; 4: 31–37

20.

Decker L.C., Deuel D.M., Sedlock D.M. Role of lipids in augmenting the antibacterial activity of benzoyl peroxide against Propionibacterium acnes. Antimicrob Agents Chemother 1989; 33: 326–330

21.

Kligman A., Leyden J.J., Stewart R. New use for benzoyl peroxide: A broad spectrum antimicrobial agent. Int J Dermatol 1977; 16: 413–417
Acknowledgements
Financial support for this work was provided by Dermik Laboratories, Inc., Berwyn, PA.
About this article
Cite this article
Leyden, J.J., Berger, R.S., Dunlap, F.E. et al. Comparison of the Efficacy and Safety of a Combination Topical Gel Formulation of Benzoyl Peroxide and Clindamycin with Benzoyl Peroxide, Clindamycin and Vehicle Gel in the Treatments of Acne Vulgaris. Am J Clin Dermatol 2, 33–39 (2001). https://doi.org/10.2165/00128071-200102010-00006
Keywords
Acne

Clindamycin

Benzoyl Peroxide

Tretinoin

Combination Product