Abstract
Eye injuries in squash have the potential to be severe. Although these injuries can be prevented through the use of protective eyewear, few players wear such eyewear. The aim of this paper is to outline the behavioural principles guiding the design of a squash eyewear promotion initiative, the Protective Eyewear Promotion (PEP). Ecological principles of behaviour change were used to provide a comprehensive perspective on intrapersonal factors, policies and physical environmental influences of protective eyewear use. Results of baseline player surveys and venue manager interviews were used to provide relevant and specific intervention content. At baseline, protective eyewear was not found to be readily available, and players' behaviours, knowledge and attitudes did not favour its use. The main components of PEP involved informing and educating both players and squash venue operators of the risk of eye injury and of appropriate protective eyewear, as well as assisting with the availability of the eyewear and offering incentives for players to use it. A structural strength of PEP was the strong collaborative links with the researchers of different disciplines, the squash governing body, eyewear manufacturers, squash venue personnel, as well as players. Attempts were made within the project structure to make provision for the future dissemination and sustainability of more widespread eye injury prevention measures in the sport of squash.
This is a preview of subscription content, log in to check access.
Access options
Buy single article
Instant unlimited access to the full article PDF.
US$ 49.95
Price includes VAT for USA
Subscribe to journal
Immediate online access to all issues from 2019. Subscription will auto renew annually.
US$ 199
This is the net price. Taxes to be calculated in checkout.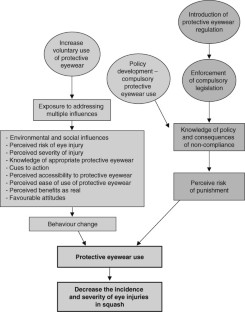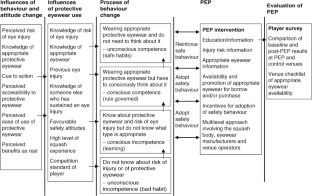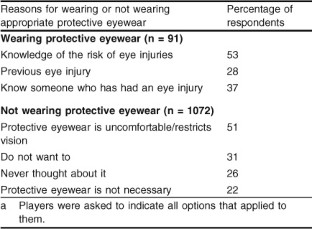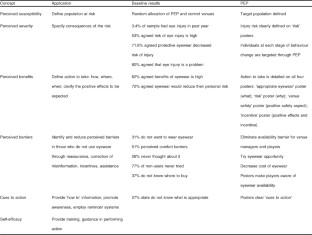 References
1.

Finch CF, Eime RM. The epidemiology of squash injuries. Int J Sports Med 2001; 2: 1–11

2.

Eime R, Zazryn T, Finch C. Epidemiology of squash injuries requiring hospital treatment. Inj Control Saf Promot 2003; 10: 243–5

3.

International Federation of Sports Medicine. Eye injuries and eye protection in sports. J Strength Cond Res 1990; 12: 42–3

4.

Barr A, Baines PS, Desai P, et al. Ocular sports injuries: the current picture. Br J Sports Med 2000; 34: 456–8

5.

Gallaway M, Aimino J, Scheiman M. The effect of protective sports eyewear on peripheral visual field and a peripheral visual performance task. J Am Optom Assoc 1986; 57: 304–10

6.

Vinger P. A practical guide for sports eye protection. Phys Sportsmed 2000; 28: 1–13

7.

Silko GJ, Cullen PT. Indoor racquet sports injuries. Am Fam Physician 1994; 50: 374–80

8.

Erie JC. Eye injuries, prevention, evaluation, and treatment. Phys Sportsmed 1991; 19: 108–22

9.

Pashby T. Saving sight in sport [online]. Available from URL: http://www.whalers.org/fairplay/pashby/sight94/sight.htm [Accessed 2004 Aug 3]

10.

Squash Australia. Protective eyewear policy. Synergy 1998, 32–3

11.

Flores C. Double vision. Ski Technology 1992; Nov/Dec: 24–5

12.

International Federation of Sports Medicine. Eye injuries and eye protectors in sports. Athletic Ther Today 1999; 4: 6–8

13.

Pardhan S, Shacklock P, Weatherill J. Sport-related eye trauma: a survey of the presentation of eye injuries to a casualty clinic and the use of protective eye-wear. Eye 1995; 9: S50–3

14.

Easterbrook M. Eye injuries in racket sports: a continuing problem. Phys Sportsmed 1981; 9: 91–101

15.

Eime RM, Finch CF, Sherman CF, et al. Are squash players protecting their eyes? Inj Prev 2002; 8: 239–41

16.

Eime RM, Finch CF. Have the attitudes of Australian squash players towards protective eyewear changed over the past decade? Br J Sports Med 2002; 36: 442–5

17.

World Squash Federation [online]. Available from URL: http://www.squash.org/best_ever_wsf_agm_says_susie.htm [Accessed 2004 Jan 15]

18.

United States Squash. Protective eyewear policy [online]. Available from URL: http://www.us-squash.org/squash/ussra/protectiveeyewear.html [Accessed 2004 Jan 15]

19.

Squash Canada. Eyeguards [online]. Available from URL: http://www.squash.ca/e/about/policies/eyeguards.pdf [Accessed 2004 Aug 3]

20.

England squash technical information sheet no. 14: eye protection for squash players [online]. Available from URL: http://www.englandsquash.com/files/info%2014%20eyeprotection%20feb04.doc [Accessed 2004 Aug 03]

21.

Cameron MH, Vulcan AP, Finch CF, et al. Mandatory bicycle helmet use following a decade of helmet promotion in Victoria, Australia: an evaluation. Accid Anal Prev 1994; 26: 325–37

22.

Eime R, Finch C, Owen N, et al. Knowledge, beliefs and attitudes of squash venue operators relating to use of protective eyewear. Inj Control Saf Promot 2004; 11: 47–53

23.

Sallis J, Owen N. Ecological models of health behavior. In: Glanz K, Rimer B, Lewis F, editors. Health behavior and health education: theory, research, and practice. San Francisco (CA): Jossey-Bass, 2002: 462–85

24.

Geller E. The psychology of safety: how to improve behaviors and attitudes on the job. Boca Raton (FL): CRC Press, 1998: 390

25.

Becker MH, Maiman LA. Sociobehavioral determinants of compliance with health care and medical care recommendations. Med Care 1975; 13: 10–24

26.

Jensen J, Counte MA, Glandon GL. Elderly health beliefs, attitudes and maintenance. Prev Med 1992; 21: 483–97

27.

Godin G, Shephard RJ. Use of attitude-behaviour models in exercise promotion. Sports Med 1990; 10: 103–21

28.

Weinstein N. Effects of personal experience on self-protective behavior. Psychol Bull 1989; 105: 31–50

29.

Perry MJ, Marbella A, Layde PM. Association of pesticide safety beliefs and intentions with behaviors among farm pesticide applicators. Am J Health Promot 1999; 14: 18–21

30.

Finch CF, McIntosh AS, McCrory P. What do under 15 year old schoolboy rugby union players think about protective headgear? Br J Sports Med 2001; 35: 89–94

31.

Sandman P, Weinstein N. Predictors of home radon testing and implications for testing promotion programs. Health Educ Q 1993; 20: 471–87

32.

Onklin R. A jury will ask if you did everything you could to prevent a serious injury: but to what extent you outfit your athlete is never that simple. Athletic Business 1998; Jul: 65–9

33.

Harborview Injury Prevention and Research Centre. Bike safety campaigns: for starters [online]. Available from URL: http://depts.washington.edu/hiprc/about/topics/web/bike_prevmat/ [Accessed 2004 Aug 3]

34.

Schieber R, Vegega M. Education versus environmental countermeasures. Inj Prev 2002; 8: 10–1

35.

Svanstrom L. Evidence-based injury prevention and safety promotion: state-of-the-art. In: Mohan D, Tiwari G, editors. Injury prevention and control. New York: Taylor and Francis, 2000

36.

Commonwealth Department of Health and Ageing. National drugs campaign [online]. Available from URL: http://www.drugs.health.gov.au/campaign.htm [Accessed 2004 Aug 3]

37.

Segui-Gomez M. Evaluating worksite-based interventions that promote safety belt use. Am J Prev Med 2000; 18 (4 Suppl.): 11–22

38.

Zaza S, Carande-Kulis V, Sleet D, et al. Methods for conducting systematic reviews of the evidence of effectiveness and economic efficiency of interventions to reduce injuries to motor vehicle occupants. Am J Prev Med 2001; 21 (4 Suppl.): 23–30

39.

Sherker S, Cassell E. Personal protective equipment use by inline skaters in Victoria. Aust N Z J Public Health 2001; 25: 179–84

40.

Finch C, Hennesey M. The safety practices of sporting clubs/centres in the city of Hume. J Sci Med Sport 2000; 3: 9–16

41.

Eime RM. Squash players' knowledge, behaviours and attitudes associated with the use of protective eyewear [dissertation]. Melbourne: Deakin University School of Health Sciences, 2000: 73
Acknowledgements
This study was funded by an NHMRC Translational Grant in Injury. Rochelle Eime was funded by an NHMRC Public Health Postgraduate Research Scholarship. The Victorian Metropolitan squash venues operators are thanked for their ongoing contribution to this research. Paul Vear from the Victorian Squash Federation is also thanked for his involvement in this project. Dunlop and IMAX Pty Ltd, are acknowledged for their partnership in this project. The authors have no conflicts of interest directly relevant to the content of this review.
About this article
Cite this article
Eime, R., Owen, N. & Finch, C. Protective Eyewear Promotion. Sports Med 34, 629–638 (2004) doi:10.2165/00007256-200434100-00001
Keywords
Seat Belt

Safety Behaviour

Bicycle Helmet

Sport Injury Prevention

Protective Eyewear