Abstract
Objectives
We determined in vitro the potency of macrolides as P-glycoprotein inhibitors and tested in hospitalised patients whether coadministration of P-glycoprotein inhibitors leads to increased serum concentrations of the P-glycoprotein substrates digoxin and digitoxin.
Methods
In vitro, the effect of macrolides on polarised P-glycoprotein-mediated digoxin transport was investigated in Caco-2 cells. In a pharmacoepidemiological study, we analysed the serum digoxin and digitoxin concentrations with and without coadministration of P-glycoprotein inhibitors in hospitalised patients.
Results
All macrolides inhibited P-glycoprotein-mediated digoxin transport, with concentrations producing 50% inhibition (IC50) values of 1.8, 4.1, 15.4, 21.8 and 22.7 μmol/L for telithromycin, clarithromycin, roxithromycin, azithromycin and erythromycin, respectively. Coadministration of P-glycoprotein inhibitors was associated with increased serum concentrations of digoxin (1.3 ± 0.6 vs 0.9 ± 0.5 ng/mL, p < 0.01). Moreover, patients receiving macrolides had higher serum concentrations of cardiac glycosides (p < 0.05).
Conclusion
Macrolides are potent inhibitors of P-glycoprotein. Drug interactions between P-glycoprotein inhibitors and substrates are likely to occur during hospitalisation.
This is a preview of subscription content, log in to check access.
Access options
Buy single article
Instant access to the full article PDF.
US$ 49.95
Price includes VAT for USA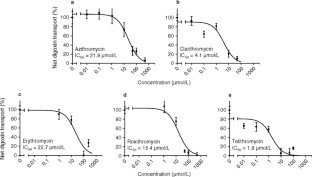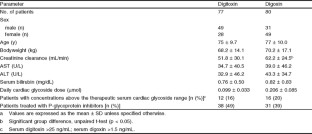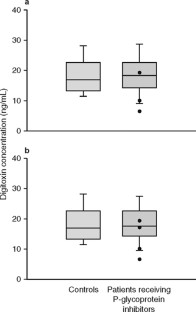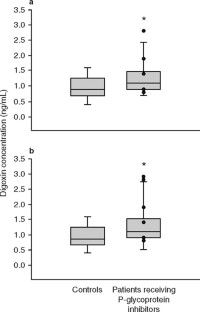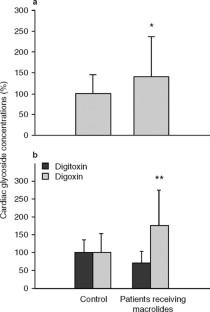 Notes
1.

The use of trade names is for product identification purposes only and does not imply endorsement.
References
1.

Juliano RL, Ling V. A surface glycoprotein modulating drug permeability in Chinese hamster ovary cell mutants. Biochim Biophys Acta 1976 Nov; 455(1): 152–62

2.

Ford JM, Hait WN. Pharmacology of drugs that alter multidrug resistance in cancer. Pharmacol Rev 1990 Sep; 42(3): 155–99

3.

Mizuno N, Niwa T, Yotsumoto Y, et al. Impact of drug transporter studies on drug discovery and development. Pharmacol Rev 2003 Sep; 55(3): 425–61

4.

Marzolini C, Paus E, Buclin T, et al. Polymorphisms in human MDR1 (P-glycoprotein): recent advances and clinical relevance. Clin Pharmacol Ther 2004 Jan; 75(1): 13–33

5.

Fromm MF. Importance of P-glycoprotein at blood-tissue barriers. Trends Pharmacol Sci 2004 Aug; 25(8): 423–9

6.

Fromm MF. P-glycoprotein: a defense mechanism limiting oral bioavailability and CNS accumulation of drugs. Int J Clin Pharmacol Ther 2000 Feb; 38(2): 69–74

7.

Fricker G, Miller DS. Modulation of drug transporters at the blood-brain barrier. Pharmacology 2004 Apr; 70(4): 169–76

8.

Greiner B, Eichelbaum M, Fritz P, et al. The role of intestinal P-glycoprotein in the interaction of digoxin and rifampin. J Clin Invest 1999 Jul; 104(2): 147–53

9.

Fromm MF, Kim RB, Stein CM, et al. Inhibition of P-glycoprotein-mediated drug transport: a unifying mechanism to explain the interaction between digoxin and quinidine. Circulation 1999 Feb; 99(4): 552–7

10.

Schwabe U, Paffrath D. Arzneiverordnungs-Report 2005: Aktuelle Daten, Kosten, Trends und Kommentare. Berlin: Springer Verlag, 2005

11.

Ito K, Ogihara K, Kanamitsu S, et al. Prediction of the in vivo interaction between midazolam and macrolides based on in vitro studies using human liver microsomes. Drug Metab Dispos 2003 Jul; 31(7): 945–54

12.

Polasek TM, Miners JO. Quantitative prediction of macrolide drug-drug interaction potential from in vitro studies using testosterone as the human cytochrome P4503A substrate. Eur J Clin Pharmacol 2006 Mar; 62(3): 203–8

13.

Pauli-Magnus C, Mürdter T, Godel A, et al. P-glycoprotein-mediated transport of digitoxin, alpha-methyldigoxin and beta-acetyldigoxin. Naunyn Schmiedebergs Arch Pharmacol 2001 Mar; 363(3): 337–43

14.

Morton MR, Cooper JW. Erythromycin-induced digoxin toxicity. DICP 1989 Sep; 23(9): 668–70

15.

Corallo CE, Rogers IR. Roxithromycin-induced digoxin toxicity. Med J Aust 1996 Oct; 165(8): 433–4

16.

Thalhammer F, Hollenstein UM, Locker GJ, et al. Azithromycin-related toxic effects of digitoxin. Br J Clin Pharmacol 1998 Jan; 45(1): 91–2

17.

Wakasugi H, Yano I, Ito T, et al. Effect of clarithromycin on renal excretion of digoxin: interaction with P-glycoprotein. Clin Pharmacol Ther 1998 Jul; 64(1): 123–8

18.

Aventis Pharmaceuticals. Ketek™ (telithromycin): briefing document for the FDA Anti-Infective Drug Products Advisory Committee meeting, March 2001 [online]. Available from URL: http://www.fda.gov/ohrms/dockets/ac/01/briefing/3746b_01_aventis.pdf [Accessed 2007 Sep 21]

19.

Zapater P, Reus S, Tello A, et al. A prospective study of the clarithromycin-digoxin interaction in elderly patients. J Antimicrob Chemother 2002 Oct; 50(4): 601–6

20.

Rengelshausen J, Goggelmann C, Burhenne J, et al. Contribution of increased oral bioavailability and reduced nonglomerular renal clearance of digoxin to the digoxin-clarithromycin interaction. Br J Clin Pharmacol 2003 Jul; 56(1): 32–8

21.

Stahlmann R, Fuhr R. Azithromycin. Arzneimitteltherapie 2004 Apr; 22(4): 110–8

22.

Nenciu LM, Laberge P, Thirion DJ. Telithromycin-induced digoxin toxicity and electrocardiographic changes. Pharmacotherapy 2006 Jun; 26(6): 872–6

23.

Kim RB, Wandel C, Leake B, et al. Interrelationship between substrates and inhibitors of human CYP3A and P-glycoprotein. Pharm Res 1999 Mar; 16(3): 408–14

24.

Pachot JI, Botham RP, Haegele KD, et al. Experimental estimation of the role of P-glycoprotein in the pharmacokinetic behaviour of telithromycin, a novel ketolide, in comparison with roxithromycin and other macrolides using the Caco-2 cell model. J Pharm Pharm Sci 2003 Jan-Apr; 6(1): 1–12

25.

Drescher S, Glaeser H, Mürdter T, et al. P-glycoprotein-mediated intestinal and biliary digoxin transport in humans. Clin Pharmacol Ther 2003 Mar; 73(3): 223–31

26.

Englund G, Hallberg P, Artursson P, et al. Association between the number of coadministered P-glycoprotein inhibitors and serum digoxin levels in patients on therapeutic drug monitoring. BMC Med 2004 Apr; 2: 8

27.

Adams Jr KF, Patterson JH, Gattis WA, et al. Relationship of serum digoxin concentration to mortality and morbidity in women in the Digitalis Investigation Group trial: a retrospective analysis. J Am Coll Cardiol 2005 Aug; 46(3): 497–504

28.

Yamashita S, Tanaka Y, Endoh Y, et al. Analysis of drug permeation across Caco-2 monolayer: implication for predicting in vivo drug absorption. Pharm Res 1997 Apr; 14(4): 486–91

29.

Bachmakov I, Rekersbrink S, Hofmann U, et al. Characterisation of (R/S)-propafenone and its metabolites as substrates and inhibitors of P-glycoprotein. Naunyn Schmiedebergs Arch Pharmacol 2005 Mar; 371(3): 195–201

30.

Kim RB, Fromm MF, Wandel C, et al. The drug transporter P-glycoprotein limits oral absorption and brain entry of HIV-1 protease inhibitors. J Clin Invest 1998 Jan; 101(2): 289–94

31.

Egger T, Dormann H, Ahne G, et al. Identification of adverse drug reactions in geriatric inpatients using a computerised drug database. Drugs Aging 2003; 20(10): 769–76

32.

Dormann H, Criegee-Rieck M, Neubert A, et al. Implementation of a computer-assisted monitoring system for the detection of adverse drug reactions in gastroenterology. Aliment Pharmacol Ther 2004 Feb; 19(3): 303–9

33.

Reisig M. Implementierung und Evaluation eines computergestützten Systems zur Optimierung der individuellen Arzneimitteltherapie [dissertation]. Erlangen: Friedrich-Alexander-Universität Erlangen-Nürnberg, 2006

34.

Kivistö KT, Zukunft J, Hofmann U, et al. Characterisation of cerivastatin as a P-glycoprotein substrate: studies in P-glyco-protein-expressing cell monolayers and mdr1a/b knock-out mice. Naunyn Schmiedebergs Arch Pharmacol 2004 Aug; 370(2): 124–30

35.

Rathore SS, Curtis JP, Wang Y, et al. Association of serum digoxin concentration and outcomes in patients with heart failure. JAMA 2003 Feb; 289(7): 871–8

36.

Lindenbaum J, Rund DG, Butler Jr VP, et al. Inactivation of digoxin by the gut flora: reversal by antibiotic therapy. N Engl J Med 1981 Oct; 305(14): 789–94

37.

Midoneck SR, Etingin OR. Clarithromycin-related toxic effects of digoxin. N Engl J Med 1995 Nov; 333(22): 1505

38.

Nawarskas JJ, McCarthy DM, Spinler SA. Digoxin toxicity secondary to clarithromycin therapy. Ann Pharmacother 1997 Jul-Aug; 31(7–8): 864–6

39.

Laberge P, Martineau P. Clarithromycin-induced digoxin intoxication. Ann Pharmacother 1997 Sep; 31(9): 999–1002

40.

Pedersen KE, Christiansen BD, Klitgaard NA, et al. Effect of quinidine on digoxin bioavailability. Eur J Clin Pharmacol 1983; 24(1): 41–7

41.

Angelin B, Arvidsson A, Dahlqvist R, et al. Quinidine reduces biliary clearance of digoxin in man. Eur J Clin Invest 1987 Jun; 17(3): 262–5

42.

Koren G, Klein J, De Lannoy IA, et al. Cyclosporin and quinidine inhibition of renal digoxin excretion: evidence for luminal secretion of digoxin. Am J Physiol 1992 Oct; 263(4): F613–22

43.

Sphakianaki E, Tsouderos I, Morali A, et al. Interactions between digitoxin and some antiarrhythmic drugs. Methods Find Exp Clin Pharmacol 1992 Jun; 14(5): 355–60

44.

Laer S, Scholz H, Buschmann I, et al. Digitoxin intoxication during concomitant use of amiodarone. Eur J Clin Pharmacol 1998 Mar; 54(1): 95–6

45.

Smith TW. Pharmacokinetics, bioavailability and serum levels of cardiac glycosides. J Am Coll Cardiol 1985 May; 5 (5 Suppl. A): 43A–50A

46.

Francke DE. Bioavailability of digoxin. Ann Pharmacother 2006 Jun; 40(6): 1185
Acknowledgements
Drs Sonja Eberl and Bertold Renner contributed equally to the study. The authors thank Mrs B. Endress for excellent technical assistance and Novartis for providing the PSC-833. This work was supported by grant numbers Fr1298/2–4 and K02120/1–3 from the Deutsche Forschungsgemeinschaft (Bonn, Germany). The authors have no other conflicts of interest that are directly relevant to the content of this study.
About this article
Cite this article
Eberl, S., Renner, B., Neubert, A. et al. Role of P-Glycoprotein Inhibition for Drug Interactions. Clin Pharmacokinet 46, 1039–1049 (2007). https://doi.org/10.2165/00003088-200746120-00004
Keywords
Digoxin

Clarithromycin

Macrolides

Roxithromycin

Cardiac Glycoside