Abstract
Objective
Multisectoral partnerships (MPs) are increasingly viewed as an excellent strategy for promoting population health, although the Canadian evidence on MPs remains scant. The objective of this research was to identify enablers and barriers to multisectoral collaboration across three MPs (focused on food systems, urban development, and active transportation) in a Canadian urban centre.
Methods
This study is part of a pan-Canadian research program—MUSE (Multisectoral Urban Systems for health and Equity in Canadian cities). A qualitative case study methodology was used to explore enablers and barriers to collaboration among three MPs in a mid-sized Canadian city. Key strategy documents of the MPs and 13 in-depth, semi-structured interviews were conducted with stakeholders from each MP. Interview data were transcribed and subjected to thematic analysis using NVivo 12 software, with rigour ensured through member checking.
Results
Enablers to collaboration included agenda and goal alignment among partners, quality of relationships in MPs, and external enabling factors. Barriers to multisectoral collaboration included agenda and priority differences, factors related to partnership structure, constitution and processes, and external barriers. Based on these factors, we developed a multisectoral collaboration matrix that dichotomizes enablers and barriers into intrinsic/internal and extrinsic/external to increase understanding of health-promoting MPs in Canada.
Conclusion
Various enablers and barriers promote or inhibit multisectoral partnerships. By casting these factors into a matrix, members of ongoing or emerging MPs could take advantage of the factors that promote their work and are in their control (intrinsic enablers) or outside their control (extrinsic enablers) while working to overcome challenges presented by collaboration barriers.
Résumé
Objectif
L'établissement de partenariats multisectoriels (PM) est de plus en plus reconnu comme une excellente stratégie pour promouvoir la santé des populations bien que les données probantes canadiennes soient disponibles en quantités limitées. L'objectif de cette étude est d'identifier les leviers et les obstacles à la collaboration multisectorielle dans trois PM (visant respectivement le système alimentaire, le développement urbain et le transport actif) œuvrant dans un centre urbain canadien.
Méthodes
Cette étude fait partie d'un programme de recherche pancanadien – MUSE (Multisectorielles et urbaines : santé et équité dans les villes canadiennes). Une étude de cas méthodologie qualitative a été utilisée pour explorer les leviers et les obstacles à la collaboration dans trois PM dans une ville canadienne de taille moyenne. Les documents décrivant les orientations stratégiques de chacun des PM ont été examinés et 13 entrevues approfondies et semi-dirigées ont été menées avec les parties-prenantes de chacun des PM. Les verbatim d'entrevues ont été transcrits et soumis à une analyse thématique en utilisant le logiciel NVivo 12. La rigueur a été assurée via des vérifications entre codeurs.
Résultats
Les leviers à la collaboration incluent une bonne adéquation entre les agendas et les objectifs des différents membres d'un PM, la qualité des relations interpersonnelles entre membres des PM et des facteurs facilitants externes. Les obstacles à la collaboration multisectorielle incluent des agendas et priorités divergents, des facteurs reliés à la structure du partenariat, la composition et les processus de fonctionnement du PM, et les barrières externes. Les leviers et obstacles ainsi identifiés ont été catégorisés comme étant intrinsèques/internes ou extrinsèques/externes menant à la création d'une matrice de collaboration multisectorielle qui permet de mieux comprendre les enjeux vécus dans les PM qui font la promotion de la santé au Canada.
Conclusion
Différents leviers et obstacles soutiennent ou entravent les partenariats multisectoriels. En illustrant ces facteurs dans une matrice, les membres de PM existants ou émergeants peuvent prendre acte des facteurs qui soutiennent leurs travaux – qu'ils soient maniables (leviers intrinsèques) ou non (leviers extrinsèques) – tout en surmontant les défis occasionnés par les obstacles à la collaboration.
Access options
Buy single article
Instant access to the full article PDF.
US$ 39.95
Tax calculation will be finalised during checkout.
Subscribe to journal
Immediate online access to all issues from 2019. Subscription will auto renew annually.
US$ 119
Tax calculation will be finalised during checkout.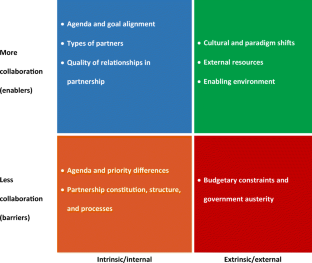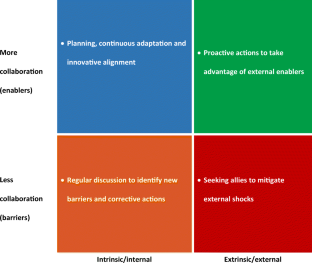 Data availability
Data are managed by N.M. or L.G. as per procedures approved by relevant Human Research Ethics Committees.
Notes
1.

The notation used for reporting key informant interviews is as follows: M1, M2, etc. = Member 1, Member 2, etc. interviewed from the given partnership; MP1, MP2, MP3 = the three partnerships under study (see Table 1).
References
Corbin, J. H., & Mittelmark, M. B. (2008). Partnership lessons from the Global Programme for Health Promotion Effectiveness: A case study. Health Promotion International, 23(4), 365–371. https://doi.org/10.1093/heapro/dan029.

Corbin, J. H., Jones, J., & Barry, M. M. (2018). What makes intersectoral partnerships for health promotion work? A review of the international literature. Health Promotion International, 33(1), 4–26. https://doi.org/10.1093/heapro/daw061.

Creswell, J. W. (2013). Qualitative inquiry and research design: choosing among five approaches (3rd ed.). Sage Publications.

Dennis, S., Hetherington, S., Borodzicz, J. A., Hermiz, O., & Zwar, N. A. (2015). Challenges to establishing successful partnerships in community health promotion programs: local experiences from the national implementation of Healthy Eating Activity and Lifestyle (HEAL) program. Health Promotion Journal of Australia, 26, 45–51.

Estacio, E. V., Oliver, M., Downing, B., Kurth, J., & Protheroe, J. (2017). Effective partnership in community-based health promotion: lessons from the health literacy partnership. International Journal of Environmental Research and Public Health, 14(12). https://doi.org/10.3390/ijerph14121550.

Fawcett, S., Schultz, J., Watson-Thompson, J., Fox, M., & Bremby, R. (2010). Building multisectoral partnerships for population health and health equity. Preventing Chronic Disease, 7(6).

Gray, E., Mayan, M., Lo, S., Jhangri, G., & Wilson, D. (2012). A 4-year sequential assessment of the families first edmonton partnership: challenges to synergy in the implementation stage. Health Promotion Practice, 13(2), 272–278. https://doi.org/10.1177/1524839910387398.

Kuruvilla, S., Hinton, R., Boerma, T., Bunney, R., Casamitjana, N., Cortez, R., et al. (2018). Business not as usual: how multisectoral collaboration can promote transformative change for health and sustainable development. BMJ (Online), 363, 1–10. https://doi.org/10.1136/bmj.k4771.

Lasker, R. D., Weiss, E. S., & Miller, R. (2001). Partnership synergy: a practical framework for studying and strengthening the collaborative advantage. The Milbank Quarterly, 79(2), 179–205. https://doi.org/10.1186/s12939-018-0814-0.

Lindlof, T. R., & Taylor, B. C. (2002). Qualitative communication research methods (2nd ed.). Sage Publications.

Longoria, R. A. (2005). Is inter-organizational collaboration always a good thing? Journal of Sociology and Social Welfare, 32(3), 123–138.

Marshall, M. (1996). The key informant technique. Fam Pract, 13(1), 92–97.

Merriam, S. B. (1998). Qualitative research and case study applications in education. Jossey-Bass Publishers.

Robert Wood Johnson Foundation. (2010). A new way to talk about the social determinants of health.

Roussos, S. T., & Fawcett, S. B. (2000). A review of collaborative partnerships as a strategy for improving community health. Annual Review of Publ, 21, 369–402.

Siegel, B., Erickson, J., Milstein, B., & Pritchard, K. E. (2018). Multisector partnerships need further development to fulfill aspirations for transforming regional health and well-being. Health Affairs, 37(1), 30–37. https://doi.org/10.1377/hlthaff.2017.1118.

Singer, M., Bulled, N., Ostrach, B., & Mendenhall, E. (2017). Syndemics and the biosocial conception of health. The Lancet, 389(10072), 941–950. https://doi.org/10.1016/S0140-6736(17)30003-X.

Smith, K. E., Bambra, C., Joyce, K. E., Perkins, N., Hunter, D. J., & Blenkinsopp, E. A. (2009). Partners in health? A systematic review of the impact of organizational partnerships on public health outcomes in England between 1997 and 2008. Journal of Public Health, 31(2), 210–221. https://doi.org/10.1093/pubmed/fdp002.

Stake, R. E. (1995). The art of case study research. Sage Publications.

Sullivan, H., & Skelcher, C. (2002). Working across boundaries: collaboration in public services. Palgrave Macmillan.

Taylor-Robinson, D. C., Lloyd-Williams, F., Orton, L., Moonan, M., O'Flaherty, M., & Capewell, S. (2012). Barriers to partnership working in public health: a qualitative study. PLoS ONE, 7(1). https://doi.org/10.1371/journal.pone.0029536.

Weiss, E. S., Anderson, R. M., & Lasker, R. D. (2002). Making the most of collaboration: exploring the relationship between partnership synergy and partnership functioning. Health Education and Behavior, 29(6), 683–698. https://doi.org/10.1177/109019802237938.

Willis, C. D., Greene, J. K., Abramowicz, A., & Riley, B. L. (2016). Strengthening the evidence and action on multi-sectoral partnerships in public health: an action research initiative. Health Promotion and Chronic Disease Prevention in Canada, 36(6), 101–111. https://doi.org/10.24095/hpcdp.36.6.01.

World Health Organization. (2013). The Helsinki statement of health in all policies. Health Promotion International, 29. https://doi.org/10.1093/heapro/dau036.

World Health Organization. (2008). Closing the gap in a generation: health equity through action on the social determinants of health. Geneva.

Woulfe, J., Oliver, T. R., Zahner, S. J., & Siemering, K. Q. (2010). Multisector partnerships in population health improvement. Preventing Chronic Disease, 7(6).

Yin, R. K. (2009). Case study research: design and methods (4th ed.). Sage Publications.
Acknowledgements
This work arises from the MUSE Team Grant and the authors acknowledge the MUSE researchers, staff and partners, especially Natalie Kallio and Margot Gough—our extraordinary Project Managers.
Funding
MUSE receives funding from CIHR Team Grant Program, Environments and Health: Programmatic Grants in Intersectoral Prevention Research (#IP2 – 150710).
Ethics declarations
This study received ethical approval from the Behavioural Research Ethics Board at the University of Saskatchewan (Beh-122). All study participants have given informed consent. Ethics approval for the larger study has also been received from Comité d'éthique à la recherche du Centre Hospitalier de l'Université de Montréal (CHUM, 16.360).
Conflict of interest
The authors declare no conflicts of interest or stand to benefit from this work in any manner.
Additional information
Publisher's note
Springer Nature remains neutral with regard to jurisdictional claims in published maps and institutional affiliations.
About this article
Cite this article
Alhassan, J.A.K., Gauvin, L., Judge, A. et al. Improving health through multisectoral collaboration: enablers and barriers. Can J Public Health (2021). https://doi.org/10.17269/s41997-021-00534-3
Received:

Accepted:

Published:
Keywords
Multisectoral partnerships

Intersectoral collaboration

Public health

Public policy

Healthy built environments

Healthy eating

Physical activity
Mots-clés
Partenariats multisectoriels

collaboration intersectorielle

santé publique

politiques publiques

environnement bâti favorable à la santé

saine alimentation

activité physique