Abstract
Objectives
Canadians do not all enjoy equal levels of health. The presence of income-related health inequalities has been well established in Canada, but there is a lack of consistent reporting of mental health inequalities in Canada's largest cities. This study reports the prevalence and inequalities in mental health outcomes at the city, provincial, and national levels over time.
Methods
Self-reported poor mental health, life stress, and physician-diagnosed self-reported mood and anxiety disorder from the Canadian Community Health Survey were pooled over five-year intervals and combined with neighbourhood income information from the Canadian Census. First, prevalence rates were calculated for each interval at the neighbourhood level for urban communities. Second, the distributions of these neighbourhood rates were summarized at the city level and for Canada as a whole using overall prevalence rates and concentration indices of inequality. Finally, trends in these city- and country-level outcomes were also explored.
Results
At the national level, starting from 2001 to 2005, the prevalence of poor mental health (27.9%), mood disorder (7.3%), and anxiety disorder (6.8%) had significantly increased by 2011–2015. Inequalities were present in 2001–2005 and worsened over time. The prevalence rate at the national level of life stress was 66.6% in 2001–2005 and decreased over time.
Conclusion
The large and increasing values of inequalities and the difference in prevalence rates and inequalities in cities highlight the necessity for mental disorder-specific data and for city-level analysis of inequalities. The next steps in reducing inequalities involve deconstructing the health inequalities, and continued monitoring.
Résumé
Objectifs
Les Canadiens ne bénéficient pas tous du même niveau de santé. L'existence d'inégalités de santé liées au revenu est bien établie au Canada mais la façon dont sont rapportées les inégalités de santé mentale dans les plus grandes villes canadiennes manque d'uniformité. Cette étude présente la prévalence et les inégalités dans les résultats de santé mentale aux niveaux urbain, provincial et national sur une période de temps.
Méthodes
La mauvaise santé mentale auto-rapportée, le stress de la vie, les troubles de l'humeur et de l'anxiété diagnostiqués par un médecin et auto-rapportés dans l'enquête sur la santé des collectivités canadiennes, ont été amalgamés par intervalles de 5 ans, et combinés avec des informations sur le revenu par quartier tiré du recensement canadien. D'abord les taux de prévalence pour chaque intervalle ont été calculés au niveau des quartiers dans les communautés urbaines. Deuxièmement les distributions de ces taux par quartiers ont été groupées par ville et au niveau du Canada tout entier en utilisant les taux de prévalence globale et les indices de concentration d'inégalité. Finalement les tendances dans les résultats obtenus à l'échelle des villes et du pays ont été explorées.
Résultats
Au niveau national en partant de 2001–2005, la prévalence de la mauvaise santé mentale (27,9 %), des troubles de l'humeur (7,3 %) et des troubles de l'anxiété (6,8 %) ont augmenté de façon significative dès 2011–2015. Ces inégalités étaient déjà présentes en 2001–2005 et ont empiré au fil du temps. Le taux de prévalence du stress de vie au niveau national était de 66,6 % en 2001–2005 et a diminué au fil du temps.
Conclusion
Le niveau élevé et croissant des inégalités et la différence au niveau des taux de prévalence et des inégalités dans les villes soulignent qu'il est nécessaire d'avoir des données spécifiques sur les troubles mentaux et des analyses d'inégalités à l'échelle de la ville. Les prochaines étapes pour réduire les inégalités comprennent la déconstruction des inégalités de santé et une surveillance continuelle.
Access options
Buy single article
Instant access to the full article PDF.
US$ 39.95
Tax calculation will be finalised during checkout.
Subscribe to journal
Immediate online access to all issues from 2019. Subscription will auto renew annually.
US$ 119
Tax calculation will be finalised during checkout.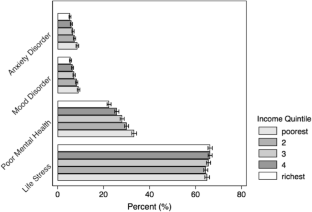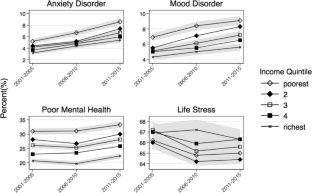 References
Asada, Y. (2006). Is health inequality across individuals of moral concern? Health Care Analysis: Journal of Health Philosophy and Policy, 14(1), 25–36.

Bellezza, S., Paharia, N., & Keinan, A. (2017). Conspicuous consumption of time: when busyness and lack of leisure time become a status symbol. The Journal of Consumer Research, 44(1), 118–138.

Branson, V., Palmer, E., Dry, M. J., & Turnbull, D. (2019). A holistic understanding of the effect of stress on adolescent well-being: a conditional process analysis. Stress and Health: Journal of the International Society for the Investigation of Stress, 35(5), 626–641.

Chiu, M., Amartey, A., Wang, X., Vigod, S., & Kurdyak, P. (2020). Trends in objectively measured and perceived mental health and use of mental health services: a population-based study in Ontario, 2002-2014. Canadian Medical Association Journal, 192(13), E329–E337.

Denny, K., & Davidson, M. J. (2012). Area-based socio-economic measures as tools for health disparities research, policy and planning. Canadian Journal of Public Health, 103(8), 4–6.

Dunn, J. R., & Hayes, M. V. (2000). Social inequality, population health, and housing: a study of two Vancouver neighborhoods. Social Science & Medicine, 51(4), 563–587.

Gariepy, G., Blair, A., Kestens, Y., & Schmitz, N. (2014). Neighbourhood characteristics and 10-year risk of depression in Canadian adults with and without a chronic illness. Health & Place, 30, 279–286.

Generaal, E., Timmermans, E. J., Dekkers, J. E. C., Smit, J. H., & Penninx, B. W. J. H. (2019). Not urbanization level but socioeconomic, physical and social neighbourhood characteristics are associated with presence and severity of depressive and anxiety disorders. Psychological Medicine, 49(1), 149–161.

Kulig, J. C., & Williams, A. M. (2011). Health in Rural Canada. Vancouver: UBC Press.

Latkin, C. A., Edwards, C., Davey-Rothwell, M. A., & Tobin, K. E. (2017). The relationship between social desirability bias and self-reports of health, substance use, and social network factors among urban substance users in Baltimore, Maryland. Addictive Behaviors, 73, 133–136.

Lemstra, M., Neudorf, C., & Opondo, J. (2006). Health disparity by neighbourhood income. Canadian Journal of Public Health, 97(6), 435–439.

López, N., & V.L. Gadsden. (2016). Health Inequities, Social Determinants, and Intersectionality. Discussion Paper, National Academy of Medicine, Washington, DC.

Marmot, M. (2002). The influence of income on health: views of an epidemiologist. Health Affairs, 21(2), 31–46.

Mental Health Commission of Canada. (2017). Strengthening the case for investing in Canada's mental health system: economic considerations. Ottawa: Mental Health Commission of Canada.

Miller, L.J., & Lu, W. (2019). These are the world's healthiest nations. Bloomberg News.

O'Donnell, O., van Doorslaer, E., Wagstaff, A., & Lindelow, M. (2007). Analyzing health equity using household survey data. Washington: The World Bank.

Public Health Agency of Canada. (2016). Report from the Canadian Chronic Disease Surveillance System: mood and anxiety disorders in Canada, 2016. Ottawa: Public Health Agency of Canada.

Public Health Agency of Canada. (2018). Key health inequalities in Canada. Edmonton: Public Health Agency of Canada.

Speybroeck, N., Konings, P., Lynch, J., Harper, S., Berkvens, D., Lorant, V., Geckova, A., & Hosseinpoor, A. R. (2010). Decomposing socioeconomic health inequalities. International Journal of Public Health, 55(Issue 4), 347–351.

Statistics Canada. (2011a). Canadian Community Health Survey - Mental Health (CCHS).  Ottawa: Statistics Canada.

Statistics Canada. (2011b). Low income measures. Ottawa: Statistics Canada.

Statistics Canada. (2016). Census Dictionary. Ottawa: Statistics Canada. 

Statistics Canada. (2017). Postal code OM conversion file. Ottawa: Statistics Canada.

Steele, L. S., Glazier, R. H., & Lin, E. (2006). Inequity in mental health care under Canadian universal health coverage. Psychiatric Services, 57(3), 317–324.

Surís, A., Holliday, R., & North, C. S. (2016). The evolution of the classification of psychiatric disorders. Behavioral Science, 6(1), 5. https://doi.org/10.3390/bs6010005.

Wagstaff, A., Paci, P., & van Doorslaer, E. (1991). On the measurement of inequalities in health. Social Science & Medicine, 33(5), 545–557.

Welte, J. W., & Russell, M. (1993). Influence of socially desirable responding in a study of stress and substance abuse. Alcoholism, Clinical and Experimental Research, 17(4), 758–761.

Wiens, K., Williams, J. V. A., Lavorato, D. H., Bulloch, A. G. M., & Patten, S. B. (2017). the prevalence of major depressive episodes is higher in urban regions of Canada. Canadian Journal of Psychiatry, 62(1), 57–61.

Wilson, K., Elliott, S., Law, M., Eyles, J., Jerrett, M., & Keller-Olaman, S. (2004). Linking perceptions of neighbourhood to health in Hamilton, Canada. Journal of Epidemiology and Community Health, 58(3), 192–198.

Wittchen, H. U. (1994). Reliability and validity studies of the WHO--Composite International Diagnostic Interview (CIDI): a critical review. Journal of Psychiatric Research, 28(1), 57–84.

World Health Organization. (2013). Key concepts. In Social Determinants of Health. Geneva: World Health Organization.
Acknowledgements
This research was conducted at The Saskatchewan Research Data Centre which is part of the Canadian Research Data Centre Network (CRDCN). This service is provided through the support of the University of Saskatchewan, the Province of Saskatchewan, the Canadian Foundation for Innovation, the Canadian Institutes of Health Research, the Social Sciences and Humanities Research Council, and Statistics Canada. The authors would also like to specially thank our RDC analyst Ruben Mercado for his help and support and Dr. Anne Leis for her help in completing the French translation of the abstract. We also thank our anonymous reviewers for their helpful comments and suggestions.
Funding
This research was funded in part by the Urban Public Health Network. No other financial support was received for the research, authorship, and/or publication of this article.
Ethics declarations
Ethics approval
Ethics approval was exempted by the University of Saskatchewan Behavioural Research Ethics Board.
Conflict of interest
The authors declare no competing interests.
Disclaimer
All views expressed in this work are our own.
Additional information
Publisher's note
Springer Nature remains neutral with regard to jurisdictional claims in published maps and institutional affiliations.
About this article
Cite this article
Missiuna, S., Plante, C., Pahwa, P. et al. Trends in mental health inequalities in urban Canada. Can J Public Health (2021). https://doi.org/10.17269/s41997-021-00498-4
Received:

Accepted:

Published:
Keywords
Mental health

Inequalities

Social determinants of health

Cities

Canada
Mots-clés
Santé mentale

inégalités

déterminants sociaux de la santé

villes

Canada