Abstract
Objectives
The objective of this article is to document patterns and trends of in-hospital mental health service use by First Nations (FN) living in rural and remote communities in the province of Manitoba.
Methods
Our sample included all Manitoba residents eligible under the Manitoba Health Services Insurance Plan living on FN reserves and those living in rural and remote communities from 1986 to 2014. Using administrative claims data, we developed multi-level models that describe hospitalization for mental health conditions shown responsive to primary healthcare interventions. We aggregated the results by First Nation Tribal Councils and remoteness to derive rates of hospitalization episodes, length of stay and readmission rates.
Results
Rates of hospitalization for mental health are increasing for FN males and females. This is particularly evident for those affiliated with the Island Lake and Keewatin Tribal Councils. The length of stay has increased. Changes in rates of readmissions were not statistically significant. FNs are admitted for mental health conditions at a younger age when compared with other Manitobans, and trends show that the FNs' average age at admission is decreasing.
Conclusions
Our results raise serious concerns about the responsiveness of community-based mental health services for FNs in Manitoba, because of both increasing rates of episodes of hospitalization and decreasing age of admission. Given the documented lack of mental health services accessible on-reserve, levels of social distress associated with a history of oppressive policies, and continued lack of infrastructure, current trends are alarming.
Résumé
Objectifs
L'objectif de cet article est de documenter les caractéristiques et les tendances de l'utilisation des services de santé mentale en milieu hospitalier par les Premières nations (PN) vivant dans les collectivités rurales et éloignées de la province du Manitoba.
Méthodes
Notre échantillon inclus tous les résidents du Manitoba admissibles au Régime d'assurance-maladie du Manitoba vivant dans les réserves des PN et ceux vivant dans des collectivités rurales et éloignées de 1986 à 2014. À partir de données de réclamations administratives, nous avons mis au point des modèles à plusieurs niveaux décrivant l'hospitalisation pour des problèmes de santé mentale qui se sont montrés sensibles aux interventions en soins de santé primaires. Nous avons agrégé les résultats par Conseil de Tribu pour obtenir les taux d'épisodes d'hospitalisation, la durée du séjour et les taux de réadmission.
Résultats
Les taux d'hospitalisation liée à la santé mentale augmentent pour les hommes et femmes PN. Cela est particulièrement évident pour les membres des conseils tribaux d'Island Lake et de Keewatin. La durée du séjour a aussi augmenté. Les changements dans les taux de réadmission n'étaient pas statistiquement significatifs. Les PNs sont admis pour des problèmes de santé mentale plus jeunes que les autres Manitobains, et les tendances montrent que l'âge moyen des PNs continue de décroître.
Conclusions
Nos résultats soulèvent des inquiétudes quant à la réactivité des services de santé mentale communautaires pour les PNs au Manitoba, à la fois en raison de la fréquence croissante des épisodes d'hospitalisation et de la diminution de l'âge d'admission. Étant donné le manque documenté de services de santé mentale accessibles dans les réserves, le niveau de détresse sociale associé à des antécédents de politiques oppressives et le manque continu d'infrastructure, les tendances actuelles sont alarmantes.
This is a preview of subscription content, log in to check access.
Access options
Buy single article
Instant access to the full article PDF.
US$ 39.95
Price includes VAT for USA
Subscribe to journal
Immediate online access to all issues from 2019. Subscription will auto renew annually.
US$ 139
This is the net price. Taxes to be calculated in checkout.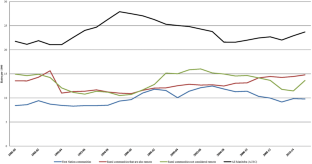 References
Aboriginal Healing Foundation. (2014). Annual report 2009 aboriginal Healing Foundation. Retrieved from Ottawa: http://www.ahf.ca/assets/pdf/english/annual_report_2004.pdf

Baskin, C. (2016). Spirituality: the core of healing and social justice from an indigenous perspective. New Directions for Adult and Continuing Education, 152, 51–60.

Billie, A., & Smylie, J. (2015). First Peoples, second class treatment: the role of racism in the health and well-being of Indigenous peoples in Canada. Retrieved from Toronto:

Boksa, P., Joober, R., & Kirmayer, L. (2015). Mental wellness in Canada's aboriginal communities: Striving toward reconciliation. Journal of Psychiatry and Neuroscience, 40(6), 363–365. https://doi.org/10.1503/jpn.150309.

Bombay, A. (2015). A call to end mental health disparities for indigenous people. Lancet Psychiatry, 2(10), 861–862.

Bombay, A., Matheson, K., & Anisman, H. (2009). Intergenerational trauma: convergence of multiple processes among First Nations peoples in Canada. International Journal of Indigenous Health, 5(3), 6–47.

Bourassa, C., McKay-McNabb, K., & Hampton, M. (2004). Racism, sexism and colonialism: the impact on the health of Aboriginal women in Canada. Canadian Women Studies, 24(1), 23–29.

British Columbia Provincial Health Officer. (2009). Pathways to health and healing – 2nd Report on the Health and Well-being of Aboriginal People in British Columbia. Provincial Health Officer's Annual Report 2007. Retrieved from Victoria:

Browne, A. J. (2017). Moving beyond description: closing the health equity gap by redressing racism impacting Indigenous populations. Soc Sci Med, 184, 23–26. https://doi.org/10.1016/j.socscimed.2017.04.045.

Browne, A. J., Varcoe, C., Lavoie, J. G., Smye, V. L., Wong, S. T., Krause, M., et al. (2016). Enhancing health care equity with Indigenous populations: evidence-based strategies from an ethnographic study. BMC Health Serv Res, 16(544), 1–17. https://doi.org/10.1186/s12913-016-1707-9.

Caminal, J., Starfield, B., Sánchez, E., Casanova, C., & Morales, M. (2004). The role of primary care in preventing ambulatory care sensitive conditions. The European Journal of Public Health, 14(3), 246–251.

Canadian Institute for Health Information. (2007). Health indicators 2007. Retrieved from Ottawa: http://secure.cihi.ca/cihiweb/dispPage.jsp?cw_page=indicators_definitions_health_system_e

Dorman, K., Biedermann, B., Linklater, C., & Jaffer, Z. (2018). Community strengths in addressing opioid use in northeastern Ontario. Canadian Journal of Public Health, 109(2), 219–222.

Elias, B., Mignone, J., Hall, M., Hong, S. P., Hart, L., & Sareen, J. (2012). Trauma and suicide behaviour histories among a Canadian indigenous population: an empirical exploration of the potential role of Canada's residential school system. Soc Sci Med, 74(10), 1560–1569.

Firestone, M., Smylie, J., Maracle, S., McKnight, C., Spiller, M., & O'Campo, P. (2015). Mental health and substance use in an urban First Nations population in Hamilton, Ontario. Canadian Journal of Public Health, 106(6), e375–e381. https://doi.org/10.17269/cjph.106.4923.

Health Canada First Nations and Inuit Health Branch. (2012). First Nations and Inuit Health Program Compendium 2011/2012. Retrieved from Ottawa: https://www.homelesshub.ca/resource/first-nations-and-inuit-health-program-compendium-20112012.

Health Canada First Nations and Inuit Health Branch. (2015). Non-insured health benefits program short-term crisis intervention mental health Counselling National Benefit Profile. Retrieved from Ottawa: www.afn.ca/uploads/files/.../fnihb_stcimhc_national_benefit_profile_oct_2015.pdf

Indigenous and Northern Affairs Canada. (2017). Reserves/Settlements/Villages. Retrieved from Ottawa: http://fnp-ppn.aandc-aadnc.gc.ca/fnp/main/Definitions.aspx?lang=eng#Reserves/Settlements/Villages

Kirmayer, L. J., Brass, G. M., & Tait, C. L. (2000). The mental health of Aboriginal peoples: transformations of identity and community. Can J Psychiatr, 45(7), 607–616. https://doi.org/10.1177/070674370004500702.

Kyoon-Achan, G., Lavoie, J. G., Avery Kinew, K., Philips-Beck, W., Ibrahim, N., Sinclair, S., & Katz, A. (2018). Innovating for transformation in First Nations health using community-based participatory research. Qual Health Res, 28(7), 1036–1049. https://doi.org/10.1177/1049732318756056.

Kyoon-Achan, G., Philips-Beck, W., Lavoie, J. G., Eni, R., Sinclair, S., Avery Kinew, K., . . . Katz, A. (2018a). Defining primary healthcare as a first step towards transforming the health of Manitoba First Nations. Healthcare policy, In review.

Kyoon-Achan, G., Philips-Beck, W., Lavoie, J. G., Eni, R., Sinclair, S., Avery Kinew, K., et al. (2018b). Looking back, moving forward: a First Nations framework for mental wellness. Int J Cult Ment Health, 11(4), 679–692. https://doi.org/10.1080/17542863.2018.1556714.

Lavoie, J. G., Forget, E. L., Prakash, T., Dahl, M., Martens, P. J., & O'Neil, J. D. (2010). Have investments in on-reserve health services and initiatives promoting community control improved First Nations' health in Manitoba? Soc Sci Med, 71(4), 717–724. https://doi.org/10.1016/j.socscimed.2010.04.037.

Lavoie, J. G., Wong, S. T., Ibrahim, N., O'Neil, J. D., Green, M., & Ward, A. (2019). Underutilized and undertheorized: the use of hospitalization for ambulatory care sensitive conditions for assessing the extent to which primary healthcare services are meeting needs in British Columbia First Nation communities. BMC Health Serv Res, 19(1), 50. https://doi.org/10.1186/s12913-018-3850-y.

Loppie Reading, C., & Wien, F. (2009). Health inequalities and the social determinants of Aboriginal peoples' health. Retrieved from Prince George:

McQuaid, R., Bombay, A., McInnis, O., Humeny, C., Matheson, K., & Anisman, H. (2017). Suicide ideation and attempts among First Nations peoples living on-reserve in Canada: the intergenerational and cumulative effects of Indian residential schools. Can J Psychiatry, 62(6), 422–430.

Morgenstern, H. (1995). Ecologic studies in epidemiology: concepts, principles, and methods. Annual Review of Public Health, 16, 61–81.

Pollock, N. J., Healey, G. K., Jong, M., Valcour, J. E., & Mulay, S. (2018). Tracking progress in suicide prevention in Indigenous communities: a challenge for public health surveillance in Canada. BMC Public Health, 18(1), 1320. https://doi.org/10.1186/s12889-018-6224-9.

Roos, N. P. (1992). Hospitalization style of physicians in Manitoba: the disturbing lack of logic in medical practice. Health Serv Res, 27(3), 361–384.

Royal Commission on Aboriginal Peoples. (1996). Volume 5 - a twenty year commitment. Retrieved from Ottawa: http://www.indigenous.bc.ca/tableofcontents/Vol3TableofContents.asp

Truth and Reconciliation Commission of Canada. (2015). Honouring the truth, reconciling for the future summary of the final report of the truth and reconciliation commission of Canada. Retrieved from Ottawa: http://www.myrobust.com/websites/trcinstitution/File/Reports/Executive_Summary_English_Web.pdf

Watson, D. E., Heppner, P., Roos, N. P., Reid, R. J., & Katz, A. (2005). Population-based use of mental health services and patterns of delivery among family physicians, 1992 to 2001. Can J Psychiatr, 50(7), 398–406.

Wesley-Esquimaux, C. C., & Smolewski, M. (2004). Historic trauma and Aboriginal healing. Retrieved from Ottawa:
Acknowledgements
We would like to acknowledge the unique and invaluable contribution of our community partners: Birdtail Sioux Dakota Nation, Berens River First Nation, Cross Lake Band of Indians Pimicikamak Cree Nation, Ebb and Flow First Nation, Northlands Denesuline First Nation, Pinaymootang First Nation and Fisher River Cree Nation. Also, we thank Mr. Matthew Dahl, data analyst at the Manitoba Centre for Health Policy, for running the analysis.
Funding
This study was funded by the Canadian Institutes of Health Research (Study 292821; grant no. TT1-128267).
Ethics declarations
Ethical approval was received from the University of Manitoba Health Research Ethics Board. Approval for data access was received from the Government of Manitoba Health Information Privacy Committee and the Manitoba First Nations Health Information Research Governance Committee.
Conflict of interest
The authors declare that they have no competing interests.
Disclaimer
The funder played no role in the design of the study, the collection, analysis and interpretation of data, or the writing of the manuscript.
Additional information
Publisher's note
Springer Nature remains neutral with regard to jurisdictional claims in published maps and institutional affiliations.
About this article
Cite this article
Lavoie, J.G., Phillips-Beck, W., Kinew, K.A. et al. Manitoba First Nation peoples' use of hospital-based mental health services: trends and solutions. Can J Public Health (2020). https://doi.org/10.17269/s41997-020-00328-z
Received:

Accepted:

Published:
Keywords
Indians, North American

Canada

Social marginalization

Health equity

Access to health care

Primary health care
Mots-clés
Indiens d'Amérique du Nord

Canada

Marginalisation sociale

Équité en matière de santé

Accès aux soins de santé

Soins de santé primaires