Abstract
Setting
Shambhala is a 5-day electronic dance music (EDM) festival held in rural British Columbia that annually hosts between 15,000 and 18,000 people on a 500-acre ranch. The AIDS Network Outreach & Support Society (ANKORS) has provided harm reduction services throughout the duration of the festival since 2003, including point-of-care drug checking, which allows real-time testing of illicit substances to assess their composition. Drug checking results are provided directly to clients and displayed in aggregate on a screen for all attendees to see.
Intervention
In 2017, ANKORS added fentanyl checking to their repertoire of drug checking technologies for festivalgoers. Volunteers used a brief survey to collect information on what clients expected the samples to contain. Volunteers carried out drug checks and subsequently logged test results. ANKORS provided an amnesty bin at the tent for clients who chose to discard their substances.
Outcomes
Of the 2683 surveys, 2387 included data on both the client's belief and the actual test result. Clients were more likely to discard when the test result differed from their belief (5.16%) than when their belief was confirmed (0.69%). Discarding increased to 15.54% when the test could not clearly identify a substance and to 30.77% if the client did not have a prior belief of the substance. Of 1971 samples tested for fentanyl, 31 tested positive and 16.13% of clients discarded compared to 2.63% in the negative group.
Implications
Drug checking services appeal to festivalgoers who, when faced with uncertainty, may discard their substances. This innovative harm reduction service allows for a personalized risk discussion, potentially reaching others via word-of-mouth and early warning systems.
Résumé
Contexte
Shambhala est un festival de musique électronique qui se déroule sur cinq jours dans un ranch de 500 acres en campagne britanno-colombienne et qui accueille de 15 000 à 18 000 personnes. L'AIDS Network Outreach & Support Society (ANKORS) offre des services de réduction des méfaits pour toute la durée du festival depuis 2003, notamment sous forme d'analyses en temps réel de la composition de substances illicites dans des points de service. Les résultats sont remis directement aux clients et affichés sous leur forme brute dans un tableau général que peuvent voir tous les festivaliers.
Intervention
En 2017, l'ANKORS a pour la première fois employé les technologies permettant d'effectuer des analyses de teneur en fentanyl. Les bénévoles ont fait remplir un sondage sur ce que les clients pensaient qu'on trouverait dans leurs échantillons. Ils ont effectué les tests puis ont consigné les résultats. L'ANKORS fournissait une « boîte d'amnistie » à sa tente pour les festivaliers qui ont choisi de se débarrasser de leur substance.
Résultats
Des 2 683 sondages remplis, 2 387 comprenaient des données permettant une comparaison entre ce que croyait le client et le résultat obtenu. Les clients étaient plus portés à se débarrasser de leur substance si les résultats s'éloignaient de ce qu'ils croyaient (5,16 %) que s'ils confirmaient leurs hypothèses (0,69 %). La proportion de gens qui ne voulaient plus de leur substance a atteint 15,54 % dans les cas où l'analyse ne pouvait en déterminer clairement la composition et 30,77 % si le client n'avait aucune idée de ce que la substance pouvait contenir. Des 1 971 échantillons dans lesquels on a voulu déterminer la présence de fentanyl, 31 ont reçu des résultats positifs; 16,13 % des festivaliers concernés ont décidé de jeter leur substance, contre 2,63 % parmi le groupe des festivaliers dont les résultats ont été négatifs.
Conclusions
Les services d'analyse de drogues présentent un intérêt pour les festivaliers qui, dans l'incertitude, ont tendance à se débarrasser de leur substance. C'est un service de réduction des méfaits novateur qui interpelle les gens en leur montrant les risques qu'ils courent personnellement; d'autres pourraient ainsi être portés à s'en prévaloir grâce au bouche-à-oreille et dans le cadre d'une approche préventive.
This is a preview of subscription content, log in to check access.
Access options
Buy single article
Instant access to the full article PDF.
US$ 39.95
Price includes VAT for USA
Subscribe to journal
Immediate online access to all issues from 2019. Subscription will auto renew annually.
US$ 139
This is the net price. Taxes to be calculated in checkout.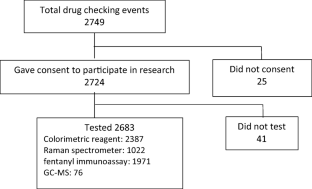 References
ANKORS Harm Reduction + Drug Checking www.ankorsvolunteer.com. Accessed March 26, 2018.

BC Coroners Service Death Review Panel: A Review Of Illicit Drug Overdoses. Report To The Chief Coroner Of British Columbia https://www2.gov.bc.ca/assets/gov/public-safety-and-emergency-services/death-investigation/death-review-panel/bccs_illicit_drug_overdose_drp_report.pdf?platform=hootsuite Accessed April 14, 2018.

Drug checking at music festivals: a how-to guide. Chloe Sage and Warren Michelow. http://michelow.ca/drug-checking-guide/ Accessed April 14, 2018.

Illicit Drug Overdose Deaths in BC January 1, 2008–May 31, 2018. Coroner's service, British Columbia https://www2govbcca/assets/gov/public-safety-and-emergency-services/death-investigation/statistical/illicit-drugpdf Accessed July 27, 2018.

Kamloops man dies of fentanyl-related overdose after Kelowna wedding. CBC News, Sep 29, 2016. Accessed April 14, 2018. http://www.cbc.ca/news/canada/british-columbia/overdose-death-kelowna-wedding-1.3784975 Accessed April 14, 2018.

Kerr, T., & Tupper, K. (2017). Drug checking as a harm reduction intervention: Evidence review report. Vancouver, BC: British Columbia Centre on Substance Use. Retrieved from http://www.bccsu.ca/wp-content/uploads/2017/12/Drug-Checking-Evidence-Review-Report.pdf Accessed April 14, 2018.

Krieger, M. S., Yedinak, J. L., Buxton, J. A., Lysyshyn, M., Bernstein, E., Rich, J. D., Green, T. C., Hadland, S. E., & Marshall, B. D. (2018). High willingness to use rapid fentanyl test strips among young adults who use drugs. Harm Reduction Journal, 15(1), 7.

Low-Tech, Low-Cost Test Strips Show Promise for Reducing Fentanyl Overdoses. February 6, 2018 https://www.jhsph.edu/news/news-releases/2018/low-tech-low-cost-test-strips-show-promise-for-reducing-fentanyl-overdoses.html Accessed April 24, 2018.

Mohr, A. L., Friscia, M., Yeakel, J. K., & Logan, B. K. (2018 Jan 1). Use of synthetic stimulants and hallucinogens in a cohort of electronic dance music festival attendees. Forensic Sci Int, 282, 168–178.

Order of the Minister of Health, Emergency Health Services Act, Ministerial Order No. M488. Province of British Columbia http://www.bclaws.ca/civix/document/id/mo/mo/2016_m488 Accessed April 21, 2018.

Overview: provincial Overdose Emergency Response. https://www2.gov.bc.ca/assets/gov/overdose-awareness/bg_overdose_emergency_response_centre_1dec17_final.pdf Accessed April 14, 2018.

Shambhala Music Festival https://shambhalamusicfestival.com Accessed April 14, 2018.

Tupper, K. W., McCrae, K., Garber, I., Lysyshyn, M., & Wood, E. (2018). Initial results of a drug checking pilot program to detect fentanyl adulteration in a Canadian setting. Drug and Alcohol Dependence. https://doi.org/10.1016/j.drugalcdep.2018.06.020 Accessed July 27.
Acknowledgements
The authors would like to acknowledge Dr. Ian Garber for his critical review of this work.
Ethics declarations
Ethics
Harmonized research ethics approval was obtained from the Interior Health Authority and the University of British Columbia Ethics Review boards (Board of Record Approval Reference # 2017-18-019-H).
Conflict of interest
The authors declare that they have no conflicts of interest.
About this article
Cite this article
Mema, S.C., Sage, C., Xu, Y. et al. Drug checking at an electronic dance music festival during the public health overdose emergency in British Columbia. Can J Public Health 109, 740–744 (2018). https://doi.org/10.17269/s41997-018-0126-6
Received:

Accepted:

Published:

Issue Date:
Keywords
Electronic music festival

Drug checking

Fentanyl
Mots-clés
Festival de musique électronique

Analyse de drogues

Fentanyl