Harnessing the immune system for the treatment of breast cancer
Abstract
Standard treatment options for breast cancer include surgery, chemotherapy, radiation, and targeted therapies, such as adjuvant hormonal therapy and monoclonal antibodies. Recently, the recognition that chronic inflammation in the tumor microenvironment promotes tumor growth and survival during different stages of breast cancer development has led to the development of novel immunotherapies. Several immunotherapeutic strategies have been studied both preclinically and clinically and already have been shown to enhance the efficacy of conventional treatment modalities. Therefore, therapies targeting the immune system may represent a promising next-generation approach for the treatment of breast cancers. This review will discuss recent findings that elucidate the roles of suppressive immune cells and proinflammatory cytokines and chemokines in the tumor-promoting microenvironment, and the most current immunotherapeutic strategies in breast cancer.
Key words
Breast cancer 
Chronic inflammation 
Protumorigenic immune cells 
Therapeutic vaccines 
Immunotherapy 
1 Introduction
Breast cancer continues to be the most common cancer in women and represents a major issue of public health (Basu et al., 2013) with 1.38 million new cases and 458 000 deaths yearly world-wide (Bray et al., 2012). Although the incidence and mortality rates of breast cancer in western countries have decreased or at least been stable over the last few decades, both rates are increasing in many developing countries (Jemal et al., 2010). In China, breast cancers are often found at more advanced stages, likely because of the incomplete nationwide screening program. These cancers require more effective treatment combinations (Li et al., 2011; Wang et al., 2013). The majority of estrogen receptor-positive (ER+) breast cancer patients develop resistance to adjuvant hormonal therapy (Osborne and Schiff, 2011), and triple negative breast cancers (TNBCs) (i.e., ER−, progesterone receptor negative (PR−), and HER2/neu negative) also lack effective targeted treatments (Stagg and Allard, 2013). Therefore, novel therapeutic targets are urgently needed to improve the efficacy of conventional treatments.
It has long been recognized that the immune system plays a role in the development of tumors. Immune cells can suppress tumor development by killing tumor cells or inhibiting their growth. Conversely, they can also promote tumor progression by selecting tumor cells that are fit to grow in an immune competent host or by establishing an immunosuppressive microenvironment. The interplay between the tumor and the immune system during tumor progression is called immunoediting and comprises three phases: elimination, equilibrium, and escape (Schreiber et al., 2011; Vesely et al., 2011). In the elimination and equilibrium phases, tumors can be completely eliminated or kept in a dormant state by tumor-inhibiting inflammation, characterized by the production of tumor-inhibiting cytokines and the infiltration of cells of both the innate immune system, such as dendritic cells (DCs) and natural killer (NK) cells, and the adaptive immune system, such as Th1 CD4+ and CD8+ T cells (Schreiber et al., 2011; Vesely et al., 2011; Jiang and Shapiro, 2014). On the other hand, in the escape phase, breast tumors often develop multiple mechanisms to evade immunosurveillance. These include the creation of cell autonomous modifications which allow cancer cells to evade antitumor cell-mediated destruction (Shin et al., 2001; Jiang et al., 2006; 2007; 2008; Ryan et al., 2006), and the induction of an immunosuppressive microenvironment by tumor and/or stromal cells, which diminishes the function of effector cells and directly promotes cancer cell proliferation and migration (Jiang and Shapiro, 2014). Chronic inflammation in the tumor microenvironment and the resulting tumor evasion of the immune system have recently been recognized as another hallmark of cancer (Hanahan and Weinberg, 2011). Although preexisting inflammation and infection are not considered a risk factor for breast cancer development, it is generally accepted that infiltration of immunosuppressive leukocytes and accompanying chronic inflammation during tumor progression promote breast cancer growth (DeNardo and Coussens, 2007; Coussens and Pollard, 2011; Coussens et al., 2013). This review will focus on the protumorigenic immune cell subsets and proinflammatory mediators that form suppressive tumor microenvironments and the most recent findings in human breast cancer immunotherapeutics.
2 Protumorigenic immune cells
3 Proinflammatory cytokines and chemokines
The role of proinflammatory cytokines and chemokines, such as IL-6, IL-1, IL-8, TNF-α, monocyte chemotactic protein-1 (MCP-1), CCL5, and chemokine (C-X-C motif) ligand (CXCL12), in breast cancer has been extensively studied and reviewed (Ben-Baruch, 2003; Goldberg and Schwertfeger, 2010; Baumgarten and Frasor, 2012). Here, only the most recent findings will be discussed.
IL-6 is a key inflammatory cytokine in a number of diseases. Circulating IL-6 levels are positively associated with clinical tumor stage, lymph node infiltration, and number of distant metastases in breast cancer patients (Salgado et al., 2003; Dethlefsen et al., 2013). However, no correlation between breast cancer risk and the functional polymorphism of the IL-6 gene promoter was observed in a meta-analysis (Yu et al., 2010). Rokavec et al. (2012) showed that the transient induction of IL-6 by monocyte-derived MCP-1 drives a feed-forward inflammatory signaling path-way that leads to constitutive IL-6 production and breast cancer cell transformation and tumorigenesis, revealing a novel mechanistic link between IL-6 and breast cancer initiation. In vitro IL-6 can either promote or inhibit breast cancer cell growth depending on hormone receptor status (Dethlefsen et al., 2013). In TNBC, autocrine expressions of IL-6 and IL-8 are critical for their anchorage-independent growth and resistance to apoptosis (Hartman et al., 2013). IL-6 not only regulates breast CSC self-renewal (Marotta et al., 2011), but also promotes CSC survival and proliferation through the activation of Notch, Wnt, Hedgehog, and TGF-β signaling pathways (Dethlefsen et al., 2013). IL-6 also promotes breast cancer metastasis through the induction of epithelial to mesenchymal transition (EMT) (Korkaya et al., 2012; Xie et al., 2012; Hwang et al., 2013). These studies suggest that IL-6 may promote breast cancer progression, metastasis, and resistance to treatment by acting on the CSC population and initiating EMT.
IL-8 is highly expressed in ER− breast cancers and increases the invasiveness and metastatic potential of both ER+ and ER− breast cancer cells (Todorović- Raković and Milovanović, 2013). IL-8 promotes CSC self-renewal and invasion by binding to its cognate receptor CXCR1 on CSCs (Charafe-Jauffret et al., 2009). It also affects breast CSC activity measured ex vivo using patient-derived breast cancer samples, through a CXCR1/2-dependent but HER2-independent pathway (Singh et al., 2013). Upregulation of IL-8 through leukotriene B4 receptor 2 (BLT2) activation also promotes breast cancer cell invasiveness (Kim et al., 2012). HER2/HER3 co-expression induced IL-8 autocrine signaling is responsible for breast cancer cell invasiveness (Aceto et al., 2012). Li S. et al. (2012) showed that TWIST1-induced IL-8 also promotes breast cancer cell invasion. Targeting both the JAK2 and STAT5 signaling pathways diminishes IL-8 expression, which in turn decreases tumor metastasis and improves survival (Britschgi et al., 2012). These studies suggest that inhibition of the IL-8 signaling pathway may diminish breast cancer invasiveness and metastasis by acting on breast cancer cells and CSCs.
A recent preclinical study showed that chemotherapy-induced inflammation is one of the main contributors to chemo-resistance and metastasis (Acharyya et al., 2012). Profiles of cytokines and chemokines in the tumor microenvironment showed that chemotherapy strikingly induces endothelial cell production of TNF-α. This enhances tumor cell CXCL1/2 production, which in turn facilitates recruitment of CD11b+Gr1+ MDSCs. These cells release S100A8/9, an inflammatory modulator that activates the p70S6K and ERK1/2 signaling pathways and provides a survival advantage for both primary and metastatic tumor cells (Acharyya et al., 2012). TNF-α also promotes breast cancer metastasis by inducing EMT through the NF-κB-mediated transcriptional activation of TWIST1 (Li C.W. et al., 2012). It was recently shown that targeting transmembrane TNF-α was effective in delaying tumor growth and inhibiting tumor metastasis (Yu M. et al., 2013). TNF-α inhibition may synergize with anti-HER2 therapy to improve treatment outcomes (Ceran et al., 2012). These studies suggest that TNF-α may play a significant role in breast tumor progression not only by directly acting on breast cancer cells, but also by recruiting and activating suppressive immune cells.
CXCL12 is a chemokine that has been shown to be associated with breast cancer metastasis (Boimel et al., 2012; Wendel et al., 2012; Mukherjee and Zhao, 2013). Targeting CXCL12/CXCR4 signaling by using the oncolytic virus therapy strategy inhibits breast cancer metastasis (Gil et al., 2013). It was recently shown that a pair of microRNAs, miR-126 and miR-126*, suppresses breast cancer metastasis by inhibiting the recruitment of tumor promoting mesenchymal stem cells (MSCs). CXCL12 was identified as a target gene of miR-126 and miR-126* (Zhang Y. et al., 2013b). These two studies suggest a role for the CXCL12/CXCR4 axis in breast cancer metastasis. However, Williams et al. (2010) showed that CXCL12 expression in the primary tumor site may prevent or attenuate breast cancer metastasis by recruiting antitumor immune cells. This suggests that a differential targeting strategy for CXCL12 in the primary tumor site compared to metastatic sites might be needed for the best clinical outcome.
It was recently shown that hypoxia inducible factor (HIF)-1α-mediated paracrine signaling pathways (i.e., CXCL10/CXCR3 and CCL5/CCR5) between MSCs and breast cancer cells promoted metastasis (Chaturvedi et al., 2013). This suggests that hypoxia of the tumor microenvironment may promote metastasis through the synergistic effect of HIF-1α and proinflammatory mediators. In addition to proinflammatory cytokines and chemokines, immunosuppressive molecules such as TGF-β, IL-10, and PGE2 are often present in abundant levels in the tumor microenvironment (Wrzesinski et al., 2007; Chen and Smyth, 2011; Hamidullah et al., 2012; Basu et al., 2013). Other suppressive factors produced by breast cancer cells, such as soluble forms of the ligand, soluble major histocompatibility complex class I-related- chain A (sMICA) and IDO, have also been shown to suppress antitumor NK cells and CD8+ T cells (Groh et al., 2002; Uyttenhove et al., 2003; Muller et al., 2005).
Taken together, tumorigenic cytokines, chemokines, and immunosuppressive soluble factors produced by cancer cells or stromal cells promote chronic inflammation in the breast tumor microenvironment. These molecules, in turn, enhance tumor growth and metastasis by directly acting on tumor cells, facilitating recruitment and activation of suppressive immune cells, and suppressing antitumor effector cells.
4 Immunotherapeutic strategies
Escape of tumor cells from immunosurveillance often results from diminished effector cell function and the immune suppressive tumor microenvironment (
Schreiber et al., 2011
;
Vesely et al., 2011
). Therefore, the goal of an effective immunotherapy is to boost the antitumor immunity of effector cells and to neutralize tumor-promoting chronic inflammation (
Coussens et al., 2013
). The proinflammatory cytokines and chemokines and suppressive immune cells present in the breast tumor microenvironment are potential therapeutic targets, as discussed above. Several other immunotherapeutic strategies have been successfully tested in preclinical and/or clinical studies and will be discussed here (
Fig. 2
).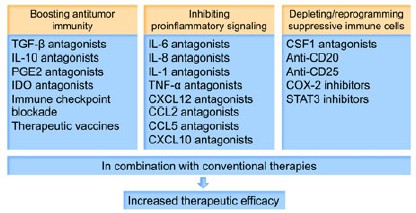 4.1 Immune checkpoint blockade
The CD8+ T cell is a major antitumor effector cell in breast cancer (Jiang and Shapiro, 2014). CD8+ T cell infiltration is associated with better overall patient outcomes, independent of other prognostic factors such as tumor grade, lymph node stage, size, vascular invasion, and HER2 status (Mahmoud et al., 2011). However, the net effect of CD8+ T cell mediated cytotoxicity is regulated by the balance between costimulatory and inhibitory signals (i.e., immune checkpoints) (Greenwald et al., 2005; Zou and Chen, 2008). One of the most extensively studied immune checkpoint receptors is cytotoxic Tlymphocyte- associated antigen 4 (CTLA4) (Pardoll, 2012). Ipilimumab is a humanized monoclonal antibody that suppresses CTLA4 signaling and was approved by the US Food and Drug Administration (FDA) to treat melanoma in 2011 (Emens, 2012). Peripheral blood mononuclear cells (PBMCs) from breast cancer patients express higher levels of CTLA4, are less responsive to phytohae-magglutinin (PHA) stimulation, and produce lower levels of IL-2, suggesting that CTLA4 expression in immune cells may be responsible for immune evasion of breast cancer cells (Mao et al., 2010). CTLA4 polymorphisms may also be associated with breast cancer susceptibility and progression in Chinese women (Wang et al., 2007). Fractionated radiotherapy was shown to synergize with anti-CTLA4 therapy to induce antitumor T cell immunity and inhibit the growth of tumors outside the radiation field (i.e., an abscopal effect) (Dewan et al., 2009). This suggests that the anti-CTLA4 antibody may be effective in breast cancer treatment when combined with conventional therapies.
Another well characterized immune checkpoint receptor is programmed cell death protein 1 (PD-1). A recently completed phase I trial showed that treatment with an anti-PD-1 antibody was safe and produced durable tumor regression in 6%‒17% of patients with melanoma, non-small cell lung cancer, or renal cancer (Brahmer et al., 2012). Programmed death-1-ligand 1 (PD-L1) expression on breast cancer cells has been shown to inhibit T cell proliferation and induce their apoptosis (Zhang et al., 2008). The presence of PD-1+ tumor infiltrating lymphocytes (TILs) is associated with a significantly worse overall survival, and further subtype analysis showed that this is associated with worse survival in luminal B and basal-like sub-types (Muenst et al., 2013). A very recent preclinical study showed that COX-2 deficient breast cancer cells express lower levels of PD-L1, which leads to suppression of tumor growth in immune competent mice (Markosyan et al., 2013). Anti-PD-1 antibody therapy has been shown to enhance the response to radiotherapy and DC vaccines in established breast cancers (Verbrugge et al., 2012; Ge et al., 2013). Anti-PD-1 antibody also significantly improves the effectiveness of the anti-HER2 monoclonal antibody in immunocompetent mice (Stagg et al., 2011). Together, these studies suggest that anti-PD-1 may be used in combination with other therapies to improve the overall treatment efficacy in breast cancer.
4.2 Therapeutic vaccines
Therapeutic cancer vaccine is another strategy to boost the host immune system to suppress tumor growth. The principle is to utilize tumor-associated antigens (TAAs) to induce targeted immune attack against tumor cells. Numerous preclinical and clinical studies have shown that cancer vaccines are safe and have extremely low levels of toxicity (i.e., mostly limited to grade I and grade II). The most effective outcome is often observed when patients are treated with vaccines in combination with other therapeutic regimens (Schlom, 2012). A large number of early phase breast cancer vaccine clinical trials have been carried out with HER2 TAAs (Emens, 2012; Wiedermann et al., 2013). Miles et al. (2011) showed that the therapeutic vaccine, sialyl-TN-keyhole limpet hemocyanin (STn-KLH), alone did not affect time to progression (TTP) or overall survival. However, a very recent multicenter, double blinded, randomized phase III clinical trial showed that patients with metastatic breast cancer receiving STn-KLH plus endocrine therapy had significantly longer TTP and overall survival (Ibrahim et al., 2013). Another small clinical trial showed that metastatic breast cancer patients treated with a vaccine comprising human telomerase reverse transcriptase (hTERT) peptide plus anti-CD25 anti-body had much higher OS than those treated with hTERT vaccine alone (Rech et al., 2012). This suggests that the efficacy of breast cancer vaccines can be enhanced by depleting suppressive components of the tumor microenvironment, such as Treg cells. Antigen- loaded DC vaccines, engineered to produce antibodies against CTLA-4 and glucocorticoid-induced TNFR- related protein (GITR), induced stronger CD8+ T cell immunity against breast cancer cells (Pruitt et al., 2011), suggesting that breast cancer vaccines combined with immune checkpoint inhibition may produce stronger antitumor immunity in vivo. Enhanced HER2/neu-specific immune responses were achieved when breast cancer patients received both the vaccine and the HER2/neu inhibiting monoclonal antibody, trastuzumab (Disis et al., 2009). Low-dose paclitaxel was also able to enhance DC function in preclinical studies (Pfannenstiel et al., 2010). Together, these data suggest that breast cancer vaccines may have the highest efficacy when combined with other therapeutic modalities.
Consistent with earlier findings showing an inverse correlation between prior chemotherapy and the efficacy of vaccine treatment (von Mehren et al., 2000; 2001), a recently reported pilot study of a MUC-1/CEA/TRICOM poxviral-based vaccine showed that only 1 of 12 patients with breast cancer had an objective complete response, whereas all the others had rapid progression of disease (Mohebtash et al., 2011). The only responder was a patient who had minimal disease and was not as heavily pretreated as the others, suggesting that breast cancer vaccine monotherapy in patients with heavy tumor burdens or extensive prior treatment with chemotherapy is not likely to produce a significant clinical benefit. This finding also suggests that breast cancer therapeutic vaccines should be used as early as possible to prevent recurrence and dissemination of tumors (Wiedermann et al., 2013).
5 Concluding remarks
Chronic inflammation in the breast cancer microenvironment, comprised of proinflammatory mediators, immunosuppressive factors, and suppressive immune cells, may represent intrinsic negative feedback in response to a tumor-inhibiting acute immune reaction. The studies reviewed above demonstrate that the immune network plays a significant role in the development and progression of breast cancer. In the future, incorporating some of these factors into the traditional classification scheme may be helpful in determining prognosis and treatment options. Identification of genetic variations that affect inflammation and immunity may provide better therapeutic targets for breast cancer patients, which may allow for a more personalized approach to management. Moreover, identification of these variations may also be useful for designing new preventive approaches for populations with a high risk of developing breast cancer.
In summary, compelling preclinical and clinical studies have shown that the inflammatory microenvironment not only promotes breast cancer progression and metastasis, but also enhances treatment resistance and accelerates recurrence. This knowledge has identified numerous novel targets for breast cancer immunotherapies that include depletion or reprogramming of suppressive immune cells, neutralization of proinflammatory mediators, inhibition of immune checkpoints and immunosuppressive factors, and therapeutic vaccines. A combination of these strategies with conventional breast cancer therapies will likely improve overall treatment efficacy.
Acknowledgements
The author wishes to gratefully acknowledge Dr. Yon SUNG (Stanford University, USA) for critically reading and editing this manuscript.
Compliance with ethics guidelines
Xinguo JIANG declares that he has no conflict of interest.
This article does not contain any studies with human or animal subjects performed by the author.
Copyright information
© Zhejiang University Press and Springer-Verlag GmbH 2014