Abstract
Considering the challenges imposed by the current movement towards green development, earth construction appears to offer promising possibilities for improving thermal comfort, energy consumption and indoor humidity regulation. However, the difficulties in predicting the behaviour of earth as a construction material is an obstacle to the development of this technique. The principal objective of this study is to establish the scientific bases needed to predict its hygroscopic and mechanical behaviour as a function of the relative humidity that is one of the main factors controlling the home confort. For this purpose, it is necessary to find correlations between the variability of the soils (density, pore size distribution, chemical and mineralogical composition) and the hygromechanical behaviour of the earth bricks (adsorption, hydric buffering and compressive strength). The results, in terms of hydric and mechanical behaviour specific to each brick, show that the behaviour of this material depends on several factors, namely, the SiO2/Al2O3 ratio, the porosity rate, the pore size distribution, the nature of the clay minerals, and their content.
Access options
Buy single article
Instant access to the full article PDF.
USD 39.95
Price includes VAT (USA)
Tax calculation will be finalised during checkout.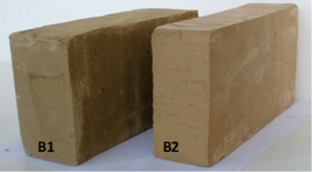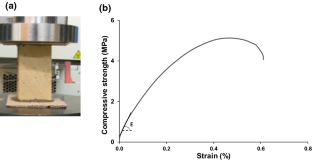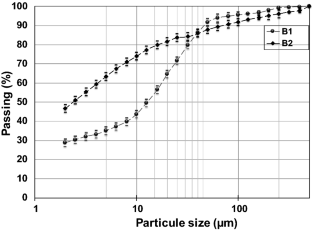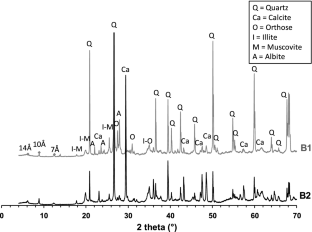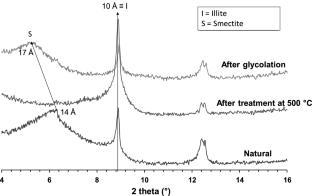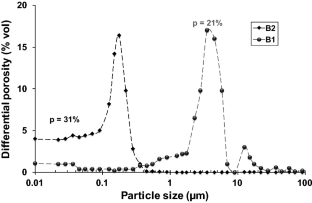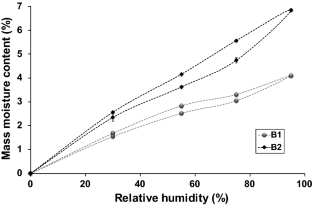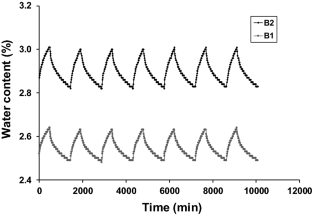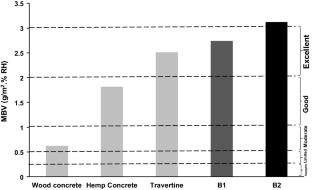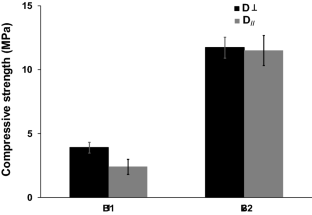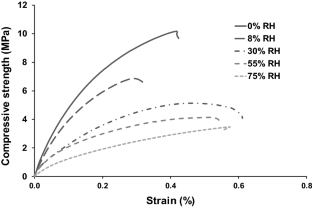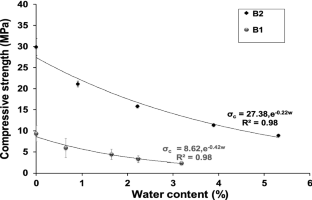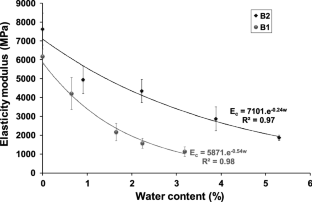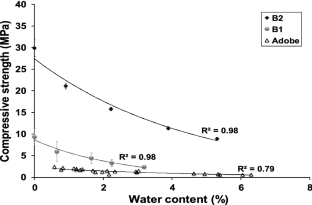 References
1.

Chel A, Tiwari GN (2009) Thermal performance and embodied energy analysis of a passive house - case study of vault roof mud-house in India. J Appli Energ 86:1956–1969. https://doi.org/10.1016/j.apenergy.2008.12.033

2.

Shukla A, Tiwari GN, Sodha MS (2009) Embodied energy analysis of adobe house. J Renew Energy 34:755–761. https://doi.org/10.1016/j.renene.2008.04.002

3.

Zami MS, Lee A (2010) Economic benifits of contemporary earth construction in low-cost urban housing - state of the art review. J Build Appra 5:259–271

4.

Morton T, Stevenson F, Taylor B, Charlton Smith N (2005) Low cost earth earth brick construction: 2 Kirk Park, Dalguise - monitoring and evaluation. ARC Architects, Scotland

5.

Minke G (2006) Building with earth. Design and technology of a sustainable architecture. Birkhauser, Switzerland

6.

Allinson D, Hall M (2010) Hygrthermal analysis of a stabilished rammed earth test building in the UK. J Energy Build 42:845–852. https://doi.org/10.1016/j.enbuild.2009.12.005

7.

Hansen E.J.D.P, Hansen M.H (2002) Unfired clay bricks - moisture properties and compressive strength. In: Proceedings of the 6th Symposium on Building Physics in the Nordic Countries. Norwegian University of Science and Technology, Trondheim, Norway

8.

Jaquin P, Augarde C, Toll DG, Gallipoli D (2009) The strength of unstabilised rammed earth materials. J Geotech 59:487–490. https://doi.org/10.1680/geot.2007.00129

9.

Guettala A, Abibsi A, Houari H (2006) Durability study of stabilized earth concrete under both laboratory and climatic conditions exposure. J Constr Build Mater 20:119–127. https://doi.org/10.1016/j.conbuildmat.2005.02.001

10.

Jeannet J, Pollet G (1986) La thermique du pisé: Modernité de la construction en terre. Conference proceedings

11.

Lindberg E, Akander J (2002) Power-optimised Ventilation Considering Moist-buffering of the Surface Layer of Clay. Moderner Lehmbau. Ed. Peter Steingass

12.

McGregor F, Heath A, Shea A, Lawrence M (2014) The moisture buffering capacity of unfired clay mansonry. J Build Environ 82:599–607. https://doi.org/10.1016/j.buildenv.2014.09.027

13.

Caporale A, Parisi F, Asprone D, Luciano R, Prota A (2015) Comparative micromechanical assessment of adobe and clay brick masonry assemblages based on experimental data sets. J Compo Struct 120:208–220. https://doi.org/10.1016/j.compstruct.2014.09.046

14.

Silveira D, Varum H, Costa A, Carvalho J (2015) Mechanical properties and behavior of traditional adobe wall panels of the aveiro district. J Mater Civ Engin 27:9. https://doi.org/10.1016/j.conbuildmat.2011.08.046

15.

Illampas R, Ioannou I, Charmpis D-C (2014) Adobe bricks under compression: experimental investigation and derivation of stress-strain equation. J Constr Build Mater 53:83–90. https://doi.org/10.1016/j.conbuildmat.2013.11.103

16.

Gouny F (2013) Nouveau système constructif multimatériaux bois/liant géopolymère/brique de terre crue: formulation, caractérisation et transfert d'échelle. PhD thesis, University of Limoges in French

17.

Laou L (2017) Evaluation du comportement mécanique sous sollicitations thermo-hydriques d'un mur multimatériaux (bois, terre crue, liants minéraux) lors de sa construction et de son utilisation. PhD thesis, University of Limoges in French

18.

Aubert J, Maillard P, Morel JC, Al Rafii M (2016) Towards a simple compressive strength test for earth bricks? J Mater Struct 49:1641–1654. https://doi.org/10.13140/RG.2.1.4641.4242

19.

Aubert JE, Fabbri A, Morel JC, Maillard P (2013) An earth block with a compressive strength higher than 45 MPa! J Constr Build Mater 47:366–369. https://doi.org/10.1016/j.conbuildmat.2013.05.068

20.

Pkla A, Mesbah A, Rigassi V, Morel JC (2003) Comparaison de méthodes d'essais de mesures des caractéristiques mécaniques des mortiers de terre. J Mater Struct 36:108–117. https://doi.org/10.1007/BF02479524

21.

Laborel-Préneron A, Aubert J-E, Magniont C, Maillard P, Poirier C (2017) Effect of plant aggregates on mechanical properties of earth bricks. J Mater Civ Eng 29:12. https://doi.org/10.1016/j.conbuildmat.2016.02.119

22.

Rodríguez-Mariscal J-D, Solís M, Cifuentes H (2018) Methodological issues for the mechanical characterization of unfired earth bricks. J Constr Build Mater 175:804–814. https://doi.org/10.1016/j.conbuildmat.2018.04.118

23.

Zonno G, Aguilar R, Boroschek R, Lourenço PB (2019) Analysis of the long and short-term effects of temperature and humidity on the structural properties of adobe buildings using continuous monitoring. J Eng Struct. https://doi.org/10.1016/j.engstruct.2019.109299

24.

Zonno G, Aguilar R, Boroschek R, Lourenço, PB (2019) Experimental analysis of the thermohygrometric effects on the dynamic behavior of adobe systems. J Constr Build Mater 208:158–174. https://doi.org/10.1016/j.conbuildmat.2019.02.140

25.

Heath A, Walker P, Fourie C, Lawrence M (2009) Compressive strength of extruded unfired clay masonry units. J Const Mater 162:105–112. https://doi.org/10.1680/coma.2009.162.3.105

26.

Mollion V (2009) Etude du comportement mécanique du pisé. Master's dissertation, Ecole Nationale des Travaux Publics de l'Etat

27.

Pirat PE, Filloux R (2012) Etude de l'effet d'échelle sur le matériau terre. Projet d'Initiation à la Recherche et au Développement, INSA, Lyon

28.

Walker P, Keable R, Martin J, Maniatidis V (2005) Rammed earth. Design and construction guidelines. BRE Bookshop, Watford

29.

Maniatidis V, Walker P (2003) Developing rammed earth for UK housing. Natural Building Technology Group, University of Bath, United Kingdom

30.

DIN 18945 (2013) Blocs de terre - Termes et définitions, exigences, méthodes d'essai - Lehmsteine - Begriffe, Anforderungen, Prüfverfahren

31.

Bourgès A (2003) Study on the physical-mechanical properties on artificial adobe and determination of the water influence. Internal report of TERRA Project

32.

Barras C (2010) Contribution à l'élaboration d'un mélange terre-chanvre. Internship report, ENTPE Lyon

33.

Fontaine L (2004) Cohésion et comportement mécanique de la terre comme matériau de construction. DPEA Report, INSA-Lyon

34.

Kornmann M (2005) Matériaux de construction en terre cuite – Fabrication et, propriétés. Septima, Geneva

35.

Jacqus G, Berger S, Gibiat V, Jean P, Villot M, Ciukaj S (2011) A homogenised vibratory model for predicting the acoustic properties of hollow brick wall. J Sound Vibra 330:3400–3409. https://doi.org/10.1016/j.jsv.2011.02.015

36.

Bourret J (2012) Elaboration de céramiques alvéolaires à base de kaolin: propriétés thermiques et mécaniques. PhD thesis, University of Limoges in French

37.

NF P94–057 (1992) Sols: reconnaissance et essais - Analyse granulométrique des sols, Méthode par sédimentation

38.

Moore DM, Robert C, Reynolds JR (1997) X-Ray diffraction and the identification and analysis of clay minerals, 2nd edn. Oxford University Press, USA

39.

NF EN ISO 12571 (2013) Performance hygrothermique des matériaux et produits pour le bâtiment – Détermination des propriétés de sorption hygroscopique

40.

Rode C, Peuhkuri RH, Mortensen LH, Hansen KK, Time B, Gustavsen A, Harderup LE (2005) Moisture Buffering of Building Materials. Technical University of Denmark. Nordisk Innovations Center, ISSN 1601-2917, ISBN 87-7877-195-1

41.

Quoc-Bao B (2008) Stabilité des structures en pisé: Durabilité, caractéristiques mécaniques. PhD thesis, INSA-Lyon in French

42.

NF EN ISO 12570 (2000) Performance hygrothermique des matériaux et produits pour le bâtiment - Détermination du taux d'humidité par séchage à chaud

43.

NF EN ISO 14688-1 (2003) Geotechnical investigation and testing - Identification and classification of soil - Part 1: identification and description

44.

Gourouza M, Zanguina A, Natatou I, Boos A (2013) Characterization of a mixed clay Niger. J Mater Sci Chem Eng 1:29–39

45.

Dondi M, Principi P, Raimondo M, Zanarini G (2003) Water vapour permeability of clay bricks. J Constr Build Mater 17:253–258. https://doi.org/10.1016/S0950-0618(02)00117-4

46.

El Fgaier F (2013) Conception, produtcion et qualification des briques en terre cuite et en terre crue. PhD thesis, University of Lille in French

47.

Medjelekh D (2015) Caractérisation multi-échelle du comportement thermo hydrique des enveloppes hygroscopiques. PhD thesis, University of Limoges in French

48.

Morel JC, Pkla A, Walker P (2007) Compressive strength testing of compressed earth blocks. J Constr Build Mater 21:303–309. https://doi.org/10.1016/j.conbuildmat.2005.08.021

49.

Olivier M (1994) Le matériau terre, compactage, comportement, application aux structures en blocs sur terre. PhD thesis, INSA-Lyon in French
Additional information
Publisher's Note
Springer Nature remains neutral with regard to jurisdictional claims in published maps and institutional affiliations.
About this article
Cite this article
Laou, L., Aubert, J.E., Yotte, S. et al. Hygroscopic and mechanical behaviour of earth bricks. Mater Struct 54, 116 (2021). https://doi.org/10.1617/s11527-021-01701-1
Received:

Accepted:

Published:
Keywords
Unfired clay brick

Anisotropy

Physical properties

Microstructure

Chemical composition

Mineralogical composition

Hygroscopic properties

Mechanical properties