Abstract
An experimental investigation into the shear transfer across the brick mortar interface at different levels of applied pre-compression is reported. Direct shear tests are performed in the triplet test configuration on masonry made with a soft brick. The failure across the brick–mortar interface is progressive and is produced by a crack in the brick–mortar interface. The interface crack propagates in a thin layer where the mortar penetrates the brick. A cohesive-frictional interface relationship which combines progressive cohesive failure with increasing frictional resistance is developed. The maximum shear resistance obtained from the cohesive-frictional relationship follows a Mohr–Coulomb type relationship. The residual frictional resistance increases linearly with an increase in the applied compression.
This is a preview of subscription content, log in to check access.
Access options
Buy single article
Instant access to the full article PDF.
US$ 39.95
Price includes VAT for USA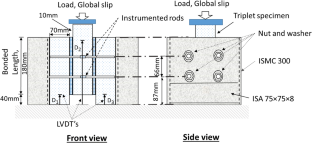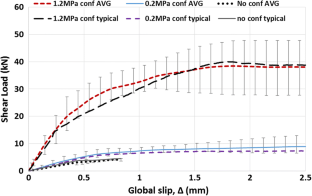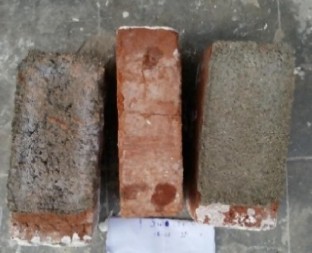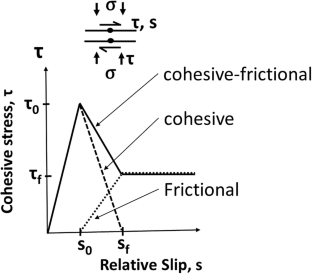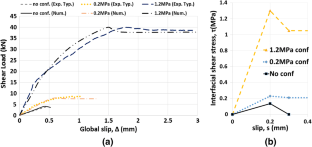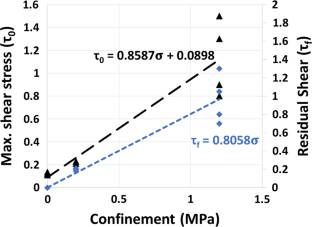 References
1.

PAGER Database 2007 link http://pubs.usgs.gov/of/2008/1160/downloads/OF08-1160.pdf

2.

Churilov S, Dumova-Jovanoska E (2010) The in-plane shear behaviour of unreinforced masonry walls. In: Proceedings of the 14th European conference on earthquake engneering, 30th Aug–3rd Sept, Ohrid, FYROM

3.

Jiang DH, Xiao XS (1994) A new masonry shear test method determining the masonry shear strength. In: Proceedings of the 10th international brick and block Mas. conference 5–7 July, Calgary, Canada

4.

Mahdi M, Wolfram J (2014) A comparative numerical evaluation of masonry initial shear test methods and modifications proposed for EN 1052-3. In: Proceedings of the 9th International Mas. conference, Guimaraes

5.

RILEM (1996) Determination of shear strength index for masonry unit/mortar junction. Mater Struct 29:459–475

6.

Drysdale RG, Vanderkeyl RV, Hamid AA (1979) Shear strength of brick masonry joints. Proc 5th Internatinal Brick Mas. Conference, Paper 11-13, Washington, DC

7.

Atkinson R, Amadei B, Saeb S, Sture S (1989) Response of masonry bed joints in direct shear. J Struct Eng 115(9):2276–2296

8.

Van der Pluijm R (1999) Out-of-plane bending of masonry: behavior and strength. PhD thesis, Eindhoven University of Technology, The Netherlands

9.

van der Pluijm R. (1993). Shear behavior of bed joint. In: Proceedings of the 6th North American Mas. Conference, June 6–9, Philadelphia, pp 125–36

10.

Gens A, Carol I, Alonso EE (1989) Elasto-Plastic Model for Joints and Interfaces, In: Proc. 2nd Int. Conf. Computational Plasticity, 1251-1264, Swansea, UK, Pineridge Press

11.

Gideon PAG, Zijl Van (2004) Modeling masonry shear-compression: role of dilatancy highlighted. J Eng Mech 130:1289–1296

12.

Lourenco PB (1996) Computational strategies for masonry structures. Ph.D. Thesis, Delft University of Technology

13.

Lourenço PB, Rots JG (1997) Multisurface interface model for analysis of masonry structures. J Eng Mech 123(7):660–668

14.

Raous M, Cangémi L, Cocou M (1999) A consistent model coupling adhesion, friction, and unilateral contact. Comput Methods Appl Mech Eng 177:383–399

15.

Fouchal F, Lebon F, Titeux I (2009) Contribution to the modeling of interfaces in masonry construction. Constr Build Mater 23:2428–2441

16.

Parrinello F, Failla B, Borino G (2009) Cohesive–frictional interface constitutive model. Int J Solids Struct 46:2680–2692

17.

Alfano G, Sacco E (2006) Combining interface damage and friction in a cohesive-zone model. Int J Numer Meth Eng 68:542–582

18.

Gambarotta L (2004) Friction-damage coupled model for brittle materials. Eng Fract Mech 71:829–836

19.

Gambarotta L, Lagomarsino S (1997) Damage models for the seismic response of brick masonry shear walls. Part I: the mortar joint model and its application. Earthq Eng Struct Dyn 26:423–439

20.

Dayaratnam P (1987) Brick and reinforced brick structures. Oxford and IBH, New Delhi

21.

Sarangapani G, Venkatarama Reddy BV, Jagadish KS (2002) Structural characteristics of bricks, mortar, and masonry. J Struct Eng (India) 29(2):101–107

22.

Andreotti G, Graziotti F, Magenes G (2018) Detailed micro-modelling of the direct shear tests of brick masonry specimens: the role of dilatancy. Eng Struct 168:929–949

23.

Ravula MB, Subramaniam KVL (2017) Experimental Investigation of compressive failure in masonry brick assemblages made with soft brick. Mater Struct 50:19

24.

Sarangapani G, Venkatarama Reddy BV, Jagadish KS (2005) Brick–mortar bond and masonry compressive strength. J Mater Civ Eng (ASCE) 17(2):229–237

25.

Berman JB, Al-chaar GK, Dutta PK (2002) Biaxial loading and failure behavior of brick triplets with fiber-reinforced polymer composite upgrades. US army corps of engineers, report No. ERDC TR-02-7

26.

BIS 808 (1989) Dimensions for Hot rolled steel Beam, Column, Channel. Bureau of Indian Standard, 3rd ed., New Delhi

27.

Lourenco PB, Barros JO, Oliveira JT (2004) Shear testing of stack bonded masonry. Constr Build Mat 18:125–132

28.

Feng YT, Peric D, Owen DRJ (1995) Determination of travel directions in path-following methods. Mathl Comput Modelling 21(7):43–59
Ethics declarations
Conflict of interest
The authors declare that they have no conflict of interest.
Additional information
Publisher's Note
Springer Nature remains neutral with regard to jurisdictional claims in published maps and institutional affiliations.
About this article
Cite this article
Ravula, M.B., Subramaniam, K.V.L. Cohesive-frictional interface fracture behavior in soft-brick masonry: experimental investigation and theoretical development. Mater Struct 52, 34 (2019). https://doi.org/10.1617/s11527-019-1333-1
Received:

Accepted:

Published:
Keywords
Masonry

Dilation

Shear

Failure

Interface

Cohesive

Fracture