Abstract
The present paper provides a basis for defining a mix design method specifically tailored to rubberised asphalt that takes into account the behaviour of crumb rubber. An analytical approach to quantifying the recovered deformation of crumb rubber in the post-compaction phase has been developed in order to adjust the number of gyrations proposed by the Superpave method for compacting specimens of hot mix asphalt using a Superpave gyratory compactor. The maximum allowable amount of rubber has been calculated. Finally, a step-by-step protocol has been proposed in order to fabricate and compact crumb rubber modified mixtures with the gyratory compactor.
Access options
Buy single article
Instant access to the full article PDF.
US$ 39.95
Tax calculation will be finalised during checkout.
Subscribe to journal
Immediate online access to all issues from 2019. Subscription will auto renew annually.
US$ 399
Tax calculation will be finalised during checkout.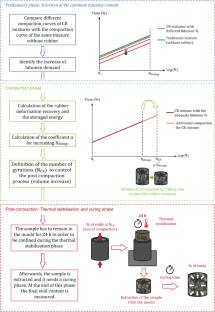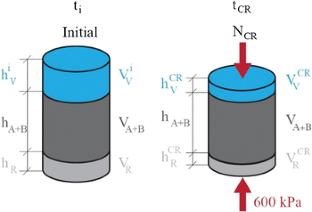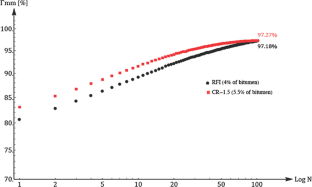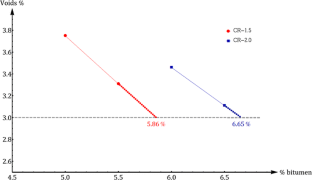 References
1.

ETRMA statistics (2012) http://www.etrma.org/pdf/20101220%20Brochure%20ELT_2010_final%20version.pdf

2.

Presti DL (2013) Recycled tyre rubber modified bitumens for road asphalt mixtures: a literature review. Constr Build Mater 49:863–881

3.

Heitzman M (1992) Design and construction of asphalt paving materials with crumb rubber modifier. Transp Res Rec

4.

Feraldi R, Cashman S, Huff M, Raahauge L (2013) A life cycle assessment case study of ground rubber production from scrap tires. Int J Life Cycle Assess 2013(18):613–625. https://doi.org/10.1007/s11367-012-0514-8

5.

Oliver JWH (1981) Modification of paving asphalts by digestion with scrap rubber. Transportation Research Board. Transportation Research Record 821

6.

Caltrans Asphalt Rubber Usage Guide. s.l.: State of California Department of Transportation, Materials Engineering and Testing Services (2006)

7.

Shatanawi K, Thoedsen C (2008) Review of utilization of waste tires in asphalt. s.n. In: Global plasti environmental conference. Orland

8.

County S (1999) Report on the status of rubberized asphalt traffic noise reduction in sacramento county. In: Sacramento County and Bollard and Brennan Inc

9.

Huang Y, Bird R, Heidrich O (2007) A review of the use of recycled solid waste materials in asphalt pavements. Resour Conserv Recycl 52(2007):58–73

10.

Crockford WW (1995) Recycling crumb rubber modified asphalt pavements. s.l.: texas transportation institute. Report FHWA/TX-95/1333-1F

11.

Waste and Chemicals for Ecopneus. Esposizione dei lavoratori a inquinanti presenti in miscele bituminose con addizione di polverino da PFU, 2016

12.

Hicks G, Cheng D, Teesdale T (2010) Assessment of Warm Mix technologies for use with Asphalt Rubber paving application. Tech-Report-103TM

13.

Jones D, Wu R, Barros C, Peterson J (2012) Research findings on the use of rubberized warm-mix asphalt in California. Asphalt-Rubber

14.

ASTM D6114/D6114M. s.l. (2009) American Society for testing and materials. Standard specification for Asphalt-Rubber binder

15.

FHWA (1997) User guidelines for waste and by-product materials in pavement construction

16.

Feiteira DJL, Picado-Santos LG, Capitão SD (2014) Mechanical performance of dry process fine crumb rubber asphalt mixtures placed on the Portuguese road network. Constr Build Mater 73:247–254

17.

CEDEX (Centro de Estudios y Experimentación de Obras Públicas) (2007) Manual de Empleo de Caucho de NFU en Mezclas Bituminosas. Ministerio de Fomento, Ministerio de Medio Ambiente

18.

López-Moro F, Moro M, Hernández-Olivares F, Witoszek-Schultz B, Alonso-Fernández M (2013) Microscopic analysis of the interaction between crumb rubber and bitumen in asphalt mixtures using the dry process. Constr Build Mater 48:691–699

19.

Hernandez-Olivares F, Witoszek-Schultz B, Alonso-Fernandez M, Benito-Moro C (2009) Rubber-modified hot-mix asphalt pavement by dry process. Int J Pavement Eng 10(4):277–288

20.

Dong D, Huang X, Li X, Zhang L (2012) Swelling process of rubber in asphalt and its effect on the structure and properties of rubber and asphalt. Constr Build Mater 29:316–322

21.

Losa M, Leandri P, Bacci R (2011) Mix design and performance evaluation of CRM-modified asphalt concrete mixtures. In: 5th international conference bituminous mixtures and pavements Thessaloniki, Greece

22.

Xiao F, Amirkhanian S, Shen J, Putman B (2009) Influences of crumb rubber size and type on reclaimed asphalt pavement (RAP) mixtures. Constr Build Mater 23(2):1028–1034

23.

Dubois V, De La Roche C, Burban O (2010) Influence of the compaction process on the air void homogeneity of asphalt mixtures samples. Constr Build Mater 24:885–897

24.

Partl MN, Flish A, Jönsson M (2003) Gyratory compaction analysis with computer tomography. Road Mater Pavement Des 4(4):401–422

25.

Button J, Little D, Jagadam V, Pendleton O (1994) Correlation of selected laboratory compaction methods with field compaction. Transp Res Rec

26.

SHRP A407. Cominsky R, Huber GA, Kennedy TW, Anderson M (1994) The superpave mix design manual for new construction and overlays. In: Strategic highway research program national research council Washington

27.

American Association of State Highway and Transportation Officials (AASHTO R 35-151) (2001) Superpave volumetric design for asphalt mixtures. 444 North Capitol Street N.W., Suite 249 Washington, DC

28.

Pettinari M, Simone A (2015) Effect of crumb rubber gradation on a rubberized cold recycled mixture for road pavements. Mater Des 85:598–606

29.

Dondi G, Tataranni P, Pettinari M, Sangiorgi C, Simone A, Vignali V (2014) Crumb rubber in cold recycled bituminous mixes: comparison between traditional crumb rubber and cryogenic crumb rubber. Constr Build Mater 68:370–375

30.

Soon-Jae Lee, Amirkhanian S, Kwon S (2008) The effects of compaction temperature on CRM mixtures made with the SGC and the Marshall compactor. Constr Build Mater 22(2008):1122–1128

31.

Akisetty C, Xiao F, Gandhi T, Amirkhanian S (2011) Estimating correlations between rheological and engineering properties of rubberized asphalt concrete mixtures containing warm mix asphalt additive. Constr Build Mater 25(2):950–956

32.

Moreno F, Rubio M, Martinez-Echevarria M (2011) Analysis of digestion time and the crumb rubber percentage in dry-process crumb rubber modified hot bituminous mixes. Constr Build Mater 25(5):2323–2334

33.

Airey G, Rahman M, Collop A (2003) Absorption of bitumen into crumb rubber using the basket drainage method. Int J Pavement Eng 4(2):105–119

34.

Sun L, Ling J, Zhao H, Xiao F, Huang B (2015) Multi-scale evaluation on the interaction between asphalt and crumb rubber. New Frontiers in Road and Airport Engineering

35.

Peralta J, Silva H, Machado AV, Pais J, Pereira P, Sousa J (2010) Changes in rubber due to its interaction with bitumen when producing asphalt rubber. Road Mater Pavement Des 11(4):1009–1031

36.

Shu X, Huang B (2014) Recycling of waste tire rubber in asphalt and portland cement concrete: an overview. Constr Build Mater 67:217–224

37.

Vavrik WR, Huber GA, Pine WJ, Carpenter SH, Bailey R (2002) Bailey method for gradation selection in hot-mix asphalt mixture design. In: Transportation Research Board, Circular Number E-C044, Washington DC

38.

RFI capitolato costruzioni opere civili. sezione xv sub-ballast—pavimentazioni stradali

39.

Rose JG, Bryson S (2009) Hot mix asphalt railway trackbeds: trackbed materials, performance evaluations, and significant implications. In: International conference on perpetual pavements 2009, Columbus, Ohio

40.

Rose JG, Teixeira PF, Veit P (2011) International design practices, applications, and performances of asphalt/bituminous railway trackbeds. GEORAIL, Paris

41.

Rahman M (2004) Characterisation of dry process crumb rubber modified asphalt mixtures. In: Thesis dissertation. University of Nottingham School of civil engineering
Acknowledgments
The research presented in this paper was carried out as part of the Marie Curie Initial Training Network (ITN) action, FP7-PEOPLE-2013-ITN. This project has received funding from the European Union's Seventh Framework Programme for research, technological development and demonstration under grant number 607524.
Ethics declarations
Conflict of interest
The authors declare that they have no conflict of interest.
About this article
Cite this article
Bressi, S., Colinas-Armijo, N. & Di Mino, G. Analytical approach for the mix design optimisation of bituminous mixtures with crumb rubber. Mater Struct 51, 26 (2018). https://doi.org/10.1617/s11527-018-1152-9
Received:

Accepted:

Published:
Keywords
Crumb rubber

Superpave gyratory compactor

Mix design

Rubberised asphalt