Abstract
Size effect on the shear strength of high strength concrete deep beams was investigated. A total of 12 full-scale reinforced concrete beams without web reinforcement were constructed and tested up to failure. The test variables included the beam depth and the concrete compressive strength. The beams were simply supported and were tested in four point bending. The test results showed that the shear stresses at failure decreased with the increase in beam depth indicating the existence of size effect. Beams of higher concrete strength exhibited more size effect than beams of normal concrete strength. The shear strength of the beams was analyzed using the ACI 318 strut and tie model (STM) provisions, Zhang and Tan's STM, and kinematic model. The results of the analysis showed that conservative predictions by ACI 318 STM provisions were obtained for the tested deep beams. However, the ACI 318 STM did not capture the size effect. On the other hand, both Zhang and Tan's STM and kinematic model were found to reflect the effect of beam size in their predictions.
This is a preview of subscription content,
to check access.
Access this article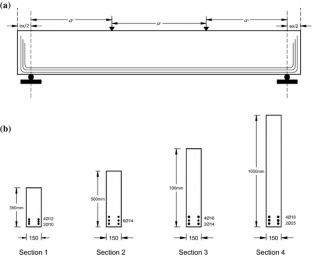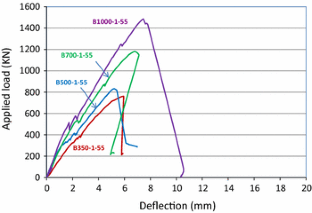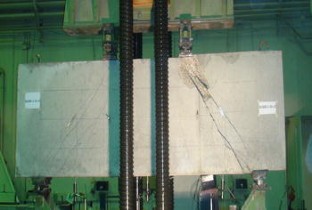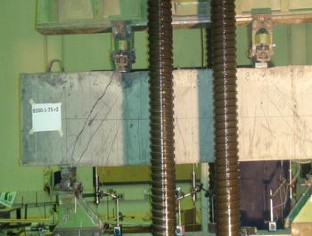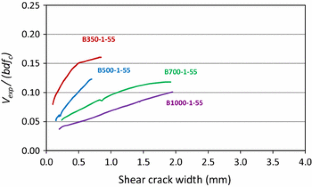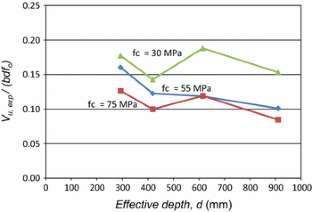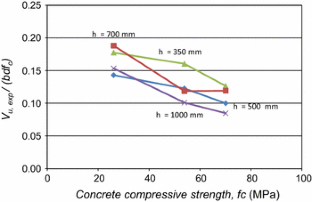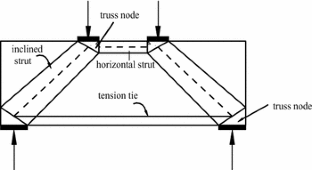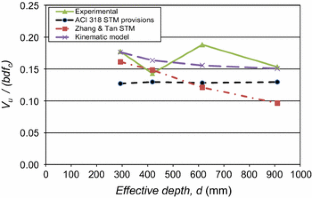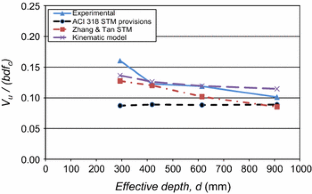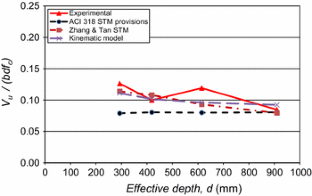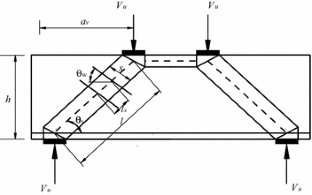 Similar content being viewed by others
References
Kani GNJ (1967) How safe are our large concrete beams? ACI J Proc 64(3):128–141

Taylor HPJ (1972) Shear strength of large beams. J Struct Div ASCE 98(11):2473–2490

Bažant ZP, Kim J (1984) Size effect in shear failure of longitudinally reinforced beams. ACI J Proc 81(5):456–468

Shioya T, Iguro M, Nojiri Y, Akiayama H, Okada T (1989) Shear strength of large reinforced concrete beams, fracture mechanics: Application to concrete. ACI Special Publications, SP-118, pp 259–279

Bažant ZP, Kazemi MT (1991) Size effect on diagonal shear failure of beams without stirrups. ACI Struct J 88(3):268–276

Collins MP, Kuchma D (1999) How safe are our large, lightly-reinforced concrete beams, slabs and footings? ACI Struct J 96(4):482–490

Bentz EC (2005) Empirical modeling of reinforced concrete shear strength size effect for members without stirrups. ACI Struct J 102(2):232–241

Bažant ZP, Yu Q (2005) Designing against size effect on shear strength of reinforced concrete beams without stirrups: II-verification and calibration. J Struct Eng 131(12):1886–1897

Bentz EC, Buckely S (2005) Repeating a classic set of experiments on size effect in shear of members without stirrups. ACI Struct J 102(6):832–838

Alam MS, Hussein A (2012) Effect of member depth on shear strength of high-strength fiber-reinforced polymer-reinforced concrete beams. J Compos Constr 16(2):119–126

Matta F, El-Sayed AK, Nanni A, Benmokrane B (2013) Size effect on concrete shear strength in beams reinforced with fiber-reinforced polymer bars. ACI Struct J 110(4):617–628

Minelli F, Conforti A, Cuenca E, Plizzari G (2014) Are steel fibres able to mitigate or eliminate size effect in shear. Mater Struct J 47:459–473

CAN/CSA-A23.3-04 (R2010) Design of concrete structures. Canadian Standards Association, Rexdale

AASHTO (2010) AASHTO LRFD bridge design specifications. American Association of State Highway and Transportation Officials, Washington D.C

Bažant ZP, Yu Q, Gerstle W, Hanson J, Ju JW (2007) Justification of ACI 446 proposal for updating ACI code provisions for shear design of reinforced concrete beams. ACI Struct J 104(5):601–610

ACI Committee 318 (2011) Building code requirements for structural concrete and commentary. ACI 318-11/ACI 318R-11, American Concrete Institute, Farmington Hills

Walraven JC, Lehwalter N (1994) Size effects in short beams loaded in shear. ACI Struct J 91(5):585–593

Tan KH, Lu HY (1999) Shear behavior of large reinforced concrete deep beams and code comparisons. ACI Struct J 96(5):836–845

Tan KH, Cheng GH (2006) Size effect on shear strength of deep beams: investigation with strut and tie model. J Struct Eng 132(5):673–685

Zhang N, Tan KH (2007) Size effect in RC deep beams: experimental investigation and STM verification. Eng Struct 29:3241–3254

Tan KH, Cheng GH, Zhang N (2008) Experiment to mitigate size effect on deep beams. Mag Concr Res 60(10):709–723

Mihaylov BI, Bentz EC, Collins MP (2013) Two-parameter kinematic theory for shear behavior of deep beams. ACI Struct J 110(3):447–455

Shuraim AB (2013) Behavior and shear design provisions of reinforced concrete D-region beams. J King Saud Univ Eng Sci 25(1):65–74

Tan KH, Tong K, Tang CY (2001) Direct strut and tie model for prestressed deep beams. J Struct Eng 127(9):1076–1084
Acknowledgments
This Project was funded by the National Plan for Science, Technology and Innovation (MAARIFAH), King Abdulaziz City for Science and Technology, Kingdom of Saudi Arabia, Award Number (10-ADV1023-02). The help of engineers and technicians in the Center of Excellence for Concrete Research & Testing (CoE-CRT) and in the structural laboratory of Civil Engineering Department at King Saud University is highly appreciated.
About this article
Cite this article
El-Sayed, A.K., Shuraim, A.B. Size effect on shear resistance of high strength concrete deep beams. Mater Struct 49, 1871–1882 (2016). https://doi.org/10.1617/s11527-015-0619-1
Received:

Accepted:

Published:

Issue Date:

DOI: https://doi.org/10.1617/s11527-015-0619-1
Keywords