Abstract
The confinement effect over the cross-section of a square column is non-uniform compared to the same of a circular column. Concentration of stresses and subsequent cracking in the confining external jacket occurs at the corners of a square column; and thus the effectiveness of external jacket in such column is reduced significantly. The conventional square ferrocement jacket consists of rich mix cement mortar with single or multiple layers of wire mesh. This type of external jacket also experience similar problems in confining core columns. This study aims to develop efficient techniques to overcome the drawbacks of conventional square ferrocement jackets in strengthening of short square-shaped RC columns. Three techniques and variations in those techniques are proposed to address the problem. Experimental studies of selected variation from each technique affirm the effectiveness of the proposed techniques in addressing the problem associated with conventional square ferrocement jackets. The experimental investigation reveals that all the retrofitted square ferrocement-jacketed short columns exhibit higher load carrying and deflection capacities before failure compared with non-jacketed as well as conventional square ferrocement-jacketed columns. The findings indicated that the proposed techniques are efficacious to address the problem of conventional square ferrocement jacket.
This is a preview of subscription content, log in to check access.
Access options
Buy single article
Instant access to the full article PDF.
US$ 39.95
Price includes VAT for USA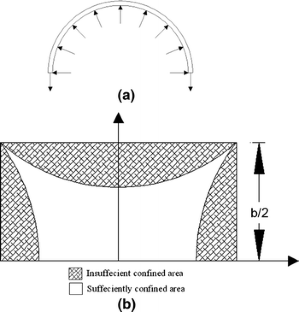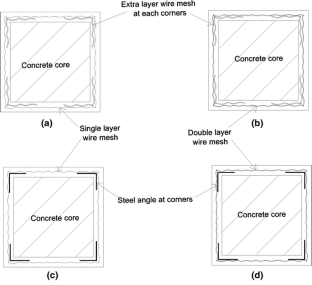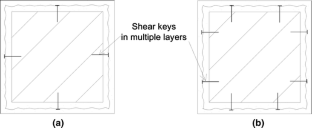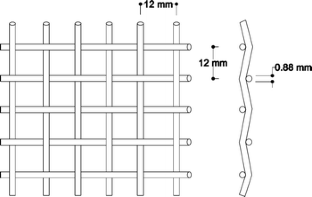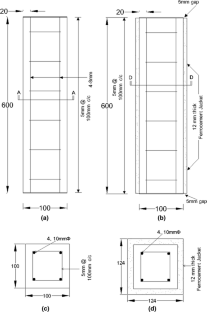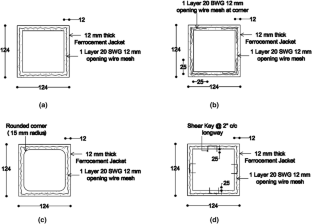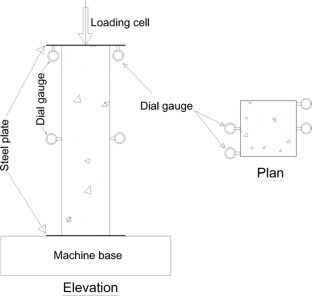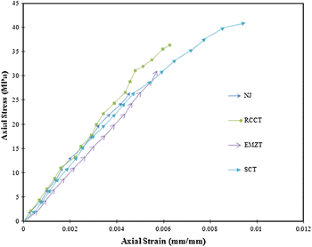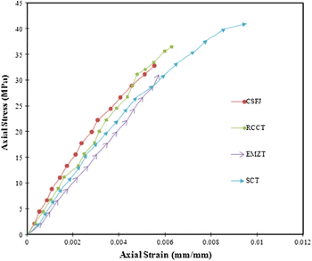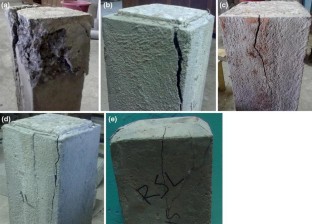 References
1.

Benzaid R, Chikh NE, Mesbah H (2008) Behaviour of square concrete column confined with GFRP composite warp. J Civ Eng Manag 14(2):115–120

2.

Kondraivendhan B, Pradhan B (2009) Effect of ferrocement confinement on behavior of concrete. Constr Build Mater 23:1218–1222

3.

Kazemi MT, Morshed R (2005) Seismic shear strengthening of R/C columns with ferrocement jacket. Cem Concr Compos 27(4):834–842

4.

Kumar R, Rao CBK (2006) Constitutive behavior of high-performance ferrocement under axial compression. Mag Concr Res 58(10):647–656

5.

Tawab AA, Fahmy EH, Shaheen YB (2012) Use of permanent ferrocement forms for concrete beam construction. Mater Struct 45:1319–1329

6.

ACI 549.1R-93 (1993) Guide for design, construction and repair of ferrocement. ACI, Michigan

7.

Rafeeqi SFA, Ayub T (2011) Investigation of versatility of theoretical prediction models for plain concrete confined with ferrocement. Asian J Civ Eng (Build House) 12(3):337–352

8.

Kaish ABMA, Jamil M, Raman SN, Zain MFM (2014) Behaviour of ferrocement jacketed cylindrical concrete specimens under compression. In: Grantham M et al (eds) Concrete solutions. Taylor & Francis Group, London, pp 291–296

9.

Mansur MA, Tan KL, Naaman AE (2010) Strength of bolted moment connections in ferrocement construction. Cem Concr Compos 32:532–543

10.

Xiong GJ, Wu XY, Li FF, Yan Z (2011) Load carrying capacity and ductility of circular concrete columns confined by ferrocement including steel bars. Constr Build Mater 25(5):2263–2268

11.

Mourad SM, Shannag MJ (2012) Repairing reinforced concrete rectangular columns using ferrocement laminates. In: Grantham M, Mechtcherine V, Schneck U (eds) Concrete solutions. Taylor & Francis Group, London, pp 757–763

12.

Abdullah K Takiguchi (2003) An investigation into the behavior and strength of reinforced concrete columns strengthened with ferrocement jackets. Cem Concr Compos 25:233–242

13.

Tsai KC, Lin ML (2002a) Experimental axial load carrying performance of rectangular RC building columns retrofitted by steel or CFRP jacketing. Technical Report, National Centre for Research on Earthquake Engineering, National Taiwan University, Taiwan

14.

Tsai KC, Lin ML (2002) Seismic jacketing of RC columns for enhanced axial load carrying performance. J Chin Inst Eng 25(4):389–402

15.

Tsai KC, Lin ML (2001) Steel jacket retrofitting of rectangular RC bridge columns to prevent lap-splice and shear failure. Technical report National Centre for Research on Earthquake Engineering, National Taiwan University, Taiwan

16.

Park R, Paulay T (1975) Reinforced concrete structures. Wiley, New York

17.

Mander JB, Priestley MJN, Park R (1988) Theoretical stress–strain model for confined concrete. J Struct Eng ASCE 114(8):1804–1826

18.

Cusson D, Paultre P (1995) Stress–strain model for confined high-strength concrete. J Struct Eng ASCE 121(3):468–477

19.

Lam L, Teng G (2003) Design oriented stress–strain model for FRP confined concrete in rectangular columns. J Reinf Plast Compos 22(13):1149–1186

20.

Campione G, Miraglia N (2003) Strength and strain capacities of concrete compression members reinforced with FRP. Cem Concr Compos 25(1):31–41

21.

Youssef MN, Feng MQ, Mosallam AS (2007) Stress–strain model for concrete confined by FRP composites. Composites B 38:614–628

22.

Singh KK, Kaushik SK (1997) Behaviour of ferrocement composite columns in compression. In: ACI international conference on high performance concrete, design and materials and recent advances in concrete technology, Kuala Lumpur

23.

Mourad SM, Shannag MJ (2012) Repair and strengthening of reinforced concrete square columns using ferrocement jackets. Cem Concr Compos 34(2):288–294

24.

Kaish ABMA, Alam MR, Jamil M, Zain MFM, Wahed MA (2012) Improved ferrocement jacketing for restrengthening of square RC short column. Constr Build Mater 36(11):228–237

25.

Kaish ABMA, Alam MR, Jamil M, Wahed MA (2013) Ferrocement jacketing for restrengthening of square reinforced concrete column under concentric compressive load. Procedia Eng 54:720–728

26.

Shah AA (2011) Applications of ferrocement in strengthening of unreinforced masonry columns. Int J Geol 5(1):21–27

27.

ACI 440.2R-08 (2008) Guide for the design and construction of externally bonded FRP systems for strengthening concrete structures. American Concrete Institute, Michigan

28.

Al-Salloum YA (2006) Influence of edge sharpness on the strength of square concrete columns confined with FRP composite laminates. Composites B 38:640–650

29.

Wang LM, Wu YF (2008) Effect of corner radius on the performance of CFRP-confined square concrete columns: test. Eng Struct 30(2):493–505

30.

Feng P, Lu XZ, Ye LP (2002) Experimental research and finite element analysis of square concrete columns confined by FRP sheets under uniaxial compression. In: Proceedings of 17th Australasian conference on the mechanics of structures and materials, Gold Coast, Australia, pp 71–76

31.

Cao XM, Xiao JC, Huang ZH (2010) Experimental research on regional confined concrete columns under compression. In: Proceedings of challenges, opportunities and solutions in structural engineering and construction, London, pp 479–84

32.

Hadi MNS (2007) Behaviour of FRP strengthened concrete columns under eccentric compression loading. Compos Struct 77:92–96

33.

Hadi MNS (2006) Behaviour of FRP wrapped normal strength concrete columns under eccentric loading. Compos Struct 72:503–511

34.

Hadi MNS (2007) The behaviour of FRP wrapped HSC columns under different eccentric loads. Compos Struct 78:560–566

35.

Mirmiran A, Shahawy M (1997) Behavior of concrete columns confined by fiber composites. J Struct Eng 123(5):583–590
Acknowledgments
The authors acknowledge the financial support provided by the Ministry of Higher Education of Malaysia through the ERGS grant scheme (ERGS/1/2011/TK/UKM/02/10). In addition, the first author would like to extend his gratitude to UKM for the financial support it provided through the Research University Zamalah Scholarship.
About this article
Cite this article
Kaish, A.B.M.A., Jamil, M., Raman, S.N. et al. An approach to improve conventional square ferrocement jacket for strengthening application of short square RC column. Mater Struct 49, 1025–1037 (2016). https://doi.org/10.1617/s11527-015-0556-z
Received:

Accepted:

Published:

Issue Date:
Keywords
Strengthening

Ferrocement jacket

Square RC column

Stress concentrations

Stress transfer