Abstract
This paper presents mechanical, microstructural and physical characterization of glass fibre-reinforced polymer (GFRP) rods used as dowels for concrete pavement exposed to different types of conditionings. Two types of GFRP dowels fabricated with polyester and vinylester resins were studied. GFRP dowels were exposed to different alkaline and saline solutions at 23 °C during 90 days to simulate the effect of the concrete environment. GFRP dowels were also subjected to cyclic freezing and thawing. The measured short beam shear strengths and flexural modulus of elasticity of the GFRP dowels before and after exposure were considered as a measure of the durability performance of the specimens. In addition, Fourier transform infrared spectroscopy, differential scanning calorimetry and scanning electron microscopy were used to characterize the aging effect on the GFRP dowels. The results showed the very high long-term durability of vinylester GFRP dowels exposed to tap water, CaCl2, NaOH and CaOH2 solutions, and to freeze/thaw cycles. On the other hand, the test results have shown that polyester-based GFRP dowels present an uncertain stability in the different environments simulating the field service conditions, due to plasticizing and/or irreversible chemical degradation of the polymer matrix.
Access options
Buy single article
Instant access to the full article PDF.
US$ 39.95
Tax calculation will be finalised during checkout.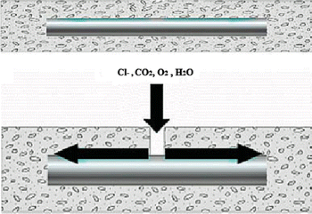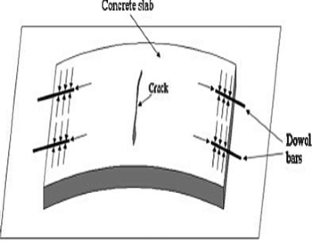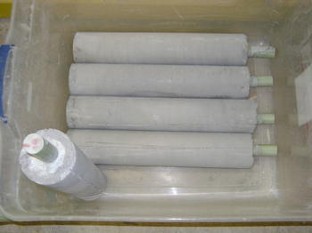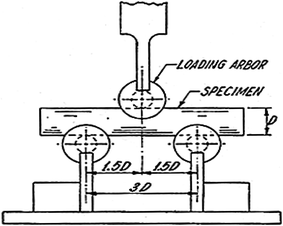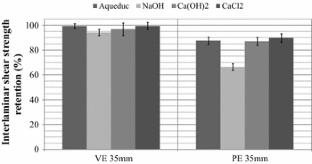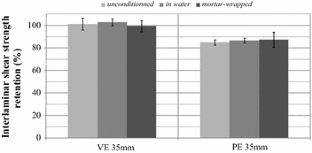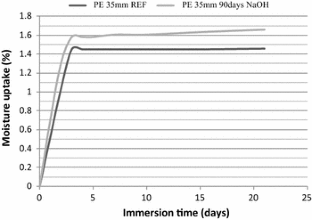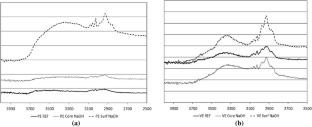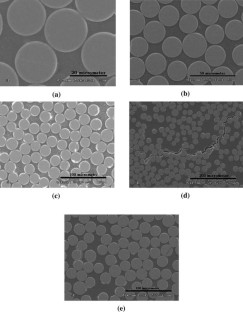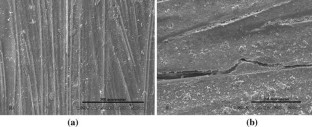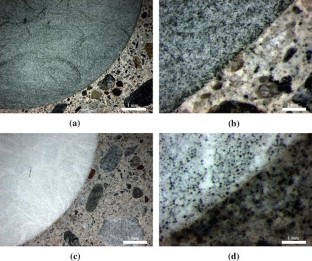 References
1.

Abeysinghe HP, Edwards W, Pritchard G, Swampillai GJ (1982) Degradation of crosslinked resins in water and electrolyte solutions. Polymer 23:1785–1790

2.

Abo-Qudais SA, Al-Qadi IL (2000) Dowel bars corrosion in concrete pavement. Can J Civ Eng 27:1240–1247

3.

Apicella A, Migliaresi C, Nicodemo L, Nicolais L, Iaccarino L, Roccotelli S (1982) Water sorption and mechanical properties of a glass-reinforced polyester resin. Composites 13:406–410

4.

Ashbee KHG, Wyatt RC (1969) Water damage in glass fibre/resin composites. Proc R Soc Lond A 312:553–564

5.

Ashbee KHG, Frank FC, Wyatt RC (1967) Water damage in polyester resins. Proc R Soc Lond Ser A 300:415–419

6.

Biscaia Hugo C, Silva Manuel AG, Chastre Carlos (2014) An experimental study of GFRP-to-concrete interfaces submitted to humidity cycles. Compos Struct 110:354–368

7.

Bradshaw RD, Brinson LC (1997) Physical aging in polymers and polymer composites: an analysis and method for time-aging time superposition. Polym Eng Sci 37:31–44

8.

Chen Y, Davalos JF, Ray I, Kim H-Y (2007) Accelerated aging tests for evaluations of durability performance of FRP reinforcing bars for concrete structures. Compos Struct 78:101–111

9.

Coomarasamy A, Goodman S (1999) Investigation of the durability characteristics of fiber reinforced plastic (FRP) materials in concrete environment. J Thermoplast Compos Mater 12:214–226

10.

Davalos JF, Chen Y, Ray I (2008) Effect of FRP bar degradation on interface bond with high strength concrete. Cem Concrete Compos 30:722–730

11.

HITEC (1998) HITEC evaluation plan for fiber reinforced polymer composite dowel bars and stainless dowel bars. Ohio Department of Transportation, Lebanon

12.

Karbhari V, Stachowsky C, Wu L (2007) Durability of pultruded E-glass/vinylester under combined hygrothermal exposure and sustained bending. J Compos Constr 19:665–673

13.

Mauricio M, Cruz CJ, Jieying Z, Harvey JT, Monteiro PJM (2005) Laboratory evaluation of corrosion resistance of steel dowels in concrete pavements. University of California, Berkeley

14.

Montaigu M, Robert M, Ahmed E, Benmokrane B (2013) Laboratory characterization and evaluation of durability performance of new polyester and vinylester E-glass GFRP dowels for jointed concrete pavement. J Compos Constr 17:176–187

15.

Murphy K, Zhang S, Karbhari VM (1999) Effect of concrete based alkaline solutions on short term response of composites. In: Proceedings of the 44th International SAMPE symposium and exhibition, Long Beach, CA. Society for the Advancement of Material and Process Engineering

16.

Park C-G, Jang C-I, Lee S-W, Won J-P (2008) Microstructural investigation of long-term degradation mechanisms in GFRP dowel bars for jointed concrete pavement. J Appl Polym Sci 108:3128–3137

17.

Prian L, Barkatt A (1999) Degradation mechanism of fiber-reinforced plastics and its implications to prediction of long-term behavior. J Mater Sci 34:3977–3989

18.

Robert M, Benmokrane B (2010) Effect of aging on bond of GFRP bars embedded in concrete. Cem Concr Compos 32:461–467

19.

Robert M, Cousin P, Benmokrane B (2009) Durability of GFRP reinforcing bars embedded in moist concrete. J Compos Constr 13:66–73

20.

Suda K, Misra S, Motohashi K (1993) Corrosion products of reinforcing bars embedded in concrete. Corros Sci 35:1543–1549
Acknowledgments
The authors thank the Natural Sciences and Engineering Research Council of Canada (NSERC), the Ministry of Transportation of Quebec (Pavement Division), the Center for Applied Research on Polymers (CREPEC), the Fonds québécois de la recherche sur la nature et les technologies (FQRNT), and Pultrall Inc. for their support.
About this article
Cite this article
Foruzanmehr, M., Montaigu, M., Benmokrane, B. et al. Laboratory evaluation of chemical resistance of pultruded GFRP dowels for concrete pavement. Mater Struct 49, 929–940 (2016). https://doi.org/10.1617/s11527-015-0549-y
Received:

Accepted:

Published:

Issue Date:
Keywords
Durability

GFRP dowel

Aging

Physical properties

Mechanical properties

Microstructure