Abstract
X-ray computed tomography is a well-known technique to measure porosity in materials such as concrete, though this usually involves time consuming scans and complex analysis procedures. Many of these involve custom software or programming procedures. In this paper, a simplified procedure is presented and demonstrated using results obtained from basic procedures with commercial software packages, with minimal image processing. The same sample was subjected to scans ranging from 100 to 5 μm resolutions, demonstrating the multiscale ability of commercial CT scanners. Scans done at typical high-quality conditions (1 h duration) in comparison to very fast scans (5 min) are also presented and it is demonstrated that useful information is still obtained from such lower quality faster scans. This demonstrates the concept that X-ray CT is simple and cost effective for research and industrial applications, not requiring expert 3D image analysis experience, for obtaining useful porosity information within the range of pore sizes resolvable by the technique.
Access options
Buy single article
Instant access to the full article PDF.
US$ 39.95
Tax calculation will be finalised during checkout.
Subscribe to journal
Immediate online access to all issues from 2019. Subscription will auto renew annually.
US$ 399
Tax calculation will be finalised during checkout.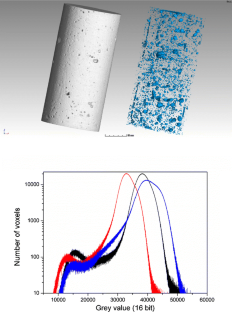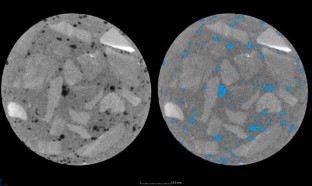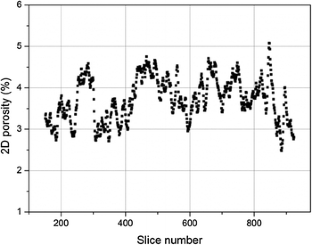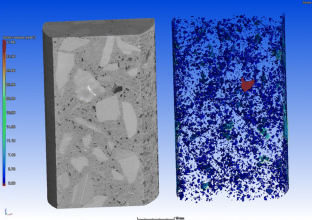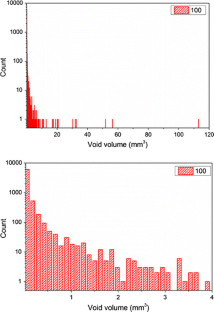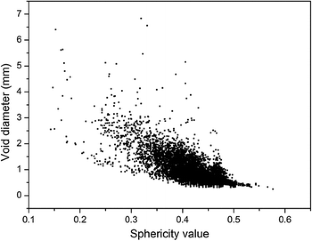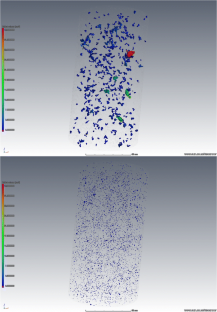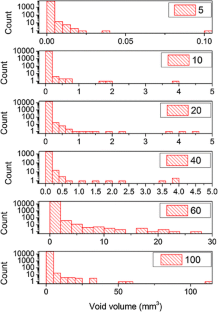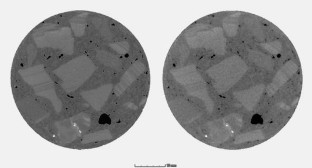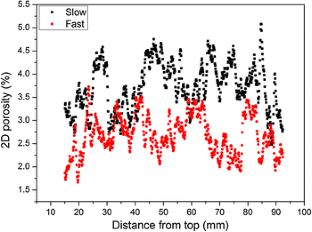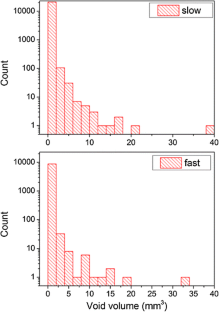 References
1.

Aītcin PC (1998) High-performance concrete. Taylor & Francis, London

2.

Beushausen H, Dehn F (2009) High-performance concrete. In: Owens G (ed) Fulton's concrete technology, 9th edn. Cement and Concrete Institute, Midrand, pp 297–304

3.

British Standards Institution (2000) Testing of fresh concrete, BS EN 12350: part 1, sampling. BSI, London

4.

British Standards Institution (2000) Testing of fresh concrete, BS EN 12350: part 5, flow table test. BSI, London

5.

British Standards Institution (2000) Testing of hardened concrete, BS EN 12390: part 1, shape, dimension and other requirement for specimens and mould. BSI, London

6.

British Standards Institution (2000) Testing of hardened concrete, BS EN 12390: part 2, making and curing specimen for strength tests. BSI, London

7.

British Standards Institution (2004) Eurocode 2: design of concrete structures—part 1-1: general rules. 1. British Standard Institution (BSI), London

8.

Cnudde V, Cwirzen A, Masschaele B, Jacobs P (2009) Porosity and microstructure characterization of building stones and concretes. Eng Geol 103(3):76–83

9.

Diamond S (1999) Aspects of concrete porosity revisited. Cem Concr Res 29(8):1181–1188

10.

Diamond S (2000) Mercury porosimetry: an inappropriate method for the measurement of pore size distributions in cement-based materials. Cem Concr Res 30(10):1517–1525

11.

Bentz DP, Halleck PM, Grader, AS, Roberts JW (2006) Four-dimensional X-ray microtomography study of water movement during internal curing. In: Proceedings of the international RILEM conference—volume changes of hardening concrete: testing and mitigation, pp 11–20

12.

Kim KY, Yun TS, Park KP (2013) Evaluation of pore structures and cracking in cement paste exposed to elevated temperatures by X-ray computed tomography. Cem Concr Res 50:34–40

13.

Kumar R, Bhattacharjee B (2003) Porosity, pore size distribution and in situ strength of concrete. Cem Concr Res 33(1):155–164

14.

Lu S, Landis E, Keane D (2006) X-ray microtomographic studies of pore structure and permeability in Portland cement concrete. Mater Struct 39(6):611–620

15.

Maire E, Withers PJ (2014) Int Mater Rev 59(1):1–43. doi:10.1179/1743280413Y.0000000023

16.

Mehta PK, Monteiro JM (2014) Concrete microstructure properties and materials, 4th edn. McGraw-Hill Education, New York. ISBN: 978-0-07-179787-0; MHID: 0-07-179787-4

17.

Neville AM (2012) Properties of concrete, 5th edn. Pearson Educational Limited, Essex. ISBN 978-0-273-75580-7

18.

Olawuyi BJ, Boshoff WP (2013) Influence of particle size distribution on compressive strength and elastic modulus of high performance concrete. In: International conference on Advances in cement and concrete technology in Africa (ACCTA, 2013), Johannesburg, pp 825–833

19.

Salvo L, Cloetens P, Maire E, Zabler S, Blandin J, Buffière J, Ludwig W, Boller E, Bellet D, Josserond C (2003) X-ray micro-tomography an attractive characterisation technique in materials science. Nucl Instrum Methods Phys Res Sect B 200:273–286

20.

Shetty MS (2004) Concrete technology—theory and practice. S. Chand and Company Limited, New Delhi

21.

Taud H, Martinez-Angeles R, Parrot J, Hernandez-Escobedo L (2005) Porosity estimation method by X-ray computed tomography. J Petrol Sci Eng 47(3):209–217
Acknowledgments
Jakob Petren is acknowledged for 2D analysis support with ImageJ.
About this article
Cite this article
du Plessis, A., Olawuyi, B.J., Boshoff, W.P. et al. Simple and fast porosity analysis of concrete using X-ray computed tomography. Mater Struct 49, 553–562 (2016). https://doi.org/10.1617/s11527-014-0519-9
Received:

Accepted:

Published:

Issue Date:
Keywords
X-ray computed tomography

Pore size distribution

Image analysis