Abstract
Deformation response of Areca catechu palm leaf-sheath under biaxial stretching is evaluated using Limiting Dome Height (LDH) testing. It is shown that the leaf material has high formability, with biaxial limit strains ~ 0.4, comparable to that of ductile sheet metals. Hydration of the leaf-sheath prior to the forming increases the limit strains by approximately 500% and lowers deformation forces by up to 85%. The potential of the LDH test for characterizing the stretch-forming response of plant materials is also demonstrated. Implications for single-step forming of plant leaf materials into products and manufacturing of eco-friendly foodware are discussed.
Graphical abstract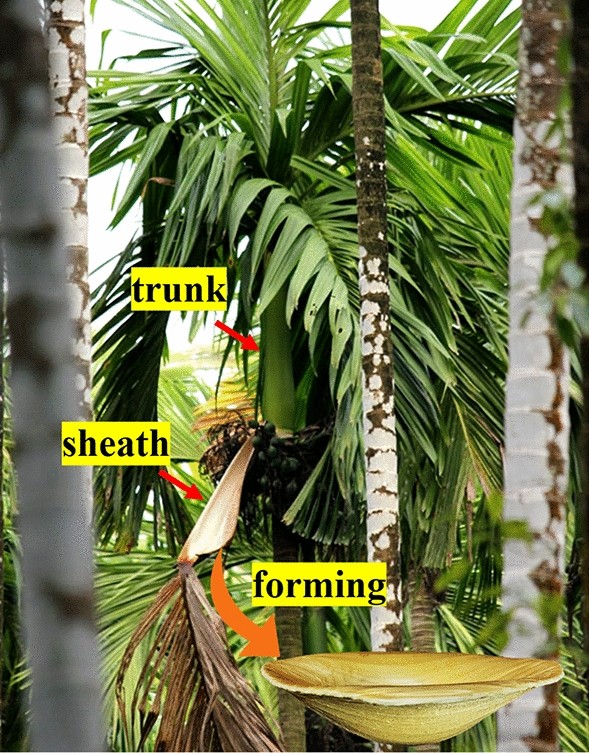 Access options
Buy single article
Instant access to the full article PDF.
US$ 39.95
Tax calculation will be finalised during checkout.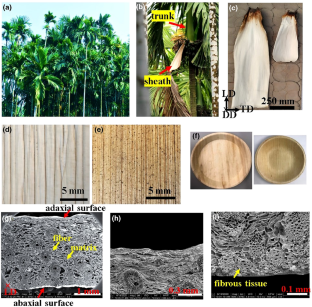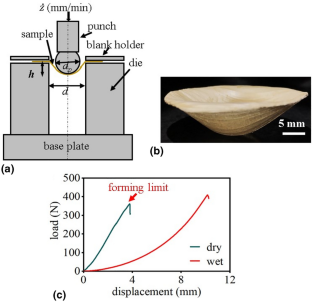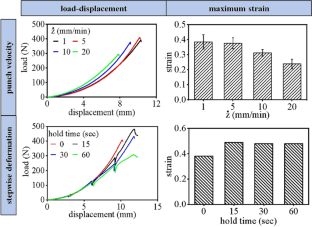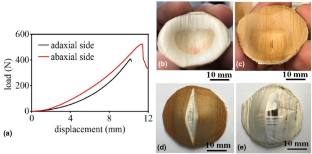 Data availability
The data that support the findings of this study are available from the corresponding author upon reasonable request.
References
1.

R. Geyer, J.R. Jambeck, K.L. Law, Production, use, and fate of all plastics ever made. Sci. Adv. 3(7), e1700782 (2017)

2.

P. Kalita, U.S. Dixit, P. Mahanta, U.K. Saha, A novel energy efficient machine for plate manufacturing from areca palm leaf sheath. J. Sci. Ind. Res. 67, 807–811 (2008)

3.

V. Raghavan, H.K. Baruah, Arecanut: India's popular masticatory—history, chemistry and utilization. Econ. Bot. 12(4), 315–345 (1958)

4.

Staples GW, Bevacqua RF. Areca catechu (betel nut palm). In Species Profiles for Pacific Island Agroforestry (Permanent Agriculture Resources (PAR), Holualoa, 2006), pp. 1–17.

5.

A.L. Andrady, Microplastics in the marine environment. Mar. Pollut. Bull. 62(8), 1596–1605 (2011)

6.

D.P. Mohanty, A. Udupa, A.R.A. Chandra, K. Viswanathan, J.B. Mann, K.P. Trumble, S. Chandrasekar, Mechanical behavior and high formability of palm leaf materials. Adv. Energy Sustain. Res. 2(4), 2000080 (2021)

7.

L.J. Gibson, M.F. Ashby, B.A. Harley, Cellular Materials in Nature and Medicine (Cambridge University Press, Cambridge, 2010)

8.

P.B. Tomlinson, The Structural Biology of Palms (Oxford University Press, Oxford, 1990)

9.

S.P. Keeler, W.A. Backhofen, Plastic instability and fracture in sheet stretched over rigid punches. ASM Trans. 56(11), 25–48 (1963)

10.

Z. Marciniak, J. Duncan, Mechanics of Sheet Metal Forming (Edward Arnold, London, 1991)

11.

R.C. Hill, A theory of the plastic bulging of a metal diaphragm by lateral pressure. Philos. Mag. 41(322), 1133–1142 (1950)

12

J.R. Davis (ed.), Copper and Copper Alloys (ASM International, Materials Park, 2001)

13

S.L. Semiatin (ed.), Metalworking: Sheet Forming (ASM International, Materials Park, 2006)
Acknowledgments
The authors would like to acknowledge B.V. Prashanth Kumar for arranging an industrial visit to Omkara Ventures, Tumkur, India and for showing us the commercial areca-leaf forming process. The work was supported in part by NSF CMMI Award 2100568.
Ethics declarations
Conflict of interest
We declare we do not have any conflict of interest.
About this article
Cite this article
Mohanty, D.P., Udupa, A., Anilchandra, A.R. et al. A study of formability of palm leaf materials using Limiting Dome Height testing. MRS Communications 11, 662–668 (2021). https://doi.org/10.1557/s43579-021-00094-0
Received:

Accepted:

Published:

Issue Date:
Keywords
Biomaterial

Microstructure

Ductility

Sustainability