Abstract
Electrical currents that are locally concentrated due to spatially variable interface resistance at the lithium-metal–ceramic–electrolyte interface can lead to the nucleation of voids. The Gibbs free energy barrier to nucleation is derived in terms of the electrochemical driving force, which favors, and the interfacial energies, which oppose the development of an embryo, the first step in the formation of a void. Nucleation can be suppressed by low values of the area-specific resistance (ASR) of the cell, and by chemical design of the interface that produces a high value for the contact angle. It is proposed that void nucleation is the precursor to the formation of dendrites.
Graphical abstract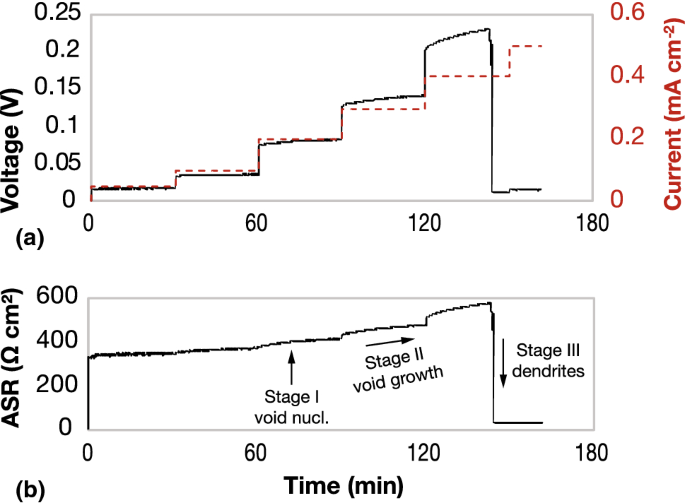 Access options
Buy single article
Instant access to the full article PDF.
USD 39.95
Price includes VAT (USA)
Tax calculation will be finalised during checkout.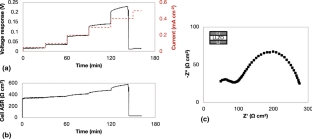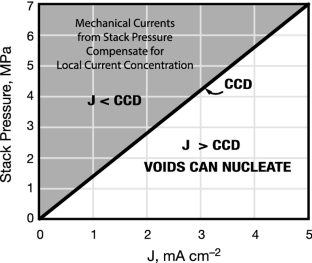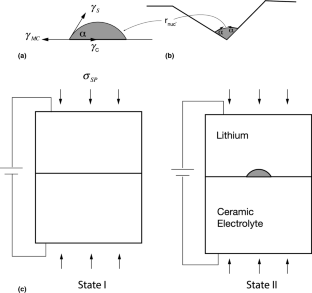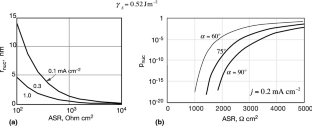 Acknowledgments
The work on creep fracture was carried out in the seventies when it was supported by the Air Force Office of Scientific Research.
Ethics declarations
Conflict of interest
I do not have any conflict of interest related to the content in this manuscript.
Additional information
This article was updated to correct the fourth paragraph in the introduction. Due to errors introduced during the production process Ω appeared as W throughout the paragraph.
About this article
Cite this article
Raj, R. Nucleation of voids at Li-metal–ceramic–electrolyte interfaces. MRS Communications 11, 644–649 (2021). https://doi.org/10.1557/s43579-021-00089-x
Received:

Accepted:

Published:

Issue Date:
Keywords
Void formation

Lithium metal

Ceramic electrolytes

Current density

ASR