Abstract
The dilemma of sustaining civilization's continued growth while improving the quality of life becomes increasingly pressing as the population rises and its demands and aspirations expand. Engineers are needed worldwide to find ways to put knowledge into practice in order to solve the problem of sustainability. Even if their curriculum is already overburdened, it is critical to introduce sustainability themes into material science lectures. This paper focuses on how easy it is to teach materials sustainability in material science classrooms using the sustainability component of SolidWorks, a computer-aided design program. The study presents the software capabilities and the settings that have to be done for sustainability analysis and the results shown by the software.
Graphic Abstract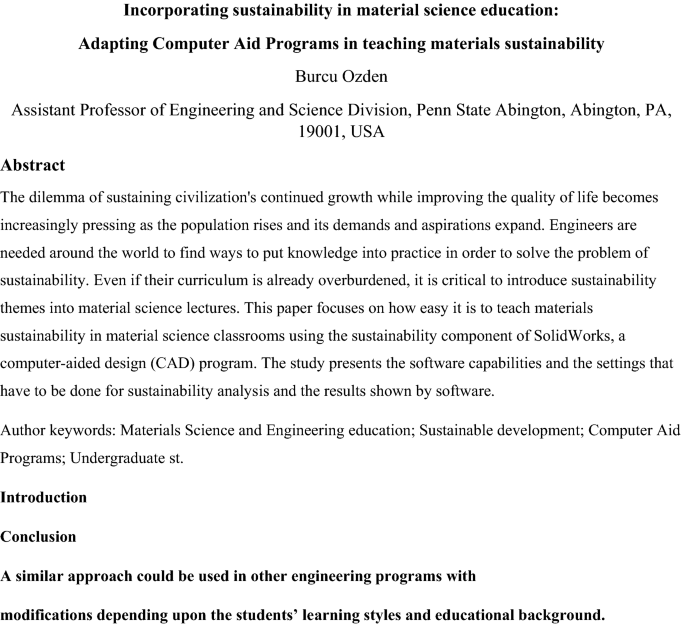 Access options
Buy single article
Instant access to the full article PDF.
USD 39.95
Price includes VAT (USA)
Tax calculation will be finalised during checkout.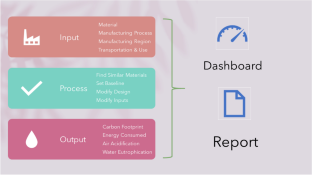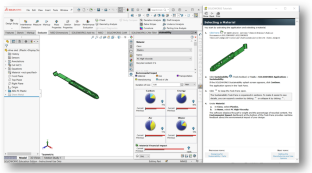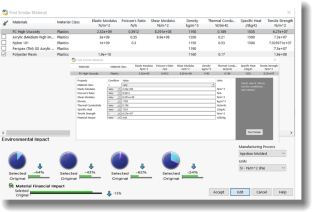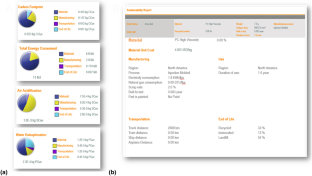 References
1.

World Federation of Engineering Organizations (WFEO),World Engineering Day—Engineering for A Healthy Planet: Celebrating the UNESCO Engineering Report (2021). http://www.wfeo.org/world-engineering-day-engineering-for-a-healthy-planet-celebrating-the-unesco-engineering-report/

2.

United Nations (UN),The 2030 Agenda for Sustainable Development (2015). https://sdgs.un.org/goals

3.

National Academy of Engineering, 14 Grand Challenges for Engineering in the 21st Century (2008). http://www.engineeringchallenges.org/challenges.aspx

4.

The US Environmental Protection Agency, P3 Model: People, Planet and Prosperity (2016). https://www.epa.gov/P3

5.

Accreditation Board for Engineering Technology, Inc. (ABET), Criteria for accrediting engineering programs: Effective for evaluations during the 2020–2021 accreditation cycle, ABET, Baltimore (2020). https://www.abet.org/accreditation/accreditation-criteria/criteria-for-accrediting-engineering-programs-2020-2021/

6.

D. Yuan, J. M. Fraser, and A. M. Paudel, Incorporating Sustainable Engineering Design Principles into Senior Design Proposals 122 ASEE Annual Conference and Exposition Paper ID #12954 (2015)

7.

S.J. Grimberg, T.A. Langen, L.D. Compeau, S.E. Powers, A theme-based seminar on environmental sustainability improves participant satisfaction in an undergraduate summer research program. J. Eng. Educ. Washingt. 97, 95 (2008)

8.

Fraser, J. M., et al, Community Outreach and Engagement through Sustainability, in Proceedings of 2013 ASEE Annual Conference & Exposition, Paper ID #7429 (2013)

9.

E. Pappas, O. Pierrakos, R. Nagel, Using Bloom's Taxonomy to teach sustainability in multiple contexts. J. Clean. Prod. 48, 54 (2012). https://doi.org/10.1016/j.jclepro.2012.09.039

10.

N. A. M. Paudel, and J. M. Fraser, Teaching Sustainability in an Engineering Graphics Class with Solid Modeling Tool, in Proceedings of the 2013ASEE Annual Conference & Exposition, Paper ID #7532.

11.

L. Bedoya-Valencia, D. Yuan, and J. M. Fraser, Incorporating a Sustainability Module into an Introduction to Engineering Course, in Proceedings of the 2013 ASEE Annual Conference & Exposition, Paper ID 7872 (2013)

12.

P. Fox, S. Hundley, D. J. Cowan, J. Tabas, D. Goodman, Teaching Sustainability: Course, Program and Degree Considerations, in PICMET 2009 Proceedings, August 2–6, Portland, Oregon USA

13.

Center for Sustainable Engineering Electronic Library, Center for Sustainable Engineering Electronic Library (2010). http://www.csengin.org/csengine/sub.html?skuvar=146.

14.

S. Rama-Murthy, M. Mani, Design for sustainability: The role of CAD. Renew. Sustain. Energy Rev. 16, 4247 (2012)

15.

SolidWorks Sustainability. https://www.solidworks.com/solutions/sustainability

16.

C. Iancu, About SolidWorks sustainability module capability. Fisabil. Durabil. Revue 1, 229 (2014)

17.

Design Engineer Schools and Colleges in the U.S. (2021) https://study.com/design_engineer_schools.html

18.

Schools with Solidworks Training Programs: How to Choose (2021) https://study.com/articles/Schools_with_Solidworks_Training_Programs_How_to_Choose.html

19.

L. I. Popa, and V. N. Popa, Products eco-sustainability analysis using CAD SolidWorks software MATEC Web of Conferences 112, 06002 (2017) https://doi.org/10.1051/matecconf/201711206002

20.

Gabrielle Gaustad, Sustainability as a Lens for TraditionalMaterial Science Curriculums

21.

Ashby MF, Shercliff H, Cebon D Materials: engineering, science, processing and design. Butterworth-Heinemann (2013), p. 302
Acknowledgments
I would like to thank Dr. Sarah Ritter to let me share the sustainability assignments with material science community.
Supplementary Information
Below is the link to the electronic supplementary material.
About this article
Cite this article
Ozden, B. Incorporating sustainability in material science education: Adapting computer aid programs in teaching materials sustainability. MRS Communications 11, 685–691 (2021). https://doi.org/10.1557/s43579-021-00088-y
Received:

Accepted:

Published:

Issue Date:
Keywords
Materials science and engineering education

Sustainable development

Computer aid programs

Undergraduate study