Abstract
This work focused on investigating whether quercetin from a dietary supplement can be used as an efficient reducing and stabilizing agent to obtain suitable silver nanoparticles (AgNPs) through a green synthesis. Antibacterial activity was tested against S. aureus, E. coli, and P. mirabilis for finding high inhibition values using this new route, even more significant than the values reported in current literature. Results stated that it is possible to synthesize spherical AgNPs with excellent stability and antimicrobial activity using a dietary supplement (low purity 20%). The success of this filing is due to the significant solubility provided by the other ingredients present in the dietary supplement.
Graphic abstract

Access options
Buy single article
Instant access to the full article PDF.
USD 39.95
Price includes VAT (USA)
Tax calculation will be finalised during checkout.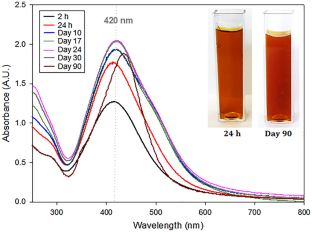 References
1.

H.B. Dias, M.I.B. Bernardi, T.M. Bauab, A.C. Hernandes, A.N. de Souza Rastelli, Titanium dioxide and modified titanium dioxide by silver nanoparticles as an anti biofilm filler content for composite resins. Dent. Mater. (2019). https://doi.org/10.1016/j.dental.2018.11.002.

2.

E. Fortunati, M. Peltzer, I. Armentano, A. Jiménez, J.M. Kenny, Combined effects of cellulose nanocrystals and silver nanoparticles on the barrier and migration properties of PLA nano-biocomposites. J. Food Eng. (2013). https://doi.org/10.1016/j.jfoodeng.2013.03.025.

3.

S. Kumar, A. Shukla, P.P. Baul, A. Mitra, D. Halder, Biodegradable hybrid nanocomposites of chitosan/gelatin and silver nanoparticles for active food packaging applications. Food Packag. Shelf Life. (2018). https://doi.org/10.1016/j.fpsl.2018.03.008.

4.

B. Pannerselvam, M.K. Dharmalingam Jothinathan, M. Rajenderan, P. Perumal, K. Pudupalayam Thangavelu, H.J. Kim, V. Singh, S.K. Rangarajulu, An in vitro study on the burn wound healing activity of cotton fabrics incorporated with phytosynthesized silver nanoparticles in male Wistar albino rats. Eur. J. Pharm. Sci. (2017). https://doi.org/10.1016/j.ejps.2017.01.015.

5.

Y. Singh, B.P. Shukla, R. Jain, A. Jaiswal, Comparative evaluation of haemato-biochemical changes during infected wound healing in cow calves with the use of silver nano particle gel and povidone iodine. Vet. Pract. (2016).

6.

C.H.N. Barros, S. Fulaz, D. Stanisic, L. Tasic, Biogenic nanosilver against multidrug-resistant bacteria (MDRB) antibiotics. Antibiotics. (2018). https://doi.org/10.3390/antibiotics7030069.

7.

X.Z. Li, H. Nikaido, K.E. Williams, Silver-resistant mutants of Escherichia coli display active efflux of Ag+ and are deficient in porins. J. Bacteriol. (1997). https://doi.org/10.1128/jb.179.19.6127-6132.1997.

8.

Y. Li, M. Ma, W. Chen, L. Li, M. Zen, Preparation of Ag-doped TiO2 nanoparticles by a miniemulsion method and their photoactivity in visible light illuminations. Mater. Chem. Phys. (2011). https://doi.org/10.1016/j.matchemphys.2011.04.055.

9.

S. Natarajan, M. Bhuvaneshwari, D.S. Lakshmi, P. Mrudula, N. Chandrasekaran, A. Mukherjee, Antibacterial and antifouling activities of chitosan/TiO 2/Ag NPs nanocomposite films against packaged drinking water bacterial isolates. Environ. Sci. Pollut. Res. (2016). https://doi.org/10.1007/s11356-016-7102-6.

10.

M. Robles-Martínez, J.F.C. González, F.J. Pérez-Vázquez, J.M. Montejano-Carrizales, E. Pérez, R. Patiño-Herrera. Antimycotic activity potentiation of Allium sativum extract and silver nanoparticles against Trichophyton rubrum. Chem. Biodivers. (2019). https://doi.org/10.1002/cbdv.201800525.

11.

E. Busquets i Alibés, Breve historia de la ética. Bioètica & debat: Tribuna abierta del Institut Borja de Bioètica. (2013).

12.

S. Jain, M.S. Mehata. Medicinal plant leaf extract and pure flavonoid mediated green synthesis of silver nanoparticles and their enhanced antibacterial property. Sci. Rep. (2017). https://doi.org/10.1038/s41598-017-15724-8.

13.

B. Saha, S. Kumar, S. Sengupta, Green synthesis of nano silver on TiO2 catalyst for application in oxidation of thiophene. Chem. Eng. Sci. (2019). https://doi.org/10.1016/j.ces.2018.12.063.

14.

A.T.M. Saeb, A.S. Alshammari, H. Al-Brahim, K.A. Al-Rubeaan, Production of silver nanoparticles with strong and stable antimicrobial activity against highly pathogenic and multidrug resistant bacteria. Sci. World J. (2014). https://doi.org/10.1155/2014/704708.

15.

A. Verma, M.S. Mehata, Controllable synthesis of silver nanoparticles using Neem leaves and their antimicrobial activity. J. Radiat. Res. Appl. Sci. (2016). https://doi.org/10.1016/j.jrras.2015.11.001.

16.

A.A.W. Bauer, W.M.M. Kirby, J.C. Sherris, M.D.M. Turck, Antibiotic susceptibility testing by a standardized single disk method (1966).

17.

M.J. Hajipour, K.M. Fromm, A. Akbar Ashkarran, D. Jimenez de Aberasturi, I.R. de Larramendi, T. Rojo, V. Serpooshan, W.J. Parak, M. Mahmoudi, Antibacterial properties of nanoparticles. Trends Biotechnol. (2012). https://doi.org/10.1016/j.tibtech.2012.06.004.

18.

Y. Xing, X. Li, L. Zhang, Q. Xu, Z. Che, W. Li, Y. Bai, K. Li, Effect of TiO2 nanoparticles on the antibacterial and physical properties of polyethylene-based film. Prog. Org. Coat. (2012). https://doi.org/10.1016/j.porgcoat.2011.11.005.

19.

S. Yallappa, J. Manjanna, B.L. Dhananjaya, Phytosynthesis of stable Au, Ag and Au–Ag alloy nanoparticles using J. sambac leaves extract, and their enhanced antimicrobial activity in presence of organic antimicrobials. Spectrochim. Acta Part A (2015). https://doi.org/10.1016/j.saa.2014.08.030.

20.

M.K. Rai, SD. Deshmukh, A.P. Ingle, A.K. Gade, Silver nanoparticles: the powerful nanoweapon against multidrug‐resistant bacteria. J. Appl. Microbiol. (2012). https://doi.org/10.1111/j.1365-2672.2012.05253.x.

21.

K. Jeeva, M. Thiyagarajan, V. Elangovan, N. Geetha, P. Venkatachalam, Caesalpinia coriaria leaf extracts mediated biosynthesis of metallic silver nanoparticles and their antibacterial activity against clinically isolated pathogens. Ind. Crops Prod. (2014). https://doi.org/10.1016/j.indcrop.2013.11.037.

22.

M. Catauro, F. Papale, F. Bollino, S. Piccolella, S. Marciano, P. Nocera, S. Pacifico, Silica/quercetin sol–gel hybrids as antioxidant dental implant materials. Sci. Technol. Adv. Mater. (2015). https://doi.org/10.1088/1468-6996/16/3/035001.
Acknowledgments
The authors acknowledge Joazet Ojeda and Claudia Hernández for their support during the TEM and XRD analyses.
Funding
M.G. Peña-Juarez and J.A. Gonzalez-Calderon are grateful to Consejo Nacional de Ciencia y Tecnología (Conacyt México) for Ph.D. scholarship (No: 744689) and the "Cátedras-Conacyt" program, respectively.
Ethics declarations
Conflict of interest
On behalf of all authors, the corresponding author states that there is no conflict of interest.
About this article
Cite this article
Peña-Juarez, M.G., Mayorga-Colunga, P.C., Rivera-Hernandez, C.A. et al. Feasibility of quercetin dietary supplement as reducing and stabilizing agent: Green route of silver nanoparticles using a bioactive flavonoid. MRS Communications 11, 498–503 (2021). https://doi.org/10.1557/s43579-021-00063-7
Received:

Accepted:

Published:

Issue Date:
Keywords
Ag

Nanostructure

Crystal

X-ray diffraction (XRD)