Abstract
FeS2 is thought to be a kind of promising anode materials used for lithium-ion batteries (LIBs), but the intrinsic low electrical conductivity and remarkable volume change hinder its practical application. In the present work, we proposed a strategy by introducing mesoporous carbon (MPC) to obtain a FeS2/MPC composite electrode for LIBs. The FeS2/MPC composite was prepared by hydrothermal method. The results indicated that the FeS2/MPC composite electrode exhibited better electrochemical performance than pristine FeS2. Especially, the discharge capacity of composite electrode reached 650 mAh g−1 at 0.5 C current density, and this was significantly higher than that of pristine FeS2.
Graphic abstract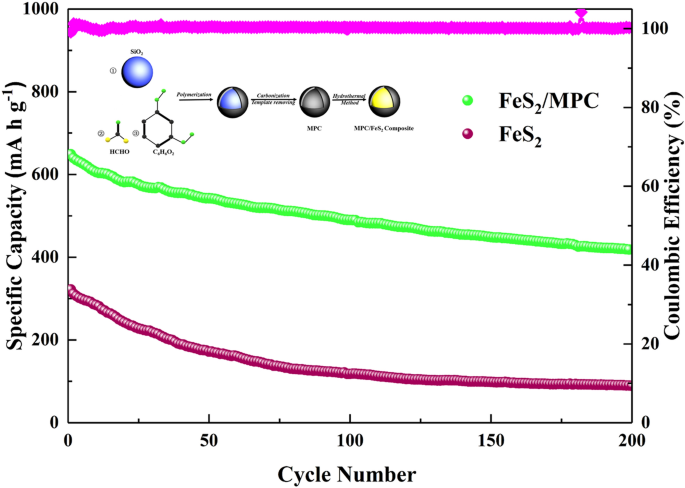 Access options
Buy single article
Instant access to the full article PDF.
US$ 39.95
Tax calculation will be finalised during checkout.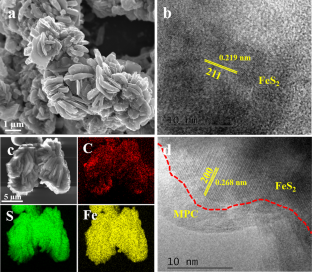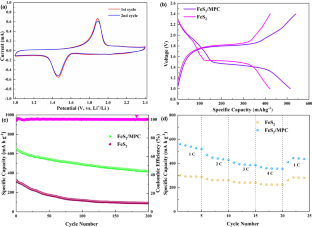 Acknowledgments
This work was partly supported by the National Natural Science Foundation of China (NO. 51802258), project funded by the China Postdoctoral Science Foundation (NO.2020T130525), Shaanxi Province Postdoctoral Science Foundation (NO.2018BSHEDZZ113), the National Natural Science Foundation of China (No. 51771145), ISF-NSFC Joint Research Program (No. 51961145305), and Shaanxi Natural Science Basic Research Plan, China (No. 2020JM-464).
Ethics declarations
Conflict of interest
There are no conflicts to declare.
Supplementary Information
Below is the link to the electronic supplementary material.
Supplementary material 1 (DOCX 1563 kb) Supplementary Material Available: [The microstructure and morphology of as-prepared MPC sample is presented in Figure S1.].
About this article
Cite this article
Liu, H., Jing, R., Wang, Z. et al. FeS2 encapsulated with mesoporous carbon for high-performance lithium-ion batteries. MRS Communications (2021). https://doi.org/10.1557/s43579-021-00048-6
Received:

Accepted:

Published:
Keywords
Composite

Energy storage

Microstructure

Morphology