Abstract
Spatial fluctuations of the microstructure suggest possible self-organized criticality in the Portevin-Le Chatelier plastic instability occurring in age-hardenable alloys. The discontinuous yielding found in a supersaturated Al alloy can be characterized by a universal power-law spectrum that is independent of the experimental conditions. The result provides an explanation for the formation of unexpected detrimental strain localizations when samples are severely deformed, giving a framework for studying the simultaneous effects of solute atoms and precipitates in the decomposition of solid solutions.
Access options
Buy single article
Instant access to the full article PDF.
US$ 39.95
Tax calculation will be finalised during checkout.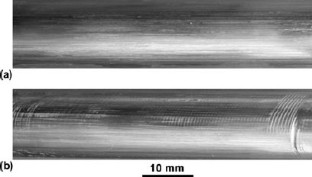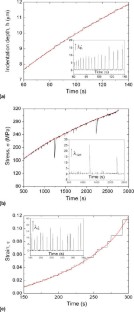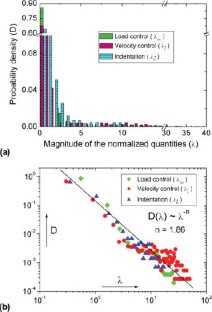 References
1.

A. Portevin and F. Le Chatelier: On a phenomenon observed in the tensile testing of alloys during processing. Compt. Rend. Acad. Sci. Paris 176, 507 (1923).

2.

N.Q. Chinh, J. Gubicza, Zs. Kovács, and J. Lendvai: Depth sensing indentation tests in studying plastic instabilities. J. Mater. Res. 19, 31 (2004).

3.

Ch. Schwink and A. Nortmann: The present experimental knowledge of dynamic strain ageing in binary f.c.c. solid solutions. Mater. Sci. Eng., A 234–236, 1 (1997).

4.

F. Chmelík, A. Ziegenbein, H. Neuhäuser, and P. Lukac: Investigating the Portevin-Le Chatelier effect by the acoustic emission and laser extensometry techniques. Mater. Sci. Eng., A 324, 200 (2002).

5.

M. Lebyodkin, Y. Brechet, Y. Estrin, and L.P. Kubin: Statistics of the catastrophic slip events in the Portevin-Le Chatelier effect. Phys. Rev. Lett. 74, 4758 (1995).

6.

A.H. Cottrell: A note on the Portevin-Le Chatelier effect. Philos. Mag. 44, 829 (1953).

7.

L.F. Mondolfo: Structure of the aluminium:magnesium:zinc alloys. Int. Metall. Rev. 153, 95 (1971).

8.

G. Sha and A. Cerezo: Kinetic Monte Carlo simulation of clustering in an Al-Zn-Mg-Cu alloy (7050). Acta Mater. 53, 907 (2005).

9.

N.Q. Chinh, J. Gubicza, T. Czeppe, J. Lendvai, C. Xu, R.Z. Valiev, and T.G. Langdon: Developing a strategy for the processing of age-hardenable alloys by ECAP at room temperature. Mater. Sci. Eng., A 516, 248 (2009).

10.

R.Z. Valiev and T.G. Langdon: Principles of equal-channel angular pressing as a processing tool for grain refinement. Prog. Mater. Sci. 51, 881 (2006).

11.

Y. Fukuda, K. Oh-ishi, M. Furukawa, Z. Horita, and T.G. Langdon: Influence of crystal orientation on ECAP of aluminum single crystals. Mater. Sci. Eng., A 420, 79 (2006).

12.

Y. Bougherira, D. Entemeyer, C. Fressengeas, N.P. Kobelev, T.A. Lebedkina, and M.A. Lebyokin: The intermittency of plasticity in an Al3%Mg alloy. J. Phys.: Conf. Ser. 240, 012009 (2010).

13.

B. Bak: How Nature Works: The Science of Self-organized Criticality (Copernicus, Springer-Verlag, New York, 1996).
Acknowledgment
This work was supported by the Hungarian Scientific Research Fund under Grant Nos. K81360, K67692, and TÁMOP 4.2.1/ B-09/1/KMR (N.Q.C., J.G., J.L.), and by the National Science Foundation of the United States under Grant No. DMR-0855009 and the European Research Council under ERC Grant Agreement No. 267464-SPDMETALS (T.G.L.).
About this article
Cite this article
Chinh, N.Q., Győri, T., Gubicza, J. et al. Possible self-organized criticality in the Portevin-Le Chatelier effect during decomposition of solid solution alloys. MRS Communications 2, 1–4 (2012). https://doi.org/10.1557/mrc.2011.25
Received:

Accepted:

Published:

Issue Date: