Abstract
>Background/Objective
Various behavioral interventions are recommended to combat the distress experienced by caregivers of those with cognitive decline, but their comparative effectiveness is poorly understood.
Design/Setting
Caregivers in a comparative intervention study randomly had 1 of 5 possible interventions suppressed while receiving the other four. Caregivers in a full clinical program received all 5 intervention components. Care partner outcomes in the study group were compared to participants enrolled in a full clinical program.
Participants
Two hundred and seventy-two dyads of persons with amnestic mild cognitive impairment (pwMCI) and care partners enrolled in the comparative intervention study. 265 dyads participated in the full clinical program.
Intervention
Behavioral intervention components included: memory compensation training, computerized cognitive training, yoga, support group, and wellness education. Each was administered for 10 sessions over 2 weeks.
Measurements
A longitudinal mixed-effect regression model was used to analyze the effects of the interventions on partner burden, quality of life (QoL), mood, anxiety, and self-efficacy at 12 months follow-up.
Results
At 12 months, withholding wellness education or yoga had a significantly negative impact on partner anxiety compared to partners in the clinical program (ES=0.55 and 0.44, respectively). Although not statistically significant, withholding yoga had a negative impact on partner burden and mood compared to partners in the full clinical program (ES=0.32 and 0.36, respectively).
Conclusion
Our results support the benefits of wellness education and yoga for improving partner'\TMs burden, mood, and anxiety at one year. Our findings are the first to provide an exploration of the impact of multicomponent interventions in care partners of pwMCI.
Access options
Buy single article
Instant access to the full article PDF.
USD 39.95
Price excludes VAT (USA)
Tax calculation will be finalised during checkout.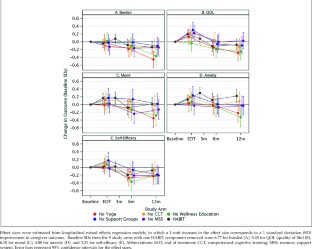 References
M. S. Albert et al., "The diagnosis of mild cognitive impairment due to Alzheimer'\TMs disease: tional Institute on Aging-Alzheimer'\TMs Association workgroups on diagnostic guidelines for Alzheimer'\TMs disease," Alzheimer'\TMs and Dementia. 2011.

S. T. Farias, D. Mungas, B. R. Reed, D. Harvey, D. Cahn-Weiner, and C. DeCarli, "MCI is associated with deficits in everyday functioning," Alzheimer Dis. Assoc. Disord., 2006.

K. Seeher, L. F. Low, S. Reppermund, and H. Brodaty, "Predictors and outcomes for caregivers of people with mild cognitive impairment: A systematic literature review," Alzheimer'\TMs and Dementia. 2013.

M. Paradise, D. Mccade, I. B. Hickie, K. Diamond, S. J. G. Lewis, and S. L. Naismith, "Caregiver burden in mild cognitive impairment," Aging Ment. Heal., 2015.

C. Ikeda et al., "Difference in determinants of caregiver burden between amnestic mild cognitive impairment and mild Alzheimer'\TMs disease," Psychiatry Res., 2015.

D. Gallagher et al., "Dependence and caregiver burden in Alzheimer'\TMs disease and mild cognitive impairment," Am. J. Alzheimers. Dis. Other Deinen., 2011.

J. W. Williams, B. L. Plassman, J. Burke, T. Holsinger, and S. Benjamin, "Preventing Alzheimer'\TMs disease and cognitive decline Evidence Report/ Technology Assessment, Number 193," Ann. Intern. Med., 2010.

K. Hepburn, M. Lewis, J. Tornatore, C.W. Sherman, and K.L. Bremer, "The savvy caregiver program: The demonstrated effectiveness of a transportable dementia caregiver psychoeducation program," J. Gerontol. Nurs., 2007.

L. Rozzini, D. Costardi, V. Chilovi, S. Franzoni, M. Trabucchi, and A. Padovani, "Efficacy of cognitive rehabilitation in patients with mild cognitive impairment treated with Cholinesterase inhibitors," Int. J. Geriatr. Psychiatry, 2007.

S. Belleville, B. Gilbert, F. Fontaine, L. Gagnon, \'E. M\'enard, and S. Gauthier, "Improvement of episodic memory in persons with mild cognitive impairment and healthy older adults: Evidence from a cognitive intervention program," Dement. Geriatr. Cogn. Disord., 2006.

N. T. Lautenschlager et al., "Effect of physical activity on cognitive function in older adults at risk for Alzheimer disease: A randomized trial," JAMA - J. Am. Med. Assoc, 2008.

M. C. Greenaway, N. L. Duncan, and G. E. Smith, "The memory support system for mild cognitive impairment: Randomized trial of a cognitive rehabilitation intervention," Int. J. Geriatr. Psychiatry, 2013.

M. J. Chandler et al., "Computer versus compensatory calendar training in individuals with mild cognitive impairment: Functional impact in a pilot study," Brain Sci., 2017.

A. V. Cuc et al., "A pilot randomized trial of two cognitive rehabilitation interventions for mild cognitive impairment: caregiver outcomes," Int. J. Geriatr. Psychiatry, 2017.

G. Smith et al., "Behavioral Interventions to Prevent or Delay Dementia: Protocol for a Randomized Comparative Effectiveness Study," JMIR Res. Protoc, 2017.

M. J. Chandler et al., "Comparative Effectiveness of Behavioral Interventions on Quality of Life for Older Adults With Mild Cognitive Impairment," JAMA Netw. Open, 2019.

G. E. Smith, M. Chandler, J. A. Fields, J. Aakre, and D. E. C. Locke, "A Survey of Patient and Partner Outcome and Treatment Preferences in Mild Cognitive Impairment," J. Alzheimer'\TMs Dis., 2018.

J. C. Morris, "The Clinical Dementia Rating (CDR): Current version and scoring rules," Neurology, 1993.

M. F. Folstein, S. E. Folstein, and P. R. McHugh, "Mini-mental state'\TM. A practical method for grading the cognitive state of patients for the clinician," J. Psychiatr. Res., 1975.

M. B\'edard, D. W. Molloy, L. Squire, S. Dubois, J. A. Lever, and M. O'\TMdonnell, "The Zarit Burden Interview: A new short version and screening version," Gerontologist, 2001.

L. S. Radloff, "The CES-D Scale: A Self-Report Depression Scale for Research in the General Population," Appl. Psychol. Meas., 1977.

S. R. Wisniewski et al., "The Resources for Enhancing Alzheimer'\TMs Caregiver Health (REACH): Project design and baseline characteristics," Psychol. Aging, 2003.

R. G. Logsdon, L. E. Gibbons, S. M. McCurry, and L. Teri, "Assessing quality of life in older adults with cognitive impairment," Psychosom. Med., 2002.

L. I. Pearlin, J. T. Mullan, S. J. Semple, and M. M. Skaff, "Caregiving and the stress process: An overview of concepts and their measures," Gerontologist, 1990.

K. A. Ryan, A. Weldon, C. Persad, J. L. Heidebrink, N. Barbas, and B. Giordani, "Neuropsychiatrie symptoms and executive functioning in patients with mild cognitive impairment: Relationship to caregiver burden," Dement. Geriatr. Cogn. Disord., 2012.

P. G. Barrios et al., "Priority of Treatment Outcomes for Caregivers and Patients with Mild Cognitive Impairment: Preliminary Analyses," Neurol. Ther., 2016.

M. de Manincor et al., "Individualized Yoga for Reducing Depression and Anxiety, and Improving Well-Being: A Randomized Controlled Trial," Depress. Anxiety, 2016.

C. C. Streeter et al., "Effects of Yoga Versus Walking on Mood, Anxiety, and Brain GABA Levels: A Randomized Controlled MRS Study," J. Altern. Complement. Med., 2010.

N. S. Domingues, P. Verreault, and C. Hudon, "Reducing Burden for Caregivers of Older Adults With Mild Cognitive Impairment: A Systematic Review," American Journal of Alzheimer'\TMs Disease and other Dementias. 2018.

Ö. Küçükgüçlü, B. Akpınar Söylemez, G. Yener, and A. T. Işık, "The effects of support groups on dementia caregivers: A mixed method study," Geriatr. Nurs. (Minneap)., 2018.
Additional information
Support/Funding: Research reported in this manuscript was primarily funded through a Patient-Centered Outcomes Research Institute (PCORI) Award (CER- 1306-01897). The statements in this publication are solely the responsibility of the authors and do not necessarily represent the views of the Patient-Centered Outcomes Research Institute (PCORI), its Board of Governors or Methodology Committee. Additional support for DECL: NIA P30AG19610, NIA R01 AG031581, the Arizona Alzheimer'\TMs Research Consortium, the Ralph J. Wilson Foundation Development Gift to Mayo Clinic. Additional support for GES: NIA P50AG47266, State of Florida Ed and Ethel Moore program.
Sponsor'\TMs Role: The sponsor had no role in the design and conduct of the study; in the collection, analysis, and interpretation of data; in the preparation of the manuscript; or in the review or approval of the manuscript.
Disclosure statement: No conflict of interest was reported by all authors.
Author Contribution: Study concept and design: D.E.C.L., M.C., J.E.C., C.T.B., V.P., G.E.S. Data acquisition and interpretation: All authors; Statistical analysis: C.T.B., J.E.C. Manuscript draft: P.A.A., D.E.C.L. Critical revision of manuscript: P.A.A., D.E.C.L., M.C., J.E.C., C.T.B., G.E.S.
Data availability statement: The data that support the findings of this study are available from the corresponding author, D.E.C.L., upon reasonable request.
Trial registration: ClinicalTrials.gov Identifier: NCT02265757.
IRB: Institutional Review Boards at the Mayo Clinic (14-000885) and University of Washington (49235)
About this article
Cite this article
Amofa, P.A., Locke, D.E.C., Chandler, M. et al. Comparative Effectiveness of Behavioral Interventions to Prevent or Delay Dementia: One-Year Partner Outcomes. J Prev Alzheimers Dis 8, 33–40 (2021). https://doi.org/10.14283/jpad.2020.59
Received:

Accepted:

Published:

Issue Date:

DOI: https://doi.org/10.14283/jpad.2020.59
Key words
Non-pharmacological interventions

MCI

dementia

caregiver

patient preferences