Zusammenfassung
Chronische Erkrankungen sind in Kombination mit einer niedrigen Gesundheitskompetenz ein zunehmend großes Problem. Um dieser Herausforderung zu begegnen, werden digitale Informationsangebote zur Prävention hin zu einem gesunden Lebensstil immer wichtiger. Bestehenden Angeboten fehlt es jedoch häufig an Glaubwürdigkeit, Zugänglichkeit und Relevanz für das eigene Leben sowie den individuellen Gesundheitszustand. Gesundheitsinformationen werden v. a. dann als nützlich empfunden, wenn sie personalisiert sind. Deshalb wird am Beispiel von Typ-2-Diabetes untersucht, wie Gesundheitsinformationen zur Prävention chronischer Erkrankungen und Stärkung der Gesundheitskompetenz digital, personalisiert, bedarfs- und bedürfnisgerecht vermittelt werden können und welche Personalisierungsansätze einen positiven Einfluss auf die wahrgenommene Nützlichkeit haben. Basierend auf einer Literaturrecherche wurden verschiedene Personenmerkmale identifiziert und in einer Taxonomie systematisiert. Die drei erfolgsversprechenden Personalisierungsansätze wurden individuell designt und in quantitativen Online-Studien mittels Chatbot-basiertem Demonstrator im Hinblick auf die wahrgenommene Nützlichkeit sowie die intendierte Absicht, sich gesundheitsförderlich zu verhalten, verprobt. Neben der Wirksamkeit steht auch die wirtschaftliche Umsetzbarkeit im Fokus dieser Studie. Die Ergebnisse zeigen, dass die textuelle Darstellung von Informationen gegenüber der Verwendung audiovisueller Inhalte bevorzugt wird. Zudem wird die Verwendung von Gain-Frames im Vergleich zu Loss-Frames in der Kommunikation von Risikofaktoren als nützlicher wahrgenommen. Die Ergebnisse fließen in die Entwicklung adaptiver digitaler Assistenzsysteme ein, die die niedrigschwellige Betreuung von chronisch-Erkrankten über die gesamte Patient:innenreise – unter Wahrung des Datenschutzes – ermöglichen.
Abstract
Chronic diseases, in combination with low health literacy, are an increasing problem. To meet this challenge, digital information offerings for prevention towards a healthy lifestyle are becoming increasingly important. However, existing offerings often lack credibility, accessibility and relevance to one's own life and individual health status. In addition, personalized health information is perceived as particularly useful. The current study used type 2 diabetes as an example to examine how health information for the prevention of chronic diseases and strengthening health literacy can be conveyed in a digital and personalized way tailored to needs and requirements. It also identifies which personalization approaches have a positive impact on perceived usefulness. Based on a literature review, different characteristics are identified and systematized in a taxonomy. The three most promising personalization approaches were individually designed and tested in quantitative online studies using a chatbot-based demonstrator about the perceived usefulness and the intention to behave in a health-promoting manner. In addition to effectiveness, this study also focuses on economic feasibility. The results indicate that textual information is preferred over the use of audiovisual content. Furthermore, the use of gain-frames is perceived as more useful than loss-frames in communicating risk factors. The results will be incorporated into the development of adaptive digital assistance systems that enable low-threshold care for chronically ill patients across the patient journey—while maintaining privacy.
Access options
Buy single article
Instant access to the full article PDF.
USD 39.95
Price excludes VAT (USA)
Tax calculation will be finalised during checkout.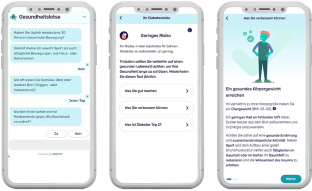 Notes
Personalisierung meint hier, die gezielte Kommunikation von GI zugeschnitten auf gemeinsame Merkmale einer Bevölkerungsgruppe. Für die Personalisierung können abhängig von der Zielgruppe verschiedene Ansätze genutzt werden (Schmid et al. 2008).

Sozialer Impact meint in diesem Zusammenhang die bedarfs- und bedürfnisgerechte Versorgung just-in-time, mit dem Ziel GI für alle Bevölkerungsgruppen zur Verfügung zu stellen und somit eine Chancengleichheit hinsichtlich gesundheitsförderlicher Lebensweisen zu ermöglichen.

Das Geschlecht bezieht sich auf die Merkmale, die gesellschaftlich konstruiert sind und umfasst Normen, Verhaltensweisen, Rollen und soziale Beziehungen (Mauvais-Jarvis et al. 2020).
Literatur
Abd-alrazaq AA, Alajlani M, Alalwan AA, Bewick BM, Gardner P, Househ M (2019) An overview of the features of chatbots in mental health: A scoping review. Med Inf. https://doi.org/10.1016/J.IJMEDINF.2019.103978

Abel T, Kolip P, Habermann-Horstmeier L, Dorner TE, Grüninger U, Egger M, Zwahlen M (2018) 4. Gesundheitsförderung und Prävention. In: Egger M, Razum O, Rieder A (Hrsg) Public Health Kompakt. De Gruyter, Berlin, S 161–230

Ajzen I (2006) Constructing a theory of planned behavior questionnaire

Bitzer EM, Sorensen K (2018) Health Literacy. Gesundheitswesen 80(8–9):754–766. https://doi.org/10.1055/A-0664-0395/ID/R2018-01-0676-0073

Chandler P, Sweller J (1991) Cognitive load theory and the format of instruction. Cogn Instr 8(4):293–332. https://doi.org/10.1207/S1532690XCI0804_2

Frangoudes F, Hadjiaros M, Schiza EC, Matsangidou M, Tsivitanidou O, Neokleous K (2021) An overview of the use of chatbots in medical and healthcare education. Lect Notes Comput Sci 12785:170–184. https://doi.org/10.1007/978-3-030-77943-6_11

van Gerven PWM, Paas FGWC, van Merriënboer JJG, Schmidt HG (2000) Cognitive load theory and the aquisition of complex cognitive skills in the elderly: towards an integrative framework. Educ Gerontol 26(6):503–521. https://doi.org/10.1080/03601270050133874

IDF (2019) IDF DIABETES ATLAS, 9. Aufl.

Jordan S, Töppich J (2015) Die Förderung von Gesundheitskompetenz (Health Literacy) – Eine gesamtgesellschaftliche Aufgabe. Bundesgesundheitsblatt Gesundheitsforschung Gesundheitsschutz 58(9):921–922. https://doi.org/10.1007/S00103-015-2233-3

Kautzky-Willer A (2014) Gendermedizin. Bundesgesundheitsblatt Gesundheitsforschung Gesundheitsschutz 57(9):1022–1030. https://doi.org/10.1007/S00103-014-2011-7

Kim HJ (2011) The effects of gender and gain versus loss frame on processing breast cancer screening messages. Communic Res 39(3):385–412. https://doi.org/10.1177/0093650211427557

Kinnebrock S, Wagner A (2018) Geschlecht und Gesundheitskommunikation. In: Gassner U, von Hayek J, Manzei A, Steger F (Hrsg) Geschlecht und Gesundheit, Bd. 1. Nomos, Baden-Baden, S 285–310

Kolpatzik K, Mohrmann M, Zeeb H (2020) Digitale Gesundheitskompetenz in Deutschland. https://www.aok-bv.de/imperia/md/aokbv/gesundheitskompetenz/studienbericht_digitale_gk_web.pdf. Zugegriffen: 13.06.2022

Kreps GL, Sparks L (2008) Meeting the health literacy needs of immigrant populations. Patient Educ Couns 71(3):328–332. https://doi.org/10.1016/J.PEC.2008.03.001

Kruse Brandão T, Wolfram G (2018) Smarte Technologien. In: Digital Connection, S 157–325 https://doi.org/10.1007/978-3-658-18759-0_6

Kvedar JC, Fogel AL, Elenko E, Zohar D (2016) Digital medicine's March on chronic disease. Nat Biotechnol 34(3):239–246. https://doi.org/10.1038/nbt.3495

Laranjo L, Dunn AG, Tong HL, Kocaballi AB, Chen J, Bashir R, Surian D, Gallego B, Magrabi F, Lau AYS, Coiera E (2018) Conversational agents in healthcare: a systematic review. J Am Med Inform Assoc 25(9):1248. https://doi.org/10.1093/JAMIA/OCY072

Lenartz N, Soellner R, Rudinger G (2014) Gesundheitskompetenz. Modellbildung und empirische Modellprüfung einer Schlüsselqualifikation für gesundes Leben. Z Erwachsenenbild 2:29–32

Lewis JR, Utesch BS, Maher DE (2013) UMUX-LITE—When there's no time for the SUS. In: Conference on Human Factors in Computing Systems—Proceedings, S 2099–2102 https://doi.org/10.1145/2470654.2481287

de Looper M, Damman O, Smets E, Timmermans D, van Weert J (2020) Adapting online patient decision aids: Effects of modality and narration style on patients' satisfaction, information recall and informed decision making. Health Commun 25(9):712–726. https://doi.org/10.1080/10810730.2020.1840674

Marstedt G (2018) Das Internet : Auch Ihr Ratgeber für Gesundheitsfragen? Bertelsmann Stiftung

Mauvais-Jarvis F et al (2020) Sex and gender: modifiers of health, disease, and medicine. Lancet 396(10250):565–582. https://doi.org/10.1016/S0140-6736(20)31561-0

Mayer RE, Massa LJ (2003) Three facets of visual and verbal learners: Cognitive ability, cognitive style, and learning preference. J Educ Psychol 95(4):833–846. https://doi.org/10.1037/0022-0663.95.4.833

Meppelink CS, van Weert JCM, Haven CJ, Smit EG (2015) The effectiveness of health animations in audiences with different health literacy levels: an experimental study. J Med Internet Res 17(1):e11. https://doi.org/10.2196/JMIR.3979

Nguyen MH, Bol N, King AJ (2020) Customization versus personalisation of digital health information. Eur J Health Commun 1(1):30–54. https://doi.org/10.47368/ejhc.2020.003

OECD, EU (2016) Health at a glance: Europe 2016—State of health in the EU cycle

O'Keefe DJ, Jensen JD (2007) The relative persuasiveness of gain-framed loss-framed messages for encouraging disease prevention behaviors: a meta-analytic review. Health Commun 12(7):623–644. https://doi.org/10.1080/10810730701615198

Park J, Kim SH, Kim JG (2020) Effects of message framing and health literacy on intention to perform diabetes self-care: A randomized controlled trial. Diabetes Res Clin Pract. https://doi.org/10.1016/J.DIABRES.2020.108043

Petty R, Barden J, Wheeler C (2009) The elaboration likelihood model of persuasion: Developing health promotions for sustained behavioral change. In: DiClemente RJ, Crosby RA, Kegler M (Hrsg) Emerging theories in health promotion practice and research, 2. Aufl. Jossey-Bass, San Fransicso

Przegendza N (2020) KI-Nutzung – Chatbots ermöglichen niedrigschwellige Erreichbarkeit. Healthc Mark 15(5):28–31 (https://www.healthcaremarketing.eu/_data/Healthcare_Marketing_05-2020.pdf)

Reifegerste D (2019) Gender-sensitive health communication. Public Health Forum 27(2):154–156. https://doi.org/10.1515/pubhef-2019-0009

Salaschek M, Bonfadelli H (2020) Digital health communication and factors of influence. Bundesgesundheitsblatt Gesundheitsforschung Gesundheitsschutz 63(2):160–165. https://doi.org/10.1007/s00103-019-03086-7

Schaeffer D, Hurrelmann K, Bauer U, Kolpaitzik K (2018) Nationaler Aktionsplan Gesundheitskompetenz. Die Gesundheitskompetenz in Deutschland stärken. KomPart

Schaeffer D, Berens E‑M, Gille S, Griese L, Klinger J, de Sombre S, Vogt D, Hurrelmann K (2021) Gesundheitskompetenz der Bevölkerung in Deutschland vor und während der Corona Pandemie: Ergebnisse des HLS-GER 2 https://doi.org/10.4119/UNIBI/2950305

Scherenberg V, Pundt J (2018) Digitale Gesundheitskommunikation – Zwischen Meinungsbildung und Manipulation. In: Influencer in der digitalen Gesundheitskommunikation. APOLLON University Press, https://doi.org/10.5771/9783845299785-122

Schmid KL, Rivers SE, Latimer AE, Salovey P (2008) Targeting or tailoring? Maximizing resources to create effective health communications. Mark Health Serv 28(1):32

Schwarz P (2016) Der FINDRISK-Test Universitätsklinikum der TU Dresden. Diabetol Stoffwechs 11(S 02):S207–S209. https://doi.org/10.1055/S-0042-113701

Seitz L, Bekmeier-Feuerhahn S, Bontrup F, Wildt J, Gohil K (2020) Towards a model for building trust and acceptance of artificial intelligence aided medical assessment systems. In: Proceedings of the European Marketing Academy, 49th, (64418)

Seitz L, Bekmeier-Feuerhahn S, Gohil K (2022) Can we trust a chatbot like a physician? A qualitative study on understanding the emergence of trust toward diagnostic chatbots. Int J Hum Comput Stud 165:102848. https://doi.org/10.1016/J.IJHCS.2022.102848

von Sikorski C, Matthes J (2019) Framing-Effekte im Gesundheitsbereich. In: Handbuch der Gesundheitskommunikation. Springer VS, Wiesbaden, S 307–319

Sweller J, Ayres P, Kalyuga S (2011) Cognitive load theory. Springer, New York https://doi.org/10.1007/978-1-4419-8126-4

Thielsch MT (2008) Ästhetik von Websites. Wahrnehmung von Ästhetik und deren Beziehung zu Inhalt, Usability und Persönlichkeitsmerkmalen

WHO (2021) Noncommunicable diseases. https://www.who.int/news-room/fact-sheets/detail/noncommunicable-diseases. Zugegriffen: 27.06.2022

York VK, Brannon LA, Miller MM (2012) Increasing the effectiveness of messages promoting responsible undergraduate drinking: tailoring to personality and matching to context. Health Commun 27(3):302–309. https://doi.org/10.1080/10410236.2011.585450
Danksagung
Wir danken dem gesamten DOCYET-Team für die Unterstützung bei der Teilnehmer:innenrekrutierung. Ein besonderer Dank geht an das Entwickler- sowie an das Design-Team für die Bereitstellung des Chatbot-Prototyps und die technische Unterstützung.
Förderung
Das Forschungsvorhaben MEduChron wurde durch das Bundesministerium für Wirtschaft und Klimaschutz (BMWK) gefördert (FKZ: 16GP301401). Das BMWK war nicht an der Konzeption der Studie, der Datenerhebung, der Datenanalyse und der Erstellung dieses Papers beteiligt.
Ethics declarations
Interessenkonflikt
L. Zapke, H. Liebs, J. Davis, C. Kollwitz, M. Liebergesell, F. Bontrup und K. Gohil erklären, dass ihnen keine konkurrierenden finanziellen Interessen oder persönlichen Beziehungen bekannt sind, die diese Arbeit hätten beeinflussen können.
Additional information
Laura Z. und Hannah L. trugen gleichermaßen zu dieser Arbeit bei.
Anhang
Anhang
Rights and permissions
Springer Nature oder sein Lizenzgeber (z.B. eine Gesellschaft oder ein*e andere*r Vertragspartner*in) hält die ausschließlichen Nutzungsrechte an diesem Artikel kraft eines Verlagsvertrags mit dem/den Autor*in(nen) oder anderen Rechteinhaber*in(nen); die Selbstarchivierung der akzeptierten Manuskriptversion dieses Artikels durch Autor*in(nen) unterliegt ausschließlich den Bedingungen dieses Verlagsvertrags und dem geltenden Recht.
About this article
Cite this article
Zapke, L., Liebs, H., Davis, J. et al. Entwicklung eines digitalen Assistenzsystems zur Vermittlung von personalisierten Gesundheitsinformationen im Kontext chronischer Erkrankungen. HMD 59, 1612–1625 (2022). https://doi.org/10.1365/s40702-022-00926-0
Received:

Accepted:

Published:

Issue Date:

DOI: https://doi.org/10.1365/s40702-022-00926-0
Schlüsselwörter
Keywords