Zusammenfassung
Der vorliegende Artikel diskutiert im Themengebiet der Prozessunterstützung industrieller Produktentstehung am Beispiel der Automobilindustrie ein Konzept für eine nutzer- und zielgruppenspezifische Assistenzumgebung mit Hilfe maßgeschneiderter Produktdaten-Apps. Insbesondere die Variabilität des Bedienablaufs und die Konzeption der Schnittstelle zum Anwender bieten in Kombination mit einer auf den Anwendungsfall angepassten Mesh App & Service Architektur (MASA) neue Möglichkeiten der industriellen Anwendungsentwicklung. Als Vorbild dient dabei die Konsumindustrie mit spezifischen und abgrenzbaren Anwendungen (single purpose applications). Als Gegenentwurf zu einer IT-Landschaft aus wenigen Großsystemen mit einer Vielzahl an Funktionen und Nutzern pro Anwendung können so stets klare Use Cases und eine abgesteckte Zielgruppe bedient werden. Durch ganze Arbeitsumgebungen aus vielen Anwendungen lassen sich Nutzer bzw. ganze Nutzerkreise kompromissfrei und optimal in den jeweiligen Tätigkeiten fördern. Ein Capability-orientiertes Design unterstützt dabei die Prozesse des Kerngeschäfts. Der Rolle des Service- und Betriebsmanagements kommt eine besondere Bedeutung zu, da Konzepte einer dezentralen und vielfältigen Anwendungsentwicklung im Unternehmenskontext Fragen in Bezug auf Stabilität, Zuverlässigkeit, Wirtschaftlichkeit sowie einem geeigneten Betriebsmodell aufwerfen.
Abstract
The article discusses a concept of user- and group-specific assistance environment using product data apps in the area of automotive product development. In particular, the variability in the design of the user journey and the interface to the user offers new possibilities for industrial application development in combination with a Mesh App & Service Architecture (MASA), adapted to the given context. The consumer industry with its specific and distinct applications (single purpose applications) serves as a model. In contrast to an IT landscape consisting of a few large systems with numerous of functions and users per application, distinct use cases and a staked target group can be served. Through whole working environments from various apps, users or entire user groups can be supported without compromises in their respective activities. A capability-driven design supports the processes of the core business. The role of service and operation management is of particular importance, as concepts of decentralized and flexible application development in the corporate context raises questions regarding stability, reliability, economy and a suitable operating model.
This is a preview of subscription content, log in to check access.
Access options
Buy single article
Instant access to the full article PDF.
US$ 39.95
Price includes VAT for USA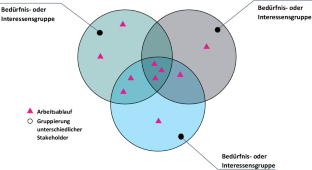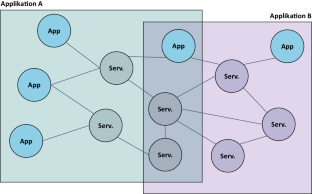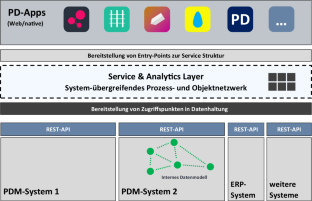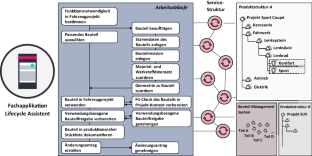 Notes
1.

Computer Aided Manufacturing, Computer Aided Engineering, Computer Aided-x (*beliebig*).

2.

Enterprise Resource Planning, Customer Relationship Management.

3.

4.

Application Programming Interface.
Literatur
Aichele C, Schönberger M (2016) App-Entwicklung – effizient und erfolgreich. Springer, Wiesbaden

beyond PLM (2017) PLM—from SOA to MASA (mesh app & service architecture). http://beyondplm.com/2017/07/13/plm-road-soa-masa. Zugegriffen: 1. Jan. 2019

Braess H‑H, Widmann U, Ehlers C, Breitling T, Grawunder N, Liskowsky V (2013) Produktentstehungsprozess. In: Braess H‑H, Seiffert U (Hrsg) Vieweg Handbuch Kraftfahrzeugtechnik. Springer, Wiesbaden, S 1133–1219

Ehrlenspiel K, Kiewert A, Lindemann U, Mörtl M (2014) Kostengünstig Entwickeln und Konstruieren. Springer, Berlin, Heidelberg

Eigner M, Roubanov D, Zafirov R (Hrsg) (2014) Modellbasierte virtuelle Produktentwicklung. Springer, Berlin, Heidelberg

Feldhusen J, Grote K‑H (Hrsg) (2013) Pahl/Beitz Konstruktionslehre. Springer, Berlin, Heidelberg

Fowler M, Lewis J (2015) Microservices: Nur ein weiteres Konzept in der Softwarearchitektur oder mehr? https://www.sigs-datacom.de/uploads/tx_dmjournals/fowler_lewis_OTS_Architekturen_15.pdf (Objektspektrum)

Gärtner C (2018) Der Fall der Automobilindustrie. In: Gärtner C, Heinrich C (Hrsg) Fallstudien zur Digitalen Transformation. Springer, Wiesbaden, S 1–35

Gartner Inc. (2016) Retire the three-tier application architecture to move towards digital business. https://www.gartner.com/binaries/content/assets/events/keywords/applications/apps20i/retire_the_threetier_applica_308298.pdf (Erstellt: 21. Juni 2016)

Gerhard D (2016) Daten- und Informationsmanagement PDM/PLM. In: Lindemann U (Hrsg) Handbuch Produktentwicklung. Hanser, München, S 215–245

Günther J (2017) Digital Workplace – Herausforderungen und Implikationen für die Gestaltung. HMD 54:859–873. https://doi.org/10.1365/s40702-017-0364-8

Holler M, Dremel C, Herterich M, Uebernickel F, Brenner W (2018) Product Lifecycle Management im Konzernumfeld – Herausforderungen, Lösungsansätze und Handlungsempfehlungen. HMD 55:133–150. https://doi.org/10.1365/s40702-017-0372-8

Indrasiri K, Siriwardena P (2018) Microservices for the enterprise. Apress, Berkeley

Perl A, Zrinscak S, Robra-Bissantz S (2017) Situationsorientierte, ubiquitäre Arbeitsplatz-IT für Wissensarbeiter. HMD 54:917–934. https://doi.org/10.1365/s40702-017-0366-6

Schwartz A (2017) Microservices. Inform Spektrum 40:590–594. https://doi.org/10.1007/s00287-017-1078-6

Stark J (2015) Product Lifecycle management. Springer, Heidelberg, New York

Venghaus E, Stark R (2018) Understanding PLM and PLM customizing: A theoretical fundament for a conceptual approach. In: Chiabert P, Bouras A, Noël F, Ríos J (Hrsg) Product Lifecycle management to support industry 4.0. Springer, Heidelberg, New York, S 670–680

Winkelhake U (2017) Die digitale Transformation der Automobilindustrie; Treiber – Roadmap – Praxis. Springer Vieweg, Berlin, Heidelberg
Additional information
Hinweis
Die hier dargestellten Meinungen und Wertungen sind nicht zwangsläufig die des Forschungskooperationspartners.
About this article
Cite this article
Scheele, S., Mantwill, F. Produktdaten-Apps zur Erweiterung der Lifecycle Produktivität. HMD 56, 438–452 (2019). https://doi.org/10.1365/s40702-019-00512-x
Received:

Accepted:

Published:

Issue Date:
Schlüsselwörter
PDM/PLM

Enterprise Apps

Digitaler Arbeitsplatz

SOA

Usability
Keywords
PDM/PLM

Enterprise Apps

Digital Workplace

SOA

Usability