Zusammenfassung
IT-Servicemanagement (ITSM) stellt seit Jahren ein relevantes und spannendes Themenfeld dar, welches sowohl Unternehmen als auch Forscher auf vielfältige Weise beschäftigt. Die Grundlage des Beitrags stellt die Analyse von 602 Artikeln der letzten 15 Jahre dar. Im Rahmen der Untersuchung wurden diese Fachartikel, Konferenz- und Zeitschriftenbeiträge ausgewertet und 28 Themengebiete für beide Domänen, Praxis und Wissenschaft, identifiziert. Die Artikel lassen sich in klassische und aktuelle Themen einordnen. Die klassischen wurden primär vor 2015 diskutiert, demgegenüber werden die aktuellen Themen verstärkt seit 2015 besprochen.
Zu den klassischen Themen zählen u. a. "Prozesse" und "Messung". Bei diesen nimmt die Beitragsintensität inzwischen ab. Darüber hinaus gibt es Themen, wie "Framework" und "Sourcing", die als "Dauerbrenner" bezeichnet werden können. Bei diesen Themen bleibt die Beitragsintensität weitestgehend konstant.
Zu den aktuellen Themen sind "Tool", "Agilität", "Cloud Computing", "Sicherheit", "Enterprise Service Management", "Zukunft SM", "Simulation" und "Künstliche Intelligenz" zu zählen. Es ist davon auszugehen, dass diese Themen das ITSM auch in der nahen Zukunft beschäftigen, was an der steigenden Beitragsintensität abzulesen ist.
Abstract
IT Service Management (ITSM) has been a relevant and exciting topic for many years, which employs both companies and researchers in a variety of ways. The paper is based on an analysis of 602 relevant works done during the last 15 years. Throughout the study and evaluation of papers, conferences and journal articles, a total of 28 topics have been identified for both domains, practice and science. The articles can be classified into two flavors; classic and current. The former was primarily discussed before 2015, while the latter have increased in occurrence after that same year.
The classic topics include "Processes" and "Measurement" and, as of now, are noted to be decreasing in contribution intensity. On the other hand, topics such as "Framework" and "Sourcing", which can be described as "long runner", are known to have a largely constant contribution intensity.
The current topics include "Tool", "Agility", "Cloud Computing", "Security", "Enterprise Service Management", "Future SM", "Simulation", and "Artificial Intelligence". It can be assumed that these topics will be dominating the ITSM in the near future, as it is also reflected in the increasing contribution intensity.
Access options
Buy single article
Instant access to the full article PDF.
US$ 39.95
Tax calculation will be finalised during checkout.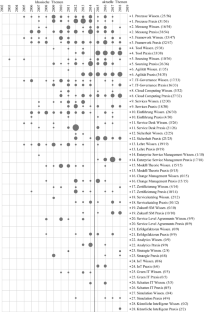 Literatur
Andenmatten M (2015) DevOps Foundation – Schlüsselkompetenz für agiles Service Management. It Serv Manag 34:63–64

Andenmatten M (2016) IT4IT: Das ganzheitliche Betriebsmodell der IT. It Serv Manag 37:48–49

Andenmatten M (2018) Cloud sourcing LifeCycle. It Serv Manag 44:9–17

Barth R (2018) IT-Sicherheitsanforderungen mit Open Source-Lösungen verinice und KIX ITIL-konform umsetzen. It Serv Manag 46:38–39

Beims M (2017) ITIL: Allheilmittel im ITSM? It Serv Manag 39:18–19

von Benthem B (2013) Agilität und stabiler Betrieb – Water-SCRUM-Fall vermeiden. It Serv Manag 23:3–7

Bergmann P, Kirchner K, Hast O (2013) Für ein perfektes Zusammenspiel zwischen Service Request und Access‑/Identity Management. It Serv Manag 25:3–10

Bliessesn C (2016) Die 6 wichtigsten Herausforderungen beim Multi-Providermanagement. It Serv Manag 36:8–10

Dohle H, Flasche M (2012) IT-Stabilität: Von der Standardlösung zum Pattern. It Serv Manag 20:22–25

Fischlin R (2008) Service Desk 2.0. It Serv Manag 6:8–12

Fischlin R (2011) Kennzahlendschungel im IT-Service-Management. It Serv Manag 18:3–7

Fry M (2010) ITIL® Lite; A road map to full or partial ITIL implemenation. The Stationary Office, Norwich

Gartner (2018) Magic quadrant for IT service management tools. Gartner, Stamford, USA

Gaulke M (2018) Mit COBIT 5 die digitalen Herausforderungen bewältigen. it Service Management 45:31–33

Görgen P (2015) Das Problemkind "Problem Management". It Serv Manag 32:48–50

Iden J, Eikebrokk TR (2013) Implementing IT service management: a systematic literature review. Int J Inf Manage 33:512–523. https://doi.org/10.1016/j.ijinfomgt.2013.01.004

Klein H (2015) SIAM Führerschaft vorantreiben. It Serv Manag 31:24–25

Kneuper R (2015) Messung der Qualität von ITSM-Prozessen – Eine Fallstudie. It Serv Manag 33:23–29

Krausz M (2015) Hilft ITIL, Sicherheitsvorfälle zu verhindern? it Service Management 32:37–40

Landis M (2016) ITSM Toolsauswahl. It Serv Manag 35:15–22

Marienfeld I (2017) Digital Natives & ITSM. It Serv Manag 42:33–35

Martin B (2014) Big Data: Governance und Management mit COBIT 5. It Serv Manag 30:23–28

Pröhl T, Repschläger J, Erek K, Zarnekow R (2012) IT-Servicemanagement im Cloud Computing. HMD 49:6–14. https://doi.org/10.1007/BF03340752

Rance S (2016) RESILIA Cyber resilience best practice. It Serv Manag 37:11–13

Samulat P, Bergmann P (2016) ValueBoard – Wertbeitrag von IT-Projekten messen. It Serv Manag 38:6–12

Theissmann B, Günther F (2009) CMMI und ITIL integriert: Doppelter Gewinn für die AUDI AG. it Service Management 10:3–7

Tiemeyer E (2006) Kennzahlen und Management Reporting Werkzeuge für ein effizientes Controlling der IT-Serviceprozesse. It Serv Manag 2:25–30

Tischer P (2016) Kapazitätsplanung im Service Desk. It Serv Manag 36:29–35

Wauch F, Meyer S (2013) Incident Gezwitscher – Über den Einsatz von Social Media in IT Organisationen. It Serv Manag 26:8–15

Wawrzinek S (2010) IT Service Management in the Clouds. It Serv Manag 13:8–11

Zarnekow R, Hochstein A, Brenner W (2005) Serviceorientiertes IT-Management; ITIL best practices und -Fallstudien. Springer, Berlin, New York

Zwick M (2015) Change Management bei der ITIL Einführung. It Serv Manag 33:40–45
About this article
Cite this article
Pröhl, T., Zarnekow, R. Die kurze Geschichte des IT-Servicemanagement: Themen und Fragestellungen im Wandel der Zeit. HMD 56, 277–288 (2019). https://doi.org/10.1365/s40702-019-00497-7
Received:

Accepted:

Published:

Issue Date:
Schlüsselwörter
ITSM

ITIL

Cloud Computing

Agilität

Künstliche Intelligenz

Literaturübersicht
Keywords
ITSM

ITIL

Cloud Computing

Agility

Artificial Intelligence

Literature Review