Zusammenfassung
Der digitale Wandel erfordert einen Wandel des bisherigen Profils eines Innovationsmanagers. Wurde ein Innovationsmanager lange Zeit mit dem Bild des Tüftlers verbunden, so wandelt sich dieses Bild in der heutigen Zeit zu einem Koordinator. Die neuen Aufgaben erfordern neue Kompetenzen, die insbesondere auf die Vernetzung der Industrie abzielen, da sowohl innerhalb eines Unternehmens als auch über die Unternehmensgrenzen hinweg kooperiert wird und zudem Unternehmensprozesse ganzheitlich digital durchgängig werden. Die Analyse von 126 Online-Stellenausschreibungen für Innovationsmanager ergab, dass verschiedene Kompetenzen im Zusammenspiel gefordert werden und verschiedene Aufgaben von Innovationsmanagern erfüllt werden müssen. Beispielsweise werden von Innovationsmanagern in den Stellenausschreibungen nur implizit Computerkompetenzen gefordert und dies immer im Zusammenspiel mit weiteren Kompetenzen, wie Sprach-, mathematischen und naturwissenschaftlich-technischen sowie sozialen Kompetenzen. Von Innovationsmanagern wird in Stellenausschreibungen gefordert, eine Art digitaler Wissensmanager und Generalist zu sein. Die Ergebnisse liefern einen Beitrag zur Diskussion formeller Rollenbilder von Innovationsmanagern.
Abstract
Digital change also requires a change in the previous profile of an innovation manager. For a long time, the innovation manager was associated with the image of the inventor, but nowadays this image goes through a transformation process to being a coordinator. With new tasks, new competences are needed, which are aimed in particular at the digitalization of the industry, since cooperation is possible both within a company and across company boundaries and corporate processes are throughout integrated digitally. The analysis of 126 online job advertisements for innovation managers with the help of a topic modeling approach revealed that different competences have to be combined and that different tasks of innovation managers have to be fulfilled. For example, innovation managers often only implicitly required to have computer skills in job postings on innovation managers, but always in combination with other competences such as language, mathematical, scientific, technical and social skills. This suggests that innovation managers are already being asked to be a kind of digital knowledge manager and generalist. The results contribute to the discussion of formal role models of innovation managers.
This is a preview of subscription content, log in to check access.
Access options
Buy single article
Instant access to the full article PDF.
US$ 39.95
Price includes VAT for USA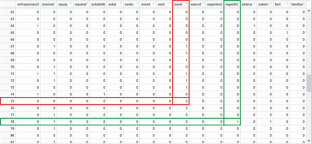 Literatur
Armstrong M (2017) How to be an even better manager: a complete A–Z of proven techniques and essential skills, 10. Aufl. Kogan Page, London

Augsten T, Brodbeck H, Birkenmeier B (2017) Strategie und Innovation. Springer, Wiesbaden https://doi.org/10.1007/978-3-658-15684-8

BITKOM, VDMA, ZVEI (2015) Umsetzungsstrategie 4.0 – Ergebnisbericht der Plattform Industrie 4.0

Blei DM (2012) Probabilistic topic models. Commun ACM 55:77–84. https://doi.org/10.1145/2133806.2133826

Blei DM, Lafferty JD (2007) A correlated topic model of science. Ann Appl Stat 1:17–35

Blei DM, Ng AY, Jordan MI (2003) Latent dirichlet allocation. J Mach Learn Res 3:993–1022

Bloom N, Garicano L, Sadun R, Van Reenen J (2014) The distinct effects of information technology and communication technology on firm organization. Manage Sci 60:2859–2885. https://doi.org/10.1287/mnsc.2014.2013

Burkhart T, Piller F (2010) Absorbing external technological knowledge: organizational antecedents and consequences. Presented at the Academy of Management Annual Meeting.

Cacaci A (2006) Change Management – Widerstände gegen Wandel. DUV, Wiesbaden https://doi.org/10.1007/978-3-8350-9081-1

Carayannis EG, Sindakis S, Walter C (2015) Business model innovation as lever of organizational sustainability. J Technol Transf 40:85–104. https://doi.org/10.1007/s10961-013-9330-y

Chesbrough HW (2006) Open innovation: the new imperative for creating and profiting from technology, first trade paper edition. Harvard Business Review Press, Boston

Dalkir K (2005) Knowledge management in theory and practice. Elsevier, Butterworth Heinemann, Amsterdam, Boston

Dziatzko N, Steinwandt A (2011) To be or not to be an innovation manager. Z Innovmanag Forsch Prax 6:32–42

Europäische Union (2008) NACE Rev. 2 Statistische Systematik der Wirtschaftszweige in der Europäischen Gemeinschaft. http://ec.europa.eu/eurostat/documents/3859598/5902453/KS-RA-07-015-DE.PDF. Zugegriffen: 16.8.2017

Europäische Union (2006) Key compentences for lifelong learning—A European reference framework. Off J Eur Union L 394

Fischer S, Lubarski A, Galipoglu E, Müller F (2017) Service innovation: sensing with information systems. In: Information systems in the service innovation process Presented at the Americas Conference on Information Systems.

Galipoglu, E., Pöppelbuß, J., 2016. Einsatz von Informationssystemen zur Innovation industrienaher Dienstleistungen: Eine explorative Analyse im Maschinen- und Anlagenbau. Unpublished. https://doi.org/10.13140/RG.2.2.29872.97282

Gershman M, Thurner T (2016) New development: state-owned enterprises as powerhouses for innovation—the Russian case. Public Money Manag 36:297–302. https://doi.org/10.1080/09540962.2016.1162996

Gerybadze A (2004) Technologie- und Innovationsmanagement: Strategie, Organisation und Implementierung. Vahlens Handbücher der Wirtschafts- und Sozialwissenschaften. Vahlen, München

Goldberg M, Satzger G, Kieninger A (2015) A capability framework for IT service integration and management in multi-sourcing https://doi.org/10.18151/7217327

Griffiths TL, Steyvers M (2004) Finding scientific topics. Proc Natl Acad Sci USA 101:5228–5235. https://doi.org/10.1073/pnas.0307752101

Grün B, Hornik K (2011) 2011. topicmodels: an R package for fitting topic models. J Stat Softw. https://doi.org/10.18637/jss.v040.i13

Hofmann E, Rüsch M (2017) Industry 4.0 and the current status as well as future prospects on logistics. Comput Ind 89:23–34. https://doi.org/10.1016/j.compind.2017.04.002

Huber D, Kaufmann H, Steinmann M (2014) Bridging the Innovation Gap – Bauplan des innovativen Unternehmens. Springer, Berlin, Heidelberg https://doi.org/10.1007/978-3-662-43925-8

Kagermann H, Wahlster W, Helbig J (2013) Recommendations for implementing the strategic initiative INDUSTRIE 4.0

Kaschny M, Nolden M, Schreuder S (2015) Innovationsmanagement im Mittelstand: Strategien, Implementierung, Praxisbeispiele. Springer Gabler, Wiesbaden

Kepner CH, Tregoe BB (1997) The new rational manager: an updated edition for a new world. BookBaby, Cork

Küchler U (2017) Wissenstransfer. In: Kühnhardt L, Mayer T (Hrsg) Bonner Enzyklopädie der Globalität. Springer, Wiesbaden, S 561–570 https://doi.org/10.1007/978-3-658-13819-6_46

Kwon S‑W, Adler PS (2014) Social capital: maturation of a field of research. Acad Manage Rev 39:412–422. https://doi.org/10.5465/amr.2014.0210

Lee S, Baker J, Song J, Wetherbe JC (2010) An empirical comparison of four text mining methods. 2010 43rd Hawaii International Conference on System Sciences. Presented at the 2010 43rd Hawaii International Conference on System Sciences, S 1–10 https://doi.org/10.1109/HICSS.2010.48

Leiponen A (2005) Skills and innovation. Int J Ind Organ 23:303–323. https://doi.org/10.1016/j.ijindorg.2005.03.005

Löfgren A (2014) International network management for the purpose of host market expansion: the mediating effect of co-innovation in the networks of SMes. J Int Entrep 12:162–182. https://doi.org/10.1007/s10843-014-0129-1

Luo Y, Bu J (2016) How valuable is information and communication technology? A study of emerging economy enterprises. J World Bus 51:200–211. https://doi.org/10.1016/j.jwb.2015.06.001

Maier MA (2014) What innovation managers really do—An empirical study about tasks, skills and traits of innovation managers in Germany. 2014 IEEE International Conference on Industrial Engineering and Engineering Management (IEEM). IEEE, Bandar Sunway, Malaysi, S 1116–1120 https://doi.org/10.1109/IEEM.2014.7058812

Maier MA, Brem A (2017) What innovation managers really do: a multiple-case investigation into the informal role profiles of innovation managers. Review of Managerial. Science, https://doi.org/10.1007/s11846-017-0238-z

van Meurs F, Planken B, Korzilius H, Gerritsen M (2015) Reasons for using english or the local language in the genre of job advertisements: insights from interviews with dutch job ad designers. IEEE Trans Prof Commun 58:86–105. https://doi.org/10.1109/TPC.2015.242335

Meyer D, Hornik K, Feinerer I (2008) Text mining infrastructure in R. J Stat Softw 25:1–54

Nambisan S, Lyytinen K, Majchrzak A, Song M (2017) Digital innovation management: reinventing innovation management research in a digital world. MIS Q 41:223–238. https://doi.org/10.25300/MISQ/2017/41:1.03

Northrup D (2013) How English became the global language. Palgrave Macmillan, Basingstoke

Noss C (2002) Innovationsmanagement – quo vadis?: Kommentar zu Jürgen Hauschildts Zwischenbilanz zum Stand der betriebswirtschaftlichen Innovationsforschung. In: Schreyögg G, Conrad P (Hrsg) Theorien Des Managements. Springer Gabler, Wiesbaden, S 35–48

Oakland JS, Tanner S (2007) Successful change management. Total Qual Manag Bus Excell 18:1–19. https://doi.org/10.1080/14783360601042890

Ohly S, Sonnentag S, Pluntke F (2006) Routinization, work characteristics and their relationships with creative and proactive behaviors. J Organ Behav 27:257–279. https://doi.org/10.1002/job.376

Ortmann G (2014) Können und Haben, Geben und Nehmen. Kompetenzen als Ressourcen: Organisation und strategisches Management. In: Windeler A, Sydow J (Hrsg) Kompetenz. VS, Wiesbaden, S 19–107 https://doi.org/10.1007/978-3-531-19939-9_2

Patsch S, Zerfass A (2017) Co-innovation and communication: the case of SAP's global co-innovation lab network. In: Pfeffermann N, Gould J (Hrsg) Strategy and communication for innovation. Springer, Cham, S 385–402 https://doi.org/10.1007/978-3-319-49542-2_23

Pearlson KE, Saunders CS, Galletta DF (2016) Managing and using information systems: a strategic approach, 6. Aufl. Wiley, Hoboken

Peltokorpi V, Vaara E (2014) Knowledge transfer in multinational corporations: productive and counterproductive effects of language-sensitive recruitment. J Int Bus Stud 45:600–622. https://doi.org/10.1057/jibs.2014.1

Porter MF (1980) An algorithm for suffix stripping. Program 14:130–137

Ritter T, Gemünden HG (2003) Network competence. J Bus Res 56:745–755. https://doi.org/10.1016/S0148-2963(01)00259-4

Schimpf S, Abele T (2017) Praxisstudie Technologie-Roadmapping. In: Möhrle MG, Isenmann R (Hrsg) Technologie-Roadmapping. Springer, Berlin, Heidelberg, S 333–344 https://doi.org/10.1007/978-3-662-52709-2_22

Schon DA (1963) Champions for radical new inventions. Harv Bus Rev 41:77–86

Schumpeter JA (1972) Kapitalismus, Sozialismus und Demokratie. Francke, München

Sim EW, Griffin A, Price RL, Vojak BA (2007) Exploring differences between inventors, champions, implementers and innovators in creating and developing new products in large, mature firms. Creat Innov Manag 16:422–436. https://doi.org/10.1111/j.1467-8691.2007.00457.x

Simon HA (1982) Models of bounded rationality. MIT Press, Cambridge

Stolzenberg K, Heberle K (2013) Change management. Springer, Berlin, Heidelberg https://doi.org/10.1007/978-3-642-30106-3

Teece DJ (2007) Explicating dynamic capabilities: the nature and microfoundations of (sustainable) enterprise performance. Strateg Manage J 28:1319–1350. https://doi.org/10.1002/smj.640

Thorn N, Müller RC (2006) Innovationsmanagement in KMU. In: Bruch H, Krummaker S, Vogel B (Hrsg) Leadership – Best Practices und Trends. Gabler, Wiesbaden, S 251–264 https://doi.org/10.1007/978-3-8349-9120-1_23

Tidd J (2001) Innovation management in context: environment, organization and performance. Int J Manag Rev 3:169–183. https://doi.org/10.1111/1468-2370.00062

Toivonen M, Tuominen T (2009) Emergence of innovations in services. Serv Ind J 29:887–902. https://doi.org/10.1080/02642060902749492

Trott P (2012) Innovation management and new product development, 5th ed. ed. Financial Times/Prentice Hall, Harlow, England, New York

Vahs D (2007) Organisation: Einführung in die Organisationstheorie und -praxis, 6. Aufl. Schäffer-Poeschel, Stuttgart

Vahs D, Brem A (2015) Innovationsmanagement: von der Idee zur erfolgreichen Vermarktung, 5. Aufl. Schäffer-Poeschel, Stuttgart

Vahs D, Schmitt J (2010) Determinanten des Innovationserfolgs – Ergebnisse einer empirischen Studie. Organisationsentwicklung 29(3):40–46

Vargo SL, Lusch RF (2017) Service-dominant logic 2025. Int J Res Mark 34:46–67. https://doi.org/10.1016/j.ijresmar.2016.11.001

Vogel-Heuser B, Diedrich C, Broy M (2013) Anforderungen an CPS aus Sicht der Automatisierungstechnik. AT Automatisierungstech. https://doi.org/10.1515/auto.2013.0061

Welch DE, Welch LS (2008) The importance of language in international knowledge transfer. Manag Int Rev 48:339–360. https://doi.org/10.1007/s11575-008-0019-7

Wöhlert K (2000) Innovationsmanager in KMU. In: Lenk T, Zelewski S, Universität Leipzig, Universität Essen (Hrsg) ECOVIN: Enhancing competitiveness in small and medium enterprises via innovation – Handbuch zum Innovationsmanagement in kleinen und mittleren Unternehmen. Univ.-Bibliothek, Leipzig

Zhao W, Chen JJ, Perkins R, Liu Z, Ge W, Ding Y, Zou W (2015) A heuristic approach to determine an appropriate number of topics in topic modeling. BMC Bioinformatics 16(Suppl 13):S8. https://doi.org/10.1186/1471-2105-16-S13-S8
Danksagung
Die Autoren bedanken sich ausdrücklich bei den anonymen Reviewern und Herrn Stefan Reinheimer für ihre konstruktiven Hinweise.
Förderung
Dieser Beitrag ist im Rahmen des durch das Bundesministerium für Bildung und Forschung (BMBF) geförderten Projektes "DETHIS – Design Thinking for Industrial Services" entstanden (Förderkennzeichen: 02K14A148).
About this article
Cite this article
Gernreich, C.C., Knop, S. & Ahlfeld, C. Kompetenzen eines Innovationsmanagers in Zeiten des digitalen Wandels:. HMD 55, 682–700 (2018). https://doi.org/10.1365/s40702-018-0422-x
Received:

Accepted:

Published:

Issue Date:
Schlüsselwörter
Innovationsmanager

Digitalisierung

Stellenausschreibungen

Kompetenzen

Topic Modeling
Keywords
Innovation manager

Digitization

Job advertisements

Competences

Topic modeling