Zusammenfassung
Kreativität ist zu einem fundamentalen Faktor für Unternehmen und Organisationen geworden, um bspw. neuartige Produkte und Dienstleistungen oder innovative Geschäftsmodelle zu entwickeln, die das Sicherstellen der langfristigen Wettbewerbsfähigkeit ermöglichen. Zur Förderung von Kreativität kann auf kollaborative und iterative Vorgehensmodelle wie das weit verbreitete Design Thinking zurückgegriffen werden. Während sich eine Vielzahl von (Praxis‑)Ansätzen und Literatur mit Richtlinien für den Ablauf und für die Auswahl geeigneter Methoden befasst, sind nur wenige Ansätze für die Dokumentation solcher Projekte verfügbar. Obwohl eine Dokumentation verschiedene Aspekte wie die Standardisierung eines Projektes, die Reflektion bestehender Resultate und die Kommunikation von Design-Entscheidungen unterstützt, konnte in Projekten beobachtet werden, dass das kontinuierliche Dokumentieren der iterativen Lösungswege, die interdisziplinären Teams vor große Herausforderungen stellt. Der vorliegende Beitrag untersucht daher Potenziale von IT-basierten Werkzeugen für die Unterstützung der gemeinschaftlichen Dokumentation von Design Thinking-Projekten. Dafür werden zunächst Anforderungen auf der Basis von Literatur, Interviews und Projektdokumentationen abgeleitet sowie anschließend prototypisch in einem Softwareartefakt implementiert und demonstriert. Insgesamt können die Erkenntnisse bspw. zur Weiterentwicklung von bestehenden Werkzeugen zur Dokumentation von kreativen und kollaborativen Prozessen verwendet werden oder Impulse für Dokumentationswerkzeuge (auch) aus anderen Bereichen wie der Softwareentwicklung liefern. Zudem kann die prototypische Implementierung bereits zur Unterstützung von Design Thinking-Projekten genutzt werden.
Abstract
Creativity has become a fundamental issue for companies and organizations in order to design novel products and services or innovative business models, which aim to ensure sustainable competitive advantages. To promote creativity, collaborative and iterative procedure models such as the widely-applied Design Thinking can be used. While a numerous of (practical) approaches, research and academic literature deals with guidelines for the process and for a suitable selection of methods, only limited approaches focus on the documentation of such projects. Although documentation contributes to different aspects such as the standardization of a project, the reflection of existing results and the communication of design decisions, it has been observed in various projects that the continuous documentation of iterative solutions poses challenges for the interdisciplinary teams. Therefore, this article explores potential of IT-based tools that support collaborative documentation of design thinking projects. To do so, requirements based on literature, interviews and existing project documentations are derived, and then prototypically implemented and demonstrated in form of a software artifact. Overall, the findings can be used, for example, for the further development of existing tools that support the documentation of creative and collaborative processes or provide impulses for documentation tools from other areas such as software development. Moreover, the software prototype can already be used to support design thinking projects.
This is a preview of subscription content, log in to check access.
Access options
Buy single article
Instant access to the full article PDF.
US$ 39.95
Price includes VAT for USA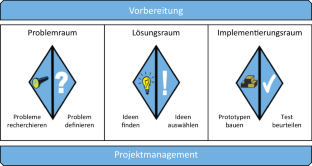 Notes
1.

Bei den Projekten handelt es sich um studentische Projekte an der Universität Hildesheim, die jeweils über ein Semester unter Anleitung eines Design Thinking-Coachs durchgeführt wurden. In den Projekten haben Studierende in Teams (4–6 Teammitglieder) Themen aus dem universitären Kontext oder von Praxisunternehmen bearbeitet. Dabei sollte der Entwicklungspfad nachgehalten werden, um Entscheidungen, angewendete Methoden, bearbeitete Aufgaben etc. nachvollziehen zu können.

2.

Mit den genannten Schlüsselwörtern wurden in den Datenbanken AISeL, Google Scholar und Web of Science nach Beiträgen gesucht, die das Dokumentieren von Design Thinking-Prozessen thematisieren. Dazu haben zwei Forschende die Beiträge getrennt voneinander analysiert und anschließend die Ergebnisse konsolidiert.
Literatur
Aakhus M, Ågerfalk P, Lennmyr F (2018) Digital innovation as design of digital practice: Doctors as designers in Healthcare. In: Proceedings of the 51st hawaii international conference on system sciences 2018 (HICSS)

Brenner W, Uebernickel F, Abrell T (2016) Design thinking as mindset, process, and toolbox. In: Design Thinking for Innovation. Springer, Heidelberg, Berlin, New York, S 3–21

Brown T (2008) Design Thinking. Harv Bus Rev 86:84–92

Brown T, Katz B (2011) Change by Design. J Prod Innov Manage 28:381–383. https://doi.org/10.1111/j.1540-5885.2011.00806.x

Buchanan R (1992) Wicked problems in design thinking. Des Issues 8:5–21. https://doi.org/10.2307/1511637

Cross N (2011) Design thinking: Understanding how designers think and work. Berg Publishers, Oxford

d.School (2018) An introduction to design thinking—process guide. https://dschool-old.stanford.edu/sandbox/groups/designresources/wiki/36873/attachments/74b3d/ModeGuideBOOTCAMP2010L.pdf?sessionID=8af88fee76ecd1fb7879c915073461486c425622. Zugegriffen: 24. Mai 2018

Dorst K, Cross N (2001) Creativity in the design process: Co-evolution of problem-solution. Des Stud 22:425–437. https://doi.org/10.1016/S0142-694X(01)00009-6

Dunne D, Martin R (2006) Design thinking and how it will change management education: An interview and discussion. Acad Manag Learn Educ 5:512–523

Fehér P, Varga K (2017) Using design thinking to identify banking digitization opportunities—snapshot of the Hungarian banking system. In: Proceedings of the 28th BLED econference

Hawryszkiewycz I, Pradhan S, Agarwal R (2015) Design thinking as a framework for fostering creativity in management and information systems teaching programs. In: Proceedings of the 19th Pacific Asian Conference on Information Systems (PACIS)

Hofer J, Kutzner K, Knackstedt R (2017) Ein Open-Source-Projekt zur Erstellung von Community Portalen. Hmd Prax Wirtsch 54:518–529. https://doi.org/10.1365/s40702-017-0312-7

HPI (2018) Design Thinking-Prozess – Hintergrund – Design Thinking. https://hpi.de/school-of-design-thinking/design-thinking/hintergrund/design-thinking-prozess.html. Zugegriffen: 24. Mai 2018

John T (2016) Supporting business model idea generation through machine-generated ideas: A design theory. In: Proceedings of the 37th International Conference on Information Systems (ICIS)

Lattemann C, Siemon D, Dorawa D, Redlich B (2017) Digitization of the design thinking process solving problems with geographically dispersed teams. In: Design, user experience, and usability: theory, methodology, and management. Springer, Cham, S 71–88

Menning A, Beyhl T, Giese H et al (2014) Introducing the LogCal: Template-based documentation support for educational design thinking projects. In: Proceedings of the international conference on engineering and product design education, design education and human technology relations

Müller-Wienbergen F, Müller O, Seidel S, Becker J (2011) Leaving the beaten tracks in creative work—A design theory for systems that support convergent and divergent thinking. J Assoc Inf Syst 12:714–740

Plattner H, Meinel C, Weinberg U (2009) Design Thinking-Innovationen lernen-Ideenwelten öffnen. Mi-Fachverlag, Landsberg am Lech

Potthoff T, Siemon D, Wilms K et al (2018) Collaborative service blueprinting for design thinking: Evaluation of a digital prototype. In: Proceedings of the 51st Hawaii International Conference on System Sciences (HICCS)

Redlich B, Dorawa D, Siemon D, Lattemann C (2018) Towards semi-virtual design thinking-creativity in dispersed Multicultural and Multidisciplinary innovation project teams. In: Proceedings of the 51st Hawaii International Conference on System Sciences (HICCS)

Rowe PG (1991) Design thinking. MIT Press, Cambridge

Schoormann T, Behrens D, Fellmann M, Knackstedt R (2018a) Sorry, too much information. Design principles for supporting rigorous search strategies in literature reviews. In: Proceedings of the 20th Conference on Business Informatics (CBI), IEEE

Schoormann T, Behrens D, Knackstedt R (2018b) The noblest way to learn wisdom is by reflection: Designing software tools for reflecting Sustainability in business models. In: Proceedings of the 39th International Conference on Information Systems (ICIS)

Shneiderman B (2007) Creativity support tools: Accelerating discovery and innovation. Commun Acm 50:20–32. https://doi.org/10.1145/1323688.1323689

de Vreede GJ, Briggs RO (2005) Collaboration engineering: Designing repeatable processes for high-value collaborative tasks. In: Proceedings of the 38th International Conference on System Sciences (HICCS)
Danksagung
Teile dieses Beitrags sind entstanden im Rahmen des Forschungsprojektes "SmartHybrid – Process Engineering" (ZW 6‑85003451), das vom Ministerium für Wissenschaft und Kultur (MWK) mit Mitteln des Europäischen Fonds für regionale Entwicklung (EFRE) finanziert wird. Für die Unterstützung möchten wir uns bedanken.
About this article
Cite this article
Hofer, J., Schoormann, T., Kortum, J. et al. "Ich weiß was ihr letzte Sitzung getan habt" – Entwicklung und Anwendung eines Softwarewerkzeuges zur Dokumentation von Design Thinking-Projekten. HMD 56, 160–171 (2019). https://doi.org/10.1365/s40702-018-00480-8
Received:

Accepted:

Published:

Issue Date:
Schlüsselwörter
Design Thinking

Dokumentation

Kollaborative Kreativität

Softwareunterstützung
Keywords
Design Thinking

Documentation

Collaborative Creativity

Tool-support