Zusammenfassung
Zur Wartung einer Flotte, etwa für den Flug‑, See-, oder Schienenverkehr, sind Maintenance Repair und Overhaul (MRO, deutsch: Wartung, Reparatur und Betrieb) Unternehmen auf eine sichere und schnelle Ersatzteilversorgung angewiesen. Um Ausfallzeiten zu minimieren, werden defekte Teile kurzfristig ausgetauscht. Anschließend werden die ausgetauschten Teile repariert oder überholt. Überschüssige Teile werden in einem Sekundärmarkt gehandelt. Dem Teilekreislauf werden neue Teile zugeführt und letztlich obsolete Teile zur Verschrottung entnommen. In diesem Beitrag liegt der Fokus auf der Luftfahrtindustrie.
Eine besondere Bedeutung kommt den sicherheitsrelevanten Ersatzteilen zu, die wiederum eine lückenlose Lebenszyklusdokumentation aller Werkstattereignisse aufweisen müssen, um weiter verwendbar zu bleiben. Die aktuelle Dokumentationspraxis ist durch manuelle Erfassung und analoge Speicherung geprägt, was zu einer hohen Unsicherheit durch manipulierbare, fehleranfällige und unvollständige Dokumentation und somit unnötigen Verschrottung von wertvollen Ersatzteilen führt. Ein funktionierender Sekundärmarkt ist vor diesem Hintergrund nur sehr eingeschränkt möglich.
Eine Möglichkeit, diese Intransparenz zu adressieren, ist die Dokumentation von Werkstattereignissen in einer zutrittsbeschränkten (engl. permissioned) Blockchain. In diesem Beitrag wird ein theoretisches Transaktionsflussmodell basierend auf dem Hyperledger Fabric Framework vorgeschlagen, das die genannten besonderen Anforderungen der Geschäftsprozesse der MRO-Anbieter in der Luftfahrtindustrie berücksichtigt. Die praktische Relevanz der Problemstellung und die Anwendbarkeit der Lösung wird durch eine enge Zusammenarbeit mit einem der führenden MRO-Anbieter (anonym) sichergestellt.
Abstract
For the maintenance of a fleet, such as for air, sea or rail traffic, maintenance repair and overhaul (MRO) companies depend on a secure and fast spare parts supply. To minimize downtime, defective parts are replaced at short notice. Subsequently, the replaced parts are repaired or overhauled. Surplus parts are traded in a secondary market. The parts cycle is fed new parts and finally obsolete parts are removed for scrapping. This article focuses on the aviation industry.
Of particular importance are safety-relevant spare parts, which must have a complete back-to-birth documentation of all workshop events in order to remain usable. The current documentation practice is characterized by manual capture and analog storage, resulting in high uncertainty due to manipulatable, error-prone and incomplete documentation and thus unnecessary scrapping of valuable spare parts. A functioning secondary market is only possible to a very limited extent with this background.
One possibility to address this lack of transparency is the documentation of workshop events in a permissioned blockchain. This paper proposes a theoretical transaction flow architecture based on the Hyperledger Fabric Framework that addresses the specific needs of the business processes of MRO companies in the aviation industry. The practical relevance of the problem and the applicability of the solution is ensured by close cooperation with one of the leading MRO providers (anonymous).
This is a preview of subscription content, log in to check access.
Access options
Buy single article
Instant access to the full article PDF.
US$ 39.95
Price includes VAT for USA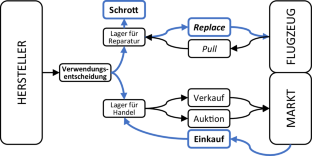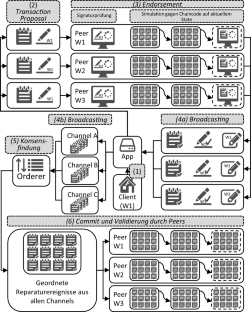 Notes
1.

Airbus Press Office 2017: Facts & Figures, Juni 2017.

2.

Diese Anforderungen ergeben sich durch die jeweiligen Luftfahrtbehörden (z. B. EASA in Europa oder FAA in den USA).

3.

Eine detaillierte Übersicht über Konsensverfahren in Blockchains findet sich in Zheng et al. (2017).

4.

5.

6.

7.

Die Zusammenhänge zwischen Teilewert und Verwendung werden ausführlich in Wickboldt und Kliewer (2018) beschrieben.

8.

9.
Literatur
Abeyratne SA, Monfared RP (2016) Blockchain ready manufacturing supply chain using distributed ledger. Int J Res Eng Technol 5(09):1–10. https://doi.org/10.15623/ijret.2016.0509001

Androulaki E, Barger A, Bortnikov V, Cachin C, Christidis K, De Caro A, Enyeart D, Ferris C, Laventman G, Manevich Y (2018) Hyperledger fabric: A distributed operating system for permissioned blockchains. In: Proceedings of the thirteenth EuroSys conference. ACM, New York, S 30 https://doi.org/10.1145/3190508.3190538

Blumberg DF (2005) Introduction to management of reverse logistics and closed loop supply chain processes. CRC Press, Boca Raton

Buterin V (2014) A next-generation smart contract and decentralized application platform. https://github.com/ethereum/wiki/wiki/White-Paper. Zugegriffen: 17. Apr. 2018

Cachin C (2016) Architecture of the hyperledger blockchain fabric. https://www.zurich.ibm.com/dccl/#program (Workshop on Distributed Cryptocurrencies and Consensus Ledgers)

Christidis K, Devetsikiotis M (2016) Blockchains and smart contracts for the Internet of things. IEEE Access 4:2292–2303. https://doi.org/10.1109/ACCESS.2016.2566339

Eaves AHC, Kingsman BG (2004) Forecasting for the ordering and stock-holding of spare parts. J Oper Res Soc 55(4):431–437. https://doi.org/10.1057/palgrave.jors.2601697

Ethereum (2017) Consortium chain development. https://github.com/ethereum/wiki/wiki/Consortium-Chain-Development. Zugegriffen: 21. Mai 2018

Glaser F (2017) Pervasive decentralisation of digital infrastructures: A framework for Blockchain enabled system and use case analysis. In: Proceedings of the 50th Hawaii international conference on system sciences 2017. HICSS, Manoa, S 1543–1552. ISBN 978-0998133102 (https://pdfs.semanticscholar.org/859d/0535e16095f274df4d69df54954b21258a13.pdf)

Group HAW (2018) Hyperledger architecture. https://www.hyperledger.org/wp-content/uploads/2018/04/Hyperledger_Arch_WG_Paper_2_SmartContracts.pdf. Zugegriffen: 21. Mai 2018

Hevner AR, March ST, Park J, Ram S (2004) Design science in information systems research. MIS Q 28(1):75–105. https://doi.org/10.2307/25148625

Nakamoto S (2008) Bitcoin: A Peer-to-Peer electronic cash system. https://bitcoin.org/bitcoin.pdf. Zugegriffen: 1. Mai 2018

Nofer M, Gomber P, Hinz O, Schiereck D (2017) Blockchain. Bus Inf Syst Eng 59(3):183–187. https://doi.org/10.1007/s12599-017-0467-3

van Renesse R, Guerraoui R (2010) Replication techniques for availability. In: Charron-Bost B, Pedone F, Schiper A (Hrsg) Replication: Theory and practice. Replication: Theory and practice, Bd. 5959. Springer, Berlin, Heidelberg, S 19–40 https://doi.org/10.1007/978-3-642-11294-2

Schneider FB (1990) Implementing fault-tolerant services using the state machine approach: A tutorial. ACM Comput Surv 22(4):299–319. https://doi.org/10.1145/98163.98167

Szabo N (1997) Formalizing and securing relationships on public networks. First Monday 2(9). https://doi.org/10.5210/fm.v2i9.548

Wickboldt C, Kliewer N (2018) Value based pricing meets data science: A concept for automated spare part valuation. MKWI 2018, Lüneburg. Leuphana Universität, Lüneburg (Vortrag)

Zheng Z, Xie S, Dai H, Chen X, Wang H (2017) An overview of blockchain technology: Architecture, consensus, and future trends. In: Big data (bigdata congress) 2017 IEEE International Congress. IEEE, New York, S 557–564 https://doi.org/10.1109/BigDataCongress.2017.85
About this article
Cite this article
Wickboldt, C., Kliewer, N. Blockchain zur dezentralen Dokumentation von Werkstattereignissen in der Luftfahrtindustrie. HMD 55, 1297–1310 (2018). https://doi.org/10.1365/s40702-018-00452-y
Received:

Accepted:

Published:

Issue Date:
Schlüsselwörter
Blockchain

Hyperledger

Smart Contract

Ersatzteil

Luftfahrtindustrie

Werkstattereignis
Keywords
Blockchain

Hyperledger

Smart Contract

Spare Part

Aerospace Industry

Maintenance Event