Zusammenfassung
Die Arbeit insgesamt ist von den Verwerfungen der Digitalisierung betroffen. Das gilt sowohl für Berufsgruppen, die ihre Tätigkeiten bisher weitgehend ohne Einsatz von IT verrichten konnten, als auch für jene die bei Bürotätigkeiten bereits intensiv auf digitalen Arbeitsmitteln zurückgreifen. So schlägt sich der technische Fortschritt zunehmend in Möglichkeiten der Ausgestaltung der Arbeitsplätze nieder. Insbesondere eröffnen sich Potenziale für eine stärkere Vernetzung von Wissensträgern sowie schnellere und stärker ubiquitäre Kommunikation und Kollaboration. Bisher bleibt die tatsächliche Nutzung von IT unterstützten Formen der Zusammenarbeit hinter ihren technischen Möglichkeiten zurück. Dies liegt auch daran, dass die angebotenen Services und Funktionalitäten die Anforderungen der End-User, der Mitarbeiter, nur unzureichend erfüllen. Dieser Beitrag bewertet die Relevanz der Anforderungen, die die aktuelle Literatur für den kollaborativen Arbeitsplatz vorschlägt, aus Sicht der Nutzer. Dafür werden die Anforderungen mit dem Kano Modell der Kundenzufriedenheit klassifiziert. Im Ergebnis entsteht ein klar priorisierter Anforderungskatalog an den vernetzten Arbeitsplatz.
Abstract
The increasing digitalization impacts on the working environment causing substantial changes. This applies to almost every occupational group, to workers who perform without using any IT support, as well as to those who already use digital tools for their working practices intensively. The technological progress opens up new potentials for the networking of knowledge holders and faster and stronger ubiquitous communication and collaboration. However, the use of IT for collaboration purposes still lags behind its technical opportunities, often because regardless of the end-user's requirements to services or tools. This article rates requirements to the collaborative workplace from a user perspective, which derive from the current literature. The Kano model will be used to categorize the requirements. The outcome is a prioriotized catalogue of requirements to the collaborative workplace.
We're sorry, something doesn't seem to be working properly.
Please try refreshing the page. If that doesn't work, please contact support so we can address the problem.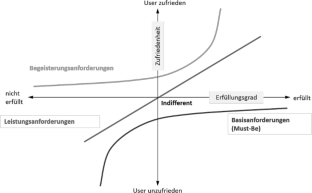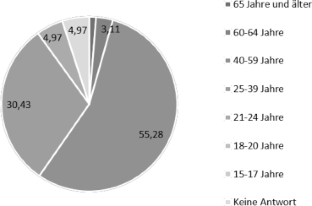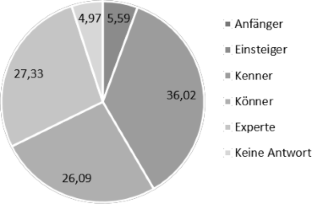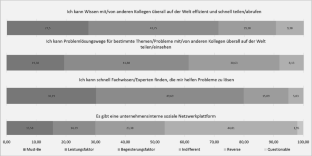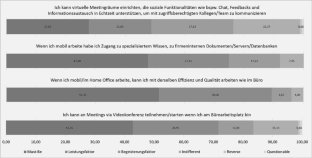 Literatur
Abelein U, Paech B (2015) Understanding the Influence of User Participation and Involvement on System Success – a Systematic Mapping Study. J Empir Softw Eng 20:28–81

Bitkom (2016) Bitkom Digital Office Index. Eine Untersuchung zum Stand der Digitalisierung in deutschen Unternehmen. https://www.bitkom.org/Bitkom/Publikationen/Ergebnisbericht-zur-Studie-Bitkom-Digital-Office-Index.html. Zugegriffen: 30. Mai 2017

BMAS (2016) Digitalisierung am Arbeitsplatz. Aktuelle Ergebnisse einer Betriebs- und Beschäftigtenbefragung. Bundesministerium für Arbeit und Soziales. http://www.bmas.de/SharedDocs/Downloads/DE/PDF-Publikationen/a875-monitor-digitalisierung-am-arbeitsplatz.pdf. Zugegriffen: 25. Mai 2017

Campana & Schott, Technische Universität Darmstadt (2016) Deutsche Social Collaboration Studie 2016. https://www.campana-schott.com/de/de/social-collaboration-studie/. Zugegriffen: 16. Dez. 2016

Cohn M (2010) User Stories für die agile Software-Entwicklung mit Scrum, XP u.a. mitp-Verlag, Heidelberg

Glitsch JH, Schubert P (2016) Use Cases and Collaboration Scenarios: how employees use socially-enabled Enterprise Collaboration Systems (ECS). Int J Inf Syst Proj Manag 4(2):41–62

Hölzing JA (2007) Die Kano-Theorie der Kundenzufriedenheitsmessung. Eine theretische und empirische Überprüfung. Gabler, Wiesbaden

Klaffke M (Hrsg) (2016) Arbeitsplatz der Zukunft. Gestaltungsansätze und Good-Practice-Beispiele. Springer Gabler, Wiesbaden

Klaffke S, Reinheimer S (2016) Enterprise 2.0 – Gestaltung der Büro-Informations- und Kommunikationstechnologie. In: Klaffke M (Hrsg) Arbeitsplatz der Zukunft. Gestaltungsansätze und Good-Practice-Beispiele. Springer Gabler, Wiesbaden, S 141–167

Koch M, Mörl S, Richter A, Trier M (2011) Anwendungsszenarien als Werkzeug zur (V)Ermittlung des Nutzens von Corporate Social Software. Proceedings of the 10th International Conference Wirtschaftsinformatik (WI)., Zurich, S 1104–1113. https://aisel.aisnet.org/wi2011/5

Köffer S (2015) Designing the digital workplace of the future – what scholars recommend to practitioners. Paper presented at the 36th International Conference on Information Systems (ICIS), 13–16 Dec, Fort Worth (USA), Cross-Cultural Design: 8th International Conference, CCD 2016

Köffer S, Urbach N (2016) Die Digitalisierung der Wissensarbeit – Handlungsempfehlungen aus der Wirtschaftsinformatik-Forschung. Hmd-praxis Wirtschaftsinformatik 53(1):5–15

Matzler K, Sauerwein E (2002) The factor structure of customer satisfaction. Empir Test Importance Grid Penal Analysis Int J Serv Ind Manag 13(4):314–332

PAC (2017) Digital Workplace in Europe. Objectives, status quo and investment plans. Hg. v. PAC https://www.pac-online.com/trend-report-digital-workplace-europe. Zugegriffen: 14. Mai 2017

Riemer K, Scifleet P (2012) Enterprise Social Networking in Knowledge-intensive Work Practices: A Case Study in a Professional Service Firm. In: Proceedings of the 23rd Australasian Conference on Information Systems (ACIS), Geelong, S. 1–12

Solomon C (2016) Trends in Global Virtual Teams. Virtual Teams Survey Report-2016. RW3 http://cdn.culturewizard.com/PDF/Trends_in_VT_Report_4-17-2016.pdf. Zugegriffen: 30. Mai 2017

Urbach N, Ahlemann F (2016) Der Wissensarbeitsplatz der Zukunft: Trends, Herausforderungen und Implikationen für das strategische IT-Management. HMD: Praxis der Wirtschaftsinformatik 53(1):16–28

Wirdemann R (2011) Scrum mit User Stories. Carl Hanser, München
About this article
Cite this article
Schmidt, C., Piccin, C. Anforderungen an den kollaborativen Arbeitsplatz. HMD 54, 874–886 (2017). https://doi.org/10.1365/s40702-017-0371-9
Received:

Accepted:

Published:

Issue Date:
Schlüsselwörter
Digitaler Arbeitsplatz

Anforderungsmanagement

Anforderungsanalyse

Kano Modell

User Stories
Keywords
Digital workplace

Requirements management

Requirements analysis

Kano model

User Stories