Zusammenfassung
In Deutschland wird das Wirtschaftswachstum vor allem durch kleine und mittlere Unternehmen (KMU) bestimmt, welche durch ihre Innovationsfähigkeit und Erfahrung eine wichtige Stütze der Wirtschaft sind. Im Kontext des digitalen Wandels finden sich diese Unternehmen jedoch im Spannungsfeld zwischen der langfristigen strategischen Ausrichtung und tiefgreifenden (Ver‑)Änderungen durch eine zunehmende und vor allem rasch voranschreitende Digitalisierung wieder. Aktuelle Artikel und Diskussionen zeigen, dass der digitale Wandel bereits in deutschen Unternehmen angekommen ist bzw. diese aktuell damit konfrontiert sind, wobei weiterhin zahlreiche offene Fragen und Herausforderungen bestehen. Im Rahmen dieser Diskussionen ist auch die Aussage zu finden, dass durch die Digitalisierung ein Enabler für eine agilere Arbeitsweise geschaffen wird bzw. geschaffen werden könnte. Dies aufgreifend wird im vorliegenden Artikel untersucht und diskutiert, wie weit der digitale Wandel bereits deutsche KMU durchdrungen hat und welche Auswirkungen dabei bereits heute bezogen auf die Agilität der Arbeitsweise dieser KMU resultieren.
Abstract
The economic growth in Germany is mainly determined by small and medium-sized enterprises (SMEs) which are an important pillar of the economy through their innovation capabilities and experience. In the context of the digital transformation, these companies stuck between long-term strategic orientation and profound changes through an increasing and rapidly advancing digitalization. Current articles and discussions show that digital transformation has already arrived in German companies or that they are currently facing those challenges, however, with still numerous open questions and challenges remaining. These discussions also state that an enabler for a more agile way of working is created or could be created through digitalization. Therefore, this article presents the results of a study focusing to which extent digital transformation has already penetrated German SMEs and its impact on the agility of those companies.
Access options
Buy single article
Instant access to the full article PDF.
US$ 39.95
Tax calculation will be finalised during checkout.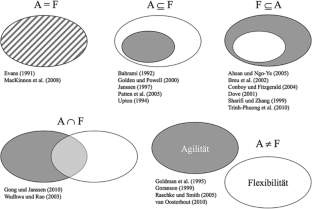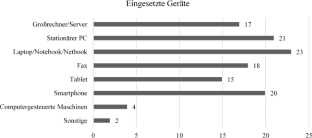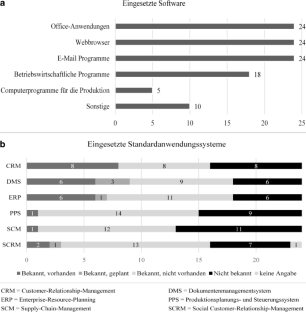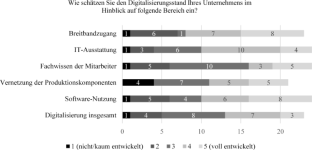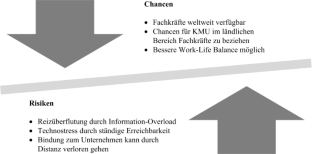 Literatur
Abel J, Ittermann P, Pries L (2005) Erwerbsregulierung in hochqualifizierter Wissensarbeit – individuell und kollektiv, diskursiv und partizipativ. Ind Bezieh 12:28–50

Appelo J (2011) Management 3.0: leading agile developers, developing agile leaders. Addison-Wesley, Upper Saddle River

Arnold H (2016) Digitalisierung der Unternehmensführung: Fallstudie und Plädoyer für mehr Mut in einer flachen Führung und Organisation. ZfO Z Führ Organ 85:330–336

Bair JH (1985) Personal computers and the office of the future. Telemat Inform 2:113–117. https://doi.org/10.1016/S0736-5853(85)80003-4

Bley K, Leyh C (2016) Status Quo der Digitalisierung deutscher Industrieunternehmen – Eine Studie ausgewählter Unternehmen. Proc. zur Multikonferenz Wirtschaftsinformatik, MKWI 2016, S 1651–1662

Bley K, Leyh C, Schäffer T (2016) Digitization of German enterprises in the production sector – do they know how "digitized" they are? Proc. of the 22nd Americas Conference on Information Systems (AMCIS 2016).

Chinying Lang J (2001) Managing in knowledge-based competition. J Organ Change Manag 14:539–553. https://doi.org/10.1108/EUM0000000006145

Di Domenico M, Daniel E, Nunan D (2014) "Mental mobility" in the digital age: entrepreneurs and the online home-based business. N Technol Work Employ 29:266–281. https://doi.org/10.1111/ntwe.12034

Gloger B, Rösner D (2014) Selbstorganisation braucht Führung: die einfachen Geheimnisse agilen Managements. Hanser, München

Köffer S (2015) Designing the digital workplace of the future – what scholars recommend to practitioners. Proc. of the International Conference on Information Systems 2015 (ICIS 2015).

Köffer S, Urbach N (2016) Die Digitalisierung der Wissensarbeit – Handlungsempfehlungen aus der Wirtschaftsinformatik-Forschung. HMD Prax Wirtsch 53:5–15. https://doi.org/10.1365/s40702-015-0201-x

Leyh C, Bley K (2016) Digitalisierung: Chance oder Risiko für den deutschen Mittelstand? – Eine Studie ausgewählter Unternehmen. HMD Prax Wirtsch 53:29–41. https://doi.org/10.1365/s40702-015-0197-2

Lu Y, Ramamurthy K (2011) Understanding the link between information technology capability and organizational agility: An empirical examination. MIS Q 35:931–954

Ludwig T, Kotthaus C, Stein M et al (2016) Arbeiten im Mittelstand 4.0 – KMU im Spannungsfeld des digitalen Wandels. HMD Prax Wirtsch 53:71–86. https://doi.org/10.1365/s40702-015-0200-y

Oldham GR, Da SN (2015) The impact of digital technology on the generation and implementation of creative ideas in the workplace. Comput Human Behav 42:5–11. https://doi.org/10.1016/j.chb.2013.10.041

Prifti L, Knigge M, Kienegger H, Krcmar H (2017) A competency model for "Industrie 4.0" employees. Proc. der Internationalen Tagung Wirtschaftsinformatik 2017 (WI 2017).

Sambamurthy V, Bharadwaj A, Grover V (2003) Shaping agility through digital options: reconceptualizing the role of information technology in contemporary firms. MIS Q 27:237–263

Schrauzer S (2016) Computerisierung in der globalen Softwareentwicklung – Eine arbeitsmethodische Betrachtung. HMD Prax Wirtsch 53:42–54. https://doi.org/10.1365/s40702-015-0194-5

Summa L (2016) Digitale Führungsintelligenz. In: Summa L (Hrsg) Digitale Führungsintelligenz: "Adapt to win" – Wie Führungskräfte sich und ihr Unternehmen fit für die digitale Zukunft machen. Springer, Wiesbaden, S 151–169

Termer F (2016) Determinanten der IT-Agilität: Theoretische Konzeption, empirische Analyse und Implikationen. Springer, Wiesbaden

Termer F, Nissen V (2014) Zum Begriff der Agilität: Betrachtungen und Implikationen aus etymologischer Perspektive. Ilmenauer Beiträge zur Wirtschaftsinformatik, Arbeitsbericht 2014-04.

Urbach N, Ahlemann F (2016) Der Wissensarbeitsplatz der Zukunft: Trends, Herausforderungen und Implikationen für das strategische IT-Management. HMD Prax Wirtsch 53:16–28. https://doi.org/10.1365/s40702-015-0192-7

von Rennenkampff A (2015) Management von IT-Agilität – Entwicklung eines Kennzahlensystems zur Messung der Agilität von Anwendungslandschaften. Dissertation, Technische Universität Ilmenau

Watts Perotti J, Wall P, McLaughlin G (2010) The future of knowledge work: predictions for 2020. Horizon 18:213–221. https://doi.org/10.1108/10748121011072663

White M (2012) Digital workplaces: vision and reality. Bus Inf Rev 29:205–214. https://doi.org/10.1177/0266382112470412

Wirtschaftsrat der CDU e. V. (2014) Fortschritt durch Digitalisierung – Chancen für den Mittelstand. http://www.wirtschaftsrat.de/wirtschaftsrat.nsf/id/fortschritt-durch-digitalisierung--chancen-fuer-den-mittelstand-de/$file/WR-Studie. Zugegriffen: 31. Aug. 2015
Anhang
Anhang
About this article
Cite this article
Lindner, D., Ott, M. & Leyh, C. Der digitale Arbeitsplatz – KMU zwischen Tradition und Wandel. HMD 54, 900–916 (2017). https://doi.org/10.1365/s40702-017-0370-x
Received:

Accepted:

Published:

Issue Date:
Schlüsselwörter
Wissensarbeit

KMU

Digitalisierung

Mittelstand

Digitaler Arbeitsplatz

Agilität
Keywords
Knowledge work

SME

Digitization

Digitalization

Small- and medium-sized enterprises

Digital workplace

Agility