Zusammenfassung
Gegenwärtig ist die Gestaltung des digitalen Wissensarbeitsplatzes eine in Forschung und Praxis viel diskutierte Thematik. Neben Aspekten wie Kollaboration, Virtualisierung oder mobilen Arbeitsmodellen stellt die Frage nach einer nutzerorientierten Hardwareausstattung eine häufig angesprochene Facette innerhalb der Diskussion dar. Während sich einige Wissenschaftler und Praktiker für eine hohe Nutzerautonomie in Bezug auf die Auswahl von Hardware am Arbeitsplatz aussprechen, raten andere den Unternehmen die Steuerung über den Prozess der Hardwareauswahl aus Sicherheits- und Kontrollgründen nicht zu verlieren. Unternehmen finden sich dadurch in einem Zwiespalt wieder: Zum einem möchten sie ihren Mitarbeitern mehr Autonomie und Freiheit hinsichtlich der Auswahl von Hardware ermöglichen. Zum anderen ist ein Mindestmaß an Kontrolle von Seiten der Unternehmen aufgrund von Sicherheitsaspekten und Compliance unerlässlich. Unter Anwendung der Design Science Research Methode entwickeln wir im Rahmen des Projekts "MyWorkplace" einen bedürfnisbasierten Hardwarekonfigurator mit dem Ziel, die Interessen von Mitarbeitern und Unternehmen in Bezug auf die Hardwareauswahl am Arbeitsplatz zu harmonisieren. Der wissenschaftliche Beitrag des Projekts lässt sich in das bisweilen sehr wenig beleuchtete Forschungsgebiet des "Choose your own Device" eingliedern.
Abstract
The design of the digital workplace is currently discussed by various researchers and scholars. In addition to aspects like collaboration, virtualization or mobile working models, the provision of a user-oriented hardware equipment is a key feature and thus always part of vivid discussions. While some researchers and practitioners advocate user autonomy regarding the selection of the workplace hardware, others advice enterprises to keep governance in terms of hardware selection due to safety and control reasons. This is why companies face conflicts: On the one hand they want to allow their workers more independence and autonomy regarding the selection of hardware. On the other hand they want to keep a minimum of governance because of safety and compliance issues. In our ongoing research project called "MyWorkplace" we are following the Design Science Research Methodology in order to develop and design a need-based configurator prototype for the selection of knowledge worker's workplace hardware. The configurator shall serve as a solution for the conflict described above and consider the interests of employees and employers. This work shall serve as a contribution for the until now rather unexplored research area of "Choose your own Device".
Access options
Buy single article
Instant access to the full article PDF.
USD 39.95
Price excludes VAT (USA)
Tax calculation will be finalised during checkout.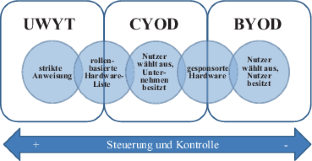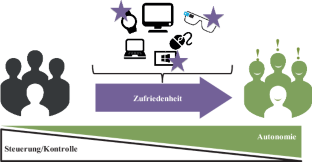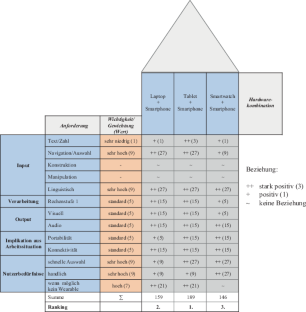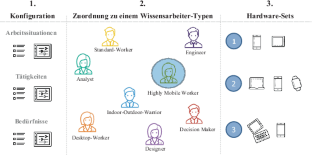 Literatur
Akao Y (1990) Quality function deployment: integrating customer requirements into product design. Productivity Press, Cambridge

Bernstein M (2010) Knowledge work 2020. The future of knowledge work and what it might mean to each of you

Bowman DA, Hodges LF (1999) Formalizing the design, evaluation, and application of interaction techniques for immersive virtual environments. J Vis Lang Comput 10:37–53. https://doi.org/10.1006/jvlc.1998.0111

Brodin M (2016) BYOD VS. CYOD – What is the difference? Proceedings of the ninth IADIS International Conference Information Systems.

Chang LK, Wu ML (2002) Quality function deployment: a literature review. Eur J Oper Res 143:463–497

Davenport TO (1999) Human capital: what it is and why people invest it, 1. Aufl. Jossey-Bass, San Francisco

David B, David B, Champalle O, Masserey G, Chalon R (2007) From task model to wearable computer configuration. In: Winckler M, Johnson H, Palanque P (Hrsg) Task models and diagrams for user interface design. TAMODIA 2007. Lecture notes in computer science, Bd. 4849. Springer, Berlin, Heidelberg, S 261–266

Davis GB (2003) Affordances of ubiquitous computing and productivity in knowledge work. Workshop on Ubi-quitous Computing Environments.

Foley JD (Hrsg) (1996) Computer graphics: principles and practice, 2. Aufl. Addison-Wesley, Boston

Forward A, Lethbridge TC (2008) A taxonomy of software types to facilitate search and evidence-based software engineering. Proceedings of the 2008 conference of the center for advanced studies on collaborative research: meeting of mind. https://doi.org/10.1145/1463788.1463807

Franke N, Keinz P, Steger C (2009) Testing the value of customization: when do customers really prefer products tailored to their preferences? J Mark 73:103–121

Gerards M, Siems FU, Antons D et al (2011) Configurator-based product choice in online retail - transferring mass customization thinking to services in retail. Proceedings of the thirty second International Conference on Information Systems.

van Heck E, van Baalen P, van der Meulen N, van Oosterhout M (2012) Achieving high performance in a mobile and green workplace: lessons from Microsoft Netherlands. MIS Q Exec 11:175–188

Heinecke AM (2012) Mensch-Computer-Interaktion - Basiswissen für Entwickler und Gestalter. Springer, Berlin, Heidelberg

von Hippel E (2001) Perspective: user toolkits for innovation. J Prod Innov Manag 18:247–257

Holsapple CW, Jones K (2004) Exploring primary activities of the knowledge chain. Knowl Process Manag 11:155–174. https://doi.org/10.1002/kpm.200

Köffer S (2015) Designing the digital workplace of the future – what scholars recommend to practitioners. Proceedings of the thirdy sixth International Conference on Information Systems.

Köffer S, Urbach N (2016) Die Digitalisierung der Wissensarbeit – Handlungsempfehlungen aus der Wirtschaftsinformatik-Forschung. HMD Prax Wirtschaftsinform 53:5–15. https://doi.org/10.1365/s40702-015-0201-x

de Kok A, Lubbers Y, Helms RW (2015) Mobility and security in the new way of working: employee satisfaction in a Choose Your Own Device (CYOD) environment. Proceedings of the ninth Mediterranean Conference on Information Systems.

LaViola JJ, Kruijff E, McMahan RP et al (2017) 3D user interfaces: theory and practice, 2. Aufl. Addison-Wesley, Boston, Amsterdam, London

Piller FT (2004) Mass customization: reflections on the state of the concept. Int J Flex Manuf Syst 16:313–334

Randall T, Terwiesch C, Ulrich KT (2007) User design of customized products. Mark Sci 26:268–280. https://doi.org/10.1287/mksc.1050.0116

Reinhardt W, Schmidt B, Sloep P, Drachsler H (2011) Knowledge worker roles and actions-results of two empirical studies. Knowl Process Manag 18:150–174. https://doi.org/10.1002/kpm.378

Saaty TL (1980) The analytic hierarchy process. McGraw-Hill, New York

Salvador F, de Holan PM, Piller FT (2009) Cracking the code of mass customization. MIT Sloan Manag Rev 50:70–79

Tang H, Lee CBP, Choong KK (2017) Consumer decision support systems for novice buyers – a design science approach. Inf Syst Front 19:881–897. https://doi.org/10.1007/s10796-016-9639-9

Urbach N, Ahlemann F (2016) Der Wissensarbeitsplatz der Zukunft: Trends, Herausforderungen und Implikationen für das strategische IT-Management. HMD Prax Wirtschaftsinform 53:16–28. https://doi.org/10.1365/s40702-015-0192-7

Wang CH, Chen JN (2012) Using quality function deployment for collaborative product design and optimal selection of module mix. Comput Ind Eng 63:1030–1037

Ziaei H, Wobcke W, Wong A (2012) User-oriented product search based on consumer values and lifestyles. Knowledge Management and Acquisition for Intelligent Systems, Kuching, 05.–06.09.2012, S 313–327
About this article
Cite this article
Zrinscak, S., Perl, A. & Robra-Bissantz, S. Choose your own Devices. HMD 54, 887–899 (2017). https://doi.org/10.1365/s40702-017-0369-3
Received:

Accepted:

Published:

Issue Date:

DOI: https://doi.org/10.1365/s40702-017-0369-3
Schlüsselwörter
New Ways of Working

Digitaler Arbeitsplatz

Arbeitsplatz der Zukunft

Choose your own Devices

Bedürfnisbasierter Konfigurator

Hardwareauswahl am Arbeitsplatz
Keywords
New ways of working

Digital workplace

Future workplace

Choose your own devices

Need-based configurator

Hardware-selection