Zusammenfassung
Digital Nudging ist ein neues Konzept, das zum Ziel hat, Nutzungsverhalten ohne Zwang oder Täuschung zu steuern. Bisher wurden die Potenziale dieses Ansatzes im Arbeitskontext jedoch nur wenig betrachtet. Gerade bei der Einführung neuer Technologien, wie Kommunikations- und Kollaborationssystemen, die freiwillig und selbstgesteuert durch die Arbeitnehmer verwendet werden, bietet Digital Nudging große Potenziale.
Der vorliegende Beitrag betrachtet die Einführung von Skype for Business in einem deutschen international agierenden Automobilzulieferer und diskutiert, wie Digital Nudging genutzt werden kann, um Nutzungshemmnisse abzubauen. Die dargestellten Ergebnisse basieren auf semistrukturierten Interviews und zeigen, dass das IT-Managements Bedürfnisse und Präferenzen der Mitarbeiter oftmals nicht richtig einschätzt und diese Veränderungen grundsätzlich positiver gegenüberstehen, als vom Management angenommen.
Digital Nudging kann in diesem Kontext dazu beitragen, die Adaption neuer Technologien zu beschleunigen und weite Teile der Belegschaft zu erreichen. Die Autoren stellen hierzu verschiedene Elemente von Digital Nudges vor und gehen auf deren Interventionsgrade ein. Auf Basis der durchgeführten Interviews werden zudem Informationen dazu bereitgestellt, welche Arten von Nudges die größte Akzeptanz bei Mitarbeitern erfahren und daher für einen Einsatz im Unternehmen besonders geeignet sind.
Abstract
Digital Nudging is a new concept, which aims at steering user behavior without coercion or deception. Still, this innovative approach and its potentials have not yet been studied thoroughly in the context of the digital workplace. Digital Nudging is well-suited for introducing new technologies like communication and collaboration systems that require user acceptance in a voluntary setting.
In this article, we study the implementation of Skype for Business in a German, internationally operating supply firm for the automotive sector and discuss the potentials of Digital Nudging to reduce barriers in the adoption process. Based on semi-structured interviews, we show that the IT-management often evaluate users' requirements and needs not properly and that users are more open to changes at the digital workplace than previously expected.
In this context, Digital Nudging can contribute to the technology adoption by expediting the process and reaching a broader user base. To this end, we propose different elements of Digital Nudges and elaborate on their degree of intervention. We further provide information about which nudge types are accepted by the interviewed users and which are, therefore, most appropriate for the application in the business context.
Access options
Buy single article
Instant access to the full article PDF.
US$ 39.95
Tax calculation will be finalised during checkout.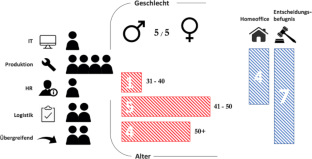 Literatur
Afreen R (2014) Bring your own device (BYOD) in higher education: opportunities and challenges. Int J Emerg Trends Technol Comput Sci 3(1):233–236

Bonnet D, Puram AD, Buvat J (2015) Organizing for digital: why digital dexterity matters. https://www.capgemini.com/consulting/resources/digital-organizations/. Zugegriffen: 10.10.2017

Capgemini (2013) The new digital workplace: employee productivity, brand image, business value. https://www.capgemini.com/consulting-fr/resources/digital-workplace-transformation/. Zugegriffen: 10.10.2017

Jacquemont D, Maor D, Reich A (2015) How to beat the transformation odds. http://www.mckinsey.com/business-functions/organization/our-insights/how-to-beat-the-transformation-odds. Zugegriffen: 20. Aug. 2017

Kahneman D (2011) Thinking, fast and slow. Penguin Books, London, GB

Klewes J, Popp D, Rost-Hein M (2017) Out-thinking organizational communications. Springer, Cham

Köffer S (2015) Designing the digital workplace of the future: what scholars recommend to practitioners. Proceedings of the 36th International Conference on Information Systems (ICIS), Fort Worth

Meske C, Potthoff T (2017) The DINU-model – a process model for the design of nudges. Proceedings of the 25th European Conference on Information Systems (ECIS), Guimarães, Portugal, S 2587–2597

Meske C, Kissmer T, Stieglitz S (2016) Einfluss von Demographie und Führungsverantwortung auf die Adaption von Technologien zur Unterstützung organisationaler Ad-hoc-Kommunikation. In: Nissen V, Stelzer D, Straßburger S, Fischer D (Hrsg) Multikonferenz Wirtschaftsinformatik (MKWI) 2016: Technische Universität Ilmenau, 09.–11. März 2016. Universitätsverlag, Ilmenau

Mirsch T, Lehrer C, Jung R (2017) Digital nudging: altering user behavior in digital environments. In: Leimeister JM, Brenner W (Hrsg) Proceedings der 13. Internationalen Tagung Wirtschaftsinformatik (WI 2017), St. Gallen, Schweiz, S 634–648

Moqbel M (2012) Understanding workplace adoption of social networking sites: employers' perspective. Stud Bus Econ 16(2):37–54

Niehaves B, Plattfaut R (2014) Internet adoption by the elderly: employing IS technology acceptance theories for understanding the age-related digital divide. Eur J Inf Syst 23(6):708–726

Reisch LA, Sunstein CR (2016) Do Europeans like nudges? Judgm Decis Mak 11(4):310–325. https://doi.org/10.1017/CBO9781107415324.004

Shahrasbi S, Paré G (2015) Inside the "black box": investigating the link between organizational readiness and IT implementation success. Proceedings of the 36th International Conference on Information Systems (ICIS), Fort Worth.

Shirish A, Chandra S, Srivastava S (2017) Watch out – it's my private space! Examining the influence of technology driven intrusions on employee performance. Proceedings of the 50th Hawaii International Conference on System Sciences (HICSS), S 5802–5811

Stieglitz S (2015) Gamification – Vorgehen und Anwendung. HMD Prax Wirtschaftsinform 52(6):816–825. https://doi.org/10.1365/s40702-015-0185-6

Thaler RH, Sunstein CR (2009) Nudge. Int'l. Penguin Books, London

Weinmann M, Schneider C, vom Brocke J (2016) Digital nudging. Bus Inf Syst Eng 58(6):433–436. https://doi.org/10.1007/s12599-016-0453-1
About this article
Cite this article
Stieglitz, S., Potthoff, T. & Kißmer, T. Digital Nudging am Arbeitsplatz. HMD 54, 965–976 (2017). https://doi.org/10.1365/s40702-017-0367-5
Received:

Accepted:

Published:

Issue Date:
Schlüsselwörter
Digital Nudging

Technologieadaption

Technologieakzeptanz

Skype for Business
Keywords
Digital Nudging

Technology acceptance

Skype for Business