Zusammenfassung
Veränderungsdruck durch technologischen Fortschritt wirkt sich in Unternehmen auch auf die technischen Anforderungen an betriebliche IT-Arbeitsplätze aus. Das zunehmende Tempo der Digitalisierung mit immer neuen Technikinnovationen verstärkt diese Wirkung weiter. Vor dem Hintergrund des technisch Machbaren und wirtschaftlich Sinnvollen ergibt sich die Frage, wie ein systematisches Vorgehen zur Erkennung, Auswahl und Umsetzung von Technikinnovationen für IT-Arbeitsplätze gestaltet werden kann, um die Wettbewerbsfähigkeit eines Unternehmens sicherzustellen. Der Beitrag untersucht zunächst den Einfluss der Digitalisierung auf die Weiterentwicklung von IT-Arbeitsplätzen. Nach einem kurzen Überblick über Methoden für die Innovationserkennung und -bewertung wird anhand einer Fallstudie die praktische Anwendung der Methoden unter den Rahmenbedingungen der Digitalisierung bei der Deutschen Telekom beschrieben und analysiert. Der Beitrag schließt mit der Darstellung identifizierter Erfolgsfaktoren und Überlegungen zur Übertragbarkeit.
Abstract
Pressure for change driven by technological advances is shaping the technical requirements for IT workplaces in business. The increasing pace of digitization with ever new technology innovations is further reinforcing this effect. Against the background of the technically feasible and economically meaningful, the question arises as to how a systematic process for the recognition, selection and implementation of technology innovations for IT workplaces can be designed to ensure the competitiveness of a company. The paper examines the impact of digitization on the further development of IT workplaces. After a brief overview of methods for the detection and evaluation of innovations, a case study describes the practical application of the methods under the conditions of digitization at Deutsche Telekom. The paper concludes with the presentation of identified success factors and considerations on transferability.
Access options
Buy single article
Instant access to the full article PDF.
US$ 39.95
Tax calculation will be finalised during checkout.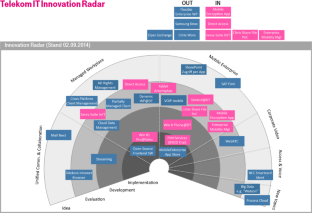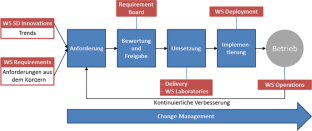 Literatur
Abolhassan F (2014) Mehr Effizienz dank standardisierter IT aus der Cloud. Wirtschaftsinform Manag 6(5):58–64

Adams P et al (2012) IT asset management; CIO desk reference chapter 25. https://www.gartner.com/doc/2270715/it-asset-management-cio-desk. Zugegriffen: 15. Juni 2017

Alpar P et al (2016) Anwendungsorientierte Wirtschaftsinformatik – Strategische Planung, Entwicklung und Nutzung von Informationssystemen, 8. Aufl. Springer, Wiesbaden

Cain MW, Gotta M (2014) Create a digital workplace to respond to critical changes in the workforce. https://www.gartner.com/doc/2719618/create-digital-workplace-respond-critical. Zugegriffen: 15. Mai 2017

Capgemini Consulting (2013) The new digital workplace – employee productivity, brand image, business value. https://www.fr.capgemini-consulting.com/resource-file-access/resource/pdf/digital-workplace-transformation-capgemini-consulting.pdf. Zugegriffen: 13. Mai 2017

Chesbrough HW (2006) Open innovation. The new imperative for creating and profiting from technology. Harvard Business Press, Boston

Deloitte & Touche GmbH (2013) Perspektive BYOD – Private Hardware in Unternehmen. https://www2.deloitte.com/content/dam/Deloitte/de/Documents/technology-media-telecommunications/TMT_Report_Perspektive%20BYOD.pdf. Zugegriffen: 19. Mai 2017

DeLone W, McLean ER (2003) The delone and mclean model of information systems success. A ten-year update. J Manag Inf Syst 19(4):9–30

Drakos N, Naegle R (2016) Eight steps to a financial business case for the digital workplace. https://www.gartner.com/doc/3023417/steps-financial-business-case-digital. Zugegriffen: 19. Mai 2017

Golovatchev J, Budde O (2010) Technology and innovation radar – Effective instruments for the development of a sustainable innovation strategy https://doi.org/10.1109/ICMIT.2010.5492855

Howard C (2014) The nexus of forces is creating the digital business. https://www.gartner.com/doc/2933218?srcId=1-3132930191. Zugegriffen: 13. Mai 2017

Kampschroer K, Heerwagen J, Powell K (2007) Creating and testing workplace strategy. Calif Manage Rev 49(2):119–137

Ling L (2006) The effects of information technology implementation on supply chain collaboration. Int J Internet Enterp Manag 4(2):118–134

Lymbersky C (2015) Telekom IT: Mehr als nur ein IT-Dienstleister, Interview mit Dr. Müller, Deutsche Telekom. https://www.detecon.com/de/Publikationen/telekom-it-mehr-als-nur-ein-it-dienstleister. Zugegriffen: 25. Juni 2017

Mertens P, Barbian D (2016) Digitalisierung und Industrie 4.0 – Trend mit modischer Überhöhung? Inform Spektrum 39(4):301–309. https://doi.org/10.1007/s00287-016-0974-5

NIST (National Institute of Standards and Technology), Mell P, Grance T (2011) The NIST definition of cloud computing. NIST Special Publication, Gaithersburg 800–145 https://doi.org/10.6028/NIST.SP.800-145

Petrovic O, Göttfried P, Kovacic C (2015) CeDiCo.Sense – Vom Crowdsourcing zur Innovation. Wirtschaftsinform Manag 7(4):76–85

Reichwald R, Piller F (2009) Interaktive Wertschöpfung: Open Innovation, Individualisierung und neue Formen der Arbeitsteilung, 2. Aufl. Gabler, Wiesbaden

Rohrbeck R (2010) Harnessing a network of experts for competitive advantage – Technology scouting in the ICT industry. R&D Manag 40(2):169–180

Rohrbeck R (2011) Corporate foresight – Towards a maturity model for the future orientation of a firm. Physica, Heidelberg

Rohrbeck R, Gemünden HG (2006) Strategische Frühaufklärung – Modell zur Integration von markt- und technologieseitiger Frühaufklärung. In: Gausemeier J (Hrsg) Vorausschau und Technologieplanung. HNI-Verlagsschriftenreihe, Bd. 198. HNI, Paderborn, S 159–176

Rohrbeck R, Arnold HM, Heuer J (2007) Strategic foresight in multinational enterprises. A case study on the Deutsche Telekom Laboratories. ISPIM-Asia Conference. New Delhi, 2007. https://mpra.ub.uni-muenchen.de/5700/1/MPRA_paper_5700.pdf. Zugegriffen: 26. Juni 2017

Schriefer AE (2005) Workplace strategy. What it is and why you should care. J Corp Real Estate 7(3):222–233

Schulz C (2015) Quo vadis Arbeitsplatz-IT? Empfehlungen für ein zukunftsorientiertes IT Asset Management. Wirtschaftsinform Manag 7(3):76–78

Vaske H (2015) Digitale Transformation lässt keinen Stein auf dem anderen. https://www.cio.de/a/digitale-transformation-laesst-keinen-stein-auf-dem-anderen,3231493. Zugegriffen: 13. Mai 2017
About this article
Cite this article
Auth, G., Meyer, P. & Porst, G. Erkennung und Nutzung von Technikinnovationen für den Digital Workplace der Deutschen Telekom. HMD 54, 935–949 (2017). https://doi.org/10.1365/s40702-017-0365-7
Received:

Accepted:

Published:

Issue Date:
Schlüsselwörter
IT-Arbeitsplatz

Digital Workplace

Digitalisierung

Innovation

Innovationsradar

Technology Foresight

Technology Scouting
Keywords
IT workplace

Digital workplace

Digitization

Innovation

Innovation radar

Technology foresight

Technology scouting