Zusammenfassung
In den letzten Jahren hat in Unternehmen eine zunehmende Fokussierung auf die Gestaltung der IT-Unterstützung des Arbeitsplatzes stattgefunden. Die Ursache liegt in einem grundlegenden Wandel verschiedenster Umweltbedingungen. Der vorliegende Beitrag zeigt zunächst die Notwendigkeit für die Gestaltung eines digitalen Arbeitsplatzes. Er systematisiert und beleuchtet anschließend die wichtigsten Herausforderungen dieses Wandels auf Basis eines erweiterten Arbeitssystems. Zur ganzheitlichen Lösung der Gestaltung des digitalen Arbeitsplatzes wird abschließend eine Zusammenführung des arbeitswissenschaftlichen Problemlösezyklus mit grundlegenden Lösungsansätzen aus der Wirtschaftsinformatik vorgeschlagen. Auf dieser Basis werden Implikationen für die praktische Gestaltung und Forschung empfohlen.
Abstract
In recent years, there has been an increasing focus on designing IT support for workplaces. This is due to a fundamental change of various environmental conditions. This paper first of all shows the necessity for designing a digital workplace. It then systematises and highlights main challenges of this shift on the basis of the extended work system. In order to achieve a holistic solution for designing a digital workplace it is proposed to combine the problem-solving cycle in work science with basic approaches in information systems science. On this basis, implications for practical design and further research are identified and recommended.
Access options
Buy single article
Instant access to the full article PDF.
USD 39.95
Price excludes VAT (USA)
Tax calculation will be finalised during checkout.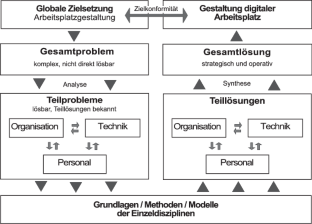 Literatur
Apt W, Bovenschulte M, Hartmann E, Wischmann S (2016) Foresight-Studie "Digitale Arbeitswelt". In: Bundesministerium für Arbeit und Soziales (Hrsg) Forschungsbericht, Bd. 463. Berlin. http://www.bmas.de/SharedDocs/Downloads/DE/PDF-Publikationen/Forschungsberichte/f463-digitale-arbeitswelt.pdf

Atzori L, Iera A, Morabito G (2014) From "smart objects" to "social objects": the next evolutionary step of the Internet of Things. IEEE Commun Mag 52(1):97

Avanade (2016) Global survey: Companies are unprepared for the arrival of a true digital workplace. Avande Inc, Seattle

Bühner R (2004) Betriebswirtschaftliche Organisationslehre, 10. Aufl. Oldenbourg, München

Ceruzzi P (2012) Computing – A concise history. MIT Press, Cambridge

Frey C, Osborne M (2013) The future of employment: how susceptible are jobs to computerisation? University of Oxford, Oxford

Hartmann E (2006) Arbeitssysteme und Arbeitsprozesse. vdf, Zürich

Herrmann D, Hüneke K, Rohrberg A (2012) Führung auf Distanz – Mit virtuellen Teams zum Erfolg, 2. Aufl. Springer, Wiesbaden

Hodulak M (2017) Global corporate workplaces – Implementing new global workplace standards in a local context. Springer, Berlin

IDC (2016) Advanced Workplace Strategies in Deutschland. IDC Central Europe GmbH, Frankfurt

ITU (2017) Minimum requirements related to technical performance for IMT-2020 radio interface(s). In: DRAFT REPORT ITU-R M.[IMT-2020.TECH PERF REQ. International Telecommunication Union (ITU), Genf

Köffer S, Urbach N (2016) Die Digitalisierung der Wissensarbeit – Handlungsempfehlungen aus der Wirtschaftsinformatik-Forschung. HMD 53(1):5–15

Köhler T (2015) Informations- und Kommunikationstechnologie als Treiber und Leitplanken der neuen Arbeitskultur. In: Widuckel W, De Molina K, Ringlstetter M, Frey D (Hrsg) Arbeitskultur 2020 – Herausforderungen und Best Practices der Arbeitswelt der Zukunft. Springer, Wiesbaden

Laudon S (2017) Wie die Digitalisierung die Führungskompetenz komplett neu definiert. In: Jochmann W, Böckenholt I, Diestel S (Hrsg) HR-Exzellenz. Springer, Wiesbaden, S 65–77

Laudon K, Laudon J, Schoder D (2010) Wirtschaftsinformatik – Eine Einführung, 2. Aufl. Pearson, München

Lehner F, Wildner S, Scholz M (2008) Wirtschaftsinformatik – Eine Einführung, 2. Aufl. Hanser, München

Luczak H, Schlick C, Bruder R (2010) Arbeitswissenschaft, 3. Aufl. Springer, Heidelberg

Mohapatra S (2013) Business process reengineering – Automation decision points in process reengineering. Springer, New York

Mosch D (2011) Strategischer Erfolgsfaktor Informationstechnologie – Analyse des Wertbeitrags der Informationstechnologie zur Produktivitätssteigerung und Produktdifferenzierung. Gabler, Wiesbaden

Overby E, Bharadway A, Sambamurthy V (2006) Enterprise agility and the enabling role of information technology. Eur J Inf Syst 15(2):120–131

PAC (2014) Der zeitgemäße Arbeitsplatz aus Sicht der Mitarbeiter. Pierre Audoin Consultants (OAC) GmbH, Computacenter AG & Co oHG, München

PAC (2017) Die digitalen Trends 2017: Von der Vision zur Realität! Trend-Spotlight. Pierre Audoin Consultants (PAC) GmbH & Swisscom AG, München

Picot A, Reichwald R, Wigand R (2003) Die grenzenlose Unternehmung: Information, Organisation und Management, 5. Aufl. Gabler, Wiesbaden

Richter G, Bode S, Köper B (2012) Fachbeitrag "Demografischer Wandel in der Arbeitswelt". In. Bundesanstalt für Arbeitsschutz und Arbeitsmedizin, Bonn

Scheer A, Adam O, Erbach F (2005) Next Generation Business Process Management. In: Scheer A, Jost W, Wagner K (Hrsg) Von Prozessmodellen zu lauffähigen Anwendungen – ARIS in der Praxis. Springer, Berlin, S 1–16

Silic M, Back A (2013) Organizational culture impact on acceptance and use of unified communications & collaboration technology in organizations. In: BLED 2013 proceedings

Sprenger S (2016) Enterprise Collaboration Software – Eine empirische Studie zum Einsatz von Kollaborationsplattformen. In: Rossmann A, Stei G, Besch M (Hrsg) Enterprise Social Networks – Erfolgsfaktoren für die Einführung und Nutzung – Grundlagen, Praxislösungen, Fallbeispiele. Springer, Wiesbaden, S 25–39

Stieglitz S, Lattemann C, Brockmann T (2015) Mobile applications for knowledge workers and field workers. Mob Inf Syst. https://doi.org/10.1155/2015/372315

Stiemerling O (2015) "Künstliche Intelligenz" – Automatisierung geistiger Arbeit, Big Data und das Internet der Dinge. Comput Recht 31(12):762–765

Ulich E (2005) Arbeitspsychologie. Schäffer-Poeschel, Stuttgart

Urbach N, Ahlemann F (2016) IT-Management im Zeitalter der Digitalisierung – Auf dem Weg zur IT-Organisation der Zukunft. Springer, Heidelberg

Weiß F, Leimeister J (2012) Consumerization. IT- Innovationen aus dem Konsumentenumfeld als Herausforderung für die Unternehmens-IT. Wirtschaftsinformatik 54(6):351–354

Wilkens U, Herrmann T (2016) Gibt es eine Arbeitswissenschaft der Digitalisierung? Ein Diskursbeitrag. In: Schlick C (Hrsg) Megatrend Digitalisierung – Potenziale der Arbeits- und Betriebsorganisation. GITO, Berlin, S 215–230
About this article
Cite this article
Günther, J. Digital Workplace – Herausforderungen und Implikationen für die Gestaltung. HMD 54, 859–873 (2017). https://doi.org/10.1365/s40702-017-0364-8
Received:

Accepted:

Published:

Issue Date:

DOI: https://doi.org/10.1365/s40702-017-0364-8
Schlüsselwörter
Digitaler Arbeitsplatz

Arbeitssystem

Organisation

Informationstechnik

Digitalisierung

Arbeitswissenschaft

Problemlösezyklus

Wirtschaftsinformatik
Keywords
Digital workplace

Work system

Organization

Information technology

Digitalisation

Work science

Problem-solving cycle

Information systems science