Zusammenfassung
Plattformen stellen zunehmend in den unterschiedlichsten Industrien eine wichtige Komponente der Wertschöpfung dar. Das zeigt sich im Kontext der "Connected Cars" auch in der Automobilindustrie. Vernetzte Fahrzeuge mit Konnektivität-Funktionalitäten ermöglichen das Angebot neuartiger Dienste für Fahrer und Halter. Diesbezüglich etablieren Hersteller, Zulieferer sowie ehemals branchenfremde Unternehmen plattformbasierte Konstrukte, um die zugehörigen Connected-Car-Services zu realisieren. Der vorliegende Beitrag analysiert die entsprechenden Plattform-Konzepte in der Domäne der vernetzten Mobilität. Basierend auf Erkenntnissen aus Experteninterviews werden die wichtigsten Typen der Connected-Car-Plattformen im Rahmen einer Klassifikation charakterisiert.
Abstract
In different industries platforms represent an important component in the creation of value, as for instance observed in the automotive industry in terms of "Connected Cars". Vehicles equipped with connectivity functionalities enable a new kind of services for the driver and owner of a car. In this regard, car manufacturers, suppliers and companies from previously different sectors are establishing platform-based constructs to implement and realize related connected car services. This article analyzes the mentioned platform concepts in the context of the connected mobility. Based on the insights obtained from expert interviews, a classification was established to characterize the dominating types of connected car platforms.
This is a preview of subscription content, log in to check access.
Access options
Buy single article
Instant access to the full article PDF.
US$ 39.95
Tax calculation will be finalised during checkout.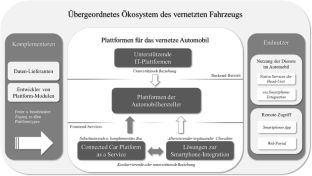 Literatur
Android (2017) Android Auto. https://www.android.com/intl/de_de/auto/. Zugegriffen: 31. Mai 2017

Apple (2017) CarPlay – verfügbare Modelle. https://www.apple.com/de/ios/carplay/available-models/. Zugegriffen: 31. Mai 2017

Benlian A, Hilkert D, Hess T (2015) How open is this platform?, The meaning and measurement of platform openness from the complementors' perspective. J Inf Technol 30(S3):209–228

Ceccagnoli M, Forman C, Huang P, Wu DJ (2012) Cocreation of value in a platform ecosystem: the case of enterprise software. MIS Q 36(1):263–290

Daimler AG (2016) Geschäftsbericht 2015 der Daimler AG. https://www.daimler.com/investoren/berichte/geschaeftsberichte/2015. Zugegriffen: 29. März 2017

Gawer A, Cusumano MA (2014) Industry platforms and ecosystem innovation. J Prod Innov Manag 31(3):417–433

HERE (2016) HERE unveils next generation real-time data services for automotive industry. https://here.com/en/com-pany/newsroom/press-releases/2016-26-09 (Erstellt: 26. Sept. 2016). Zugegriffen: 29. März 2017

IBM (2017) IBM arbeitet mit BMW CarData an neuen Services für Autofahre. http://www-03.ibm.com/press/de/de/pressrelease/52593.wss (Erstellt: 14. Juni 2017). Zugegriffen: 27. Juni 2017

INRIX Inc (2015) Schneller einen Parkplatz finden mit den neuen INRIX On-Street Parking. http://inrix.com/press-releases/schneller-einen-parkplatz-finden-mit-dem-neuen-inrix-on-street-parking (Erstellt: 3. Juni 2015). Zugegriffen: 27. Juni 2017

INRIX Inc (2016a) INRIX acquires OpenCar to challenge Apple and Google in the car. http://inrix.com/press-releases/opencar (Erstellt: 9. März 2016). Zugegriffen: 29. März 2017

INRIX Inc (2016b) Mercedes-Benz bietet den INRIX Off-Street Parking Dienst in Europa und den USA auch für C‑ und S‑Klasse an. http://inrix.com/press-releases/mercedes-benz-parking-ger/ (Erstellt: 28. Sept. 2016). Zugegriffen: 27. Juni 2017

INRIX Inc (2016c) Neuer Porsche Panamera bietet INRIX Park- und Tankdienst. http://inrix.com/press-releases/neuer-porsche-panamera-bietet-inrix-park-und-tankdienste/ (Erstellt: 10. Nov. 2016). Zugegriffen: 27. Juni 2017

Johanning V, Mildner R (2015) Car IT kompakt, Das Auto der Zukunft – Vernetzt und autonom fahren. Springer, Wiesbaden

Schäfer T, Jud C, Mikusz M (2015) Plattform-Ökosysteme im Bereich der intelligent vernetzten Mobilität, Eine Geschäftsmodellanalyse. HMD Prax Wirtschaftsinform 52(3):386–400

Thomas LDW, Autio E, Gann DM (2014) Architectural leverage, putting platforms in context. Acad Manag Perspect 28(2):198–219

Tiwana A (2014) Platform Ecosystems, Aligning Architecture, Governance, and Strategy. Morgan Kaufmann, Amsterdam Waltham

Tiwana A, Konsynski B, Bush AA (2010) Research commentary – platform evolution, coevolution of platform architecture, governance, and environmental dynamics. Inf Syst Res 21(4):675–687

T-Systems (2016) Partner für globale Fahrzeugvernetzung. https://www.t-systems.com/de/de/ueber-uns/unternehmen/newsroom/news/news/daimler-connected-car-plattform-384902 (Erstellt: 21. Sept. 2016). Zugegriffen: 27. Juni 2017
About this article
Cite this article
Bosler, M., Jud, C. & Herzwurm, G. Connected-Car-Services: eine Klassifikation der Plattformen für das vernetzte Automobil. HMD 54, 1005–1020 (2017). https://doi.org/10.1365/s40702-017-0336-z
Received:

Accepted:

Published:

Issue Date:
Schlüsselwörter
Connected Cars

Vernetzte Mobilität

Connected-Car-Plattformen

Connected-Car-Services

Plattformen für das vernetzte Automobil
Keywords
Connected cars

Connected vehicles

Connected mobilty

Connected car platforms

Connected car services