Zusammenfassung
Anhand zwei konkreter Fallbeispiele beschreibt der vorliegende Artikel anschaulich wie staatliche Behörden und öffentliche Organisationen die heutigen Potenziale der Digitalisierung und integrierter Sensorsysteme zu nutzen versuchen. Unter dem Stichwort "Smart Goverment" werden neuartige IT-Initiativen lanciert, welche mehr als "E-Government" auf eine ganzheitliche Vernetzung von physischen, digitalen, öffentlichen und privaten Lebensräumen abzielen. Dabei spielt die aktive und passive Partizipation von Bürgern und anderen Stakeholdern eine wesentliche Rolle. Nur so können die für die algorithmische Entscheidungsfindung notwendigen Daten generiert werden, welche für die personalisierte Interaktion mit Bürgern oder zur real-time Steuerung öffentlicher Infrastrukturen benötigt werden. Der Artikel schließt mit einer kritischen Diskussion über die Möglichkeiten und Grenzen von Smart Government Initiativen und deren Einfluss auf das Privatleben der Bürger und die öffentliche Politikgestaltung.
Abstract
Based on two practical case studies this article illustrates how governmental authorities and public organizations try to harness the potentials of digitalization and integrated sensor systems. Even more than past e‑government intiatives, many projects are launched today under the umbrella term "smart government" aiming at connecting physical, digital, public, and private environments. Active as well as passive participation of citizens and other stakeholders plays a pivotal role for generating the necessary data for algorithmic decision algorithms such that personalized interaction and real-time control of infrastructures are possible. This article closes with a critical discussion about the possibilities and boundaries of smart government initiatives and its possible influence on citizen's private lives and public policy-making.
This is a preview of subscription content, log in to check access.
Access options
Buy single article
Instant access to the full article PDF.
US$ 39.95
Price includes VAT for USA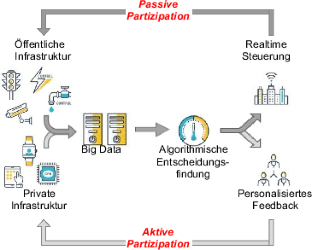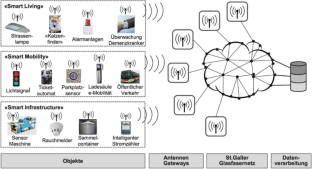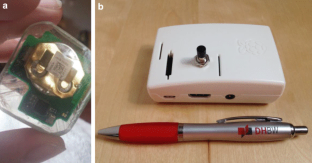 Literatur
Coe A, Paquet G, Roy J (2001) E‑governance and smart communities – a social learning challenge. Soc Sci Comput Rev 19(1):80–93

Gil-Garcia JR (2012) Towards a smart State? Inter-agency collaboration, information integration, and beyond. Inf Polity 17(1):269–280

Gil-Garcia JR, Helbig N, Ojo A (2014) Being smart: emerging technologies and innovation in the public sector. Gov Inf Q 31:I1–I8

Harsh A, Ichalkaranje N (2015) Transforming e‑government to smart government: a South Australian perspective. In: Jain L, Patnaik S, Ichalkaranje N (Hrsg) Intelligent computing, communication and devices. advances in intelligent systems and computing. Springer, New Delhi, S 9–16

Mellouli S, Luna-Reyes LF, Zhang J (2014) Smart government, citizen participation and open data. Inf Polity 19(1):1–4

Mergel I, Rethemeyer RK, Kimberley I (2016) Big data in public affairs. Public Adm Rev 76(6):928–937

Nam T, Pardo TA (2011) Smart city as urban innovation: focusing on management, policy, and context. Proceedings of the 5th International Conference on Theory and Practice of Electronic Governance, Tallinn, S 185–194

Schedler K, Summermatter L, Schmidt B (2003) Electronic Government einführen und entwickeln. Von der Idee zur Praxis. Paul Haupt, Bern, Stuttgart, Wien

Scholl HJ, Scholl MC (2014) Smart governance: a roadmap for research and practice. Proceedings of the 2014 iConference, Berlin, S 163–176

United Nations und American Association for Public Administration (2002) Benchmarking e‑government: a global perspective. UN Publications, New York

St.Galler Stadtwerke (2015) St.Galler Smartnet: "Eine smarte Stadt braucht ein intelligentes Netz". Retrieved from https://www.stadt.sg.ch/news/14/2015/06/smartnet/_jcr_content/Par/downloadlist/DownloadListPar/download_1.ocFile/20150630_MK%20vom%201%20Juli%202015_Peter%20St%C3%A4ger%20Smartnet.pdf

St.Galler Stadtwerke (2017) Smart City St.Galler Smartnet- intelligent vernetzt. Retrieved from http://www.sgsw.ch/home/telecom/geschaeft-telecom.html

Von Lucke J (2016) Deutschland auf dem Weg zum Smart Government – Was Staat und Verwaltung von der vierten industriellen Revolution, von Disruptionen, vom Internet der Dinge und dem Internet der Dienste zu erwarten haben. Verwalt Manag 22(4):171–186

Yildiz M (2007) E‑government research: Reviewing the literature, limitations, and ways forward. Gov Inf Q 24(3):646–665
Danksagung
An dieser Stelle sollen Prof. Dr. Michael Bächle, Prof. Dr. Stephan Daurer und Prof. Dr. Andreas Judt von der DHBW Ravensburg/Friedrichshafen sowie Dr. Ivo Schillig erwähnt, und Ihnen für die aktive Zusammenarbeit und Unterstützung gedankt werden.
About this article
Cite this article
Guenduez, A.A., Mettler, T. & Schedler, K. Smart Government – Partizipation und Empowerment der Bürger im Zeitalter von Big Data und personalisierter Algorithmen. HMD 54, 477–487 (2017). https://doi.org/10.1365/s40702-017-0307-4
Received:

Accepted:

Published:

Issue Date:
Schlüsselwörter
Algorithmische Entscheidungsfindung

Big Data

Internet of Things

Sensoren

Smart Government
Keywords
Algorithmic decision-making

Big data

Internet of Things

Sensors

Smart Government