Zusammenfassung
Die Unternehmensberatung ist eine der Branchen, die exzellent von der Digitalisierung profitiert. Allerdings primär als diejenige, die die Vielzahl der Projekte zur Digitalisierung von Unternehmen verschiedenster Branchen aufsetzt, steuert und durchführt. Aber warum ist die Beratung selbst nicht digitalisiert? Selbst in einem klassischen People Business mit komplexen Dienstleistungen muss darüber nachgedacht werden, ob und wie Beratung virtualisiert oder digital unterstützt werden kann. Dabei deuten sich die durch die Digitalisierung getriebenen Veränderungen der Prozesse und Systeme bereits heute an: Reisetätigkeit beispielsweise war bis vor wenigen Jahren untrennbar mit dem Beraterdasein verbunden, dies gilt heute nicht mehr. Remote-Beratung erlaubt eine deutlich flexiblere Arbeitsgestaltung. Doch dies ist erst der Anfang. Die Unternehmensberatung bietet noch viele weitere Ansatzpunkte zur digitalen Evolution. Dies ist Thema dieses Beitrags. Nachfolgend wird ein Überblick über die Potenziale der Digitalisierung in der Unternehmensberatung gegeben. Hierzu wird aufgezeigt, welche Veränderungen und Voraussetzungen an Beratungsleistungen gestellt werden, um die Digitalisierung zu ermöglichen. Auf dieser Basis schlagen die Autoren einen kurzfristig einsetzbaren Ansatz vor, wie Beratungshäuser zeitnah einen ersten Schritt in Richtung Digitalisierung machen können. Der resultierende eConsulting Store, eine Plattform zum integrierten Verkauf und zur Erbringung von Beratungsleistungen wird nicht nur konzeptionell entwickelt, sondern es wird auch ein Softwareprototyp vorgestellt, der dieses Konzept als Proof of Concept implementiert. Abschließend beschreiben die Autoren die Reaktionen der Stakeholder auf diese vorgeschlagene Technologie. Somit zeigt der Artikel auch eine erste Anwendung der Digitalisierung von Beratungsleistungen und ermöglicht damit Einblicke in die zukünftige Rolle des Beraters.
Abstract
Digitization is driving growth to the consulting industry, which benefits a lot from the rising number of digitization projects. So if their customers go digital, why the consulting industry isn't digitized itself? Even in a traditional people business it will become necessary to consider virtualization and digital process improvements: For instance, traveling was a substantial and integral part of the consulting business for years. Today, video conferencing allows consultants to interact with their customers without leaving their houses. Yet this is just the beginning. In this article, we are looking into more advanced approaches for digital evolution in the consulting industry. Accordingly, the article provides an overview of potentials of the digitization in the consulting industry. We show changes and requirements concerning consulting services as solid foundation for digitization of consulting. Based on these insights we suggest a short-term approach as a first step to digitization of consulting companies. The result is the concept of an eConsulting Store which is a platform for integrated sales and fulfillment of consulting services. Furthermore we implemented a software prototype as a proof of concept. This result is also presented in the article. Finally, we summarize the feedback of the various stakeholders on the suggested technology. In summary, this article shows a first application of digitized consulting and provides insights into the future role of consultants.
Access options
Buy single article
Instant access to the full article PDF.
USD 39.95
Price includes VAT (USA)
Tax calculation will be finalised during checkout.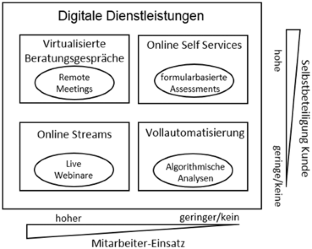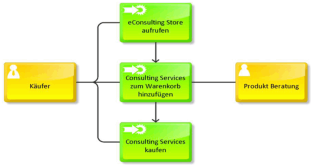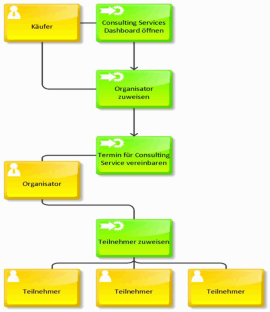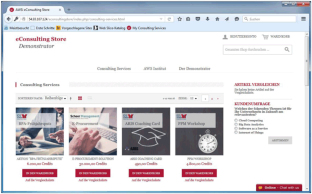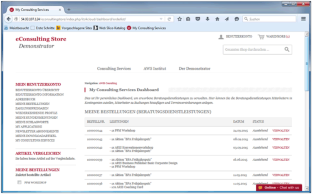 Literatur
BDU (2015) Facts & Figures 2014/2015 – Der Deutsche Unternehmensberatermarkt in Zahlen. BDU e. V., Bonn

Christensen A, Wang D, Van Bever D (2013) Consulting on the Cusp of Disruption. Harvard Bus Rev 91(10):106–114

Corsten H, Gössinger R (2007) Dienstleistungsmanagement, 5. Aufl. Oldenbourg, München

Dowideit M (2014) PWC kauft Booz & Company – "Big Four" in Angriffslaune. Handelsblatt 13. Oktober

Fink D, Knoblach B (2006) Geschichte der Unternehmensberatung – einhundertzwanzig Jahre Consulting. In: Consulting Kompendium 2006. Das Jahrbuch für Managementberatung, Unternehmensführung, Human Resources und Informationstechnologie. Frankfurt a. M.

Greff T, Werth D (2015) Auf dem Weg zur digitalen Unternehmensberatung. In: IM + io – Das Magazin für Innovation, Organisation und Management. Heft 1:30–34

Hamidian K, Kraijo C (2013) DigITalisierung – Status quo. In: Keuper F, Hamidian K, Verwaayen E, Kalinowski T, Kraijo C (Hrsg) Digitalisierung und Innovation – Planung, Entstehung, Entwicklungsperspektiven. Springer, Wiesbaden, S 3–23

Leimeister JM (2012) Dienstleistungsengineering und –management. Springer, Berlin

Matthes S (2010) Die Digitalisierung frisst ihre Kinder. Wirtschaftswoche 52:102–106

Nissen V, Seifert H, Blumenstein M (2015) Virtualisierung von Beratungsleistungen: Qualitätsanforderungen, Chancen und Risiken der digitalen Transformation in der Unternehmensberatung aus der Klientenperspektive. In: Deelmann T (Hrsg) Handbuch der Unternehmensberatung, 25. Erg.-Lfg. Erich Schmidt Verlag, Berlin (34 Seiten)

Novak S (2015) Karibik ohne Strand und Sonne – Wie digitale Beratung Projekte in außergewöhnlichen Regionen ermöglicht. In: IM + io – Das Magazin für Innovation, Organisation und Management. Heft 2:74–79

Palfrey J, Gasser U (2008) Born Digital – Understanding the first generation of digital natives. Basic Books, New York

Peitz M, Waldfogel J (2012) The Oxford handbook of the digital economy. Oxford University Press, New York

Reineke RD (2007) Consulting. In: Reineke RD, Bock F (Hrsg) Gabler Lexikon für Unternehmensberatung. Gabler Verlag, Wiesbaden

Source Information Services Ltd. (2013) The consulting firm of the future. http://edenmccallum.com/pdfs/Consulting_Firm_of_the_Future_2013.pdf. S. 3. Zugegriffen: 5. Nov. 2015
About this article
Cite this article
Werth, D., Greff, T. & Scheer, AW. Consulting 4.0 – Die Digitalisierung der Unternehmensberatung. HMD 53, 55–70 (2016). https://doi.org/10.1365/s40702-015-0198-1
Received:

Accepted:

Published:

Issue Date:
Schlusselwörter
Digitale Transformation

Unternehmensberatung

Digitized consulting

Digitale Beratungsdienstleistungen

eConsulting Store

Prototyp
Keywords
Digital transformation

Digitized consulting business

eConsulting Store

Prototype

Digitized consulting services