Zusammenfassung
Die gegenwärtigen Entwicklungen in Wirtschaft, Gesellschaft und Informationstechnologie führen zu veränderten Anforderungen an den modernen Wissensarbeitsplatz. Um diesen Anforderungen gerecht zu werden, sind die erforderlichen organisationalen und technologischen Voraussetzungen zu schaffen. Der vorliegende Beitrag geht der Frage nach, welche konkreten Anforderungen an den "Wissensarbeitsplatzplatz der Zukunft" gestellt werden, welche Herausforderungen sich dadurch für das strategische IT-Management ergeben und wie die erforderlichen Entwicklungsschritte aktiv angegangen werden können.
Access options
Buy single article
Instant access to the full article PDF.
US$ 39.95
Tax calculation will be finalised during checkout.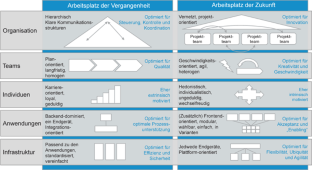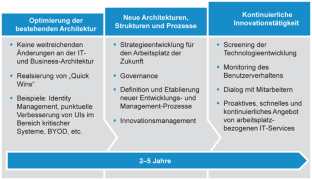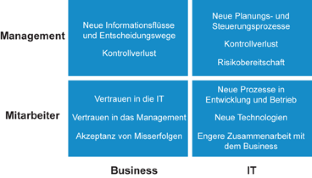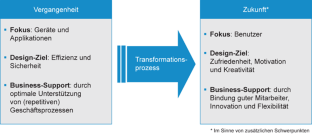 Literatur
Ballagas R, Rohs M, Sheridan JG, Borchers J (2004) BYOD: Bring Your Own Device, in: Proceedings of the Workshop on Ubiquitous Display Environments (Ubicomp)

Brandl R (2008) Cost accounting for shared IT infrastructures. Gabler, Wiesbaden

Bundesministerium des Innern (2011) Demografiebericht – Bericht der Bundesregierung zur demografischen Lage und künftigen Entwicklung des Landes, Oktober 2011. http://www.bmi.bund.de/DE/Themen/Gesellschaft-Verfassung/Demografie/Demografiebericht/demografiebericht_node.html

Croll A, Power S (2009) Complete web monitoring. O'Reilly Media, Sebastopol

Dörhöfer S (2012) Management und Organisation von Wissensarbeit: Strategie, Arbeitssystem und organisationale Praktiken in wissensbasierten Unternehmen. VS Verlag für Sozialwissenschaften | Springer Fachmedien, Wiesbaden

Elsing S (2012) Mäandernde Welten – das Büro der Zukunft, Die Welt. http://www.welt.de/kultur/article107706357/Maeandernde-Welten-das-Buero-der-Zukunft.html. Zugegriffen: 3. Juli 2012

Grapenthin S, Gruhn V, Book M (2012) Agiles Requirements Engineering und der Interaction Room. Tutorial, Modellierung 2012, March 14, Bamberg, Germany

Hüttermann M (2012) DevOps for developers. Integrate development and operations, the agile way. Apress, New York

IPCH (2008) Entmystifizierung der Produktivität. Vom Kernbegriff Produktivität zur Wissensproduktivität. White Paper des Schweizerischen Produktivitätsinstituts AG. https://static1.squarespace.com/static/5109428de4b04ea0ec18ef88/t/52456273e4b0dedb521bd7f7/1380278899625/Entmystifizierung+der+Produktivitt.pdf

Kagermann H, Riemensperger F, Hoke D, Helbig J, Stocksmeier D, Wahlster W, Scheer A-W, Schweer D (2014) Smart Service Welt – Umsetzungsempfehlungen für das Zukunftsprojekt Internetbasierte Dienste für die Wirtschaft. acatech – Deutsche Akademie der Technikwissenschaften, Berlin

Koch P, Ahlemann F, Urbach N (2015) Die innovative IT-Organisation in der digitalen Transformation. In: Helmke S, Uebel M (Hrsg) Managementorientiertes IT-Controlling und IT-Governance, 2. Aufl. Springer, Berlin

Kurzmann S (2015) Individualität und Flexibilität im Personalmanagement: Die neue Herausforderung durch die Generation Y. Diplomica Verlag, Hamburg

Nawatzki J (2013) Mit Selbstcoaching zum Traumjob: Wie Sie in fünf Schritten Ihre wahre Berufung entdecken und umsetzen. Springer Fachmedien, Wiesbaden

Ortbach K, Köffer S, Bode M, Niehaves B (2013) Individualization of Information Systems – Analyzing Antecedents of IT Consumerization Behavior. In Proceedings of the International Conference on Information Systems (ICIS 2013), Mailand, Italien

Siroker D, Koomen P (2013) A/B testing – the most powerful way to turn clicks into customers. Wiley, Hoboken

Stepstone (2011) StepStone Employer Branding Report 2011. http://www.stepstone.de/Ueber-StepStone/upload/StepStone_Employer_Branding_Report_2011_final.pdf

Venzke-Caprarese S (2013) Social Media Monitoring: Analyse und Profiling ohne klare Grenzen? Datenschutz Datensicherheit 37(12):775–779

Ward J, Taylor P, Bond P (1996) Evaluation and realisation of IS/IT benefits: an empirical study of current practice. Eur J Inf Syst 4(4):214–225

Whitten D, Hightower R, Sayeed L (2014) Mobile device adaptation efforts: the impact of hedonic and utilitarian value. J Comput Inf Syst (Fall 2014) 55(1) 48–58

ZDNet (2014) ITU: Bis Jahresende gibt es drei Milliarden Internetnutzer. http://www.zdnet.de/88192737/itu-bis-jahresende-gibt-es-drei-milliarden-internetnutzer/
About this article
Cite this article
Urbach, N., Ahlemann, F. Der Wissensarbeitsplatz der Zukunft: Trends, Herausforderungen und Implikationen für das strategische IT-Management. HMD 53, 16–28 (2016). https://doi.org/10.1365/s40702-015-0192-7
Received:

Accepted:

Published:

Issue Date:
Schlüsselwörter
Wissensarbeitsplatz der Zukunft

Digitaler Arbeitsplatz

Strategisches IT-Management

Organisations- und IT-Architektur

Change Management