Zusammenfassung
Unternehmen aller Branchen und Größen stehen aufgrund des industriellen Paradigmenwechsels der Industrie 4.0 vor tiefgreifenden prozessualen sowie technologischen Veränderungen, um langfristig global wettbewerbsfähig sein zu können. Dieser Wandel kann nur gemeinsam mit den Mitarbeitern vollzogen werden. Dementsprechend gilt es, die individuelle Bereitschaft und die einzelnen Fähigkeiten der Mitarbeiter hinsichtlich geänderter Anforderungen zu entwickeln. Bestehende Ansätze des Wandlungsmanagements und der Akzeptanzforschung sind für den synchronen Technologie- und Aufgabenwandel unzureichend und müssen entsprechend erweitert werden. Insbesondere die Darstellung der Wirkung von Maßnahmen ist für die Praxis von Bedeutung. Dieser Beitrag entwirft auf Basis bestehender Ansätze der Akzeptanzforschung ein Modell, welches das gesamte Verhaltensspektrum, von der Akzeptanz über Toleranz bis zur Opposition abdeckt und in Bezug zu Maßnahmen des Wandlungsmanagements stellt. Als Kerneinflussbereiche werden die individuelle Wandlungsbereitschaft und die Wandlungsfähigkeit gesehen. Beide wirken auf der Aufgaben- und Technologieebene und können mit Maßnahmen erhöht werden, um negative Effekte und ein Scheitern der Transformation zu vermeiden. Anhand von zwei Wandlungsszenarien, der Einführung einer Industrie 4.0-Insel sowie der Umstellung des gesamten Produktionsbereichs, werden einzelne Maßnahmen und ihre Wirkung auf das Mitarbeiterverhalten erörtert.
Abstract
The paradigm shift of Industry 4.0 extends enormous pressure upon companies of all sectors and sizes. They need to cope with profound changes in their production technologies and processes in order to stay competitive. These changes can only be tackled jointly with the employees. Their willingness to change and their skill-sets need to be fostered with regard to the changing requirements in the production. Existing approaches to acceptance research and change management are not able to represent synchronous changes in technology and processes fully. They need to be extended in order to indicate the effect of change activities. The contribution of this article is to develop a model, which covers the entire spectrum of behaviour from acceptance over tolerance to overt opposition. The model is based on current aspects in acceptance research and connects it with change activities from change management. The main factors in this model are the willingness to change and the changeability. Both have an effect on technology and process changes and can be enhanced by change activities in order to compensate negative effects that would otherwise lead to the failure of the transformation to the Industry 4.0. The categorization of different change management activities and their impact on employee behaviour is brought forward by two scenarios. The first scenario covers incremental change through the introduction of Industry 4.0 islands into the production process. The second scenario discusses the transformation of on entire area of production to industry 4.0.
This is a preview of subscription content, log in to check access.
Access options
Buy single article
Instant access to the full article PDF.
US$ 39.95
Price includes VAT for USA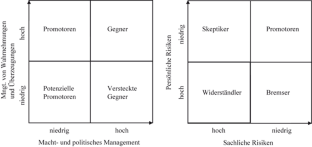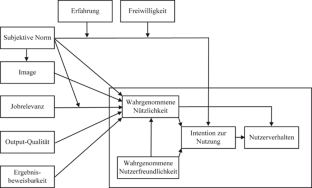 Notes
1.

Das Cafeteria-System (auch Cafeteria-Modell) ist ein Vergütungsmodell im Personalwesen, welches auf die Erhöhung der Motivation der Mitarbeiter durch individuelle Wahlmöglichkeiten bei der Ausgestaltung der Entlohnung abzielt (Langemeyer 1999).

2.

Along the job-Maßnahmen umfassen Maßnahmen, die laufbahnbegleitend durchgeführt werden; vom Einstieg bis zum Ausstieg eines Kompetenzträgers im Unternehmen (Klötzl 1996). Sie befassen sich mit der systematischen Veränderung der Positionen von Kompetenzträgern im Laufe ihres unternehmerischen Werdegangs und können in horizontaler oder vertikaler Richtung, wie auch zentral erfolgen (Conradi 1983). Methoden zur Umsetzung solcher Maßnahmen sind beispielsweise Erfahrungsgruppen, Laufbahnplanung und Fachtrainings.
Literatur
acatech (2011) Cyber-physical systems: driving force for innovation in mobility, health, energy and production (acatech POSITION PAPER). Springer, Heidelberg

Ajzen I (1985) From intentions to actions: A theory of planned behavior. In Kuhl J, Beckman J (Eds.) Action-control: From cognition to behavior. Springer, Heidelberg: 11–39

Ammenwerth E, Iller C, Mahler C, Kandert M, Luther G, Hoppe B, Eichstädter R (2004) Einflussfaktoren auf die Akzeptanz und Adoption eines Pflegedokumentationssystems. UMIT-Schriftenreihe Nr. 1. UMIT – Privat Universität für Medizinische Informatik und Technik Tirol, Innrain 98, A – 6020 Innsbruck

Breisig T (1988) Sozialtechniken und Maschinisierung. In: Kißler L (Hrsg.) Computer und Beteiligung. Opladen: 65–93

Conradi W (1983) Personalentwicklung. Enke-Verlag, Stuttgart

Davis FD (1986) A technology acceptance model for empirically testing new end-user information systems: theory and results. Dissertation, Massachusetts Institute of Technology

Davis FD, Bagozzi RP, Warshaw PR (1989) User acceptance of computer technology: a comparison of two theoretical models. Manag Sci 35(8):982–1003

Dillon A (2001) User acceptance of information technology. In: Karwowski W (Hrsg) Encyclopedia of human factors and ergonomics. Taylor and Francis, London

European University Institute (2013) Tolerance, Pluralism and Social Cohesion. The Accept Pluralism Tolerance Indicators Toolkit. Published by the European University Institute Robert Schuman Centre for Advanced Studies

Forst R (2000) Toleranz: philosophische Grundlagen und gesellschaftliche Praxis einer umstrittenen Tugend, Bd 48. Campus Verlag, Frankfurt am Main und New York

Forst R (2003) Toleration, justice and reason. In McKinnon C, Castiglione D (Eds.) The culture of toleration in diverse socities. Manchester University Press, Manchester: 71–85.

Goodhue DL, Thompson RL (1995) Task-technology fit and individual performance. MIS quarterly 19(2):213–236

Gronau N (2014) Wandlungsfähigkeit in Produktion und Logistik. Product Manag 19(2):23–26

Gronau N, Fohrholz C, Lass S (2011) Hybrider Simulator – Neuer Ansatz für das Produktionsmanagement. ZWF 106(4):204–208

Hahne A (2013) Smart Factory kommt nicht vor 2025– Industrie 4.0: Die schleichende Revolution. Industrieanzeiger 10:46–49

Hauschildt J (1999) Widerstand gegen Innovationen – destruktiv oder konstruktiv? Z Betriebswirt, Ergänzungsheft 2:1–21

ten Hompel M, Liekenbrock D (2005) Autonome Objekte und selbst organisierende Systeme: Anwendung neuer Steuerungsmethoden in der Intralogistik. Ind Manag 4/2005:15–18

King WR, He J (2006) A meta-analysis of the technology acceptance model. Inf Manag 43(6):740–755

Klein A, Zick A (2013) Toleranz versus Vorurteil? KZfSS 65(2):277–300

Kleinsorge T, Schmidt K-H (2007) Verhaltenssteuerung. In: Landau K (Hrsg) Lexikon Arbeitsgestaltung: Best Practise im Arbeitsprozess. Genter, Stuttgart

Klötzl G (1996) Personalentwicklung. Gabler Verlag, Wiesbaden

Kriegesmann B, Kley T, Lücke C et al. (2013) Vertrauensorientiertes Changemanagement (Bd. 29): Gestaltungsideen für nachhaltigen Wandel in Organisationen. Institut für angewandte Innovationsforschung e. V, Bochum

Krüger W (2002) Excellence in Change – Wege zur strategischen Erneuerung. Gabler Verlag, Wiesbaden

Krüger W (2004) Implementation the core task of management. In: De Witt B, Meyer R (Hrsg) Strategy, process, content, context—an international perspective. Thompson, London

Langemeyer H (1999) Das Cafeteria-Verfahren. Hampp Verlag, Mering

Leao A (2009) Fit for Change: 44 praxisbewährte Tools und Methoden im Change für Trainer, Moderatoren, Coaches und Change Manager. Managerseminare Verlag, Bonn

Lober D, Green D (1994) NIMBY or NIABY: a logit model of opposition to solid-waste-disposal facility siting. J Environ Manage 40(1):33–50

Mohr N, Woehe J M, Diebold (1998) Widerstand erfolgreich managen: Professionelle Kommunikation in Veränderungsprojekten. 1. Auflage. Campus Verlag, Frankfurt am Main und New York

Müller A (2004) Zur Strukturgenese von und Kommunikation in Innovationsnetzwerken. http://sundoc.bibliothek.uni-halle.de/dissonline/04/04H201/prom.pdf. Zugegriffen: 5. April 2015

Nagel K, Erben RF, Piller FT (1999) Informationsrevolution und Industrielle Produktion. In: Nagel K, Erben RF, Piller FT (Hrsg) Produktionswirtschaft 2000– Perspektiven für die Fabrik der Zukunft. Gabler Verlag, Wiesbaden, S 3–32

Rogers EM (2003) Diffusion of Innovations, 5. Aufl. Free Press, New York

Schumann M, Baethge-Kinsky V, Kurz C, Neumann U (1990) Reprofessionalisierung der Industriearbeit: ein Selbstläufer. Gewerkschaf Monatsh 7(90):417–437

Sendler U (2013) Industrie 4.0– Beherrschung der industriellen Komplexität mit SysLM (Systems Lifecycle Management). In: Sendler U (Hrsg) Industrie 4.0– Beherrschung der industriellen Komplexität mit SysLM. Springer, Vieweg, Berlin, S 1–19

Spath D (Hrsg) Ganschar O, Gerlach S et al. (2013) Produktionsarbeit der Zukunft – Industrie 4.0. Fraunhofer Verlag, Stuttgart

Teichert D (1996) Toleranz. In: Mittelstraß J (Hrsg) Enzyklopädie Philosophie und Wissenschaftstheorie, Bd 4. Metzler, Stuttgart

Veigt M, Lappe D, Hribernik KA, Scholz-Reiter B (2013) Entwicklung eines Cyber-Physischen Logistiksystems. Ind Manag 29(1):15–18

Venkatesh V, Bala H (2008) Technology acceptance model 3 and a research agenda on interventions. Decis Sci 39(2):273–315

Venkatesh V, Davis FD (2000) A theoretical extension of the technology acceptance model: four longitudinal field studies. Manag Sci 46(2):186–204

Venkatesh V, Morris MG, Davis GB, Davis FD (2003) User acceptance of information technology: toward a unified view. MIS quarterly 27(3):425–478

Vogelsang K, Steinhüser M, Hoppe U (2013) Theorieentwicklung in der Akzeptanzforschung: Entwicklung eines Modells auf Basis einer qualitativen Studie. 11th International Conference on Wirtschaftsinformatik, S. 1425‐1439

Wiendieck G (1992) Akzeptanz. In: Friese E. (Hrsg) Enzyklopädie der Betriebswirtschaft: Bd. 2 Handwörterbuch der Organisation. Poeschel, Stuttgart, S 89‐98

Witte E (1973) Organisation für Innovationsentscheidungen. Otto Schwarz, Göttingen

Witte E (1988) Kraft und Gegenkraft im Entscheidungsprozess. In: Witte E, Hauschild J, Grün O (Hrsg) Innovative Entscheidungsprozesse. Die Ergebnisse des Projektes "Columbus". Mohr, Tübingen, S 162–169

Ziegengeist A, Weber E, Gronau N (2014) Wandlungsbereitschaft von Mitarbeitern. ZFO 83(6):421–426
About this article
Cite this article
Ullrich, A., Vladova, G., Thim, C. et al. Akzeptanz und Wandlungsfähigkeit im Zeichen der Industrie 4.0. HMD 52, 769–789 (2015). https://doi.org/10.1365/s40702-015-0167-8
Received:

Accepted:

Published:

Issue Date:
Schlüsselwörter
Akzeptanz

Industrie 4.0

Veränderungsmanagement

Wandlungsbereitschaft

Wandlungsfähigkeit
Keywords
acceptance research

industry 4.0

change management

willingness to change

changeability