Zusammenfassung
Der Beitrag untersucht soziale und politische Aspekte digitaler politischer Partizipation. Einerseits müssen die Optionen für MyPolitics ausgeschöpft werden, indem Instrumente für elektronische Abstimmungen und Wahlen bereitgestellt werden. Andererseits sollte das Potenzial politischer Partizipation genutzt und Plattformen für OurPolitics gefördert werden. Solche Plattformen, ergänzt durch geeignete Matching-Verfahren, bringen Interessierte mit ähnlichen Anliegen zusammen und fördern politische Gestaltungskraft. Sie sind ein erster Schritt zum Public Memory einer digitalen Gesellschaft und bereichern nachfolgende Generationen mit ihrem Gedankengut.
Access options
Buy single article
Instant access to the full article PDF.
US$ 39.95
Tax calculation will be finalised during checkout.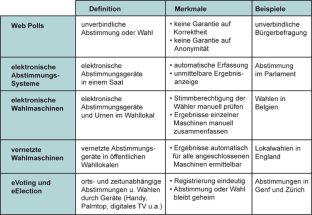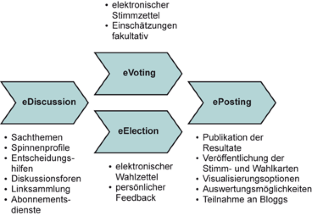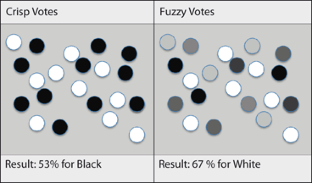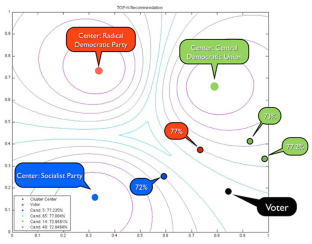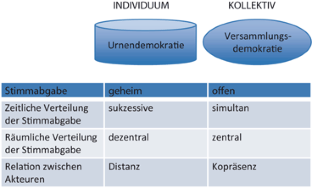 Literatur
BITKOM (2013) BITKOM-Studie über Demokratie 3.0, Berlin, August 2013, http://www.bitkom.org/files/documents/BITKOM-Studie_Demokratie_3.0_07-08-2013.pdf. Zugegriffen: 2. April 2014

Bundesrat (2002) Bericht des Bundesrates vom 9. Januar 2002 über den Vote électronique. Chancen, Risiken und Machbarkeit elektronischer Ausübung politischer Rechte

Corte-Real P (2007) Fuzzy voters, crisp votes. Int Game Theory Rev 9(1)67–86

Dalton RJ (1996) Comparative politics: micro-behavioural perspectives. In: Goodin RE, Klingemann HD (eds) A new handbook of political science. Oxford University Press, New York, S. 336–349

Dalton RJ, Wattenberg MP (1993) The not so simple act of voting. In: Finifter AW (ed) Political science. The state of the discipline II. The American Political Science Association, Washington, S. 193–218

De Rosa R (2010) cabina-elettorale.it. In: Cedroni L, Garzia D (eds) Voting advice applications in Europe. The state of the art. ScriptaWeb, Napoli, S. 187–198

Franklin MN, Mackie TT, Valen H (1992) Electoral change – Responses to evolving social and attitudinal structures in Western societies. Cambridge University Press, Cambridge

Jeitziner B, Meier A (2010) Optionen der Partizipation bei webbasierten Demokratieprozessen. In: Stember J, Eixelsberger W (Hrsg) Verwaltung im Wandel – Neue Anforderungen des modernen Verwaltungsmanagements in Mitteleuropa. LIT Verlag, Münster, S. 377–396

Ladner A (2009) Elektronisch wählen – smart wählen. In: Vatter A, Varone F, Sager F (Hrsg) Demokratie als Leidenschaft – Planung, Entscheidung und Vollzug in der schweizerischen Demokratie. Haupt, Bern, S. 205–224

Ladner A (2012) Voting Advice Applications werden im Wahlkampf immer wichtiger – Es ist Zeit, dass wir uns darüber Gedanken machen. In: Ziegler B, Wälti N (Hrsg) Wahl-Probleme der Demokratie. Schriften zur Demokratieforschung, herausgegeben durch das Zentrum für Demokratie Aarau. Schulthess-Verlag, Zürich, S. 91–110

Ladner A, Pianzola J (2010) Do voting advice applications have an effect on electoral participation and voter turnout? Evidence from the 2007 Swiss Federal Elections. In: Tambouris E, Macintosh A, Glassey O (eds) Electronic participation. Springer, Berlin, S. 211–224

Ladner A, Schwarz D, Fivaz J (2008) Die Positionierung der Nationalratskandidierenden 2007. Eine explorative Analyse der Antworten auf die Fragen der Online-Wahlhilfe smartvote. Chavannes-près-Renens: Cahier de l'IDHEAP Nr. 243

Ladner A, Felder G, Fivaz J (2010) More than toys? A first assessment of voting advice applications in Switzerland. In: Cedroni L, Garcia D (eds) Voting advice applications in Europe – The state of the art. Scriptaweb, Napoli, S. 91–123

Meier A (2009a) eDemocracy & eGovernment – Entwicklungsstufen einer demokratischen Wissensgesellschaft. Springer, Berlin

Meier A (2009b) Elektronische Abstimmungen und Wahlen. In: Hofmann J, Reich S (Hrsg) eGovernment. HMD-Heft Nr. 265, dpunkt Verlag, Heidelberg, S. 51–61

Meier A, Teran L (2012) Wahlhilfesystem für elektronische Wahlen unter Nutzung der unscharfen Logik. In: Eixelsberger W, Stember J (Hrsg) E-Government – Zwischen Partizipation und Kooperation. Springer, Wien, S. 73–87

Meisselbach C (2009) Web 2.0– Democracy 3.0? Demokratische Potentiale des Internets. Nomos, Baden-Baden

Schaub H-P (2014) Landsgemeinde oder Urne – was ist demokratischer? Ein Vergleich der demokratischen Qualitäten von Urnen- und Versammlungsdemokratien in den Schweizer Kantonen. Dissertation Universität Bern

Serres M (2013) Erfindet euch neu! Eine Liebeserklärung an die vernetzte Generation. Suhrkamp Verlag, Berlin

Teran L (2014) SmartParticipation – A fuzzy-based recommender system for political community-building. Springer, Berlin

Zadeh LA (1965) Fuzzy Sets. Information and Control 8(3)338–353
Danksagung
Die Autoren bedanken sich bei Michael Mörike aus Deutschland sowie Jan Fivaz und Bruno Jeitziner aus der Schweiz für die kritischen Anmerkungen und Verbesserungsvorschläge zu einer Vorversion dieses Berichts.
About this article
Cite this article
Ladner, A., Meier, A. Digitale politische Partizipation – Spannungsfeld zwischen MyPolitics und OurPolitics. HMD 51, 867–882 (2014). https://doi.org/10.1365/s40702-014-0084-2
Received:

Accepted:

Published:

Issue Date:
Schlüsselwörter
Demokratie 3.0

Digitale Gesellschaft

Partizipation

Wahlhilfesysteme

Bürgerbeteiligung

Elektronische Abstimmungen und Wahlen

Public Memory