Zusammenfassung
Unternehmen, die heute primär in nicht-digitalen Branchen agieren, benötigen theoretisch und praktisch fundierte Hilfestellungen bei der Entwicklung und Umsetzung von Geschäftsmodellen im Internet der Dinge (Internet of Things, IoT). Durch unsere Untersuchung der Rolle des Internet in Geschäftsmodellen kommen wir zum Schluss, dass die Bedeutung des Internet in der Geschäftsmodellinnovation seit den 90er Jahren laufend zugenommen hat, dass jede Internet-Welle zu neuen digitalen Geschäftsmodellmustern geführt hat und dass die größten Umbrüche bisher in digitalen Branchen stattgefunden haben. Wir zeigen, dass digitale Geschäftsmodellmuster neu auch in der physischen Industrie relevant werden. Die Trennung von physischen und digitalen Branchen ist damit endgültig vorbei. Der Schlüssel dazu ist das IoT, das physische Produkte und digitale Services zu hybriden Lösungen verschmelzen lässt. Wir leiten eine sehr allgemein gehaltene Geschäftsmodelllogik für das IoT ab und stellen konkrete Bausteine und Muster von Geschäftsmodellen vor. Für die zentralen Herausforderungen bei der Umsetzung solcher hybriden Geschäftsmodelle zeigen wir erste Lösungsansätze auf.
Access options
Buy single article
Instant access to the full article PDF.
US$ 39.95
Tax calculation will be finalised during checkout.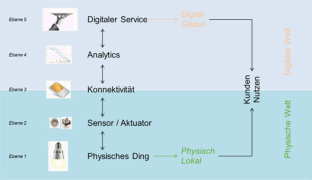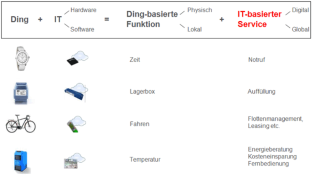 Notes
1.

Dieser Beitrag basiert im Wesentlichen auf dem Arbeitsbericht Fleisch et al. (2014).
Literatur
Christensen C (1997) The innovator's dilemma: when new technologies cause great firms to fail. Harvard Business Review Press, Cambridge

Fischer T, Gebauer H, Fleisch E (2012) Service business development: strategies for value creation in manufacturing firms. Cambridge University Press, Cambridge

Fleisch E (2010) What is the internet of things? An economic perspective. Auto-ID Labs White Paper WP-BIZAPP-053. ETH Zürich & University of St. Gallen, St. Gallen

Fleisch E, Christ O, Dierkes M (2005) Die betriebswirtschaftliche Vision des Internets der Dinge. In: Fleisch E, Mattern F (Hrsg) Das Internet der Dinge. Springer, Berlin, S 3–37

Fleisch E, Weinberger M, Wortmann F (2014) Geschäftsmodelle im Internet der Dinge. Arbeitsbericht. http://www.iot-lab.ch/wp-content/uploads/2014/09/GM-im-IOT_Bosch-Lab-White-Paper.pdf. Gesehen 1. Oktober 2014

Gassmann O, Frankenberger K, Csik M (2013) Geschäftsmodelle entwickeln: 55 innovative Konzepte mit dem St. Galler Business Model Navigator. Hanser Verlag, München

von Hippel E (1986) Lead users. A source of novel product concepts. Manag Sci 32:791–805

Kelly K (1999) New rules for the new economy: 10 radical strategies for a connected world. Penguin Books, New York

O'Reilly T (2005) What Is Web 2.0. http://oreilly.com/web2/archive/what-is-web-20.html. Zugegriffen: 29. Aug 2014

Pentland A (2009) Reality mining of mobile communications: toward a new deal on data. In: Dutta S, Mia I (Hrsg) The Global Information Technology Report 2008–2009, World Economic Forum. S 75–80

Ries E (2009) Minimum viable product: a guide. http://www.startuplessonslearned.com/2009/08/minimum-viable-product-guide.html. Zugegriffen: 29 Aug 2014

Rüegg-Stürm J (2003) Das neue St. Galler Management-Modell. Haupt, Bern

Schuermans S, Vakulenko M (2014) IOT – breaking free from internet and things, how communities and data will shape the future of IoT in way's we can't imagine. VisionMobile Report
Danksagung
Dieser Beitrag entstand im Rahmen des Bosch Internet of Things Lab der Universität St. Gallen.
About this article
Cite this article
Fleisch, E., Weinberger, M. & Wortmann, F. Geschäftsmodelle im Internet der Dinge. HMD 51, 812–826 (2014). https://doi.org/10.1365/s40702-014-0083-3
Received:

Accepted:

Published:

Issue Date:
Schlüsselwörter
Geschäftsmodelle

Geschäftsmodellmuster

Internet of Things

Cyber-Physical Systems