Permit for New Large-Scale TDI Production Plant Granted
Following a detailed appraisal, the Cologne district authority has granted Bayer MaterialScience the permit to build and operate the new high-tech facility for the production of the chemical TDI (toluene diisocyanate) at Chempark Dormagen.
"We are delighted that the approval process has been successfully completed and we can press ahead with our construction work as planned," says Dr. Joachim Wolff, who is the member of Bayer MaterialScience's Executive Committee responsible for the Polyurethanes Business Unit. "This innovative high-tech process marks the start of safe and eco-friendly world-scale polyurethane production that makes the best possible use of energy and resources. Compared with a conventional plant with the same capacity, the new facility will reduce energy consumption by up to 60 percent and require as much as 80 percent less solvent. This will also give us a decisive competitive edge."
The approval authorities gave the go-ahead for the provisional start of construction in February 2012. Since then, work at the giant construction site has been progressing in leaps and bounds. In November, for example, the construction team reached a key milestone when the TDI plant's 90.5 metric ton distillation column — a cylindrical steel structure — arrived at Chempark by truck.
With an annual capacity of 300,000 metric tons, the future world-scale plant is a key part of a long-term investment strategy at Bayer MaterialScience to turn its Dormagen site into a global technology centre for the development and production of polyurethanes.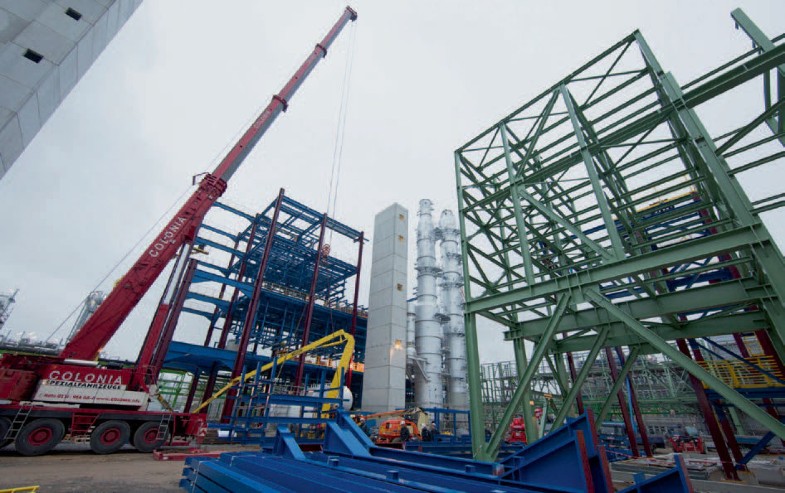 Copyright information
© Springer Fachmedien Wiesbaden 2013